Global Cetane Number Improvers Market is segmented By fuel type(Diesel, Biodiesel, Others), By chemical compound(2-Ethylhexyl nitrate, Di-tertiary butyl peroxide, Others), By end-user(Automotive, Mining, Oil& Gas, Agriculture, Others), and By Region(North America, Latin America, Europe, Asia Pacific, Middle East, and Africa) – Size, Share Outlook, and Opportunity Analysis, 2021-2028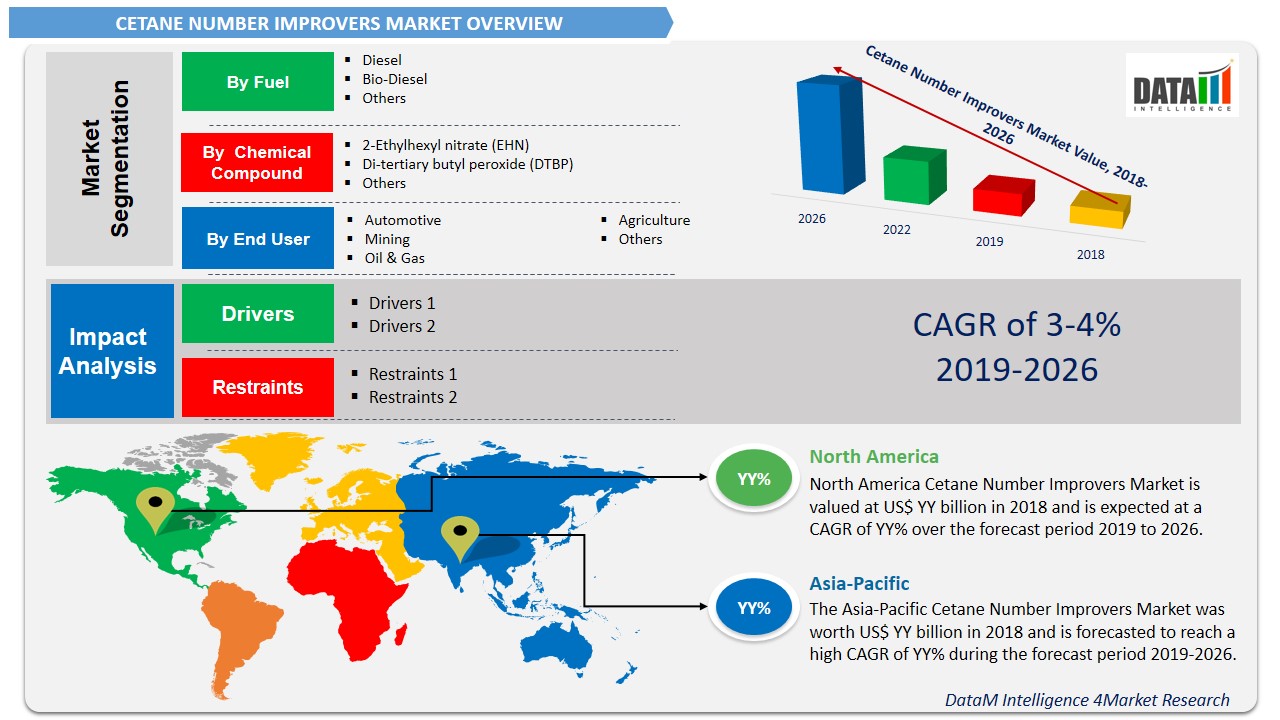 Market Overview
The "Cetane Number Improvers Market" is expected to grow at a high CAGR of 3 - 4% during the forecast period (2021-2028) .
The ignition quality of the diesel fuel is measured by the Cetane number. High Cetane number diesel fuels offer a wide range of advantages to the engine and environmental benefits. The advantages of Cetane number include reduced VOC emissions, improved cold start, lower engine noise, lesser fuel consumption, and many more.
Market Dynamics
High consumption of diesel fuel is the primary driver of the Cetane number improvers market globally. At present, gasoline and diesel are the major automotive fuels. However, diesel engines are more efficient, so they consume less diesel and emit less VOC.

Thus most of the European countries are showing interest in diesel cars as compared to other types of vehicles. The average refinery output of various products such as diesel, gasoline, fuel oil, kerosene, naphtha, LPG, and others.

However, increasing electric vehicle fleet in the world especially in North America and Europe is the significant restraint of the global Cetane number improvers market. Stringent environmental regulations on internal combustion engines and technological advancements in the automotive industry are driving the demand for electric vehicles.

The cetane Number Improvers market is classified based on fuel type, chemical compound, and end-user. Further, the market is classified based on the chemical compound as 2-Ethylhexyl nitrate (EHN), Di-tertiary butyl peroxide (DTBP), and Others.

Major growth drivers for the 2-EHN Cetane number improver market are the strict regulations that different countries are implementing to reduce air pollution. The implementation of the China V and China VI standards and Bharat stage VI standards for diesel has been a major growth driver In the Asia Pacific region.
Geographical Share
The report segments the geographies by region, which include North America, South America, Europe, Asia Pacific, and the rest of the world. Asia-Pacific is the leading market for Cetane number improvers owing to growing automotive sales in this region.

Moreover, Asia-Pacific is expected to grow at a higher pace due to strong government support in emerging countries such as China and India. China and India are the major consumers of diesel vehicles in the Asia-Pacific region which is creating huge opportunities for the Cetane number improvers in this region.

Additionally, Europe is also one of the major consumers of Cetane number improvers owing to its large diesel vehicle fleet and stringent VOC regulations.
Company Profiles
The Cetane number improvers market is fragmented with many local and international players. Globally, major companies are aiming to increase their market presence by acquiring local players. The report profiles the following companies, which include Dorf Ketal, Lubrizol, Innospec, Afton Chemicals, Chevron Oronite, Total SA, Infineum International Ltd., Liao Dong Chemical, Eon Chemicals, and Everyone.
Why purchase the report?
Visualize the composition of the Cetane number improvers market across each indication, in terms of type and applications, highlighting the vital commercial assets and players.

Identify commercial opportunities in the Cetane number improvers market by analyzing trends and co-development deals.

Excel data sheet with thousands of data points of the Cetane number improvers market-level 4/5 segmentation

PDF report with the most relevant analysis cogently put together after exhaustive qualitative interviews and in-depth market study

Product mapping in excel for the key Cetane number improvers market products of all major market players
Target Audience
Raw Material Suppliers/ Buyers

Product Suppliers/ Buyers

Industry Investors/Investment Bankers

Research Professionals

Emerging Companies

Manufacturers
Trending Topics