Gene Therapy Market
The global gene therapy market size was worth $ XX billion in2018 and is forecasted to reach $ XX billion by 2026, at a CAGR of XX% during the forecast period.
Gene therapy is introduction of DNA into a patient to treat a genetic disease. The new DNA usually contains a functioning gene to correct the effects of a disease-causing mutation. Researchers are studying gene therapy for a number of diseases such as severe combined immune deficiencies, hemophilia, Parkinson's disease, cancer and even HIV through a number of approaches.
Gene Therapy Market Dynamics
Advancements in treatments to cure diseases such as cancer, neuro, and cardio diseases are driving the global gene therapy market in recent years and anticipated to remain the same over the forecast period. For instance, in 2017, in France, researchers from Bluebird Bio announced that a teenage boy in France had been cured of sickle-cell disease after receiving experimental gene therapy. Scientists removed stem cells from the boy's bone marrow and modified them in the lab by introducing copies of a gene to prevent his red blood cells from becoming sickled.
Rising prevalence of chronic diseases such as cancer, asthma, diabetes, and COPD are boosting the requirement of gene therapy over the forecast period. For instance, according to the National Cancer Institute in 2018, in the United States, an estimated 1,735,350 new cases of cancer will be diagnosed and 609,640 people will die from the disease.
Increasing number of gene therapy start-ups in 2019 is expected to be one of the major factors driving the growth of the market during the forecast period (2019-2026). For instance, in January 2019, Apic Bio launched with $40 million to treat ALS and liver diseases. Also, Neurogene launched with $68.5 million to tackle several neurological and lysosomal storage disorder diseases.
However, the high cost of gene therapies and stringent regulatory framework are hampering the global gene therapy market over the forecast period. The cost of these therapies can be extremely expensive and present a large burden to the healthcare system, in the range of $400,000 to $850,000 at the high end, currently, for the approved gene therapies, and could be amplified depending on the size of the patient population. According to estimates from the Institute for Clinical and Economic Review, if gene therapies were used just by one in 10 patients who had a genetic condition, the cumulative budget impact of therapies priced at $1m–$2m (which some may consider an overestimate now) could reach $3tn in the US alone.
As the pipeline advances, the demand grows which leads gene therapy developers to turn towards contract manufacturing organizations (CMOs) or contract development and manufacturing organizations (CDMOs) for vector supply services. The demand for manufacturing will provide lucrative opportunities for CMOs and CDMOs in the specialized market of cell and gene therapy, but that demand will likely exceed the supply.
Gene Therapy Market Segmentation Analysis
Based on application, the global gene therapy market is segmented into oncology, neurological diseases, inherited diseases, cardiac diseases, and infectious diseases. Oncology had the highest market share in 2018 and expected to remain dominant same over the forecast period. One-third of the gene therapy pipeline consists of candidates in development for cancer. About 43% of the rare disease gene therapy pipeline is considered rare oncologic diseases. Cancers for which gene therapy products are being developed include glioblastoma, metastatic melanoma, head and neck cancer, prostate cancer, renal cell cancer, and colorectal cancer. For instance, in 2017, FDA approved gene therapy treatment for cancer known as CAR-T therapy. The therapy is designed to treat an often-lethal type of blood and bone marrow cancer that affects children and young adults and will be sold by Novartis for $475,000.
Gene therapy applications in cardio diseases have the second largest share in recent years due to increasing number of heart-related diseases. According to the World Health Organization in 2017, 17.9 million people died from CVDs in 2016 globally, representing 31% of all global deaths. Researchers and scientists are has been working effectively on gene therapy in cardiology areas to provide solutions.
Based on therapy type, the global gene therapy market is categorized into somatic gene therapy and germline gene therapy. In somatic gene therapy, transfer of a section of DNA to any cell of the body that doesn't produce sperm or eggs whereas in germline gene therapy, transfer of a section of DNA to cells that produce eggs or sperm.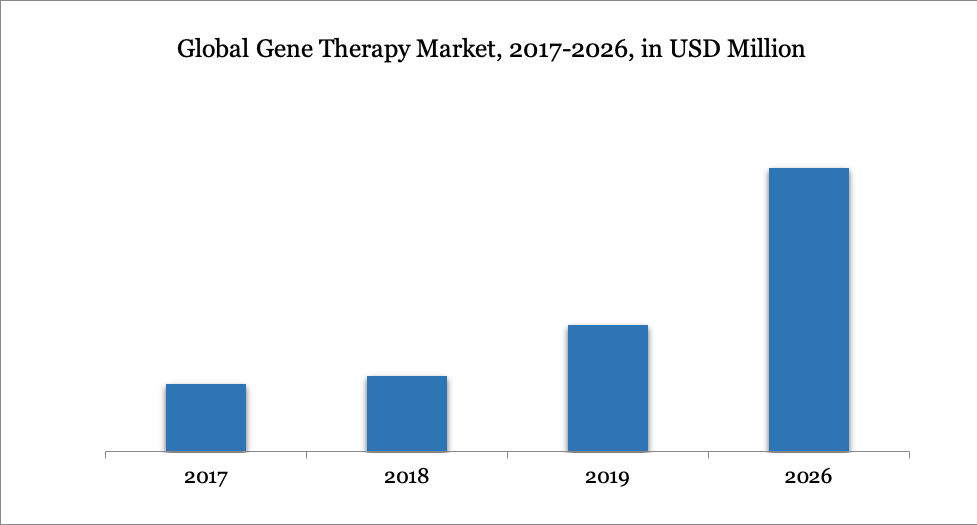 Global Gene Therapy Market Geographical Share
North America holds the dominant market share for plasma fractionation in 2018, and it is expected to maintain the growth over the forecast period, owing to the rapid advancements in gene therapy market. For instance, in 2018, Spark Therapeutics developed Luxturna that was approved by the Food and Drug Administration (FDA) for treatment of RPE65-mediated inherited retinal dystrophy. Luxturna is the first targeted gene therapy approved in the US, representing a huge milestone in medical care. The American Society of Clinical Oncology's (ASCO), Clinical Cancer Advances Report 2018 recently named adoptive immunotherapy with chimeric antigen receptor T cells (CART T as the most clinical advance of the year.)
Europe has the second largest market share in global gene therapy market due to increasing number of chronic diseases such as cancer and heart attack. According to the WHO, with more than 3.7 million new cases and 1.9 million deaths each year, cancer represents the second most important cause of death and morbidity in Europe. Hence, rising research and development for the treatment of the chronic diseases, the market for gene therapy is growing in this region.
Hemophilia is a challenging market by biotechs across Europe and North America competing to launch the first gene therapy. Gene therapy emerges as a potential new treatment for patients with hemophilia. In July 2019, the International Society on Thrombosis and Haemostasis (ISTH) launched the Gene Therapy in Hemophilia: An ISTH Education Initiative. The France Foundation collaborated with the ISTH to educate clinicians around the world about the science and potential role of gene therapy for patients with hemophilia.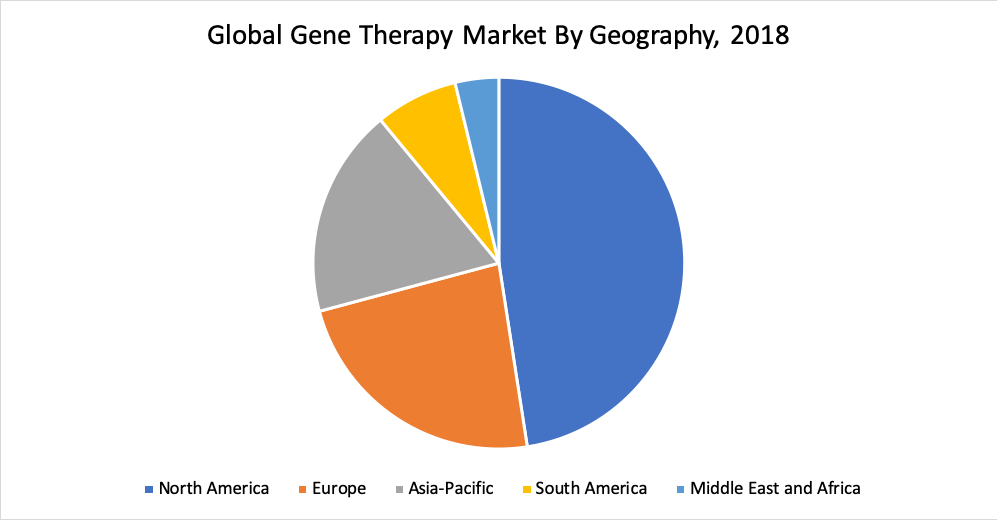 Global Gene Therapy Market – Competitive Analysis
Key pharmaceutical companies are investing significant money in the clinical research and development of gene therapy products. Competition is immense in global gene therapy market and companies see a huge opportunity in gene therapy market.
The key players in gene therapy market are Novartis AG, UniQure N.V, Spark Therapeutics LLC, Bluebird Bio, Kite Pharmaceuticals, Gilead Sciences, Inc, Human Stem Cell Institute, Shire Plc, Cellectis and GlaxoSmithKline plc.
Partnerships provide an important vehicle for both the licenser and licensee to grow. Over the 2012–18 time period (through September 2018), 351 gene therapy alliances were signed, with a total deal value of $41bn. The players are adopting various key strategies such as product launches, investments, mergers & acquisitions which are leading to expand their business globally, hence contributing to the growth of the gene therapy market. For instance,
In May 2019, Novartis, a Swiss pharmaceutical company received the US regulatory approval for a gene therapy that treats a rare childhood disorder and has a price tag of US$2.1 million, making it the most expensive drug in history.
In May 2019, ElevateBio raised $150 million to launch cell and gene therapy incubator.
On February 15, 2019, Gene therapy pioneer James Wilson launches startup Passage Bio with $115.5 million. It has raised $115.5 million in series financing to develop gene therapies for rare genetic diseases of the central nervous system.
In 2019, Novartis has a deal with Spark to market Luxturna in Europe, and is therefore at the forefront of not only the groundbreaking R&D behind cell and gene therapy, but is also looking to lead the revolution in pricing and reimbursement required to make them a commercial success.
Why Purchase the Report?
· Visualize the composition of the gene therapy market across each indication, in terms of therapy type, application type highlighting the key commercial assets and players.
· Identify commercial opportunities in the gene therapy market by analyzing trends and co-development deals.
· Excel data sheet with thousands of data points of the gene therapy market-level 4/5 segmentation.
· A PDF report with the most relevant analysis cogently put together after exhaustive qualitative interviews and in-depth market study.
· Product mapping in excel for the key product of all major market players
Target Audience
• Service Providers/ Buyers
• Industry Investors/Investment Bankers
• Education & Research Institutes
• Research Professionals
• Emerging Companies
• Manufacturers
List of Tables
Table 1 Global Gene Therapy Market Value, By Type, 2018,2022 & 2026 ($ Million)
Table 2 Global Gene Therapy Market Value, By Application, 2018,2022 & 2026 ($ Million)
Table 3 Global Gene Therapy Market Value, By Gene Type, 2018,2022 & 2026 ($ Million)
Table 4 Global Gene Therapy Market Value, By Region, 2018,2022 & 2026 ($ Million)
Table 5 Global Gene Therapy Market Value, By Type, 2018,2022 & 2026 ($ Million)
Table 6 Global Gene Therapy Market Value, By Type, 2017-2026 ($ Million)
Table 7 Global Gene Therapy Market Value, By Application, 2018,2022 & 2026 ($ Million)
Table 8 Global Gene Therapy Market Value, By Application, 2017-2026 ($ Million)
Table 9 Global Gene Therapy Market Value, By Gene Type, 2018,2022 & 2026 ($ Million)
Table 10 Global Gene Therapy Market Value, By Gene Type, 2017-2026 ($ Million)
Table 11 Global Gene Therapy Market Value, By Region, 2018,2022 & 2026 ($ Million)
Table 12 Global Gene Therapy Market Value, By Region, 2017-2026 ($ Million)
Table 13 North America Gene Therapy Market Value, By Type, 2017-2026 ($ Million)
Table 14 North America Gene Therapy Market Value, By Application, 2017-2026 ($ Million)
Table 15 North America Gene Therapy Market Value, By Gene Type, 2017-2026 ($ Million)
Table 16 North America Gene Therapy Market Value, By Country, 2017-2026 ($ Million)
Table 17 South America Gene Therapy Market Value, By Type, 2017-2026 ($ Million)
Table 18 South America Gene Therapy Market Value, By Application, 2017-2026 ($ Million)
Table 19 South America Gene Therapy Market Value, By Gene Type, 2017-2026 ($ Million)
Table 20 South America Gene Therapy Market Value, By Country, 2017-2026 ($ Million)
Table 21 Europe Gene Therapy Market Value, By Type, 2017-2026 ($ Million)
Table 22 Europe Gene Therapy Market Value, By Application, 2017-2026 ($ Million)
Table 23 Europe Gene Therapy Market Value, By Gene Type, 2017-2026 ($ Million)
Table 24 Europe Gene Therapy Market Value, By Country, 2017-2026 ($ Million)
Table 25 Asia-Pacific Gene Therapy Market Value, By Type, 2017-2026 ($ Million)
Table 26 Asia-Pacific Gene Therapy Market Value, By Application, 2017-2026 ($ Million)
Table 27 Asia-Pacific Gene Therapy Market Value, By Gene Type, 2017-2026 ($ Million)
Table 28 Asia-Pacific Gene Therapy Market Value, By Country, 2017-2026 ($ Million)
Table 29 Middle East & Africa Gene Therapy Market Value, By Type, 2017-2026 ($ Million)
Table 30 Middle East & Africa Gene Therapy Market Value, By Application, 2017-2026 ($ Million)
Table 31 Middle East & Africa Gene Therapy Market Value, By Gene Type, 2017-2026 ($ Million)
Table 32 Novartis: Overview
Table 33 Novartis: Product Portfolio
Table 34 Novartis: Key Developments
Table 35 UniQure N.V: Overview
Table 36 UniQure N.V: Product Portfolio
Table 37 UniQure N.V: Key Developments
Table 38 Spark Therapeutics LLC: Overview
Table 39 Spark Therapeutics LLC: Product Portfolio
Table 40 Spark Therapeutics LLC: Key Developments
Table 41 Bluebird Bio: Overview
Table 42 Bluebird Bio: Product Portfolio
Table 43 Bluebird Bio: Key Developments
Table 44 Kite Pharmaceuticals: Overview
Table 45 Kite Pharmaceuticals: Product Portfolio
Table 46 Kite Pharmaceuticals: Key Developments
Table 47 Gilead Sciences, Inc: Overview
Table 48 Gilead Sciences, Inc: Product Portfolio
Table 49 Gilead Sciences, Inc: Key Developments
Table 50 Human Stem Cell Institute: Overview
Table 51 Human Stem Cell Institute: Product Portfolio
Table 52 Human Stem Cell Institute: Key Developments
Table 53 Shire Plc: Overview
Table 54 Shire Plc: Product Portfolio
Table 55 Shire Plc: Key Developments
Table 56 Cellectis : Overview
Table 57 Cellectis : Product Portfolio
Table 58 Cellectis : Key Developments
Table 59 GlaxoSmithKline plc: Overview
Table 60 GlaxoSmithKline plc: Product Portfolio
Table 61 GlaxoSmithKline plc: Key Developments
List of Figures
Figure 1 Global Gene Therapy Market Share, By Type, 2018 & 2026 (%)
Figure 2 Global Gene Therapy Market Share, By Application, 2018 & 2026 (%)
Figure 3 Global Gene Therapy Market Share, By Gene Type, 2018 & 2026 (%)
Figure 4 Global Gene Therapy Market Share, By Region, 2018 & 2026 (%)
Figure 5 Global Gene Therapy Market Value, 2017-2026 ($ Million)
Figure 6 Global Gene Therapy Market Y-o-Y Growth, By Type, 2018-2026 (%)
Figure 7 Vector: Global Gene Therapy Market Value, 2017-2026 ($ Million)
Figure 8 Non Vector: Global Gene Therapy Market Value, 2017-2026 ($ Million)
Figure 9 Global Gene Therapy Market Y-o-Y Growth, By Application, 2018-2026 (%)
Figure 10 Cardio: Global Gene Therapy Market Value, 2017-2026 ($ Million)
Figure 11 Neuro: Global Gene Therapy Market Value, 2017-2026 ($ Million)
Figure 12 Oncology: Global Gene Therapy Market Value, 2017-2026 ($ Million)
Figure 13 Infectious Diseases: Global Gene Therapy Market Value, 2017-2026 ($ Million)
Figure 14 Inherited Diseases: Global Gene Therapy Market Value, 2017-2026 ($ Million)
Figure 15 Others: Global Gene Therapy Market Value, 2017-2026 ($ Million)
Figure 16 Global Gene Therapy Market Y-o-Y Growth, By Gene Type, 2018-2026 (%)
Figure 17 Antigen: Global Gene Therapy Market Value, 2017-2026 ($ Million)
Figure 18 Cytokine: Global Gene Therapy Market Value, 2017-2026 ($ Million)
Figure 19 Tumor suppressor: Global Gene Therapy Market Value, 2017-2026 ($ Million)
Figure 20 Suicide: Global Gene Therapy Market Value, 2017-2026 ($ Million)
Figure 21 Deficiency: Global Gene Therapy Market Value, 2017-2026 ($ Million)
Figure 22 Growth factors: Global Gene Therapy Market Value, 2017-2026 ($ Million)
Figure 23 Receptors: Global Gene Therapy Market Value, 2017-2026 ($ Million)
Figure 24 Others: Global Gene Therapy Market Value, 2017-2026 ($ Million)
Figure 25 Global Gene Therapy Market Y-o-Y Growth, By Region, 2018-2026 (%)
Figure 26 North America Gene Therapy Market Value, 2017-2026 ($ Million)
Figure 27 North America Gene Therapy Market Share, By Type, 2018 & 2026 (%)
Figure 28 North America Gene Therapy Market Share, By Application, 2018 & 2026 (%)
Figure 29 North America Gene Therapy Market Share, By Gene Type, 2018 & 2026 (%)
Figure 30 North America Gene Therapy Market Share, By Country, 2018 & 2026 (%)
Figure 31 South America Gene Therapy Market Value, 2017-2026 ($ Million)
Figure 32 South America Gene Therapy Market Share, By Type, 2018 & 2026 (%)
Figure 33 South America Gene Therapy Market Share, By Application, 2018 & 2026 (%)
Figure 34 South America Gene Therapy Market Share, By Gene Type, 2018 & 2026 (%)
Figure 35 South America Gene Therapy Market Share, By Country, 2018 & 2026 (%)
Figure 36 Europe Gene Therapy Market Value, 2017-2026 ($ Million)
Figure 37 Europe Gene Therapy Market Share, By Type, 2018 & 2026 (%)
Figure 38 Europe Gene Therapy Market Share, By Application, 2018 & 2026 (%)
Figure 39 Europe Gene Therapy Market Share, By Gene Type, 2018 & 2026 (%)
Figure 40 Europe Gene Therapy Market Share, By Country, 2018 & 2026 (%)
Figure 41 Asia-Pacific Gene Therapy Market Value, 2017-2026 ($ Million)
Figure 42 Asia-Pacific Gene Therapy Market Share, By Type, 2018 & 2026 (%)
Figure 43 Asia-Pacific Gene Therapy Market Share, By Application, 2018 & 2026 (%)
Figure 44 Asia-Pacific Gene Therapy Market Share, By Gene Type, 2018 & 2026 (%)
Figure 45 Asia-Pacific Gene Therapy Market Share, By Country, 2018 & 2026 (%)
Figure 46 Middle East & Africa Gene Therapy Market Value, 2017-2026 ($ Million)
Figure 47 Middle East & Africa Gene Therapy Market Share, By Type, 2018 & 2026 (%)
Figure 48 Middle East & Africa Gene Therapy Market Share, By Application, 2018 & 2026 (%)
Figure 49 Middle East & Africa Gene Therapy Market Share, By Gene Type, 2018 & 2026 (%)
Figure 50 Novartis: Financials
Figure 51 UniQure N.V: Financials
Figure 52 Spark Therapeutics LLC: Financials
Figure 53 Bluebird Bio: Financials
Figure 54 Kite Pharmaceuticals: Financials
Figure 55 Gilead Sciences, Inc: Financials
Figure 56 Human Stem Cell Institute: Financials
Figure 57 Shire Plc: Financials
Figure 58 Cellectis : Financials
Figure 59 GlaxoSmithKline plc: Financials