Market Overview
Freezing is one of the most widely used preserving method in food industry. Meat is also processed to negative temperature to preserve it till consumption. Freezing enhances the shelf life of meat products thus enabling retail sale and trade to foreign markets. Several meat processors across the globe are producing frozen beef, pork, chicken, and other meat products to cater the need for frozen meat.
The global frozen meat market valued USD XX million in 2018 and expected to grow at a CAGR of XX% to reach a market value of USD XX million by 2026.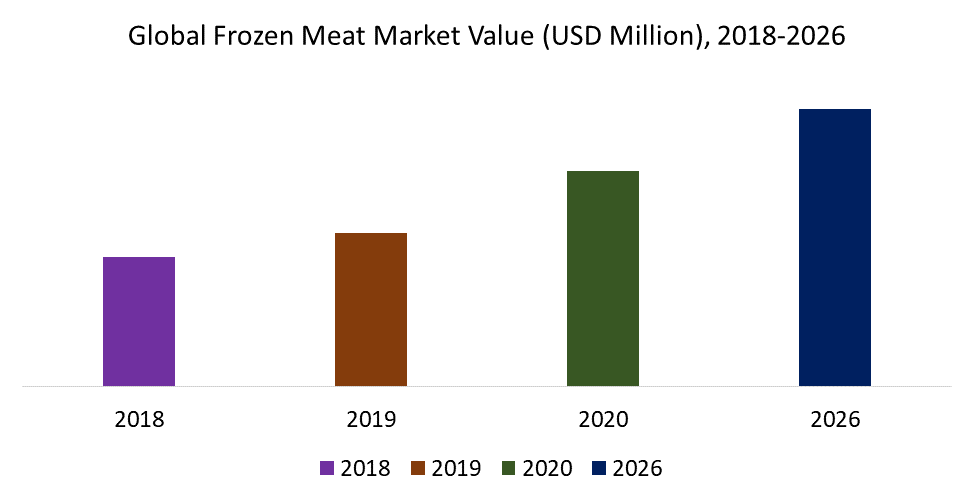 **Source: DataM Intelligence Analysis (2019)
Market Dynamics:
Frozen meat market has been witnessing significant growth owing to the growing for convenience food. The changing food habits and fast pacing lifestyles of population, particularly millennials has been driving the need for convenient ready-to-eat food products. The frozen meats are pre-portioned and are supplied in ready to cook stage, thus reducing the preparation time. Restaurants, food chains, and other food service businesses across the globe are highly focusing towards integration of frozen meat to their aisles owing to the long shelf life and preserved nutritional content of these products. According to the data published in Investopedia, the global shipments of frozen chicken meat increased from USD 16.10 billion in 2017 to USD 16.8 billion in 2018.
However, the stringent regulations associated with processing, transportation, trade, and marketing of processed foods is hindering the growth of the market.
Segment Analysis
Global frozen meat market is segmented on the basis of Meat Type into water testing, air testing, soil testing, pollution testing and others.
Pork evolved as the largest segment of global frozen meat market owing to the growing demand for pork-based products in the U.S. and European countries. Pork is commercially sold in various cuts such as belly, collar, loin, and shoulders and all of these cuts are made available in frozen form. The growing pork production is also supporting the growth of frozen pork market. According to The United States Department of Agriculture, the global pork production increased from 111 million metric tons to 113 million metric tons in 2018.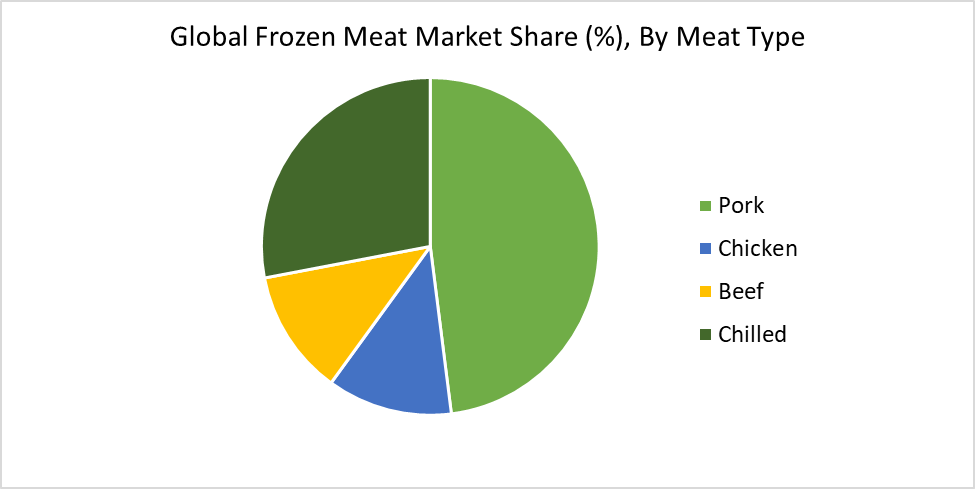 **Source: DataM Intelligence Analysis (2019)
Geographical Presentation
By region, the global frozen meat market is segmented into North America, South America, Europe, Asia-Pacific, Middle-east and America.
The wide consumer base for frozen products and large meat consumption in the U.S. made North America as the largest market for frozen meat. In 2018, North America dominated the global market with a share of over 35% and it is likely to hold its dominance over the forecast period. According to the statistics of The United States Department of Agriculture, the per capita consumption of red meat and poultry reached 222.4 pounds in the U.S.
Asia-Pacific frozen meat market is expected to grow at a higher CAGR during the forecast period owing to increasing in exports of frozen whole chicken and cut pieces to meet the demand from households and restaurants. Lack of availability of resources for the production of frozen meat led to increased dependency of Asian Countries over other major frozen meat producing nations. According to Investopedia, Asia-Pacific accounted to more an 35% of total frozen chicken imports across the globe. Growing consumer preference towards frozen meat and convenience of using frozen meat in hot pot cuisine are the major factors driving the China frozen meat market.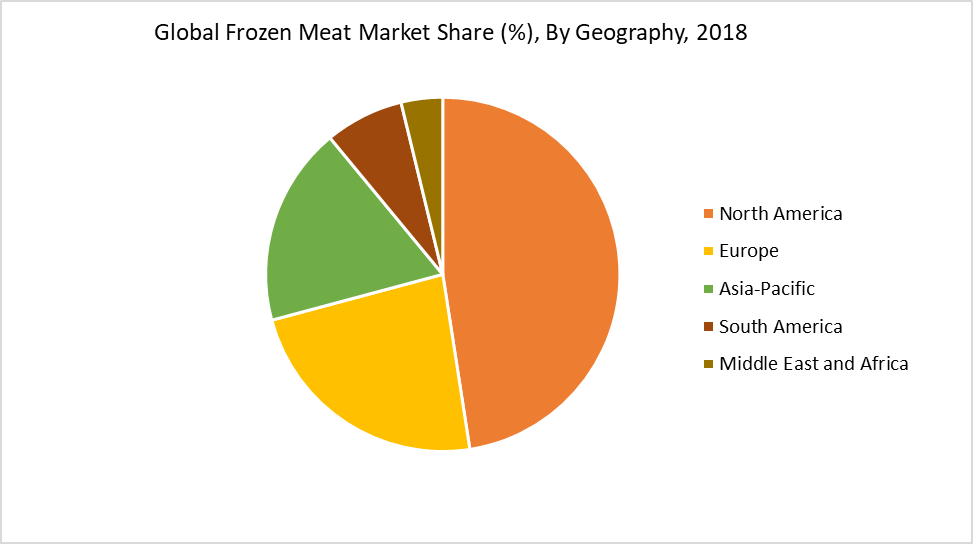 **Source: DataM Intelligence Analysis (2019)
Competitive Analysis
The key players in the global frozen meat market includes Tyson Foods, Inc, Tendercut Meats, Northgate Foods, and Foster Farms. This market is experiencing new product launches in frozen premium beef segments across the major frozen meat consuming nations.
In November 2018, Vion Food Group launched Depp frozen premium beef ranges across the European markets under the labeling cool cuts. The deep-frozen beef possesses minimum shelf life of 18 months from the date of production.
Why Purchase the Report?
Visualize the composition of the global frozen meat market in terms of various types of meat type, distribution channel and end users highlighting the key commercial assets and players.
Identify commercial opportunities in global frozen meat market by analyzing trends and co-development deals.
Excel data sheet with thousands of data points of global frozen meat market - level 4/5 segmentation.
PDF report with the most relevant analysis cogently put together after exhaustive qualitative interviews and in-depth market study.
Product mapping in excel for the key product of all major market players
Target Audience
Industry Investors/Investment Bankers
Supermarkets & Hypermarkets
Food Retail Chains
Manufacturers
LIST OF TABLES
Table 1 Global Frozen Meat Market Value, By Meat Type, 2018,2022 & 2026 ($ Million)
Table 2 Global Frozen Meat Market Value, By Distribution Channel, 2018,2022 & 2026 ($ Million)
Table 3 Global Frozen Meat Market Value, By End User, 2018,2022 & 2026 ($ Million)
Table 4 Global Frozen Meat Market Value, By Region, 2018,2022 & 2026 ($ Million)
Table 5 Global Frozen Meat Market Value, By Meat Type, 2018,2022 & 2026 ($ Million)
Table 6 Global Frozen Meat Market Value, By Meat Type, 2017-2026 ($ Million)
Table 7 Global Frozen Meat Market Value, By Distribution Channel, 2018,2022 & 2026 ($ Million)
Table 8 Global Frozen Meat Market Value, By Distribution Channel, 2017-2026 ($ Million)
Table 9 Global Frozen Meat Market Value, By End User, 2018,2022 & 2026 ($ Million)
Table 10 Global Frozen Meat Market Value, By End User, 2017-2026 ($ Million)
Table 11 Global Frozen Meat Market Value, By Region, 2018,2022 & 2026 ($ Million)
Table 12 Global Frozen Meat Market Value, By Region, 2017-2026 ($ Million)
Table 13 North America Frozen Meat Market Value, By Meat Type, 2017-2026 ($ Million)
Table 14 North America Frozen Meat Market Value, By Distribution Channel, 2017-2026 ($ Million)
Table 15 North America Frozen Meat Market Value, By End User, 2017-2026 ($ Million)
Table 16 North America Frozen Meat Market Value, By Country, 2017-2026 ($ Million)
Table 17 South America Frozen Meat Market Value, By Meat Type, 2017-2026 ($ Million)
Table 18 South America Frozen Meat Market Value, By Distribution Channel, 2017-2026 ($ Million)
Table 19 South America Frozen Meat Market Value, By End User, 2017-2026 ($ Million)
Table 20 South America Frozen Meat Market Value, By Country, 2017-2026 ($ Million)
Table 21 Europe Frozen Meat Market Value, By Meat Type, 2017-2026 ($ Million)
Table 22 Europe Frozen Meat Market Value, By Distribution Channel, 2017-2026 ($ Million)
Table 23 Europe Frozen Meat Market Value, By End User, 2017-2026 ($ Million)
Table 24 Europe Frozen Meat Market Value, By Country, 2017-2026 ($ Million)
Table 25 Asia-Pacific Frozen Meat Market Value, By Meat Type, 2017-2026 ($ Million)
Table 26 Asia-Pacific Frozen Meat Market Value, By Distribution Channel, 2017-2026 ($ Million)
Table 27 Asia-Pacific Frozen Meat Market Value, By End User, 2017-2026 ($ Million)
Table 28 Asia-Pacific Frozen Meat Market Value, By Country, 2017-2026 ($ Million)
Table 29 Middle East & Africa Frozen Meat Market Value, By Meat Type, 2017-2026 ($ Million)
Table 30 Middle East & Africa Frozen Meat Market Value, By Distribution Channel, 2017-2026 ($ Million)
Table 31 Middle East & Africa Frozen Meat Market Value, By End User, 2017-2026 ($ Million)
Table 32 Tyson Foods, Inc.: Overview
Table 33 Tyson Foods, Inc.: Product Portfolio
Table 34 Tyson Foods, Inc.: Key Developments
Table 35 Al-Hamd Agro Food Products Pvt. Ltd.: Overview
Table 36 Al-Hamd Agro Food Products Pvt. Ltd.: Product Portfolio
Table 37 Al-Hamd Agro Food Products Pvt. Ltd.: Key Developments
Table 38 Tendercut Meats: Overview
Table 39 Tendercut Meats: Product Portfolio
Table 40 Tendercut Meats: Key Developments
Table 41 Northgate Foods: Overview
Table 42 Northgate Foods: Product Portfolio
Table 43 Northgate Foods: Key Developments
Table 44 Advancepierre Foods Inc.: Overview
Table 45 Advancepierre Foods Inc.: Product Portfolio
Table 46 Advancepierre Foods Inc.: Key Developments
Table 47 Foster Farms: Overview
Table 48 Foster Farms: Product Portfolio
Table 49 Foster Farms: Key Developments
Table 50 JBS: Overview
Table 51 JBS: Product Portfolio
Table 52 JBS: Key Developments
Table 53 Sanderson Farms, Incorporated: Overview
Table 54 Sanderson Farms, Incorporated: Product Portfolio
Table 55 Sanderson Farms, Incorporated: Key Developments
Table 56 Marfrig: Overview
Table 57 Marfrig: Product Portfolio
Table 58 Marfrig: Key Developments
Table 59 Meat Masters: Overview
Table 60 Meat Masters: Product Portfolio
Table 61 Meat Masters: Key Developments
LIST OF FIGURES
Figure 1 Global Frozen Meat Market Share, By Meat Type, 2018 & 2026 (%)
Figure 2 Global Frozen Meat Market Share, By Distribution Channel, 2018 & 2026 (%)
Figure 3 Global Frozen Meat Market Share, By End User, 2018 & 2026 (%)
Figure 4 Global Frozen Meat Market Share, By Region, 2018 & 2026 (%)
Figure 5 Global Frozen Meat Market Value, 2017-2026 ($ Million)
Figure 6 Global Frozen Meat Market Y-o-Y Growth, By Meat Type, 2018-2026 (%)
Figure 7 Pork: Global Frozen Meat Market Value, 2017-2026 ($ Million)
Figure 8 Chicken: Global Frozen Meat Market Value, 2017-2026 ($ Million)
Figure 9 Beef: Global Frozen Meat Market Value, 2017-2026 ($ Million)
Figure 10 Others: Global Frozen Meat Market Value, 2017-2026 ($ Million)
Figure 11 Global Frozen Meat Market Y-o-Y Growth, By Distribution Channel, 2018-2026 (%)
Figure 12 Online Retail: Global Frozen Meat Market Value, 2017-2026 ($ Million)
Figure 13 Supermarkets & Hypermarkets: Global Frozen Meat Market Value, 2017-2026 ($ Million)
Figure 14 Convenience Stores: Global Frozen Meat Market Value, 2017-2026 ($ Million)
Figure 15 Others: Global Frozen Meat Market Value, 2017-2026 ($ Million)
Figure 16 Global Frozen Meat Market Y-o-Y Growth, By End User, 2018-2026 (%)
Figure 17 Food Service: Global Frozen Meat Market Value, 2017-2026 ($ Million)
Figure 18 Household Consumption: Global Frozen Meat Market Value, 2017-2026 ($ Million)
Figure 19 Global Frozen Meat Market Y-o-Y Growth, By Region, 2018-2026 (%)
Figure 20 North America Frozen Meat Market Value, 2017-2026 ($ Million)
Figure 21 North America Frozen Meat Market Share, By Meat Type, 2018 & 2026 (%)
Figure 22 North America Frozen Meat Market Share, By Distribution Channel, 2018 & 2026 (%)
Figure 23 North America Frozen Meat Market Share, By End User, 2018 & 2026 (%)
Figure 24 North America Frozen Meat Market Share, By Country, 2018 & 2026 (%)
Figure 25 South America Frozen Meat Market Value, 2017-2026 ($ Million)
Figure 26 South America Frozen Meat Market Share, By Meat Type, 2018 & 2026 (%)
Figure 27 South America Frozen Meat Market Share, By Distribution Channel, 2018 & 2026 (%)
Figure 28 South America Frozen Meat Market Share, By End User, 2018 & 2026 (%)
Figure 29 South America Frozen Meat Market Share, By Country, 2018 & 2026 (%)
Figure 30 Europe Frozen Meat Market Value, 2017-2026 ($ Million)
Figure 31 Europe Frozen Meat Market Share, By Meat Type, 2018 & 2026 (%)
Figure 32 Europe Frozen Meat Market Share, By Distribution Channel, 2018 & 2026 (%)
Figure 33 Europe Frozen Meat Market Share, By End User, 2018 & 2026 (%)
Figure 34 Europe Frozen Meat Market Share, By Country, 2018 & 2026 (%)
Figure 35 Asia-Pacific Frozen Meat Market Value, 2017-2026 ($ Million)
Figure 36 Asia-Pacific Frozen Meat Market Share, By Meat Type, 2018 & 2026 (%)
Figure 37 Asia-Pacific Frozen Meat Market Share, By Distribution Channel, 2018 & 2026 (%)
Figure 38 Asia-Pacific Frozen Meat Market Share, By End User, 2018 & 2026 (%)
Figure 39 Asia-Pacific Frozen Meat Market Share, By Country, 2018 & 2026 (%)
Figure 40 Middle East & Africa Frozen Meat Market Value, 2017-2026 ($ Million)
Figure 41 Middle East & Africa Frozen Meat Market Share, By Meat Type, 2018 & 2026 (%)
Figure 42 Middle East & Africa Frozen Meat Market Share, By Distribution Channel, 2018 & 2026 (%)
Figure 43 Middle East & Africa Frozen Meat Market Share, By End User, 2018 & 2026 (%)
Figure 44 Tyson Foods, Inc.: Financials
Figure 45 Al-Hamd Agro Food Products Pvt. Ltd.: Financials
Figure 46 Tendercut Meats: Financials
Figure 47 Northgate Foods: Financials
Figure 48 Advancepierre Foods Inc.: Financials
Figure 49 Foster Farms: Financials
Figure 50 JBS: Financials
Figure 51 Sanderson Farms, Incorporated: Financials
Figure 52 Marfrig: Financials
Figure 53 Meat Masters: Financials