Global Fire Safety Equipment Market is segmented by Solution (Fire Detection, Fire Supression, Sprinklers), by Application (Residential, Non-Residential, Retail, Oil & Gas, Hospitality, Government), and by Region (North America, Latin America, Europe, Asia Pacific, Middle East, and Africa) – Share, Size, Outlook, and Opportunity Analysis, 2020-2027
Market Overview
Global Fire Safety Equipment Market is expected to grow at a CAGR of 7.0% during the forecast period (2020-2027). Factors such as rising construction activities and growing fire safety awareness, strict regulatory standards and government efforts are fueling growth in the global market. The global fire safety equipment market is segmented on the basis of Solution, application, and region.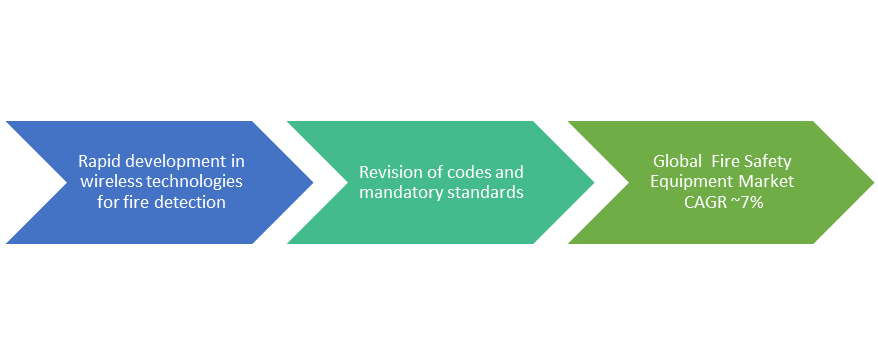 Fire safety equipment is required in buildings and industrial facilities for the safety of people and the prevention of significant loss due to fire. Growing demand for advanced fire safety systems for industries, such as mining, oil & gas exploration, energy & power, automotive, and construction, is expected to drive the market.
Reconstruction activities and implementation of building safety codes against fire protection will further positively impact market growth. For instance, the Fire Services Law and Building Standards Law in Japan and the Code of Design for Building Fire Protection & Prevention in China.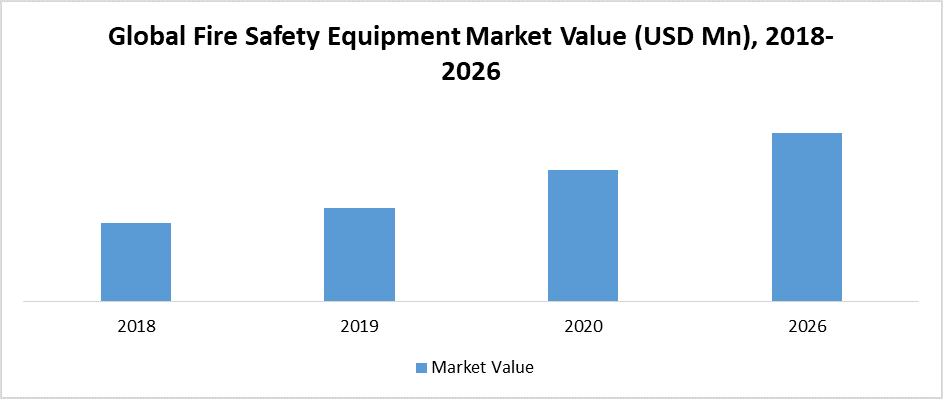 Market Dynamics
The global Fire Safety Equipment market growth is driven by modernization and technological advancements in construction industry and rise in deaths and loss of property due to fire breakouts. Rising urbanization in developing countries such as Brazil, China, India, and Indonesia is expected to accelerate infrastructure spending on building safety standards, therefore, propelling growth in the global fire safety equipment market. For instance, The Brazilian government announced at the end of 2017 an investment of approximately US$36 billion to resume 7,000 construction projects.
Moreover, the real estate sector in India is expected to contribute approximately 13% of the country's GDP by 2026. Gross office absorption in top Indian cities has increased 26 percent year-on-year to 36.4 million square feet between January-September 2019.
However, the high initial cost required for installation and dearth of integrity in system interfaces are constraining the growth of the market.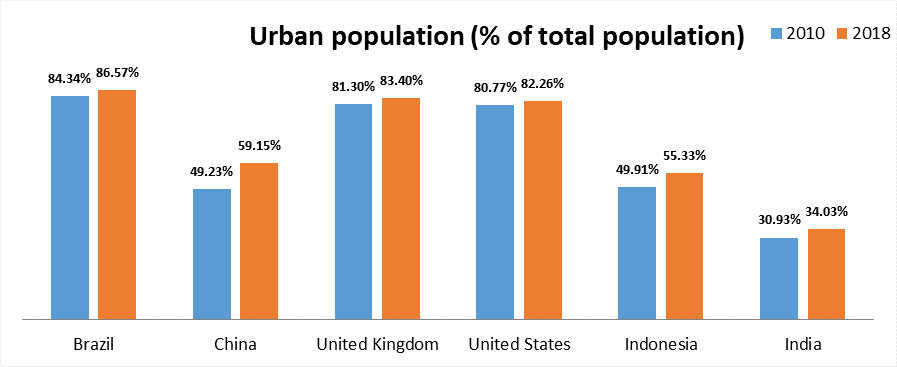 Market Segmentation
By Product Type, the global Fire Safety Equipment Market is segmented into Fire detection(Fire detectors(flame, smoke, and heat) and Fire alarms) and fire suppression(fire extinguisher(gas, water, dry chemical, and others) and sprinklers). In 2019, fire detection segment is dominated the global market owing to the advent of advanced technology, such as wireless detection and wireless networking, thus reducing the installation costs. Increasing accidents and loss of property owing to fire breakouts has alarmed the need for installation of smart systems, such as wireless sensor networks, across the industrial, commercial, and residential sectors.
By application, the global fire safety equipment market is segmented into residential and Non-Residential (Retail, oil & gas, hospitality, government, manufacturing, and others). In 2019, Non- residential segment accounted for the majority share in the global market. Growing awareness about ensuring the safety of people, in public places in particular, has been leading to increasing installation of fire protection equipment. For instance, In India Expansion in retail and IT is driving the growth in demand for fire protection equipment. Moreover, the growth in this region will be backed by growth in sectors like retail, manufacturing, and hospitality.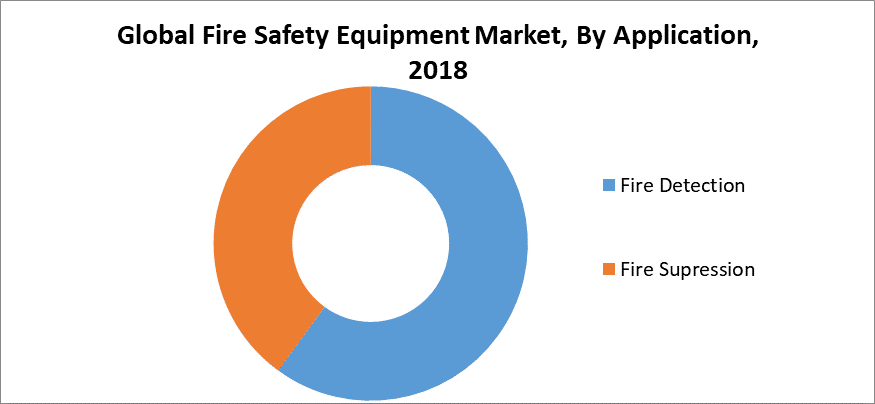 Geographical Share
By geography, the global Fire Safety Equipment Market is segmented into North America, Asia-Pacific (APAC), Europe, South America, and the Middle East and Africa (MEA).
In 2019, North America holds the largest market share in global fire safety equipment market. Rapid growth of the construction industry in Canada and U.S. is driving the demand for fire safety equipment. The U.S. construction industry is rising at a rapid pace with annual expenditures of over (US)$1,231 billion. Construction projects are taking place all over the country, making the industry's outlook a positive one. In the U.S. New York city saw an increase in hospitality and residential projects as the city remains a popular tourist location and that demand for housing (including apartments and condominiums) has been on the rise. Similarly, in Canada, Residential and mixed-use projects are dominating the local construction industry. It is expected that increased infrastructure spending will trigger additional activity, as more than 300 high-rise buildings projects are up for development. The boosting demand for fire safety equipment.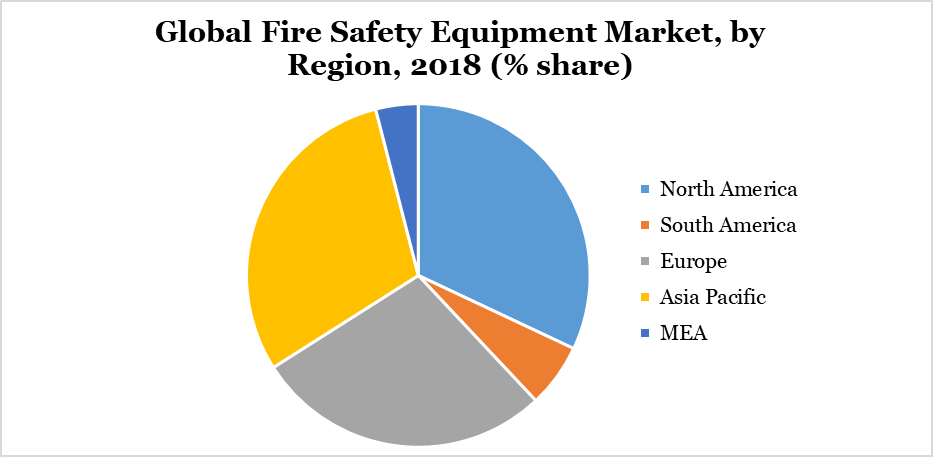 Competitive Analysis
Global Fire Safety Equipment Market is fragmented with the presence of both international and regional players in the market. Since all vendors equally compete to gain a considerable share of the market, the industry appears to be highly competitive. Creating consumer awareness by aggressive marketing strategies and greater visibility of products across channels are other steps taken by market participants to generate demand.
Due to price elasticity in demand for the fire equipment, manufacturers are forced to produce good quality fire protection equipment at low prices. However, Leading and well-established market players are able to balance the losses thus suffered by earning profit margins from higher range products.
Some major players in the market are Gentex Corporation, Halma PLC, Hochiki Corporation, Honeywell International Inc, and Johnson Controls. Other key players in the market are Robert Bosch GMBH, Siemens AG, TYCO, United Technologies, and Protec Fire Detection plc.
Why Purchase the Report?
Identify new growth opportunities with In-depth insights for strategic business plans and design innovative strategies for sustainable growth.

Comprehensive details on factors that will drive or challenge the growth of market players.

Product mapping in excel for the key products of all major market players

Deep Sector-Specific Intelligence

Attractiveness and consumer behavior analysis for every region

Highlights of the competitive landscape
Target Audience:
Equipment Suppliers/ Buyers

Service Providers/ Buyers

Industry Investors/Investment Bankers

Research Professionals

Emerging Companies

Manufacturers
However, Asia Pacific is anticipated to exhibit the highest CAGR over the forecast period. India and China are the two most populated countries of the world and has been witnessing rapid urbanization. Construction in these countries is at all time high because of the majority of the population moving to urban areas. This shift will require more residential and commercial building construction, therefore, fueling growth in the global fire safety equipment market.
Related Reports
Fire Protection Sealants Market