Global Diabetes Devices Market is segmented By Product Type (Glucose Monitoring Devices, Insulin Delivery Devices, Others), By Distribution Network (Clinic centers, Pharmacies), and By Region (North America, Latin America, Europe, Asia Pacific, Middle East, and Africa) – Share, Size, Outlook, and Opportunity Analysis, 2021-2028
Market Overview
The Global Diabetes Devices Market is expected to grow at a CAGR of 5.5% during the forecasting period (2021-2028).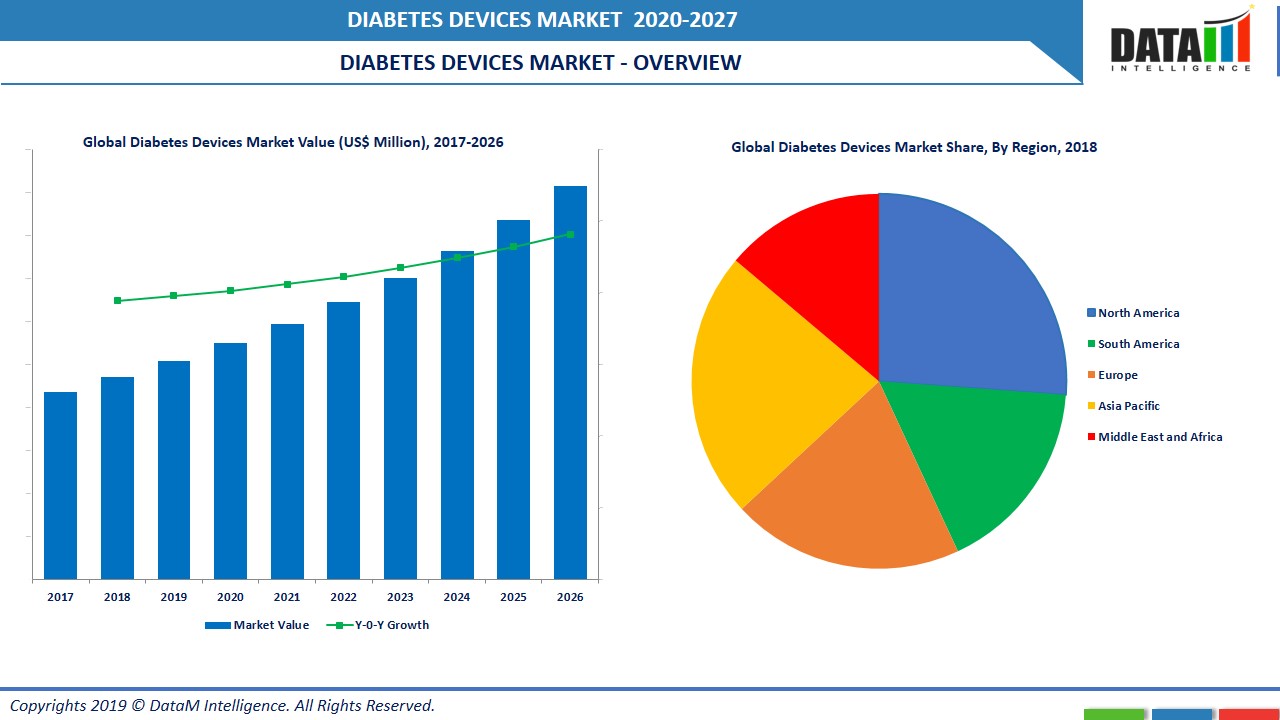 Market Dynamics
The Diabetes Devices market is growing due to the rising incidence rate of diabetes globally. According to the World Health Organization data (2018), the number of people with diabetes has risen from 108 million in 1980 to 422 million in 2014. The global prevalence of diabetes among adults over 18 years of age has risen from 4.7% in 1980 to 8.5% in 2014. Diabetes prevalence has been rising more rapidly in middle- and low-income countries. In 2016, an estimated 1.6 million deaths were directly caused by diabetes. Another 2.2 million deaths were attributable to high blood glucose in 2012. Almost half of all deaths attributable to high blood glucose occur before the age of 70 years. WHO estimates that diabetes was the seventh leading cause of death in 2016.
In addition, with rising improvement in technology, there are several advanced diabetes devices introduced in the market which are driving the growth of the diabetes devices market. Earlier, the blood glucose concentration was monitored using disposable biosensors, but later on, many alternative methods were developed for continuous glucose monitoring. These include devices that are skin wearable, having a small needle with a sensor to check glucose in interstitial fluid, etc. Recently, the technology expanded to hybrid devices which can monitor glucose and deliver insulin accordingly. The idea of automated "closed-loop" systems for pairing CGM (Continuous Glucose Monitoring) devices and insulin pumps is considered for diabetes management at the next level. Companies have come forth with various technology and plans for diabetes management to launch in 2019 including CGM and applications. For instance, in February 2019, Tandem Diabetes Care received the Food and Drug Administration (FDA) approval for a slim X2 insulin pump with interoperable technology, the first of the Alternate Controller Enabled Infusion Pumps (ACE pumps), which are devices intended for infusion of drugs into a patient.
Segmentation Analysis
Based on product type, the global diabetes devices market is segmented into glucose monitoring devices, insulin delivery devices, and others. Among these, the glucose monitoring devices market accounted for the largest market share in 2018, owing to the rise in prevalence of diabetes globally, and increasing demand for continuous monitoring for preventing diseases such as neuropathy, heart-related diseases, diabetic retinopathy. Glucose monitoring devices are used for measuring the blood glucose levels in the body and are majorly useful for people with diabetes to monitor blood glucose levels. Also, growing technological advancements in glucose monitoring devices to improve the accuracy of the devices are leading to the growth of this segment. The key players are entering into collaborations to launch new glucose monitoring devices. For instance, in May 2019, LifeScan, a leader in blood glucose monitoring and maker of the OneTouch® brand agreed with Sanvita Medical, LLC, to market continuous glucose monitoring (CGM) sensors.
Also, in January 2019, Medtronic collaborated with Eris Lifesciences to launch Guardian Connect, the world's first Smart Continuous Glucose Monitoring System,
Source: DataM Intelligence Analysis (2019)
Geographical Analysis
North America holds the dominant market share for Diabetes Devices in 2018 and is expected to maintain the growth over the forecast period, increasing prevalence of diabetes which is caused mainly due to urbanization and sedentary lifestyles. The United States is one of the top five countries with the highest diabetic population. The country has close to 100 million adults, diabetic and pre-diabetic. According to the Centers for Disease Control and Prevention (CDC), more than 30 million people in the United States have diabetes, and more than 84 million US adults (over a third), have pre-diabetes. Diabetes is the 7th leading cause of death in the United States. Type 2 diabetes accounts for about 90% to 95% of all diagnosed cases of diabetes; type 1 diabetes accounts for about 5%. The market growth of diabetic devices is directly proportional to the increasing diabetic population in the country. In the last 20 years, the number of adults diagnosed with diabetes has more than doubled as the American population has aged and become more overweight or obese. In the United States, 30% of the population is living with obesity, 7.5% of those have diabetes, and this percentage is expected to increase further during the forecast period (2019-2026).
Competitive Landscape
Some of the major manufacturers in the diabetes devices market are Medtronic Plc, Sanofi S.A., Eli Lilly, Abbott Laboratories, Novo Nordisk, F. Hoffmann-La Roche Ltd, Becton, Dickinson and Company, Johnson & Johnson, Insulet Corp., among others.
The key players are adopting various growth strategies such as new product launches, mergers & acquisitions, partnerships, and collaborations which are contributing to the growth of the diabetes devices market globally. For instance,
In June 2019, Medtronic and Tidepool signed a partnership to create an interoperable automated insulin pump system. Medtronic plans to develop a Bluetooth-enabled MiniMed pump that would be compatible with Tidepool Loop, an open-source, automated insulin delivery app for iPhone and Apple Watch, which is currently in development.
In June 2019, Beta Bionics, Inc. and Zealand Pharma A/S completed a home-use study of dasiglucagon in the iLet™ Bionic Pancreas System. The iLet, developed by Beta Bionics, is the world's first autonomous bionic pancreas device, a bihormonal system leveraging lifelong machine learning and artificial intelligence to deliver insulin and glucagon analogs for the autonomous treatment of type 1 diabetes (T1D).
In July 2018, Insulet Corporation, a medical device company, and creators of the insulin delivery system Omnipod Dash™ received FDA clearance for commercialization in the United States.
In March 2018, Medtronic PLC received the US Food and Drug Administration (FDA) approval for Guardian(TM) Connect continuous glucose monitoring (CGM) system, for people with diabetes aged between 14-75 years.
In January 2018, Abbott announced that the FreeStyleLibre System, the company's revolutionary new continuous glucose monitoring (CGM) system, was available to Medicare patients in the United States.
Why Purchase the Report?
Visualize the composition of the diabetes devices market segmentation by product type and distribution channel highlighting the key commercial assets and players.
Identify commercial opportunities in the diabetes devices market by analyzing trends and co-development deals.
Excel data sheet with thousands of data points of diabetes devices market-level 4/5 segmentation.
PDF report with the most relevant analysis cogently put together after exhaustive qualitative interviews and in-depth market study.
Product mapping in excel for the key product of all major market players
The Global Diabetes Devices Market report would provide access to an approx. 53 market data table, 41 figures, and 286 pages.
Target Audience
Service Providers/ Buyers
Industry Investors/Investment Bankers
Research Professionals
Emerging Companies
Manufacturers
Trending Topics