Global Cancer Biomarkers Market is segmented by Cancer Indication (Sarcoma, Colorectal Cancer, Cervical Cancer, Lung Cancer, Breast Cancer), by Biomarker Type (Protein Biomarkers, Genetic Biomarkers, Others), By Profiling Technology (Omics Technologies, Cytogenetics, Immunoassays, Imaging Technologies, Bioinformatics) by Application (Drug Discovery And Development, Disease Screening and Diagnosis, Treatment Planning & Risk Assessment, Others by Region (North America, Latin America, Europe, Asia Pacific, Middle East, and Africa) – Size, Share, Outlook, and Opportunity Analysis, 2021-2028.
Market Overview
The global cancer biomarkers market was valued at US 12.21 billion in 2018 and is expected to witness a high CAGR of 13.2% over the forecast period (2021–2028).
Cancer biomarkers are biological molecules secreted either by tumors or from tissues in response to cancer, which are then later used to measure and evaluate the cancer growth processes in the body. Cancer biomarkers are used on or for the patients when undergoing curative cancer treatment; these can be further used to follow-up the disease condition at the early stage or for the possible recurrent disease. Various national governments are now focused to invest more in the processor to cure the disease at early stages or entirely to prevent the disease to be more worsening.
The majority of the healthcare bodies are into cancer research and its studies. the rising prevalence of cancer is in a way leading to innovation and development in the area of a cancer diagnosis with biomarkers. For instance, according to 2015, the U.K. Department of Health & Social Care invested US 7.5 billion in cancer-related treatment and services, annually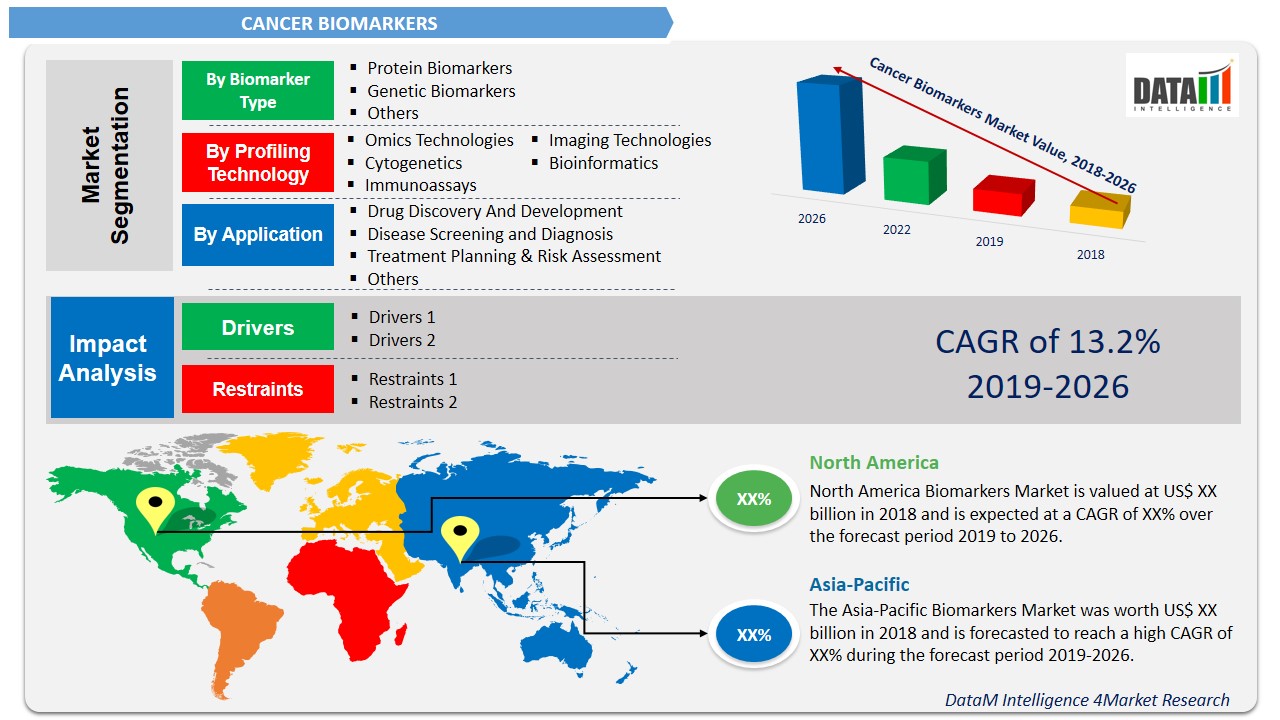 Market Dynamics
Cancer is one of the deadly diseases ever known. The high prevalence rate of cancer is expected to be a significant revenue booster for the cancer biomarker market. For instance, according to cancer.gov, in 2018, an estimated 1,735,350 new cases of cancer will be diagnosed in the United States and 609,640 people will die from the disease. The listed descending order of most common cancer is breast cancer, lung and bronchus cancer, prostate cancer, colon and rectum cancer, melanoma of the skin, bladder cancer, non-Hodgkin lymphoma, kidney and renal pelvis cancer, endometrial cancer, leukemia, pancreatic cancer, thyroid cancer, and liver cancer. Breast cancer is the most common type of cancer and can occur both in men and women. However, it is mostly found among females, and the male occurrence of breast cancer is very rare. In 2018, an estimated 266,120 new cases of invasive breast cancer are expected to be diagnosed in women in the U.S., along with 63,960 new cases of non-invasive (in situ) breast cancer. About 2,550 new cases of invasive breast cancer are expected to be diagnosed in men in 2018. A man's lifetime risk of breast cancer is about 1 in 1,000.
According to the World Cancer Research Fund (WCRF) International, 2015 data findings, 58% of the lung cancer cases were reported in emerging economies, in 2014. Hungary had the highest rate of lung cancer, followed by Serbia, and North Korea. Moreover, the highest incidence of lung cancer was registered in North America and Europe, for the same year. According to the National Cancer Institute, in 2014, around 66,771 people were suffering from liver, and intrahepatic bile duct cancer in the U.S. Liver and intrahepatic bile duct cancer represented 2.4% of all new cancer cases reported in the U.S. in 2014. Moreover, obesity, diabetes, alcoholic liver disease (cirrhosis), chronic hepatitis B, hepatitis C infections, tobacco, and smoking are the most common risk factors for liver cancer. According to the Centers for Disease Control and Prevention (CDC), February 2018 data findings, each year in the U.S., around 22,000 men and 9,000 women suffer from liver cancer, and about 16,000 men and 8,000 women die from liver cancer. Thus, the substantial increase in the incidence and mortality rate of liver cancer in the country is expected to boost the growth of the cancer biomarkers market, shortly. All such cancer is paving the way for new cancer diagnostic tests with the use of cancer biomarkers, which might help in the early detection of cancer, which can further impact the prevalence rate of cancer in middle and lower economic countries.
However, certain factors are expected to hinder the cancer biomarker market are, including high treatment cost and unfavorable reimbursement policies for cancer biomarkers. The cancer diagnosis is relatively expensive, which primarily includes medical and non-medical expenses for cancer diagnosis, treatment, and cancer care. For instance, according to the Cancer Action Network, in 2014, cancer patients in the U.S. paid around US 4 billion out-of-pocket for cancer treatment.
R&D Developments
The government of various healthcare organizations, private organizations, have increased research and development funding for cancer biomarkers. the increasing prevalence of cancer coupled with raising funds for cancer biomarker testing has immensely boosted the market for cancer biomarker market. For instance, in June 2018, Cancer Research U.K., proposed funding of US 140,922 per year, through a biomarker project for biomarker assay development, validation, and qualification for use in clinical cancer diagnosis., Additionally, in March 2016, the National Cancer Institute has earmarked 5.5 million in the fiscal year 2016 to fund the establishment of laboratories to advance research on biomarkers and biomarker assays for cancers of the breast, prostate, lung, and genitourinary organs, as well as cancers with rapidly rising incidence rates. In the year 2016, Auckland entrepreneur, Mr. Liangren Li, and his family announced a record 10 million endowment fund to provide annual interest for investing in cancer research. The 480,000 projects will run over three years starting in September 2016 and focus on biomarkers for gynecological cancers. It plans to expand to include other tumor types over this period. The grant was allocated for initiating the PROSPER (Profiling of Oncology Patients as part of the Clinical Care and Research) project. In 2016, the National Cancer Institute (NCI) invested US 3.9 billion for cancer research activities, which accounts for 70.8% of the overall NCI 2016 budget. It invested around US 533 million in cancer detection and diagnostic research activities. Moreover, in 2016, NCI allocated 40.4% of its funds for Research Project Grants (RPGs).
Major players operating in the cancer biomarkers market include Abbott Laboratories, Bio-Rad Laboratories, Becton, Dickinson and Company, Thermo Fisher Scientific Inc, Merck & Co., Inc., BioMerieux S.A., Qiagen N.V., and Bard1 Life Sciences Limited among others.
Market Segmentation
By biomarker type, genetic biomarker accounts for the largest share in the cancer biomarker market. The biomarker market is estimated to grow at a nominal pace in the forecasted period growing at a CAGR of XX% in the predicted period 2018-2025.

A Genetic Biomarker is defined as a DNA or RNA characteristic that is an indicator of normal biologic processes, pathogenic processes, and response to therapeutic or other intervention.

Genetic mutations are the primary causes for several cancer types and thus identifying these key mutations holds significant clinical importance in drug development, cancer diagnosis, and treatment.

The approval of novel gene-based assays and companion diagnostics will fuel the market for genetic biomarkers in the forecast period.

For instance, in January 2018, FDA has approved a PMA supplement extending the indications for the use of QIAGEN's there is a screen EGFR RGQ PCR Kit as a companion diagnostic to guide the use of Boehringer Ingelheim's targeted therapy GILOTRIF for first-line treatment of NSCLC.
By Cancer Indication
Hematology malignancies

Prostate cancer

Sarcoma

Colorectal Cancer

Cervical Cancer

Lung Cancer

Breast Cancer
By Biomarker Type
Protein Biomarker

Generic Biomarker

Others
By Profiling Technologies
Omics Technologies

Cytogenetics

Immunoassays

Imaging Technologies

Bioinformatics
By Application
Drug Discovery And Development

Disease Screening and Diagnosis

Treatment Planning & Risk Assessment

Others
Geographical Share
North America accounts for the largest market share in 2017 with the market being dominated by the United States.

North America is dominating the cancer biomarkers market due to established R&D infrastructure and high acceptance of biomarker-based cancer testing, adequate reimbursement coverage in this region.

Also, the largest share of North America is due to the increasing government support for the discovery and development of biomarkers, increasing demand for personalized medicine, high adoption of advanced omics technologies for biomarker discovery, and rising use of biomarkers in drug discovery and development by pharmaceutical companies in that region.

The US holds the largest market share in North America followed by Canada due to growing research and developments in cancer biomarkers with a rising number of cancer cases in this region.

On 5 December 2017, the European Cancer Patient Coalition (ECPC), in collaboration with the Member of the European Parliament Marlene Mizzi (S&D, Malta) organized an event on the topic of Cancer Biomarkers in the Era of Personalized Medicines.

The European Medicines Agency has endorsed a UK-US project to use an imaging biomarker to help select Parkinson's disease patients most likely to benefit from clinical trials.

India, China, Brazil, and the Australian market are growing at a higher rate while the United States, Italy, Germany, Japan, and Spain market are increasing at a slower pace but contribute to the most substantial market revenue in 2017.
Competitive Trends
The cancer biomarker market is a highly competitive market with a genetic biomarker being a consolidated market while the protein biomarker market is fragmented.

Companies in the industry are focusing on launching novel products into the market with partnerships being the most adopted strategy by the major companies in the industry.
Market Report Scope
The report also covers the key factors impacting the market, Porter 5 Forces, Market Share Analysis, Price trend analysis, Product Benchmarking, and company profiles.
Why Purchase the Report?
Visualize the composition of the global cancer biomarker market with a clear distinction between each biomarker and its application

Identify commercial opportunities in the worldwide cancer biomarker market analyzing trends and co-development deals.

Excel data sheet with thousands of data points of the global cancer biomarker market

PDF report with the most relevant analysis cogently put together after exhaustive qualitative interviews and in-depth market study.

Product mapping in excel for the principal products of all major market players.
Who can use this report?
Equipment Suppliers/ Buyers

Service Providers/ Buyer

Industry Investors/Investment Bankers

Research Professionals

Emerging Companies

Manufacturers
Trending Topics