Nootropics Market is segmented By Dosage Form(Tablets, Capsules, Injections, Powder, Drinks), By Type(Over-the-counter, Prescription), By Application (Memory Enhancement, Mood and Depression, Attention and Focus, Longevity and Anti-aging, Sleep, Recovery and Dream Enhancement, Anxiety, Others), By Distribution Channel(Hospital Pharmacies, Online Pharmacies, Retail Pharmacies, and others) and By Region (North America, Latin America, Europe, Asia Pacific, Middle East, and Africa) – Share, Size, Outlook, and Opportunity Analysis, 2023-2030
Nootropics Market Overview
The Global Nootropics Market reached USD 11,055.5 million in 2022 and is projected to witness lucrative growth by reaching up to USD 31,266.5 million by 2030. The global nootropics market is expected to exhibit a CAGR of 14.3% during the forecast period (2023-2030). There is a growing trend towards using natural ingredients in nootropics. This is because natural ingredients are generally considered to be safer and have fewer side effects than synthetic ingredients.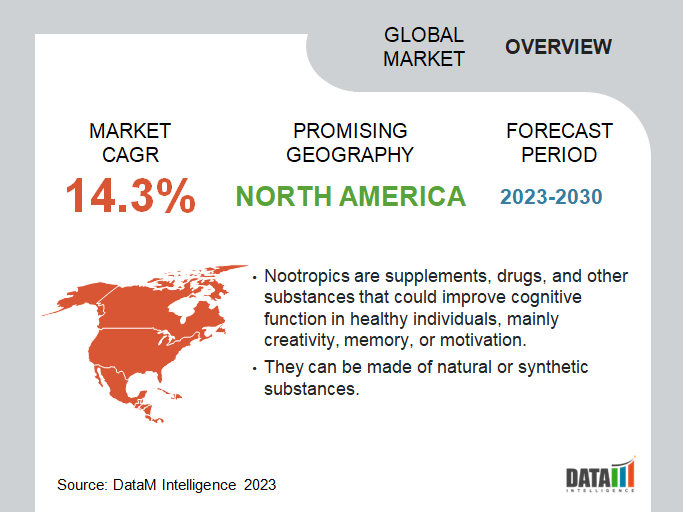 For instance, Nootrobox is a company that develops and sells nootropics. Their products are made with natural ingredients, such as caffeine, L-theanine, and alpha-GPC.
Over 80 compounds can be classified as nootropics, including herbs, vitamins, phospholipids, amino acids, choline sources, antioxidants, and psychedelics.
Some of these compounds act for the short term, providing a few hours of temporarily enhanced energy, mental focus, or creativity. In contrast, others work over long-term cognitive health and mental performance if taken consistently for weeks.
Furthermore, the growing awareness regarding the health benefits of nootropics and increasing consumer spending on healthcare and wellness products are the factors expected to drive the market over the forecast period.
For instance, the National Institutes of Health (NIH) launched an awareness program in 2022 to educate the public about nootropics. The program, called "Nootropics: What You Need to Know," provides information about the potential benefits and risks of nootropics, as well as where to find reliable information about these substances.
The NIH program is part of a larger effort to raise awareness about nootropics and to encourage people to seek out accurate information before taking any supplements. Other search results provide additional information about the types, dosages, and side effects of smart drugs, the global market for nootropics, and research on natural nootropics.
Nootropics Market Scope
| | |
| --- | --- |
| Metrics | Details |
| CAGR | 14.3% |
| Size Available for Years | 2021-2030 |
| Forecast Period | 2023-2030 |
| Data Availability | Value (USD ) |
| Segments Covered | Dosage Form, Type, Application, Distribution Channel, and Region |
| Regions Covered | North America, Europe, Asia-Pacific, South America, and Middle East & Africa |
| Fastest Growing Region | Asia-Pacific |
| Largest Region | North America |
| Report Insights Covered | Competitive Landscape Analysis, Company Profile Analysis, Market Size, Share, Growth, Demand, Recent Developments, Mergers and Acquisitions, New Product Launches, Growth Strategies, Revenue Analysis, Porter's Analysis, Pricing Analysis, Regulatory Analysis, Supply-Chain Analysis, and Orthopedic Surgery key Insights. |
To know more insights Download Sample
Nootropics Market Dynamics
High Adoption of Vegan Nootropics is Expected to Drive Market Growth.
On February 22, 2022, Australian start-up AusVitality launched its first product with an adaptropic, a supplement that combines adaptogens and nootropics to alleviate burnout and weariness.
The Australian Register of Therapeutic Goods (ARTG)-listed tablet product Mindlift contains adaptogens ashwagandha (Withania somnifera) root extract and Rhodiola Rosea root extract, as well as nootropics Bacopa monnieri whole plant extract. It claims to increase mental focus, clarity, and vitality and decrease cognitive tiredness, stress symptoms, and moderate anxiety.
Moreover, on August 1, 2022, Mindright, a snack company, launched a first-of-its-kind line of popped chips packed with brain-boosting nootropic chemicals. The new line is available in three flavors Chili Lime, Cinnamon Churro, and Tumeric Ranch.
The popped chips are produced with the brand's trademark nootropic blend, which includes ginseng, lion's mane, and L-Theanine, as well as vitamins B6, B12, and antioxidants that improve energy, mood, and focus. The chips are produced with 100% avocado oil rather than standard oils like canola or soybean. Thus, from the above factors, the market is expected to drive over the forecast period.
Side Effects and Interactions With Nootropics Drugs are Expected to Hamper the Market Growth.
Supplements may not contain what their labels claim. For instance, a study of Rhodiola products discovered that some include toxins or other components not specified on the label. As a result, it is critical to only buy supplements from trustworthy companies that have undergone independent testing. Thus, from the above factors, the market is expected to hamper the forecast period.
Nootropics Market Segment Analysis
The global nootropics market is segmented based on dosage form, type, application, distribution channel, and region.
The Tablets Segment is Expected to Hold a Dominant Position in the Market Over the Forecast Period.
The tablets segment accounted for the highest market stake accounting for approximately 45.3% of the nootropics market in 2022. Tablet segment benefits because it is a low-cost, safe, and effective method of delivering long-lasting, chewable oral medication. The majority of nootropics are available in tablet form. Tablets are simpler to carry and consume than any other form of media. It also makes it easier for healthcare providers to prescribe medicine in tablet form.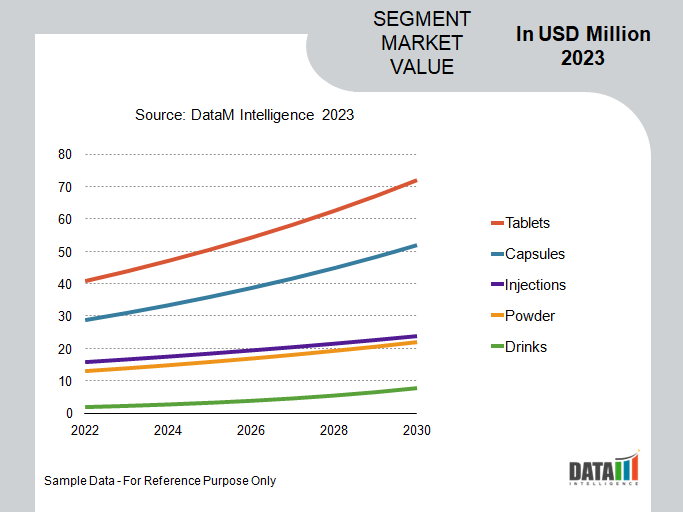 For instance, Modafinil is a well-known nootropic used to enhance focus, alertness, and cognitive function. It is available in tablet form and is often prescribed for conditions like narcolepsy or used off-label as a cognitive enhancer.
Similarly, Piracetam is one of the earliest-developed nootropics and is known for its memory-enhancing effects. It is available in tablet form and is commonly used to support cognitive function and improve learning and memory.
Furthermore, there has been an increased focus on developing natural and herbal-based nootropic formulations, with ingredients such as Crocus sativus (saffron), Ginkgo biloba, and Melissa officinalis (lemon balm) have been studied for their cognitive-enhancing effects and are often included in tablet formulations.
For instance, Neuriva is another well-known nootropic brand that offers tablet formulations. Their products often include a blend of natural ingredients, including saffron extract, Ginkgo biloba, and other nutrients to support brain health and cognitive performance.
Hence, owing to the above factors, the tablet segment is expected to hold the largest market share over the forecast period.
Nootropics Market Geographical Penetration
North America Holds a Dominant Position in the Global Nootropics Market.
North America is estimated to hold around 40.3% of the total market share throughout the forecast period. owing to the high awareness in the consumer population of preventive and cognitive health and the increasing number of self-directed consumers, product launches and collaborations by the market players are the factors to drive the market in the forecast period.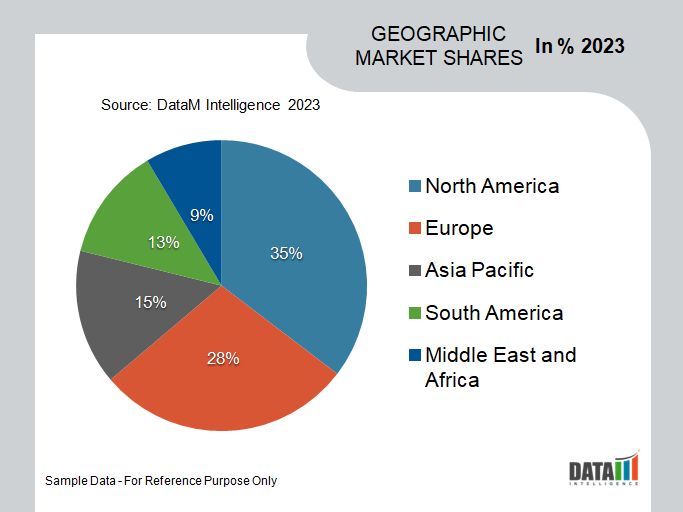 For instance, BioAdaptives Inc. launched MindnMemory on July 28, 2022, an enhanced nootropic aimed to improve memory, mental focus, clarity, and attention. MindnMemory has a steady, smooth onset and lasting effect, retaining good effects without the abrupt "high" and "crash" induced by caffeine and comparable compounds.
The company developed and tested this stimulant-free formulation based on Traditional Chinese Medicine and Ayurvedic Culture in response to the high demand for a premium product that supports peak performance. MindnMemory is intended to aid people suffering from age-related cognitive loss and anyone, especially e-Gamers, seeking peak perception, judgment, accuracy, reaction speed, and mood elevation.
Thus, from the above factors, the North American region is expected to hold the largest market share over the forecast period.
Nootropics Companies
The major global players in the market include Nootrobox, Inc., Purelife Bioscience Co. Ltd., Peak Nootropics, Nootrico, SupNootropic Biological Technology Co. Ltd., AlternaScript LLC, Accelerated Intelligence, Inc., Onnit Labs LLC, Powder City LLC, Ceretropic and Nootropic Source among others.
COVID-19 Impact on Nootropics Market
The COVID-19 epidemic positively impacted the nootropics industry. According to Memorial Sloan Kettering Cancer Center, One of the dozens of strange symptoms that have surfaced in COVID-19 patients is a syndrome known colloquially as COVID brain or brain fog. It is characterized by disorientation, headaches, and short-term memory loss.
In difficult situations, it can cause insanity and even seizures. It usually appears several weeks after someone falls ill with COVID-19. Therefore, the COVID-19 pandemic contributed significantly to the demand for nootropics, as consumers' preferences for brain-health-enhancing supplements, drinks, and bars improve their cognitive health.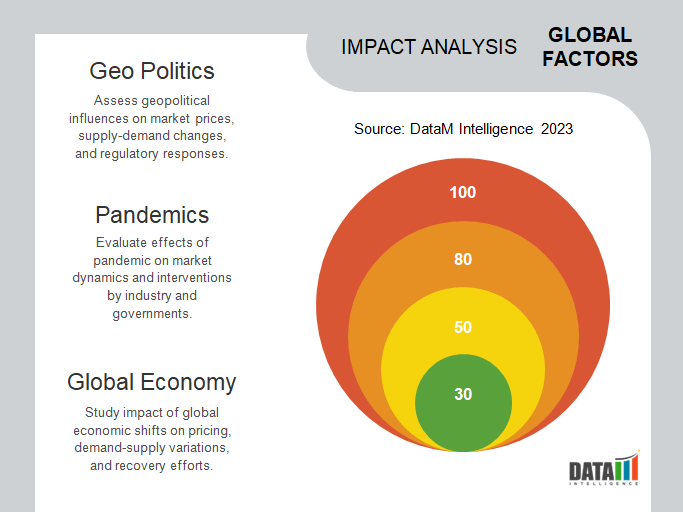 Moreover, due to the COVID-19 pandemic, various companies and shops gained from online sales of nootropics. Furthermore, as customers seek natural nootropics products, demand for organic nootropics such as coffee and supplements containing natural substances such as Brahmi, arctic root, turmeric, ginseng, and pine bark has increased. Thus, from the above factors, the market is affected positively in the forecast period.
Russia Ukraine Conflict Analysis
The Russo-Ukrainian War, a political and military conflict, has had indirect effects on sectors like trade and commerce. While it's difficult to provide a complete analysis, potential impacts on the nootropics industry include disrupted supply chains, regulatory changes, economic instability, and shifts in research and development.
These factors may lead to delays or shortages in the availability of certain products, changes in import/export regulations, decreased consumer demand, and potential setbacks in scientific research and innovation. Monitoring developments in the affected regions is important to understand the impact on the availability and distribution of nootropic products.
By Dosage Form
Tablets
Capsules
Injections
Powder
Drinks
By Type
Ginkgo Biloba
Panax Ginseng
Rhodiola Rosea
Nicotine
Caffeine
Racetams

Piracetam
Pramiracetam
Phenylpiracetam
Aniracetam
Others

L-theanine
CDP-choline
Creatine monohydrate
Bacopa monnieri
Noopept
Omega-3 fatty acids
Others
Modafinil (Provigil)
Adderall
Methylphenidate (Ritalin)
Memantine (Axura)
Others
By Application
Memory Enhancement
Mood and Depression
Attention and Focus
Longevity and Anti-aging
Sleep
Recovery and Dream Enhancement
Anxiety
Others
By Distribution Channel
Hospital Pharmacies
Retail Pharmacies
Online Pharmacies
Others
By Region
North America
Europe

Germany
The U.K.
France
Italy
Spain
Rest of Europe

South America

Brazil
Argentina
Rest of South America

Asia-Pacific

China
India
Japan
Australia
Rest of Asia-Pacific

Middle East and Africa
Key Developments
On March 9, 2022, No. 8 is a new mental wellness brand that aims to address the growing mental health crisis by combining nootropics and mindful practices. The brand's launch comes at a time when anxiety and depression rates have significantly increased in the United States and globally. No. 8 introduces four variants of gummies for Sleep, Energy, Calm, and Focus, which are made with natural ingredients and designed to be low sugar, vegan, non-GMO, gluten-free, and free from artificial sweeteners and synthetic fillers. The gummies utilize natural nootropics, which have been proven effective in clinical trials involving healthy adults
On July 28, 2022, BioAdaptives Inc. announced the launch of MindnMemory, an advanced nootropic designed to enhance memory, mental focus, clarity, and concentration. MindnMemory has a gradual, smooth onset and prolonged effect, maintaining beneficial effects without the sudden high and crash produced by caffeine and similar substances. The Company developed and test-marketed this stimulant-free formulation, based on Traditional Chinese Medicine and Ayurvedic Culture, in response to the strong demand for a premium product that promotes optimal performance.
Why Purchase the Report?
To visualize the global nootropics market segmentation based on the dosage form, type, application, distribution channel, and region, as well as understand key commercial assets and players.
Identify commercial opportunities by analyzing trends and co-development.
Excel data sheet with numerous data points of nootropics market-level with all segments.
PDF report consists of a comprehensive analysis after exhaustive qualitative interviews and an in-depth study.
Product mapping available as Excel consisting of key products of all the major players.
The global nootropics market report would provide approximately 49 tables, 53 figures, and 195 Pages.
Target Audience 2023
Manufacturers/ Buyers
Industry Investors/Investment Bankers
Research Professionals
Emerging Companies
For more Pharmaceuticals related reports, please click here