Meat Snacks Market is segmented By Meat Type (Beef, Poultry, Pork, Seafood, Others), By Flavour Type (Original, Teriyaki, Peppered, BBQ, Others), By Outlook Type (Jerky, Steaks and Strips, Bars, Sticks, Others), and By Region (North America, Latin America, Europe, Asia Pacific, Middle East, and Africa) – Share, Size, Outlook, and Opportunity Analysis, 2023-2030
Meat Snacks Market Overview
[123 Pages]. The Global Meat Snacks Market size reached US$ 13.5 million in 2022 and is projected to witness lucrative growth by reaching up to US$ 22 billion by 2030. The market is growing at a CAGR of 6.3% during the forecast period 2023-2030. The global meat snacks market is a growing industry that includes a diverse range of products such as beef jerky, pork rinds and meat sticks.
The meat snacks market is primarily driven by the increasing demand for convenient and healthy snacking options, as well as the rising popularity of protein-rich diets among consumers.
Meat Snacks Market Scope
| | |
| --- | --- |
| Metrics | Details |
| CAGR | 6.3% |
| Size Available for Years | 2021-2030 |
| Forecast Period | 2023-2030 |
| Data Availability | Value (US$) |
| Segments Covered | Meat Type, Flavour Type, Product Type, and Region |
| Regions Covered | North America, Europe, Asia-Pacific, South America, and Middle East & Africa |
| Fastest Growing Region | Asia-Pacific |
| Largest Region | North America |
| Report Insights Covered | Competitive Landscape Analysis, Company Profile Analysis, Market Size, Share, Growth, Demand, Recent Developments, Mergers and Acquisitions, New Product Launches, Growth Strategies, Revenue Analysis, Porter's Analysis, Pricing Analysis, Regulatory Analysis, Supply-Chain Analysis and Other key Insights. |
For More Insights Download Sample
Meat Snacks Market Dynamics
Increasing Demand for Convenient and Healthy Snacking Options Drives the Market Growth
Customers are constantly looking for convenient snacking options, which are being improved by major producers in the meat snacks market. Due to their busy lifestyles, meat snacks are becoming increasingly popular, especially with the nation's working population and the younger generation of consumers who are on the rise.
According to Convenience Store Products magazine in 2021, U.S. convenience stores sold nearly 2.16 billion USD worth of meat snacks. The old trapper ranked third among traditional jerky brands in terms of sales in U.S. convenience stores.
Increasing Trends in Eating Meat Snacks Drive the Market Growth
People are switching to meat snacks. Customers are drawn to protein-rich, high-quality meat snacks because they contain more protein than veg snacks. Consumers are more likely to spend money on high-protein snacks, according to 52% of consumers. Additionally, manufacturers of meat snacks offer a variety of mouthwatering flavors and shapes of meat snacks based on consumer preferences. This marketing strategy encourages consumers to purchase meat snack products.
Meat Snacks Market Segment Analysis
The global meat snacks market is segmented based on meat type, flavour type, outlook type and region.
Increased Awareness About Healthy and Protein-rich Snacking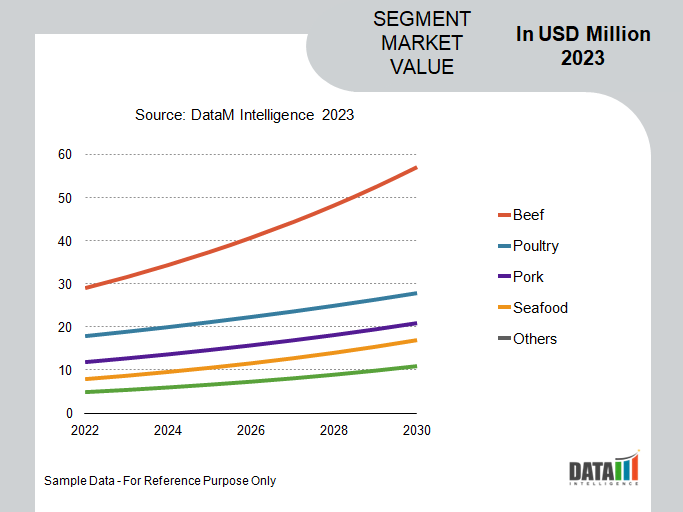 In 2022, the jerky segment held the largest share of the global meat snacks market. The rapidly changing eating habits and rising awareness about healthy and protein-rich snacking have fueled market demand for jerky. The extended shelf life of the jerky due to the drying process, coupled with the various flavors offered by the market players in jerky snacks, has propelled the demand for the product.
For instance, the U.S. company Wenzel's Farm announced the introduction of beef jerky in three distinct flavors in January 2020. The item comes in three flavors: peppered, teriyaki and original.
Meat Snacks Market Geographical Penetration
Increased Consumption of Meat Products in North America
In 2022, North America accounted for the largest share of the global market for meat snacks. The main causes of the increased demand for protein-rich and portable meat snacks are the region's busy lifestyle and the rising elderly population. In addition, the market has grown due to the high demand for meat and meat products brought on by the large population of meat eaters.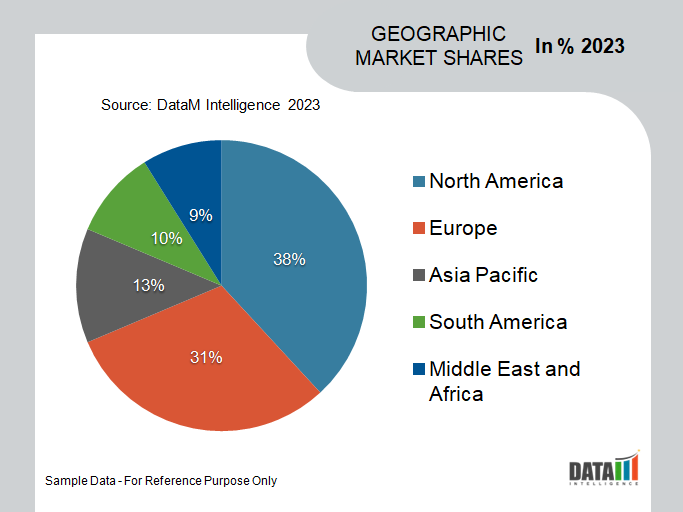 The largest market in North America and the world where meat snacks are consumed as necessary food items is the United States. In 2021, 129.43 million Americans consumed beef jerky and meat snacks, according to data from the U.S. Census and the National Consumer Survey.
Meat Snacks Market Players
The major global meat snacks market players include Meat Snacks Group, Jack Link's Beef Jerky, Conagra Brands, Hormel Foods, Oberto, Old Trapper, Tyson Foods, Inc., Bridgford Foods, Klement's Sausage and Country Archer.
COVID-19 Impact on Meat Snacks Market
The COVID-19 pandemic has significantly impacted the global meat snacks market. The pandemic has caused disruptions in the global supply chain and changes in consumer behaviour, which have affected the meat snacks market in various ways. This has led to a decline in demand for meat snacks that are high in salt, fat and preservatives. However, with the outbreak of COVID-19, there has been an increased demand for packaged and processed foods, including meat snacks.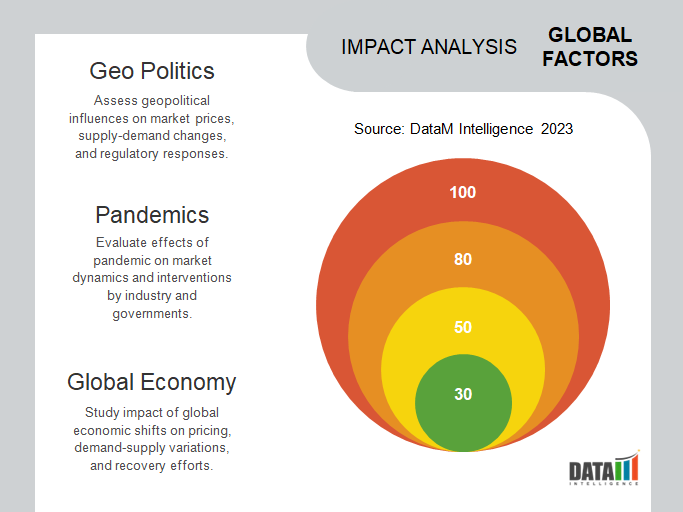 Artificial Intelligence Impact Analysis
Artificial intelligence (AI) can have a significant impact on the meat snacks market, particularly in areas such as production, supply chain management and marketing. AI can be used in the production of meat snacks. By using machine learning algorithms, manufacturers can optimize their production processes to reduce waste, improve quality and increase efficiency. This can result in lower costs for manufacturers and more consistent, high-quality products for consumers.
Key Developments
In November 2022, Japanese ham and sausage manufacturer Itoham expanded its line of sausages in Thailand with the addition of two new flavors: Arabiki nori and Arabiki mala. Pork is coarsely ground to make the banger known as araki.
In October 2022, Lotus Thailand introduced private-label meat snack products under the NaxNax brand. Chicken, prawns, salmon skin, squid and other meats are available as snacks. Original, Smoke BBQ and Korean Hot and Spicy are the available flavors of Crispy Chicken Stick. As opposed to Crispy Squid, which comes in Garlic & Pepper, Shrimp Cheek Snack comes in Tom Yam and other flavors.
In October 2021, Conagra Brands introduced Slim Jim, a meaty wallop that weighs three ounces. There are 13 grams of protein in each pack of Slim Jim Original Giant sticks.
Why Purchase the Report?
To visualize the global meat snacks market segmentation based on meat type, flavour type, product type, and region, as well as understand key commercial assets and players.
Identify commercial opportunities by analyzing trends and co-development.
Excel data sheet with numerous data points of meat snacks market-level with all segments.
PDF report consists of a comprehensive analysis after exhaustive qualitative interviews and an in-depth study.
Product mapping available as Excel consisting of key products of all the major players.
The Global Meat Snacks Market Report Would Provide Approximately 61 Tables, 62 Figures and 123 Pages.
Target Audience 2023
Manufacturers / Buyers
Industry Investors/Investment Bankers
Research Professionals
Emerging Companies