Global Luxury Car Market is segmented By Vehicle Type (Hatchback, Sedan, Sports Utility Vehicle (SUV), Coupe, Limousine, Sports Car), By Propulsion (Internal Combustion Engine (ICE), Hybrid, Electric), and by Region (North America, South America, Europe, Asia Pacific, Middle East, and Africa) – Share, Size, Outlook, and Opportunity Analysis, 2023-2030
Luxury Car Market Overview
Global Luxury Car Market reached USD 680.2 billion in 2022 and is expected to reach USD 1116.3 billion by 2030 and is expected to grow with a CAGR of 6.5% during the forecast period 2023-2030
Luxury car manufacturers are undertaking a revamp of their product lineup, with new launches and refreshing of existing models in a bid to attract a new set of customers. Luxury carmakers are positioning their new products to appeal towards a more younger demographic. Young consumers are expected to drive global luxury car market growth during the forecast period.
Over the forecast period, overlooked regions such as Middle East and Africa are likely to experience significant growth. Middle eastern countries such as United Arab Emirates (UAE) have witnessed 10% growth in luxury car sales in 2022 over the previous year. Middle east has also noted healthy growth in customized luxury cars in 2022, with sales up by 6% over the previous year. Africa is expected to be a promising region for the global market, especially as a sizeable number of countries are likely to reach middle-income status over the next few years.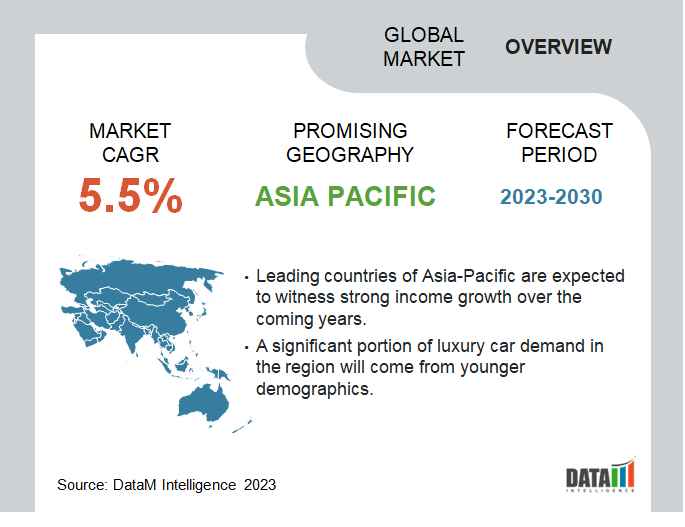 Luxury Car Market Scope
| | |
| --- | --- |
| Metrics | Details |
| CAGR | 6.5% |
| Size Available for Years | 2021-2030 |
| Forecast Period | 2023-2030 |
| Data Availability | Value (US$) |
| Segments Covered | Vehicle Type, Propulsion and Region |
| Regions Covered | North America, Europe, Asia-Pacific, South America and Middle East & Africa |
| Fastest Growing Region | Asia-Pacific |
| Largest Region | Asia-Pacific |
| Report Insights Covered | Competitive Landscape Analysis, Company Profile Analysis, Market Size, Share, Growth, Demand, Recent Developments, Mergers and Acquisitions, New Equipment Type Launches, Growth Strategies, Revenue Analysis, Porter's Analysis, Pricing Analysis, Regulatory Analysis, Supply-Chain Analysis and Other key Insights. |
For more details on this report - Request for Sample
Luxury Car Market Dynamics
Strong Income Growth in Emerging Nations
Emerging nations, especially those in Asia-Pacific regions, have witnessed strong income growth over the past two decades on account of sustained economic growth. For instance, China, which had an annual per capita income of USD 950 in 2000, has witnessed double digit growth over the years to reach USD 12,814 in 2022. The strong income growth has led to the emergence of a large upper middle class which is fueling the demand for luxury cars.
The major target demographic for luxury car manufacturers in emerging nations are the aspirational upper middle class. With strong income growth, more people are likely to obtain the upper middle class, thus leading to significant expansion of potential market for luxury carmakers. Furthermore, emerging nations are currently the only major bright spot in the global economy, with many developed nations experiencing recession or stagflation.
Ongoing shift towards Electric Vehicles
With growing environmental concerns, automotive manufacturers are moving towards zero emission mobility solutions. For instance, in 2021, the Volkswagen Group, one of the largest global automotive manufacturers, announced that it would completely stop the development of conventional ICE cars by 2030. Luxury car manufacturers are increasing the share of electric vehicles in their product lineup.
In June 2023, Rolls Royce,, the UK-based ultra-luxury carmaker launched Spectre, its first-ever electric vehicle. BMW, Audi and Mercedes Benz also have a lineup of EV models, whereas Tesla, the U.S.-based carmaker, only manufactures luxury electric vehicles. The ongoing shift towards electric vehicles is likely to attract the environmentally conscious, high-income clientele, which disapproves of the high carbon emissions of conventional ICE luxury vehicles.
High Duties and Taxes
Governments, especially those in developing countries treat luxury cars as items of indulgent spending and impose very high tax rates. Governments generally impose the highest tax bracket on locally produced luxury cars whereas duties and tariffs ranging from 100 to 200% of the car's value are imposed on fully imported cars.
The aspirational emerging upper middle class such as young corporate managers, doctors and lawyers with high income are some of the key target demographics for carmakers. High duties and taxes raises prices of luxury cars and prevents companies from expanding in local markets, thus constraining the overall growth of the global market.
Luxury Car Market Share and Segment Analysis
The global luxury car market is segmented based on vehicle type, propulsion and region.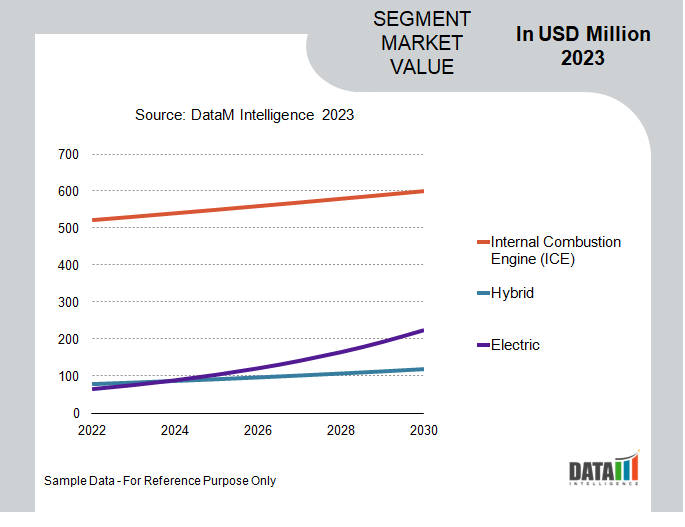 Internal Combustion Engines Still Remain the Preferred Choice for Consumers
Internal combustion engine (ICE) are the most common propulsion system used in modern luxury cars. ICE technology is highly matured and allows luxury carmakers to provide a wide range of power and torque output to customers according to their needs. Furthermore, advances in engine dynamics and performance have increased refinement levels, making luxury car driving a pleasurable experience.
Over the coming years, hybrid and electric propulsion systems are likely to become more prominent as carmakers increasingly switch to zero emission mobility solutions. Luxury carmakers are increasing investments in the development of advanced electric propulsion technologies to ensure that electric vehicles maintain the same performance standards as conventional ICE models.
Luxury Car Market Geographical Share
Asia-Pacific is expected to be a Promising Avenue of Growth for the Global Market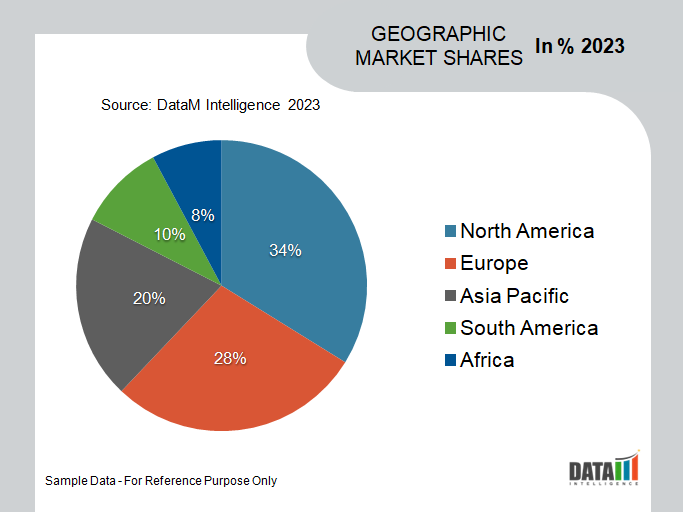 Asia-Pacific is expected to grow at a faster CAGR of 7.0% during the forecast period. The region is experiencing rapid industrialization and economic growth which is consequently leading to a major rise in disposable incomes. India and China are among the biggest markets in Asia-Pacific for luxury cars, with Japan, South Korea, Malaysia, Indonesia and Thailand being other significant markets.
China is by far, the biggest market for luxury cars in the region, with nearly 3.09 million luxury vehicles sold in 2022, representing an increase of 6% over the previous year. Almost all major global luxury car brands have manufacturing and assembly operations in the country. Carmakers also use China has a hub for exporting luxury cars across the region.
India is another major market for luxury cars which is experiencing double digit growth. Nearly 36,500 luxury cars were sold in India in 2022, representing an increase of 29% over the previous year. Although the total sales volume are low, India is one of the few remaining high growth markets for luxury car manufacturers. India will continue to be a major source of growth for the luxury car market in Asia-Pacific.
Luxury Car Brands
The major global brands include Volkswagen Group, BMW Group, Mercedes-Benz Group AG, General Motors, Ferrari S.p.A., Tesla, Inc., Tata Motors, Aston Martin, Toyota Motor Corporation and China FAW Group Co. Ltd.
COVID-19 Impact On Luxury Car Market Growth
The COVID-19 pandemic presented significant challenges for the global luxury car market. Stringent lockdowns and other movement restrictions led to a significant decline in the production and sales of luxury cars. Some manufacturers began offering virtual bookings for clients with personalized delivery after easing of COVID restrictions.
The post-pandemic period witnessed a significant rebound in luxury car sales as many countries, especially developed countries in North America and Europe witnessed a K-shaped recovery. Companies are expanding car production and undertaking launch of new vehicle models in the aftermath of the pandemic to drive global market growth.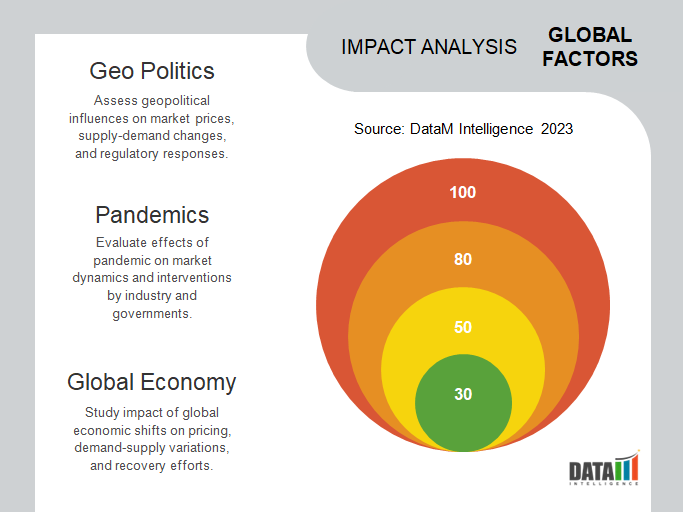 AI Impact Analysis
Artificial Intelligence (AI) will provide major new opportunities for the global market during the forecast period. Luxury carmakers are already integrating new features in recent models to improve customer experience. Modern luxury cars already come with AI-integrated advanced driver assistance (ADAS) systems.
AI-enabled engine control systems are already being used in luxury cars to ensure an optimum balance of performance and emissions reduction. Some carmakers such as Tesla have already started offering autonomous driving systems in a few of their models. Other major carmakers such as Mercedes Benz and BMW are expanding their research into new AI-based technologies to develop new applications for their luxury cars.
Russia- Ukraine War Impact Analysis
The ongoing conflict between Russia and Ukraine has had a significant impact on the luxury car market of both countries. Ukraine has witnessed significant destruction over the course of the war with wealthy Ukrainians fleeing to western Europe. It has led to a complete collapse of the luxury car market in the country.
Western countries have imposed severe economic sanctions on Russia for the war. It has resulted in a complete halt in the shipment of luxury cars to Russia. Furthermore, local luxury car production has been suspended by major carmakers due to the sanctions. Wealthy Russians are therefore relying upon the international grey market to import new and used luxury cars into the country.
By Vehicle Type
Hatchback
Sedan
Sports Utility Vehicle (SUV)
Coupe
Limousine
Sports Car
By Propulsion
Internal Combustion Engine (ICE)
Hybrid
Electric
By Region
North America
Europe

Germany
UK
France
Italy
Russia
Rest of Europe

South America

Brazil
Argentina
Rest of South America

Asia-Pacific

China
India
Japan
Australia
Rest of Asia-Pacific

Middle East and Africa
Key Developments
In March 2023, Mercedes Benz AG, the German luxury carmaker, announced plans to launch four new electric vehicles (EVs) in the Indian market over the next 8-12 months. The new launches are likely to strengthen the company's offerings in the premium luxury EV segment.
In May 2023, Aston Martin, the UK-based luxury carmaker, unveiled the new DB11 luxury sports car at its headquarters in Gaydon, England, UK. The new launch comes as buoyant luxury sales have improved profits at Aston Martin.
In July 2023, Fisker, a U.S.-based automotive company, launched a new luxury electric sports utility vehicle (SUV) in a bid to challenge Tesla in the North American market.
Why Purchase the Report?
To visualize the global luxury car market segmentation based on vehicle type, propulsion and region, as well as understand key commercial assets and players.
Identify commercial opportunities by analyzing trends and co-development.
Excel data sheet with numerous data points of luxury car market-level with all segments.
PDF report consists of a comprehensive analysis after exhaustive qualitative interviews and an in-depth study.
Product mapping available as Excel consisting of key products of all the major players.
The global luxury car market report would provide approximately 50 tables, 50 figures and 190 Pages.
Target Audience 2023
Luxury Car Manufacturers
Luxury Car Dealers
Industry Investors/Investment Bankers
Research Professionals
Emerging Companies