Humectants Market
Humectants Market Overviews
The Global Humectants Market is expected to grow at a CAGR of XX% to reach a market value of USD XX million by 2026.
Humectants are hygroscopic ingredients used to retain moisture. They are the major ingredients used in hair care and skincare products to retain moisture. It contains several hydrophilic groups, such as hydroxyl group, amines & carboxyl groups, and ester. Basically, humectant is an ingredient that draws water molecules out of its environment. Thus, moisturizers containing humectant help rehydrate the skin's surface. In several products, humectants control moisture changes caused by humidity fluctuations in processing, transit, and storage.

Global Humectants Market
– Market Dynamics
The global Humectants market is primarily driven by the increase in demand for Humectants from developing countries. Humectants help in increasing the shelf life of a product, retaining moisture, and increasing a product's effectiveness. Increase in demand from food & beverages application along with rise in demand & technological changes in cosmetics and change in lifestyle drives the global humectants market.
Further, growing demand from food industry as an additive is expected to boost the market growth. Sorbitol is the common humectant that is used as a food additive in sugarless food products. Another example of food additive is polydextrose which is used to replace sugar in food products.
Humectants are being used in water borne paints to hold the moisture content when they are stored. Owing to rising population and increasing infrastructure investment, construction industry is driving the paints and coatings industry which in turn drives humectants market.
However, few of the humectants are the derivatives of petroleum products; thus, volatility in crude oil prices could hamper the global market growth.
Global Humectants Market – Segment Analysis
By application, the global Humectants Market is segmented into food & beverages, personal care products, pharmaceuticals, animal feed, and others (plastics, tobacco, and tanneries). In 2018, food & beverages held majority share in the global market. Rising awareness about the benefits of Humectants has increased the importance as well as demand of Humectants in developing countries Brazil, India, and China. In aforementioned countries, rising urbanization and increase in consumer's disposable income has resulted in increased demand for FMCG products. Therefore, fueling growth in global humectants market.
In pharmaceuticals and personal care products, humectants can be used in topical dosage forms to increase the solubility of a chemical compound's active ingredients, increasing the active ingredients' ability to penetrate skin, or its activity time. This hydrating property can also be needed to counteract a dehydrating active ingredient (e.g., soaps, corticoids, and some alcohols), which is why humectants are common ingredients in a wide range of cosmetic and personal care products that make miniaturization claims (e.g., hair conditioners, body lotions, face or body cleansers, lip balms, and eye creams).
By type, the global Humectants Market is segmented into Sugar Alcohol, Alpha Hydroxy Acid & Polysaccharides, Glycols, and Others. In 2018, sugar alcohol segment accounted for majority share of the global market, owing to the increase in demand from the skin care and food & beverage segment. Sugar alcohols are the active ingredients used in personal care products, and have a significant role in modern cosmetic formulations. Moreover, it is a popular choice among people on dieting, who prefer sugarless foods, due to the lower calorie content as compared to sugar.
Global Humectants Market– Geographical Analysis
By geography, the global Humectants market is segmented into North America, Asia-Pacific (APAC), Europe, South America, and Middle East and Africa (MEA).
In 2018, North America is the largest market in the Global Humectants Market. The US is leading the market in this region, which is attributed to huge demand of personal care and household products.
In Europe the usage of humectants is limited owing to the less usage of humectants in cosmetics and more emphasis of government to use natural humectant in comparison to synthetic humectants owing to less harmful effects associated with the natural humectants.
However, Asia Pacific is expected to be the fastest growing market owing to the rising disposable income coupled with changing lifestyle of consumers is expected to support the market growth of the cosmetics market which eventually drives the market growth of humectants market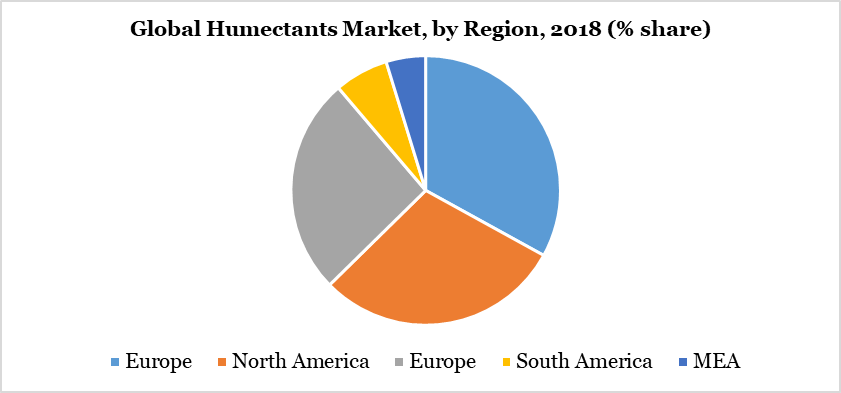 Global Humectants Market– Competitive Analysis
Humectants market is highly competitive and thus manufacturers continuously focus on developing new strategies in order to grab more number of customers across the globe. Over the coming years, companies are expected to focus on potential growth markets for Humectants. To that end, besides expanding their presence, companies are expected to formulate effective distribution strategies to make their presence felt in the upcoming markets for Humectants. Merger, acquisition and product development are key strategies adopted by leading players.
The major players include BASF SE, Dow Inc., Ashland Global Holdings Inc., Cargill Incorporated, and Wuhan Sanjiang Space Gude Biotech Co. Other prominent players in the market are Barentz, Brenntag AG, Archer Daniels Midland Company, Ingredion Incorporated, and Roquette Freres.
Why Purchase the Report?
· Identify commercial and residential opportunities in global Humectants Market by analyzing trends and co-development deals.
· Excel data sheet with thousands of data points of the global Humectants Market - level 3/5 segmentation.
· PDF report with the most relevant analysis cogently put together after exhaustive qualitative interviews and in-depth market study.
· Product mapping in excel for the key products of all major market players
Target Audience:
· Equipment Suppliers/ Buyers
· Service Providers/ Buyers
· Industry Investors/Investment Bankers
· Education & Research Institutes
· Research Professionals
· Emerging Companies
· Manufacturers
List of Tables
Table 01 Global Humectants Market Value, By Application, 2018,2022 & 2026 ($ Million)
Table 02 Global Humectants Market Value, By Type, 2018,2022 & 2026 ($ Million)
Table 03 Global Humectants Market Value, By Region, 2018,2022 & 2026 ($ Million)
Table 04 Global Humectants Market Value, By Application, 2018,2022 & 2026 ($ Million)
Table 05 Global Humectants Market Value, By Application, 2017-2026 ($ Million)
Table 06 Global Humectants Market Value, By Type, 2018,2022 & 2026 ($ Million)
Table 07 Global Humectants Market Value, By Type, 2017-2026 ($ Million)
Table 08 Global Humectants Market Value, By Region, 2018,2022 & 2026 ($ Million)
Table 09 Global Humectants Market Value, By Region, 2017-2026 ($ Million)
Table 10 North America Humectants Market Value, By Application, 2017-2026 ($ Million)
Table 11 North America Humectants Market Value, By Type, 2017-2026 ($ Million)
Table 12 North America Humectants Market Value, By Country, 2017-2026 ($ Million)
Table 13 South America Humectants Market Value, By Application, 2017-2026 ($ Million)
Table 14 South America Humectants Market Value, By Type, 2017-2026 ($ Million)
Table 15 South America Humectants Market Value, By Country, 2017-2026 ($ Million)
Table 16 Europe Humectants Market Value, By Application, 2017-2026 ($ Million)
Table 17 Europe Humectants Market Value, By Type, 2017-2026 ($ Million)
Table 18 Europe Humectants Market Value, By Country, 2017-2026 ($ Million)
Table 19 Asia-Pacific Humectants Market Value, By Application, 2017-2026 ($ Million)
Table 20 Asia-Pacific Humectants Market Value, By Type, 2017-2026 ($ Million)
Table 21 Asia-Pacific Humectants Market Value, By Country, 2017-2026 ($ Million)
Table 22 Middle East & Africa Humectants Market Value, By Application, 2017-2026 ($ Million)
Table 23 Middle East & Africa Humectants Market Value, By Type, 2017-2026 ($ Million)
Table 24 BASF: Overview
Table 25 BASF: Product Portfolio
Table 26 BASF: Key Developments
Table 27 Dow Inc.: Overview
Table 28 Dow Inc.: Product Portfolio
Table 29 Dow Inc.: Key Developments
Table 30 Ashland Global Holdings Inc.: Overview
Table 31 Ashland Global Holdings Inc.: Product Portfolio
Table 32 Ashland Global Holdings Inc.: Key Developments
Table 33 Cargill Incorporated: Overview
Table 34 Cargill Incorporated: Product Portfolio
Table 35 Cargill Incorporated: Key Developments
Table 36 Wuhan Sanjiang Space Gude Biotech Co. : Overview
Table 37 Wuhan Sanjiang Space Gude Biotech Co. : Product Portfolio
Table 38 Wuhan Sanjiang Space Gude Biotech Co. : Key Developments
Table 39 Barentz: Overview
Table 40 Barentz: Product Portfolio
Table 41 Barentz: Key Developments
Table 42 Brenntag AG: Overview
Table 43 Brenntag AG: Product Portfolio
Table 44 Brenntag AG: Key Developments
Table 45 Archer Daniels Midland Company: Overview
Table 46 Archer Daniels Midland Company: Product Portfolio
Table 47 Archer Daniels Midland Company: Key Developments
Table 48 Ingredion Incorporated: Overview
Table 49 Ingredion Incorporated: Product Portfolio
Table 50 Ingredion Incorporated: Key Developments
Table 51 Roquette Freres: Overview
Table 52 Roquette Freres: Product Portfolio
Table 53 Roquette Freres: Key Developments

List of Figures
Figure 01 Global Humectants Market Share, By Application, 2018 & 2026 (%)
Figure 02 Global Humectants Market Share, By Type, 2018 & 2026 (%)
Figure 03 Global Humectants Market Share, By Region, 2018 & 2026 (%)
Figure 04 Global Humectants Market Value, 2017-2026 ($ Million)
Figure 05 Global Humectants Market Y-o-Y Growth, By Application, 2018-2026 (%)
Figure 06 Food & Beverages: Global Humectants Market Value, 2017-2026 ($ Million)
Figure 07 Personal care products: Global Humectants Market Value, 2017-2026 ($ Million)
Figure 08 Pharmaceuticals: Global Humectants Market Value, 2017-2026 ($ Million)
Figure 09 Animal feed: Global Humectants Market Value, 2017-2026 ($ Million)
Figure 10 Others: Global Humectants Market Value, 2017-2026 ($ Million)
Figure 11 Global Humectants Market Y-o-Y Growth, By Type, 2018-2026 (%)
Figure 12 Sugar Alcohol: Global Humectants Market Value, 2017-2026 ($ Million)
Figure 13 Alpha Hydroxy Acid & Polysaccharides: Global Humectants Market Value, 2017-2026 ($ Million)
Figure 14 Glycols: Global Humectants Market Value, 2017-2026 ($ Million)
Figure 15 Others: Global Humectants Market Value, 2017-2026 ($ Million)
Figure 16 Global Humectants Market Y-o-Y Growth, By Region, 2018-2026 (%)
Figure 17 North America Humectants Market Value, 2017-2026 ($ Million)
Figure 18 North America Humectants Market Share, By Application, 2018 & 2026 (%)
Figure 19 North America Humectants Market Share, By Type, 2018 & 2026 (%)
Figure 20 North America Humectants Market Share, By Country, 2018 & 2026 (%)
Figure 21 South America Humectants Market Value, 2017-2026 ($ Million)
Figure 22 South America Humectants Market Share, By Application, 2018 & 2026 (%)
Figure 23 South America Humectants Market Share, By Type, 2018 & 2026 (%)
Figure 24 South America Humectants Market Share, By Country, 2018 & 2026 (%)
Figure 25 Europe Humectants Market Value, 2017-2026 ($ Million)
Figure 26 Europe Humectants Market Share, By Application, 2018 & 2026 (%)
Figure 27 Europe Humectants Market Share, By Type, 2018 & 2026 (%)
Figure 28 Europe Humectants Market Share, By Country, 2018 & 2026 (%)
Figure 29 Asia-Pacific Humectants Market Value, 2017-2026 ($ Million)
Figure 30 Asia-Pacific Humectants Market Share, By Application, 2018 & 2026 (%)
Figure 31 Asia-Pacific Humectants Market Share, By Type, 2018 & 2026 (%)
Figure 32 Asia-Pacific Humectants Market Share, By Country, 2018 & 2026 (%)
Figure 33 Middle East & Africa Humectants Market Value, 2017-2026 ($ Million)
Figure 34 Middle East & Africa Humectants Market Share, By Application, 2018 & 2026 (%)
Figure 35 Middle East & Africa Humectants Market Share, By Type, 2018 & 2026 (%)
Figure 36 BASF: Financials
Figure 37 Dow Inc.: Financials
Figure 38 Ashland Global Holdings Inc.: Financials
Figure 39 Cargill Incorporated: Financials
Figure 40 Wuhan Sanjiang Space Gude Biotech Co. : Financials
Figure 41 Barentz: Financials
Figure 42 Brenntag AG: Financials
Figure 43 Archer Daniels Midland Company: Financials
Figure 44 Ingredion Incorporated: Financials
Figure 45 Roquette Freres: Financials