Global Drinkable Yogurt Market is segmented By Source (Dairy, Non-Dairy), By Flavor (Flavored, Non-Flavored), By Distribution Channel (Supermarkets & Hypermarkets, Convenience Stores, Online, Others), and by Region (North America, Latin America, Europe, Asia Pacific, Middle East, and Africa) – Share, Size, Outlook, and Opportunity Analysis, 2020-2027
Market Overview
The Global Drinkable Yogurt Market is expected to grow at a CAGR during the forecasting period (2020-2027).
Yogurt is a dairy product produced by bacterial fermentation of milk and is considered as the best source of probiotics for human gut health. Yogurt is widely consumed as part of diet owing to its rich in nature of nutrients including calcium and protein. The growing consumer interest towards convenience food products resulted in evolution of drinkable yogurt. The fast paced lifestyles of young and adult population resulted in increasing adoption of these yogurt drinks as breakfast and snacking. Furthermore, the innovation of drinkable yogurt blended with new flavors such as Aloe Vera and coconut is strengthening the adoption of yogurt drinks among health conscious population. According to Alove, a U.S. based Yogurt drinks manufacturer operating as a subsidiary of Morinaga Nutritional Foods, Inc., Aloe Vera based yogurt drinks witnessed a growth of over 30% in terms of new product launches during 2017-2018 in U.S., thus forming a major growth segment of the market. Aloe Vera is also rich in antioxidants that help clear and calm the skin, thus making them drink of choice among female population.
However, addition of sweeteners and stabilizers to yogurt drinks is limiting the consumer interest, thus hindering the market growth. Yogurt drink manufacturers use stabilizers such as guar gum or xanthan gum for texturizing and artificial sweeteners such as high-fructose corn syrup for added taste. The rising production of non-dairy drinkable yogurt is estimated to increase the market penetration particularly among growing vegan population. Leading market players such as Dannon Ltd. And Chobani have introduced vegan yogurt drinks derived from almonds, soy, coconut, and other non-dairy sources to cater the demand from growing vegan population. The Vegan Society stated that the number of vegans in Great Britain quadrupled between 2014 and 2018 and reached 600,000.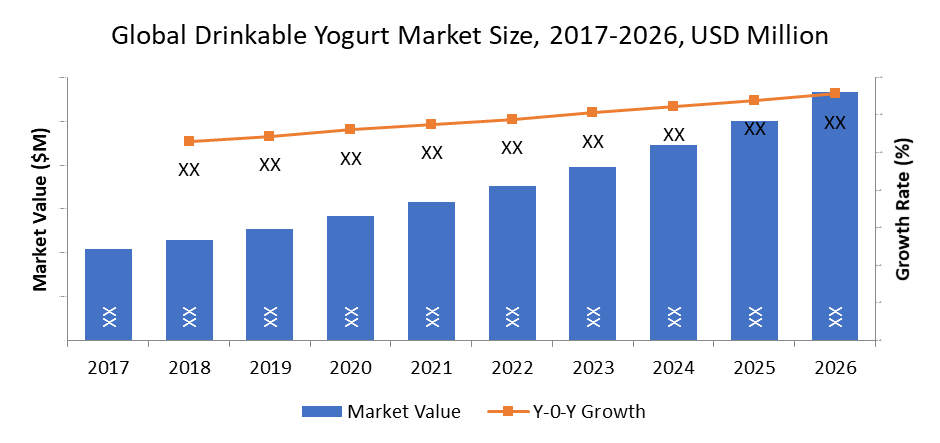 The Global Drinkable Yogurt Market has been majorly segmented into flavored and non-flavored. The growing consumer demand for more sensory intense has resulted in significant market for flavored yogurt drinks. Strawberry, vanilla, and coconut are among the list of flavor segments gaining maximum consumer attention. The growth of the flavored segment can also be attributable to the development of organic flavors that enhance the nutritional content of the drink. By source, yogurt drinks are segmented in dairy and non-dairy. Dairy has been the traditional and largest segment of the market. However, non-dairy drinkable yogurt is witnessing a boom with consumer interest shifting towards vegan foods. Supermarkets and hypermarkets evolved as the key sales channel for drinkable yogurts with a share of nearly 40% in terms of sales value in 2018. Convenience stores and e-commerce are also holding significant share in the sales of drinkable yogurts.
By geography, the study is segmented into North America, South America, Europe, Asia Pacific, Middle East and Africa.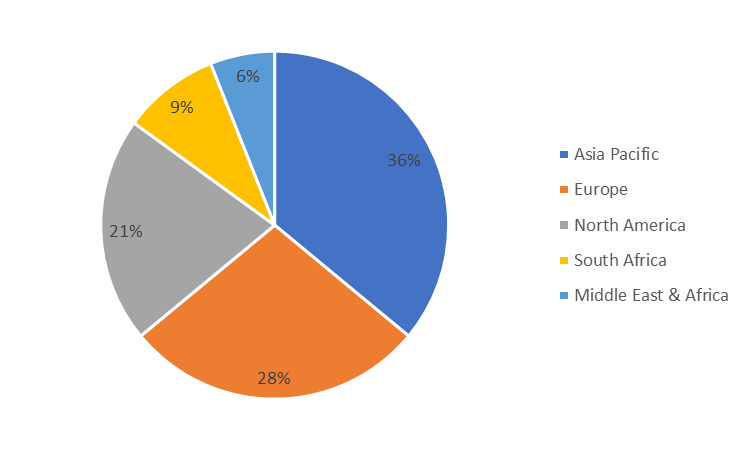 The well-established dairy industry and demand for dairy based products made Asia Pacific the dominant market for drinkable yogurt. The interest towards probiotic products has long been the major factor for growing adoption of drinkable yogurt in countries such as India and China.
The global drinkable yogurt market is fragmented with large number of players. The companies are highly focusing on building brand reputation through development of novel and quality yogurt formulations. Brands such as Chobani, Yoplait, Pillars, and Siggi's evolved as major brands in the global market. The companies in the market are leveraging on acquisitions, collaborations, and new product formulations to increase their market share.
The key players in the market are Müller, Danone S.A., General Mills Inc., Morinaga Nutritional Foods, Inc., and Grupo Lala.
Key Takeaways from the Report
Organic yogurt drinks are gaining significant demand from health savvy population. U.S. based yogurt manufacturers such as Maple Hill Creamery, LLC. and Stonyfield Farm are producing GMO-free organic yogurt drinks to cater the growing demand
Cereals mixed with yogurt has been the protein packed breakfast across Americas and Europe region. However, the growing need for convenience food is shifting the consumers towards yogurt drinks
Why purchase the report?
Visualize the composition of the Drinkable yogurt market across each indication, regarding by product type, by flavor type and by sales channel highlighting the critical commercial assets and players.
Identify business opportunities in Drinkable yogurt market by analyzing trends and co-development deals.
Excel data sheet with thousands of data points of the Drinkable yogurt market – level 4/5 segmentation
PDF report with the most relevant analysis cogently put together after exhaustive qualitative interviews and in-depth market study
Product mapping in excel for the Drinkable yogurt products of all major market players.
Target Audience
Raw Material Suppliers/ Buyers
Product Suppliers/ Buyers
Industry Investors/Investment Bankers
Education & Research Institutes
Research Professionals
Emerging Companies
Manufacturer