Biomarkers Market Overview
The global Biomarkers market size was worth $ XX billion in 2018 and is forecasted to reach $ XX billion by 2026, at a CAGR of XX% during the forecast period. Biomarkers are used for the diagnosis health status of an individual. In medical terms, a measurable biomarker is a chemical component which reflects the presence as well as the severity of the disease. Biomarkers have an important function in the early detection of various diseases.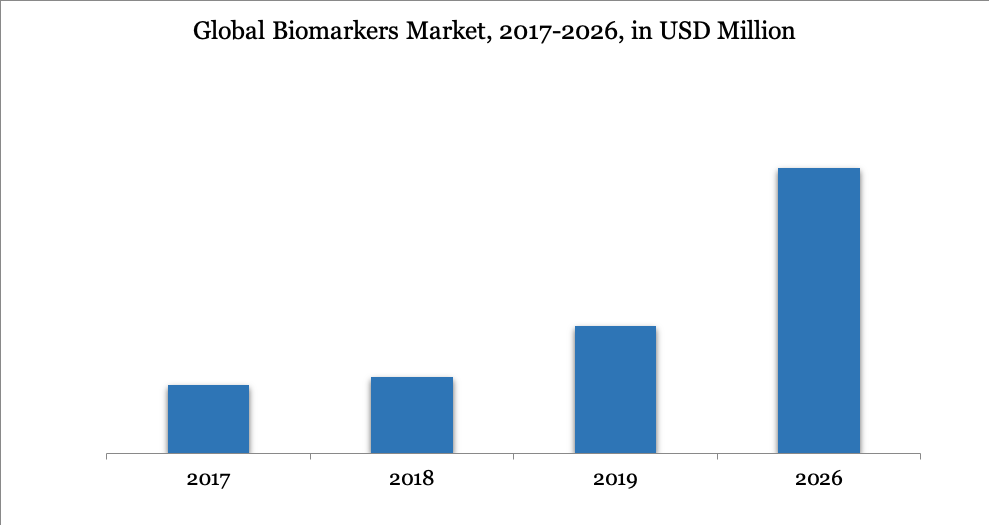 Biomarkers Market Dynamics
The Biomarkers market growth is driven by therising ageing population and increasing incidence of chronic diseases such as cancer, cardiovascular diseases and neurological disorders. In addition, increasing regulatory approval for biomarkers, rising demand in drug discovery, growing emphasis on personalized medicine and companion diagnostics are some of the other factors driving the growth of the biomarkers market globally. For instance, according to Globocan, the incidence rate of cancer types is increasing notably for many cancer types globally. The incidence of all cancer types worldwide is anticipated to increase at a CAGR of 2.5% during 2015-2030. Also, approval and product launches of biological and targeted therapies have positively impacted the global biomarker in the past few years and the trend is anticipated to be the same in the forecast period as well. For instance, In May 2018, the FDA approved Loxo application for biomarker-driven cancer drug. In November 2018, the U.S. Food and Drug Administration (FDA) approved the molecularly targeted therapeutic larotrectinib (Vitrakvi) for use based on whether a patient's tumor tests positive for a specific genetic biomarker and not where in the body the tumor originated. Hence, with rising product launches and approvals, the market is growing rapidly globally.
However, high investment costs and problems associated such as sample storage & collection is hampering the growth of the biomarker market. Also, unfavorable reimbursement scenarios are expected to hinder the market growth during the forecast period.
Biomarkers Market Segment Analysis
On the basis of product type, the global biomarkers market is segmented into safety biomarkers, efficacy biomarkers, and validation biomarkers. Among these, Efficacy biomarker segment accounted for the largest market share and growing at a significant CAGR. Wide usage in oncology and antiretroviral treatment coupled with numerous research on identification of efficacy biomarkers should drive segment growth in projected timeframe.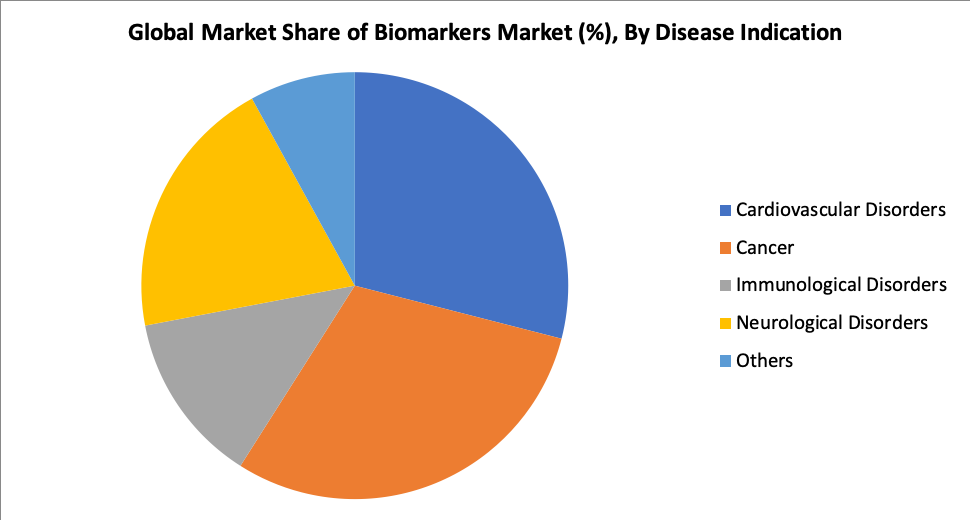 Among disease indication, cancer segment occupied a significant market share in 2018 due to rising cancer prevalence globally. According to WHO, cancer is the second leading cause of death globally, and is responsible for an estimated 9.6 million deaths in 2018. Globally, about 1 in 6 deaths is due to cancer. Approximately 70% of deaths from cancer occur in low- and middle-income countries. Biomarkers help in differential diagnosis, risk assessment and monitoring of disease progression in oncology field. Availability of several cancer biomarkers for detection of different kinds of cancer including ovarian cancer, breast cancer and leukemia will foster segment growth in recent years.
The pharmaceutical companies are forming agreements with molecular diagnostic companies to for accelerating results biomarker testing. For instance, in Dec 2017, Biocartis Group NV signed a companion diagnostic development agreement with Amgen for the Idylla RAS biomarker tests. The agreement aims to register the Idylla RAS biomarker tests with the FDA as a companion diagnostic test for Amgen's drug Vectibix. In August 2018, FDA approved Roche's Cobas EGFR Mutation Test V2 as a companion diagnostic test with AstraZeneca's cancer drug Iressa (gefitinib) for first-line treatment of patients with NSCLC. In July 2018, Nucleix, an Israeli molecular diagnostics firm, received $2.9 million Horizon 2020 grant from the European Commission to continue development of its lung cancer screening test, Lung EpiCheck. With the new funding, Nucleix anticipates to push Lung EpiCheck into US and European clinical trials in early 2019.
Biomarkers Market Geographical Analysis
North America is dominating the global Biomarkers market in 2018 and estimated to hold largest market size over the forecast period (2019-2026). The U.S. biomarkers market will lead biomarkers market due to favorable healthcare infrastructure as well as availability of technologically advanced products. Rising investment in drug discovery, diagnostics along with rising cancer patient pool will further stimulate the biomarkers market growth. According to the National Cancer Institute, in 2018, an estimated 1,735,350 new cases of cancer are diagnosed in the United States and 609,640 people die from the disease. The most common cancers are breast cancer, lung and bronchus cancer, prostate cancer, endometrial cancer, leukemia, pancreatic cancer, thyroid cancer, and liver cancer. The number of new cases of cancer (cancer incidence) is 439.2 per 100,000 men and women per year (based on 2011–2015 cases). Increased funds and support from government bodies for biomarker discovery, and growing number of FDA approvals for biomarkers is expected to positively influence the market in the future. For instance, in Jun 2018, Halozyme Therapeutics, a biotechnology company developing novel oncology and drug-delivery therapies, presented data evaluating certain biomarkers as potential predictors of survival in patients with previously untreated metastatic pancreatic ductal adenocarcinoma at the American Society of Clinical Oncology (ASCO).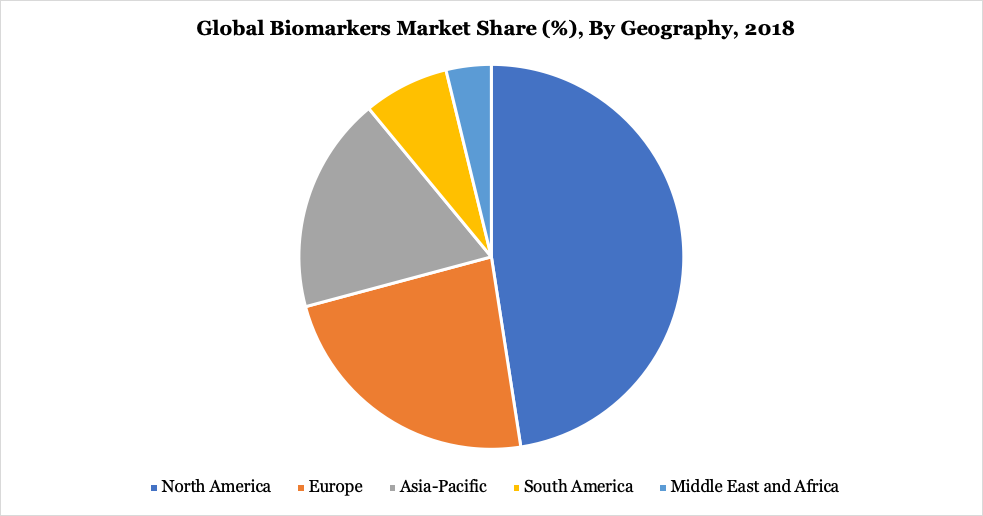 The Biomarkers market is a highly consolidated market, with major shared obtained by most of the emerging and local players. Some of the major players include Bio-Rad Laboratories Inc., Merck Millipore, Qiagen N.V., Siemens Healthcare, Abbott Laboratories, Affymetrix Inc., (Thermo Fisher Scientific), Signosis, Inc., EKF Diagnostics Holdings, Inc., Biosims Technologies Sas, and Cisbio Bioassays.
The key players are adopting various key strategies such as product launches, mergers & acquisitions, and collaborations which are contributing to the growth of the biomarkers market globally. For instance,
In April 2019, Synapse launched a new Innovative Medicines Initiative project, the Translational Safety Biomarker Pipeline (TransBioLine) Project, aims to generate exploratory and confirmatory data supporting regulatory qualification and acceptance of novel safety biomarkers for five target organ systems (kidney, liver, pancreas, vascular, and central nervous system) for application in drug development.
In March 2019, Summa Equity acquired Olink Proteomics, a Swedish life science company that has developed a unique technology for human biomarker discovery, targeting the global biopharma and academic research and discovery markets.
In December 2018, Olink Proteomics launched Olink® ONCOLOGY III, a new oncology-focused biomarker panel that complements and expands on Olink's growing portfolio of thoroughly validated assays, extending the power of the Olink platform for discovery-scale applications to 1164 different human protein biomarkers.
Why Purchase the Report?
Visualize the composition of the biomarkers in terms of various types of biomarkers highlighting the key commercial assets and players.

Identify commercial opportunities in biomarkers market by analyzing trends and co-development deals.

Excel data sheet with thousands of data points of biomarkers market - level 4/5 segmentation.

PDF report with the most relevant analysis cogently put together after exhaustive qualitative interviews and in-depth market study.

Product mapping in excel for the key product of all major market players
Target Audience
Service Providers/ Buyers

Industry Investors/Investment Bankers

Education & Research Institutes

Research Professionals

Emerging Companies

Manufacturers
List of Tables
Table 1 Global Biomarkers Market Value, By Product Type, 2018,2022 & 2026 ($ Million)
Table 2 Global Biomarkers Market Value, By Application, 2018,2022 & 2026 ($ Million)
Table 3 Global Biomarkers Market Value, By Disease Indication, 2018,2022 & 2026 ($ Million)
Table 4 Global Biomarkers Market Value, By Services, 2018,2022 & 2026 ($ Million)
Table 5 Global Biomarkers Market Value, By Region, 2018,2022 & 2026 ($ Million)
Table 6 Global Biomarkers Market Value, By Product Type, 2018,2022 & 2026 ($ Million)
Table 7 Global Biomarkers Market Value, By Product Type, 2017-2026 ($ Million)
Table 8 Global Biomarkers Market Value, By Application, 2018,2022 & 2026 ($ Million)
Table 9 Global Biomarkers Market Value, By Application, 2017-2026 ($ Million)
Table 10 Global Biomarkers Market Value, By Disease Indication, 2018,2022 & 2026 ($ Million)
Table 11 Global Biomarkers Market Value, By Disease Indication, 2017-2026 ($ Million)
Table 12 Global Biomarkers Market Value, By Services, 2018,2022 & 2026 ($ Million)
Table 13 Global Biomarkers Market Value, By Services, 2017-2026 ($ Million)
Table 14 Global Biomarkers Market Value, By Region, 2018,2022 & 2026 ($ Million)
Table 15 Global Biomarkers Market Value, By Region, 2017-2026 ($ Million)
Table 16 North America Biomarkers Market Value, By Product Type, 2017-2026 ($ Million)
Table 17 North America Biomarkers Market Value, By Application, 2017-2026 ($ Million)
Table 18 North America Biomarkers Market Value, By Disease Indication, 2017-2026 ($ Million)
Table 19 North America Biomarkers Market Value, By Services, 2017-2026 ($ Million)
Table 20 North America Biomarkers Market Value, By Country, 2017-2026 ($ Million)
Table 21 South America Biomarkers Market Value, By Product Type, 2017-2026 ($ Million)
Table 22 South America Biomarkers Market Value, By Application, 2017-2026 ($ Million)
Table 23 South America Biomarkers Market Value, By Disease Indication, 2017-2026 ($ Million)
Table 24 South America Biomarkers Market Value, By Services, 2017-2026 ($ Million)
Table 25 South America Biomarkers Market Value, By Country, 2017-2026 ($ Million)
Table 26 Europe Biomarkers Market Value, By Product Type, 2017-2026 ($ Million)
Table 27 Europe Biomarkers Market Value, By Application, 2017-2026 ($ Million)
Table 28 Europe Biomarkers Market Value, By Disease Indication, 2017-2026 ($ Million)
Table 29 Europe Biomarkers Market Value, By Services, 2017-2026 ($ Million)
Table 30 Europe Biomarkers Market Value, By Country, 2017-2026 ($ Million)
Table 31 Asia-Pacific Biomarkers Market Value, By Product Type, 2017-2026 ($ Million)
Table 32 Asia-Pacific Biomarkers Market Value, By Application, 2017-2026 ($ Million)
Table 33 Asia-Pacific Biomarkers Market Value, By Disease Indication, 2017-2026 ($ Million)
Table 34 Asia-Pacific Biomarkers Market Value, By Services, 2017-2026 ($ Million)
Table 35 Asia-Pacific Biomarkers Market Value, By Country, 2017-2026 ($ Million)
Table 36 Middle East & Africa Biomarkers Market Value, By Product Type, 2017-2026 ($ Million)
Table 37 Middle East & Africa Biomarkers Market Value, By Application, 2017-2026 ($ Million)
Table 38 Middle East & Africa Biomarkers Market Value, By Disease Indication, 2017-2026 ($ Million)
Table 39 Middle East & Africa Biomarkers Market Value, By Services, 2017-2026 ($ Million)
Table 40 Bio-Rad Laboratories, Inc. : Overview
Table 41 Bio-Rad Laboratories, Inc. : Product Portfolio
Table 42 Bio-Rad Laboratories, Inc. : Key Developments
Table 43 Merck Millipore: Overview
Table 44 Merck Millipore: Product Portfolio
Table 45 Merck Millipore: Key Developments
Table 46 Qiagen N.V. : Overview
Table 47 Qiagen N.V. : Product Portfolio
Table 48 Qiagen N.V. : Key Developments
Table 49 Siemens Healthcare: Overview
Table 50 Siemens Healthcare: Product Portfolio
Table 51 Siemens Healthcare: Key Developments
Table 52 Abbott Laboratories: Overview
Table 53 Abbott Laboratories: Product Portfolio
Table 54 Abbott Laboratories: Key Developments
Table 55 Affymetrix Inc., (Thermo Fisher Scientific): Overview
Table 56 Affymetrix Inc., (Thermo Fisher Scientific): Product Portfolio
Table 57 Affymetrix Inc., (Thermo Fisher Scientific): Key Developments
Table 58 Signosis, Inc.: Overview
Table 59 Signosis, Inc.: Product Portfolio
Table 60 Signosis, Inc.: Key Developments
Table 61 EKF Diagnostics Holdings, Inc.: Overview
Table 62 EKF Diagnostics Holdings, Inc.: Product Portfolio
Table 63 EKF Diagnostics Holdings, Inc.: Key Developments
Table 64 Biosims Technologies Sas: Overview
Table 65 Biosims Technologies Sas: Product Portfolio
Table 66 Biosims Technologies Sas: Key Developments
Table 67 Cisbio Bioassays: Overview
Table 68 Cisbio Bioassays: Product Portfolio
Table 69 Cisbio Bioassays: Key Developments
List of Figures
Figure 1 Global Biomarkers Market Share, By Product Type, 2018 & 2026 (%)
Figure 2 Global Biomarkers Market Share, By Application, 2018 & 2026 (%)
Figure 3 Global Biomarkers Market Share, By Disease Indication, 2018 & 2026 (%)
Figure 4 Global Biomarkers Market Share, By Services, 2018 & 2026 (%)
Figure 5 Global Biomarkers Market Share, By Region, 2018 & 2026 (%)
Figure 6 Global Biomarkers Market Value, 2017-2026 ($ Million)
Figure 7 Global Biomarkers Market Y-o-Y Growth, By Product Type, 2018-2026 (%)
Figure 8 Safety Biomarkers : Global Biomarkers Market Value, 2017-2026 ($ Million)
Figure 9 Efficacy Biomarkers : Global Biomarkers Market Value, 2017-2026 ($ Million)
Figure 10 Validation Biomarkers: Global Biomarkers Market Value, 2017-2026 ($ Million)
Figure 11 Global Biomarkers Market Y-o-Y Growth, By Application, 2018-2026 (%)
Figure 12 Drug Discovery and Development : Global Biomarkers Market Value, 2017-2026 ($ Million)
Figure 13 Diagnostics : Global Biomarkers Market Value, 2017-2026 ($ Million)
Figure 14 Disease Risk Assessment: Global Biomarkers Market Value, 2017-2026 ($ Million)
Figure 15 Personalized Medicine : Global Biomarkers Market Value, 2017-2026 ($ Million)
Figure 16 Others: Global Biomarkers Market Value, 2017-2026 ($ Million)
Figure 17 Global Biomarkers Market Y-o-Y Growth, By Disease Indication, 2018-2026 (%)
Figure 18 Cardiovascular Disorders : Global Biomarkers Market Value, 2017-2026 ($ Million)
Figure 19 Cancer : Global Biomarkers Market Value, 2017-2026 ($ Million)
Figure 20 Immunological Disorders: Global Biomarkers Market Value, 2017-2026 ($ Million)
Figure 21 Neurological Disorders : Global Biomarkers Market Value, 2017-2026 ($ Million)
Figure 22 Others: Global Biomarkers Market Value, 2017-2026 ($ Million)
Figure 23 Global Biomarkers Market Y-o-Y Growth, By Services, 2018-2026 (%)
Figure 24 Assay Development: Global Biomarkers Market Value, 2017-2026 ($ Million)
Figure 25 Sample Preparation: Global Biomarkers Market Value, 2017-2026 ($ Million)
Figure 26 Biomarker Validation and Testing: Global Biomarkers Market Value, 2017-2026 ($ Million)
Figure 27 Other Services: Global Biomarkers Market Value, 2017-2026 ($ Million)
Figure 28 Global Biomarkers Market Y-o-Y Growth, By Region, 2018-2026 (%)
Figure 29 North America Biomarkers Market Value, 2017-2026 ($ Million)
Figure 30 North America Biomarkers Market Share, By Product Type, 2018 & 2026 (%)
Figure 31 North America Biomarkers Market Share, By Application, 2018 & 2026 (%)
Figure 32 North America Biomarkers Market Share, By Disease Indication, 2018 & 2026 (%)
Figure 33 North America Biomarkers Market Share, By Services, 2018 & 2026 (%)
Figure 34 North America Biomarkers Market Share, By Country, 2018 & 2026 (%)
Figure 35 South America Biomarkers Market Value, 2017-2026 ($ Million)
Figure 36 South America Biomarkers Market Share, By Product Type, 2018 & 2026 (%)
Figure 37 South America Biomarkers Market Share, By Application, 2018 & 2026 (%)
Figure 38 South America Biomarkers Market Share, By Disease Indication, 2018 & 2026 (%)
Figure 39 South America Biomarkers Market Share, By Services, 2018 & 2026 (%)
Figure 40 South America Biomarkers Market Share, By Country, 2018 & 2026 (%)
Figure 41 Europe Biomarkers Market Value, 2017-2026 ($ Million)
Figure 42 Europe Biomarkers Market Share, By Product Type, 2018 & 2026 (%)
Figure 43 Europe Biomarkers Market Share, By Application, 2018 & 2026 (%)
Figure 44 Europe Biomarkers Market Share, By Disease Indication, 2018 & 2026 (%)
Figure 45 Europe Biomarkers Market Share, By Services, 2018 & 2026 (%)
Figure 46 Europe Biomarkers Market Share, By Country, 2018 & 2026 (%)
Figure 47 Asia-Pacific Biomarkers Market Value, 2017-2026 ($ Million)
Figure 48 Asia-Pacific Biomarkers Market Share, By Product Type, 2018 & 2026 (%)
Figure 49 Asia-Pacific Biomarkers Market Share, By Application, 2018 & 2026 (%)
Figure 50 Asia-Pacific Biomarkers Market Share, By Disease Indication, 2018 & 2026 (%)
Figure 51 Asia-Pacific Biomarkers Market Share, By Services, 2018 & 2026 (%)
Figure 52 Asia-Pacific Biomarkers Market Share, By Country, 2018 & 2026 (%)
Figure 53 Middle East & Africa Biomarkers Market Value, 2017-2026 ($ Million)
Figure 54 Middle East & Africa Biomarkers Market Share, By Product Type, 2018 & 2026 (%)
Figure 55 Middle East & Africa Biomarkers Market Share, By Application, 2018 & 2026 (%)
Figure 56 Middle East & Africa Biomarkers Market Share, By Disease Indication, 2018 & 2026 (%)
Figure 57 Middle East & Africa Biomarkers Market Share, By Services, 2018 & 2026 (%)
Figure 58 Bio-Rad Laboratories, Inc. : Financials
Figure 59 Merck Millipore: Financials
Figure 60 Qiagen N.V. : Financials
Figure 61 Siemens Healthcare: Financials
Figure 62 Abbott Laboratories: Financials
Figure 63 Affymetrix Inc., (Thermo Fisher Scientific): Financials
Figure 64 Signosis, Inc.: Financials
Figure 65 EKF Diagnostics Holdings, Inc. : Financials
Figure 66 Biosims Technologies Sas : Financials
Figure 67 Cisbio Bioassays : Financials