Global Central Nervous System (CNS) Biomarkers Market is Segmented By Type (Safety Biomarker, Efficacy Biomarker, Validation Biomarker, Others), By Application (Drug Discovery & Development, Drug Discovery & Development, Personalized Medicines, Disease Risk Assessment, Diagnostics, Others), By Disease(Multiple Sclerosis, Alzheimer's disease, Parkinson's Disease, Traumatic Brain Injury, Others), By End-user(Diagnostic Labs, Clinics, Hospitals, Research Centers, Others)and By Region (North America, Latin America, Europe, Asia Pacific, Middle East, and Africa) – Share, Size, Outlook, and Opportunity Analysis, 2023-2030
Central Nervous System (CNS) Biomarkers Market Overview
The Global Central Nervous System Biomarkers Market size reached US$ 4,790.8 million in 2022 and is projected to witness lucrative growth by reaching up to US$ 9,852.7 million by 2030. The market is exhibiting at a CAGR of 9.7% during the forecast period (2023-2030). The global central nervous system biomarkers market is anticipated to rise throughout the forecast period due to the increased demand for imaging technologies and the development of novel biomarkers.
Biomarkers can indicate various aspects of biological processes in healthy and pathological states, or as a response to drug therapy. They are classified into predictive, diagnostic, monitoring, and safety biomarkers. Some nerve injury markers, humoral markers, cytokines, and immune cells in serum or cerebrospinal fluid have potential roles in disease severity and prognosis in autoimmune diseases occurring in the CNS, providing a promising approach for clinicians to early intervention and prevention of future disability.
Central Nervous System (CNS) Biomarkers Market Scope
| | |
| --- | --- |
| Metrics | Details |
| CAGR | 9.7% |
| Size Available for Years | 2021-2030 |
| Forecast Period | 2023-2030 |
| Data Availability | Value (US$) |
| Segments Covered | Type, Application, Disease, End-User, and Region |
| Regions Covered | North America, Europe, Asia-Pacific, South America, and Middle East & Africa |
| Fastest Growing Region | Asia-Pacific |
| Largest Region | North America |
| Report Insights Covered | Competitive Landscape Analysis, Company Profile Analysis, Market Size, Share, Growth, Demand, Recent Developments, Mergers and Acquisitions, New Product Launches, Growth Strategies, Revenue Analysis, Porter's Analysis, Pricing Analysis, Regulatory Analysis, Supply-Chain Analysis and Other key Insights. |
Central Nervous System (CNS) Biomarkers Market Dynamics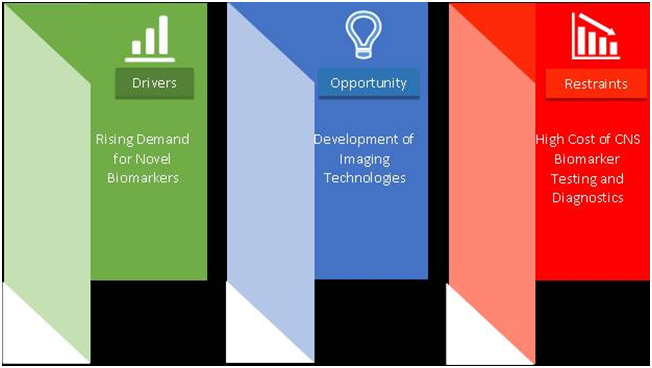 Rising Demand For Novel Biomarkers
Novel potential biomarkers include the tau protein, neurofilament light chain (NFL), glial fibrillary acidic protein (GFAP), and ubiquitin C-terminal hydrolase-L1 (UCH-L1). The tau protein is a neuroaxonal marker located mainly in the white matter of the central nervous system and is reported to be increased in ischemic stroke and cardiac arrest.
Novel biomarkers for CNS disorders hold promise for addressing existing shortcomings in diagnosis and disease monitoring and the discovery and development of new targets and therapeutics. Technological advances have increased the pace of biomarker discovery, but most are yet to be validated. Incorporating biomarkers into clinical trials and practice will help improve study efficiency and inform advancements in personalized neurology.
Development of Imaging Technologies
Imaging biomarkers are one of the most commonly utilized approaches in clinical settings due to their availability, cost-effectiveness, and non-invasiveness. They have three subtypes: positron emission tomography (PET), computed tomography (CT), and magnetic resonance imaging (MRI).
PET is used to assess the efficacy of oncologic treatments, CT is used to monitor tumor status, and MRI is used to understand neurodegenerative diseases. The development of imaging technologies in the CNS biomarkers market holds opportunities in the coming future.
High Cost of CNS Biomarker Testing and Diagnostics
The high cost of CNS biomarker testing and diagnostics and their related issues with regulatory and reimbursement systems are hindering market growth.
With the high cost of the validation process, such as sample collection & storage, government rules and policies are changing since reimbursements do not cover biomarker-mediated therapies that are not considered standard of care. Even though biomarkers add significant value to tests, refunds are limited.
For more details on this report – Request for Sample
Central Nervous System (CNS) Biomarkers Market Segment Analysis
The global central nervous system biomarkers market is segmented by type, application, disease, end-user, and by region
Based on Type, Safety Biomarkers Segment Is Expected To Dominate The Market Share
The safety biomarkers segment accounted for the highest market stake accounting for approximately 35.5% of the central nervous system biomarkers market in 2022 due to increased awareness of health issues such as depression, Parkinson's, and multiple sclerosis.
Safety biomarkers play a crucial role in preclinical and clinical research trials, with rapid changes in growth measurement, computation, and analysis leading to the explosive growth of the translational research field. For instance, in patients with Alzheimer's disease, Donanemab improved cognition and ability to perform activities of daily living in patients with early Alzheimer's disease at 76 weeks.
Source: DataM Intelligence Analysis (2023)
Central Nervous System (CNS) Biomarkers Market Geographical Penetration
North America Is Estimated to Hold The Highest Revenue Share During The Forecast Period
North America is estimated to hold around 42.7% of the total market share throughout the forecast period due to rising CNS cancer cases and increased R&D expenditure. For instance, based on the American Cancer Society, brain malignancy is the second most common cancer in children and adolescents, where CNS biomarkers are used.
Source: DataM Intelligence Analysis (2023)
Central Nervous System (CNS) Biomarkers Companies
The major global players include Acumen Pharmaceuticals Inc., Biogen Inc., Alseres Pharmaceuticals, Aposense, Avacta Life Sciences, Banyan Biomarkers, Bio-Rad Laboratories, DiaGenic ASA, G-Biosciences, and Thermo Fisher Scientific.
COVID-19 Impact on Central Nervous System (CNS) Biomarkers Market
Russia-Ukraine Conflict Analysis
Russia and Ukraine war significantly impacted the central nervous system biomarkers market growth. The situation in Ukraine will have a variety of effects on performing clinical trials, but it mainly affects the closure of treatment facilities, internal displacement, and forced migration. The war is expected to have an effect on the contribution of Russian clinical trial sites. Because resources and manpower are not allocated according to priority, CNS care in these nations has worsened.
By Type
Safety Biomarkers
Efficacy Biomarkers
Validation Biomarkers
Others
By Application
Drug Discovery & Development
Personalized Medicines
Disease Risk Assessment
Diagnostics
Others
By Disease
Multiple Sclerosis
Alzheimer's Disease
Parkinson's Disease
Traumatic Brain Injury
Others
By End-User
Diagnostic Labs
Clinics
Hospitals
Research Centers
Others
By Region
North America
Europe

Germany
The U.K.
France
Italy
Spain
Rest of Europe

South America

Brazil
Argentina
Rest of South America

Asia-Pacific

China
India
Japan
Australia
Rest of Asia-Pacific

Middle East and Africa
Key Developments
In April 2023, Biogen and Denali Therapeutics announced that Biogen exercised the option to license Denali's Antibody Transport Vehicle (ATV): Amyloid beta program (ATV:A). ATV:A is designed to increase brain exposure and target engagement of antibody therapeutics directed against A, which may enable improved plaque clearance and/or reduced amyloid-related imaging abnormalities (ARIA).
In April 2023, Athira Pharma (ATHA), a late clinical-stage biopharmaceutical company focused on developing small molecules to restore neuronal health and slow neurodegeneration, announced the presentation of new data from its small molecule programs enhancing the HGF/MET neurotrophic system.
In May 2023, Gate Neurosciences, a clinical-stage biotechnology company using precision medicine approaches to develop next-generation neuroscience therapies, announced it increased its R&D capabilities with new expanded research operations and lab facilities in Evanston.
Why Purchase the Report?
To visualize the global central nervous system biomarkers market segmentation based on type, application, disease, end-user, and region and understand key commercial assets and players.
Identify commercial opportunities by analyzing trends and co-development.
Excel data sheet with numerous data points of central nervous system biomarkers market-level with all segments.
PDF report consists of a comprehensive analysis after exhaustive qualitative interviews and an in-depth study.
Product mapping available as Excel consisting of key products of all the major players.
The global central nervous system biomarkers market report would provide approximately 54 tables, 46 figures, and 195 Pages.
Target Audience 2023
Manufacturers/ Buyers
Industry Investors/Investment Bankers
Research Professionals
Emerging Companies
Suggestions for Related Report
For more Biotechnology and Healthcare related reports, please click here