Beverage Cans Market is segmented By Material(Aluminum, Steel), By Can Size (250ml, 330ml, 500ml, 550ml, Others), By Application (Alcoholic Beverages, Carbonated Soft Drinks, Fruit & Vegetable Juices, Sports & Energy Drinks, Others), and By Region (North America, Latin America, Europe, Asia Pacific, Middle East, and Africa) – Share, Size, Outlook, and Opportunity Analysis, 2023-2030
Beverage Cans Market Overview
The Global Beverage Cans Market reached US$ 35 billion in 2022 and is projected to witness lucrative growth by reaching up to US$ 53 billion by 2030, growing with a CAGR of 5.2% during the forecast period 2023-2030.
The beverage cans market encompasses various components and processes. Aluminum beverage cans are the most widely used type, offering lightweight, recyclable beverage packaging. Beverage can manufacturing involves multiple stages, including can forming and shaping, where aluminum sheets are transformed into can bodies.
The beverage cans market has experienced significant growth in recent years. The increasing demand for packaged beverages, convenience, and sustainability has driven market expansion. With their lightweight and recyclable properties, aluminum beverage cans have been the preferred choice. The market growth has been fueled by expanding consumer markets, innovative packaging designs, and technological advancements in manufacturing processes.
Beverage Cans Market Scope
| | |
| --- | --- |
| Metrics | Details |
| CAGR | 5.2% |
| Size Available for Years | 2021-2030 |
| Forecast Period | 2023-2030 |
| Data Availability | Value (US$) |
| Segments Covered | By Structure, Metal, Can Size, Application, and Region |
| Regions Covered | North America, Europe, Asia-Pacific, South America and Middle East & Africa |
| Fastest Growing Region | Asia-Pacific |
| Largest Region | North America |
| Report Insights Covered | Competitive Landscape Analysis, Company Profile Analysis, Market Size, Share, Growth, Demand, Recent Developments, Mergers and Acquisitions, New Product Launches, Growth Strategies, Revenue Analysis, Porter's Analysis, Pricing Analysis, Regulatory Analysis, Supply-Chain Analysis and Other key Insights. |
For More Insights about the Market Request Free Sample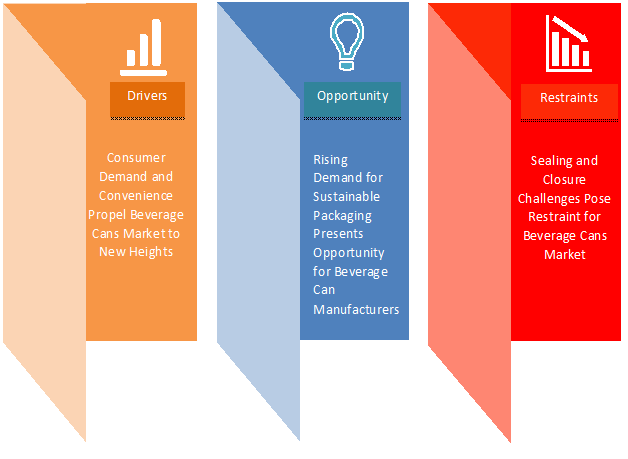 Beverage Cans Market Dynamics
Consumer Demand and Convenience Propel Beverage Cans Market to New Heights
According to the beverage cans market analysis, One of the key drivers is the growing consumer demand for packaged beverages and their convenience. With busy lifestyles and on-the-go consumption patterns, consumers seek portable, easy-to-use beverage options. Beverage cans provide a practical solution for effortless storage, transportation, and consumption.
These all boost the Beverage Cans' Market share in global markets. Additionally, introducing easy-open ends (EOEs) has further enhanced convenience for consumers, eliminating the need for can-openers. These factors have contributed to the sustained growth and popularity of beverage cans.
Sealing and Closure Challenges Pose Restraint for Beverage Cans Market
The Beverage Cans Market analysis shows that the beverage cans market faces challenges with can sealing and closure systems. The integrity of the seal plays a crucial role in maintaining the quality and freshness of the beverage inside the can. Ensuring proper sealing and preventing leaks or contamination can be a complex process. Moreover, different beverage products may have unique requirements, such as carbonated drinks requiring special sealing systems to retain carbonation.
Variations in beverage can sizes further complicate the design and implementation of sealing and closure systems, impacting beverage can's market share. Meeting these diverse needs while ensuring efficiency and reliability can restrain manufacturers. However, ongoing advancements in sealing technologies and quality control measures aim to address these challenges and improve the overall performance of can sealing and closure systems.
Beverage Cans Market Segment Analysis
The Global Beverage Cans are segmented based on Structure, Metal, Can Size, application, and Region.
Carbonated Soft Drinks Propel Beverage Cans Market Owing to the Growing Consumer Demand
The Global Beverage Cans Market is segmented based on application into carbonated soft drinks, alcoholic beverages, fruit & vegetable juices, sports & energy drinks, and others.
According to statistical data, the beverage cans market analysis shows that the carbonated soft drinks segment is a significant market for beverage cans, representing a considerable market share of approximately 40%. With a large consumer base, carbonated soft drinks have a widespread appeal. They can-be filling and packaging play a crucial role in meeting the demand for carbonated soft drinks, ensuring the beverages are sealed, preserved, and retained carbonation.
The convenience and portability of beverage cans make them an ideal choice for on-the-go consumption. Additionally, a significant percentage of the population enjoys carbonated soft drinks, with studies indicating that approximately 60% of individuals consume carbonated soft drinks regularly.
In general beverage cans market trend is positive; the combination of consumer preference, effective can filling and packaging processes, and a substantial consumer base contribute to the success of the carbonated soft drinks segment in the beverage cans market.
Source: DataM Intelligence Analysis (2023)
Global Beverage Cans Market Geographical Share
North America Emerges as a Key Player in the Thriving Beverage Cans Market
By region, the global beverage cans market is segmented into North America, Europe, South America, Asia-Pacific, Middle-east, and Africa.
The North American Beverage Cans Market is a significant and thriving industry. According to statistical data, the region holds a substantial market share of approximately 35% in the global beverage cans market. This highlights the importance of North America as a critical player in the industry. The popularity of beverage cans in North America can be attributed to several factors. Firstly, convenience and portability are driving factors catering to the on-the-go lifestyle of consumers.
Moreover, the beverage cans market analysis indicates that a significant percentage of North Americans consume beverages from cans. For example, data suggests that approximately 80% of individuals in North America consume carbonated soft drinks, with a substantial portion of these being packaged in cans. Overall, the North American beverage cans market trend is positive.
Source: DataM Intelligence Analysis (2023)
Beverage Cans Market Companies
The major global players include Ardagh Group S.A, Ball Corporation, Can-Pack S.A., Crown Holdings, Inc., Amcor Plc, Toyo Seikan Group Holdings, Ltd., Showa Denko K.K, Nampak Bevcan Ltd, Silgan Holdings Inc., and CPMC Holdings Ltd.
COVID-19 Impact Analysis
The COVID-19 pandemic significantly impacted the beverage cans market. Demand surged due to increased consumption of packaged beverages, including soda and beer, as people spent more time at home. Manufacturing and supply chain disruptions caused shortages and increased prices. The industry also faced challenges in sourcing raw materials and meeting production targets. Overall, the pandemic accelerated the growth of the beverage cans market but introduced operational hurdles for manufacturers.
Ukraine-Russia War
During the Ukraine-Russia War, Destruction of infrastructure, closed shops, and mass evacuation. The beverage cans market was paralyzed in the first days of the war. The impossibility of delivering goods by sea greatly complicated the work. Logistics across the country worked with interruptions.
By Structure
By Metal
By Can Size
250ml
330ml
500ml
550ml
Others
By Application
Alcoholic Beverages
Carbonated Soft Drinks
Fruit & Vegetable Juices
Sports & Energy Drinks
Others
By Region
North America
Europe

Germany
The U.K
France
Italy
Spain
Rest of Europe

South America

Brazil
Argentina
Rest of South America

Asia-Pacific

China
India
Japan
Australia
Rest of Asia-Pacific

Middle East and Africa
Key Developments
On August 4, 2021, Ardagh Metal Packaging S.A., a leading provider of sustainable and infinitely-recyclable beverage cans and Gores Holdings V, Inc., a special purpose acquisition company sponsored by an affiliate of The Gores Group, today announced the completion of their previously announced business combination. The combined company will be named Ardagh Metal Packaging S.A.
On June 28, 2022, Ball Corporation launched its most sustainable aluminum aerosol can globally, with only half the carbon footprint of a standard can. This will help support Ball's ambition to achieve its 2030 science-based targets and net-zero emissions prior to 2050.
On July 21, 2020, The Canpack Group and Giorgi Global Holdings, Inc have jointly announced Canpack's acquisition of an industrial property in Olyphant, Pennsylvania.
Why Purchase the Report?
To visualize the Global Beverage Cans Market segmentation based on structure, metal, can size, application, and region and understand key commercial assets and players.
Identify commercial opportunities by analyzing trends and co-development.
Excel data sheet with numerous beverage cans market-level data points with all segments.
The PDF report includes a comprehensive analysis after exhaustive qualitative interviews and an in-depth study.
Product mapping available as Excel consisting of key products of all the major players.
The global beverage cans market report would provide approximately 69 tables, 67 figures, and 195 Pages.
Target Audience 2023
Manufacturers/ Buyers
Industry Investors/Investment Bankers
Research Professionals
Emerging Companies