Global Automotive Carbon Fiber Market is segmented By Application (Exterior, Interiors, Structural Assembly, Powertrain Cowl, Others), By Material (Long Fiber Thermoplastic, Short Fiber Thermoplastic, Continuous Carbon Fiber Thermoplastic, Sheet Molding Compound, Others), and by Region (North America, Latin America, Europe, Asia Pacific, Middle East, and Africa) – Share, Size, Outlook, and Opportunity Analysis, 2022-2029
Market Overview
The Global "Automotive Carbon Fiber Market" is expected to grow at a CAGR of 8% during the forecasting period (2022-2029).
This is mainly due to the increasing demand for fuel-efficient vehicles coupled with the rising penetration of lightweight electric vehicles in developed countries like the US, the UK, Germany, Norway, and others.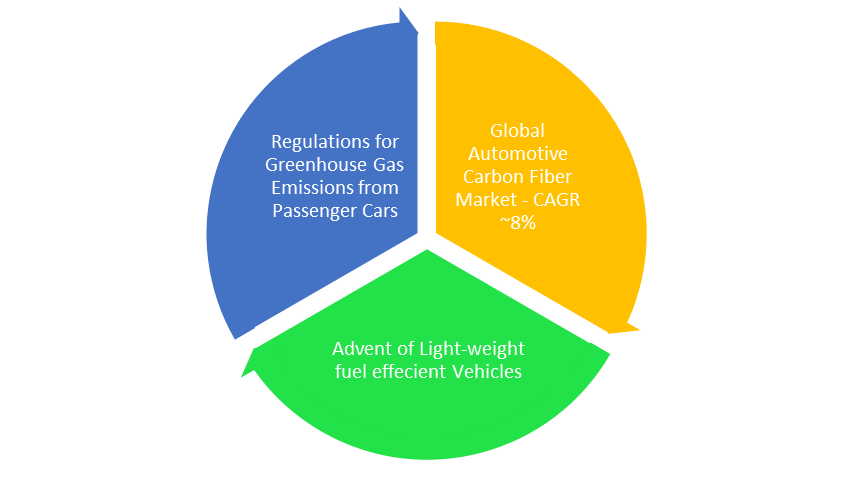 **Source: DataM Intelligence Analysis (2019)
Carbon Fiber is a polymer and is sometimes known as graphite fiber. It is a very strong material that is also very lightweight. Carbon fiber is five-times stronger than steel and twice as stiff. Though carbon fiber is stronger and stiffer than steel, it is lighter than steel; making it the ideal manufacturing material for the automotive industry. According to the US Department of Energy, carbon fiber composites could reduce passenger car weight by 50%, which would improve fuel efficiency by nearly 35% without compromising the performance of the car or the safety of its passengers. Therefore, rising awareness about the benefits of carbon fiber and increased adoption of carbon fiber by manufacturers in the automotive industry will further boost growth in the market.
The report covers all the major trends and drivers playing a vital role in the growth of the global Automotive Carbon Fiber market. The global Automotive Carbon Fiber market has been segmented based on region, application, and material.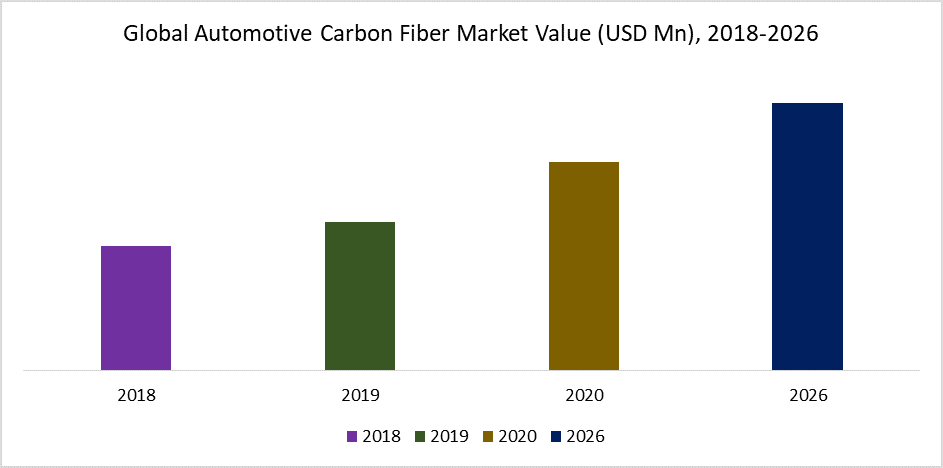 **Source: DataM Intelligence
Market Dynamics
The global Automotive Carbon Fiber market growth is primarily driven by various technological advancements happening in the industry coupled with the launch of new and innovative Carbon Fiber for automobiles by the market players. Moreover, the growing demand for carbon fiber-reinforced plastics in luxury cars, race cars, and other high-performance cars pushing the market towards growth. Technological development and new material systems to make carbon fiber parts for mass-volume vehicles have a direct impact on the dynamics of the automotive composites carbon fiber market.
Besides, vehicle production is increasing owing to the rising demand for comfort, rise in penetration, and demand for light weight passenger vehicles, government norms regarding pollution & steps taken to implement electric vehicles. Many car companies, such as BMW, Audi, GM, Honda, and Polestar have established agreements with carbon fiber material producers for mass production, and are investing in their processes to support low-cost carbon fiber manufacturing. Therefore, the rise in popularity among passenger and commercial vehicle manufacturers and the increase in sales of EVs is expected to drive the market over the forecast period.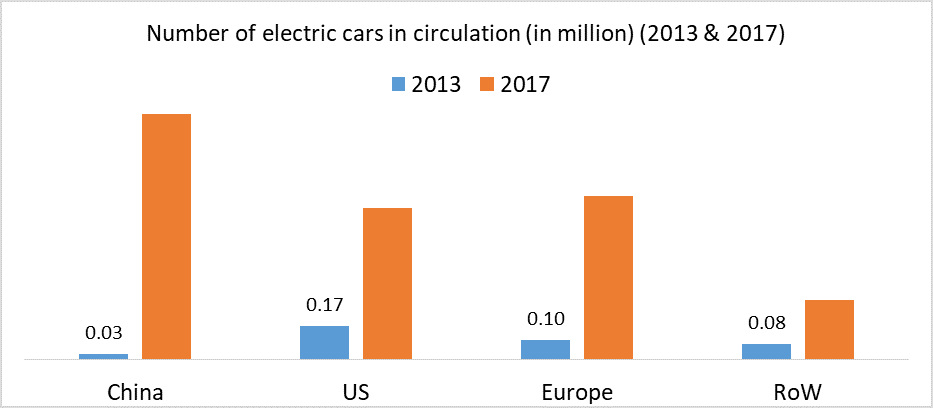 **Source: DataM Intelligence
However, various microeconomic factors and high initial cost might hinder the market growth. For instance, India's passenger vehicle industry suffered its worst sales performance in nearly 19 years in 2019; as a slowing economy, higher ownership costs, and floods in some states deterred buyers.
Market Segmentation
By application, the global automotive carbon fiber market is segmented into exteriors, interiors, structural assembly, powertrain cowl, and others (under body system, pressure vessel). In 2018, the Exterior segment accounted for the majority share in the global market. Carbon fiber body panels are used on performance-oriented vehicles because they are approximately twice as rigid, significantly stronger but are much lighter than panels made from steel and are also more rigid, stronger, and lighter than aluminum panels. Reduced weight increases the performance as the engine will have less weight to carry and it will get better fuel efficiency.
By material, the global automotive carbon fiber market is segmented into long fiber thermoplastic, short fiber thermoplastic, continuous carbon fiber thermoplastic, sheet molding compound, and others (textile, Prepreg). Carbon fiber-reinforced plastics (CFRPs) are finding their way into new applications as industries demand materials with ever-higher strength-to-weight ratios, corrosion resistance, and workability. The widespread adoption of CFRPs in alternative vehicles such as electric/hybrid and fuel cell vehicles, and CO2 emission regulations mandated by the European and U.S. parliaments are also expected to drive the automotive carbon fiber market globally.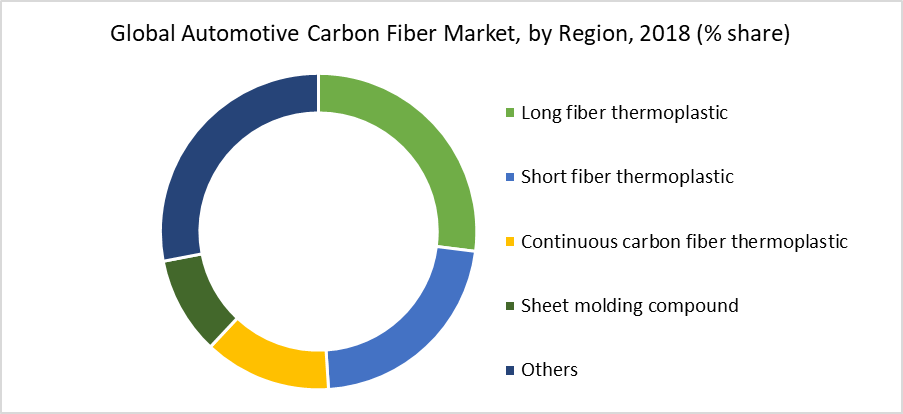 **Source: DataM Intelligence
Geographical Analysis
By geography, the global Automotive Carbon Fiber Market is segmented into North America, Asia-Pacific (APAC), Europe, South America, and the Middle East and Africa (MEA).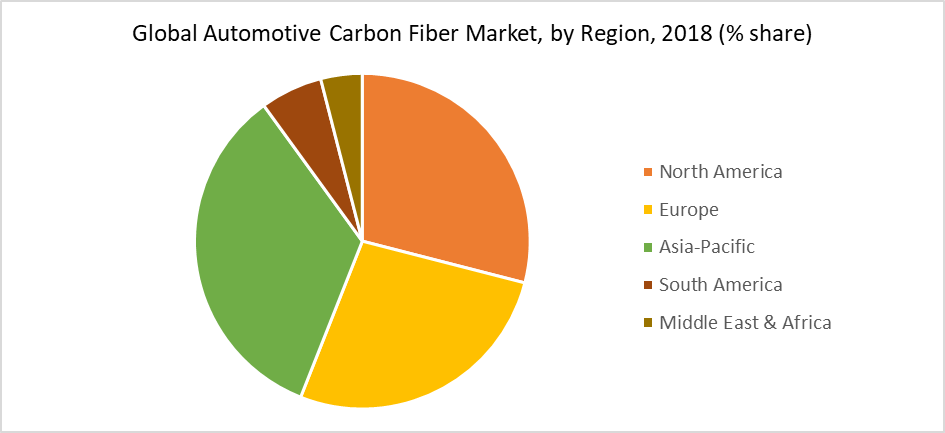 **Source: DataM Intelligence
In 2018, APAC dominated the global Automotive Carbon Fiber market. Besides, China is the leading country in the region as well as globally. Most of the product demand in the Asia Pacific is fulfilled by China, India, South Korea, and Japan. China is the number one automotive market, with 300 million cars on the road (vs. 270 million in the US) and production of 24.8 million vehicles in 2017, compared to 11.2 million in the US, 8.4 million in Japan, almost 5.7 million in Germany, and 4 million and 3.7 million in India and South Korea, respectively.
In North America and Europe, the automotive industry continues to develop composites for light-weighting vehicles, driven by fuel economy and emissions regulations. For instance, EU emissions regulations mandate a mere 95 g/km of CO2 by 2021, with another 15% reduction by 2025, and in 2030, a further 30% reduction by 2021.
To meet the standards for emissions and carbon fiber use, major manufacturers and OEMs in the market have started investing in R&D activities as well as entering into partnerships for technology exchange across borders. For instance, Magna Exteriors formed a joint venture with GAC Component Co. Ltd. (GACC, Guangzhou, China) to begin production of thermoplastic composite (TPC) liftgates for a global automaker's crossover vehicle starting in late 2018.
Kangde Group (Hong Kong) entered an agreement with BAIC Motor to build an Industry 4.0 smart factory in Changzhou to produce CFRP car body and other components beginning in 2019 and scaling to 6 million parts/yr — its 66,000 MT/yr carbon fiber facility in Rongcheng will begin production in 2023.
Competitive Analysis
Global Automotive Carbon Fiber Market is fragmented with the presence of global and regional players in the market. The market players in the Automotive Carbon Fiber market are focusing on expanding through strategic interventions, such as acquisitions, collaborations, expansion, and launching advanced products in the Automotive Carbon Fiber market. To that end, besides expanding their presence, companies are expected to formulate effective distribution strategies to make their presence felt in the upcoming markets for Automotive Carbon Fiber.
Intense rivalry among top players in the market has started the fierce competition at various levels for setting a low price, driving aggressive marketing strategies, and new and innovative product launches as per consumers' preference.
Some major players in the market are Hexcel Corporation, Mitsubishi Chemical Corporation, SGL Carbon SE, Teijin Limited, Toray Industries Inc., A&P Technology Inc, DowAksa USA LLC, Solvay, Kemrock Industries and Exports Limited, Cytec Industries Inc, and among others.

**Source: DataM Intelligence
Why Purchase the Report?
Identify new growth opportunities with In-depth insights for strategic business plans and design innovative strategies for sustainable growth.

Comprehensive details on factors that will drive or challenge the growth of market players.

Deep Sector-Specific Intelligence

Highlights of the competitive landscape
**The global Automotive Carbon Fiber market report would provide access to an approx., 92 market data table,76 figures, and 188 pages.
Target Audience:
Automobile manufacturers

Industry associations and automotive experts

Automotive technology providers

Tier 1, Tier 2, and Tier 3 suppliers

Industry Investors/Investment Bankers
Trending Topics