Global Nickel Market is Segmented By Source (Pentlandite, Laterite), By Mining Method (Underground, Surface), By Class (Nickel Class I, Nickel Class II), By Application (Stainless Steel, Alloys, Plating, Foundry, Batteries, Others), By End-User (Metal Goods, Electric and Electronics, Engineering, Building & Construction, Transportation, Others), and By Region (North America, South America, Europe, Asia Pacific, Middle East, and Africa) – Share, Size, Outlook, and Opportunity Analysis, 2023-2030
Nickel Market Outlook
Global Nickel Market reached US$ 33.6 billion in 2022 and is expected to reach US$ 47.2 billion by 2030, growing with a CAGR of 5.5% during the forecast period 2023-2030. Owing to its durability, low maintenance and chemical resistance, nickel and its derivatives are commonly employed in water and waste water purification applications. A major share of nickel production is used in alloying elements, batteries, coatings, transportation and other applications.
Asia-Pacific is expected to have the highest CAGR in the worldwide nickel market. Due to an abundance of nickel reserves, Asia-Pacific economies account for more than 70% of global nickel mining production, according to the Nickel Institute. Furthermore, large ore concentrations in China, Philippines, Indonesia and other countries are adding to the growth of nickel in the region.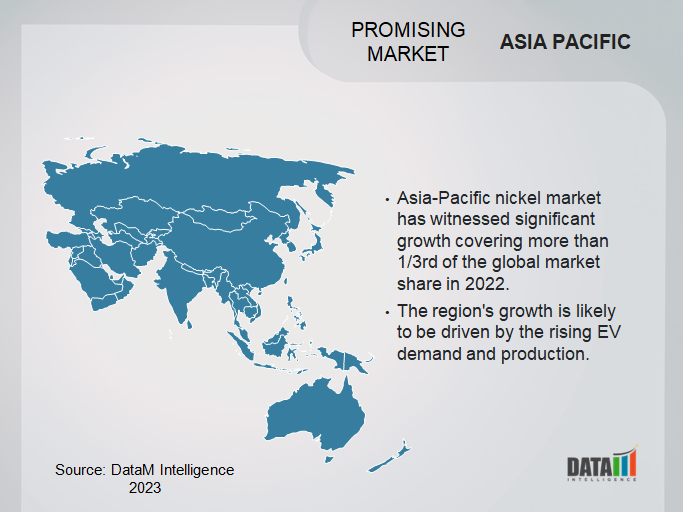 Nickel Market Scope
| | |
| --- | --- |
| Metrics | Details |
| CAGR | 5.5% |
| Size Available for Years | 2021-2030 |
| Forecast Period | 2023-2030 |
| Data Availability | Value (US$) |
| Segments Covered | Source, Mining Method, Class, Application, End-User and Region |
| Regions Covered | North America, Europe, Asia-Pacific, South America and Middle East & Africa |
| Fastest Growing Region | Asia-Pacific |
| Largest Region | Asia-Pacific |
| Report Insights Covered | Competitive Landscape Analysis, Company Profile Analysis, Market Size, Share, Growth, Demand, Recent Developments, Mergers and Acquisitions, New Product Launches, Growth Strategies, Revenue Analysis, Porter's Analysis, Pricing Analysis, Regulatory Analysis, Supply-Chain Analysis and Other key Insights. |
For more details on this report - Request for Sample
Nickel Market Dynamics
Growing Electric Vehicles and Batteries Ecosystem
Nickel is an important component of the cathode of lithium-ion batteries used in EVs. The cathode is composed of nickel, cobalt, manganese or other minerals. The higher the nickel proportions of the cathode, the higher the battery's energy density and performance. Nickel is in high demand due to its increasing application in electric vehicle batteries.
The global expansion of electric vehicles has impacted the use of nickel, producing a major in the nickel market. Nickel-based batteries are used in aviation starter motors, electric automobiles, medical gadgets and other applications. According to the India Brand Equity Foundation, the Indian EV industry is estimated to reach US$ 7.09 billion by 2025, with the two and three-wheelers leading the growth.
Growing Demand of Nickel in Stainless Steel Products
Stainless steel is widely utilized in construction, automotive, aerospace and manufacturing industries. The industries depend on stainless steel components because of their exceptional mechanical qualities, corrosion resistance and visual appeal. The growing usage of stainless steel in various industries increases nickel demand.The nickel sector will benefit from increased steel demand during the predicted period. The nickel aids in the stabilization of austenitic steel for a range of applications.
The 8% nickel content is mostly found in the common standard of stainless steel used in everyday applications. According to the World Bureau of Metal Statistics, India produced approximately 3.2 million metric tons of stainless steel in 2020. China's stainless steel factories utilize a significant amount of basic nickel. As a result of the global domination of steel manufacturing and consumption, the nickel market is likely to rise in the future years.
High Costs and Volatility in Prices
Historically, the global nickel market has been reliant on a few significant producers, generating supply concentration problems. Production disruptions from the important suppliers can result in supply shortages and price volatility owing to a variety of events such as labor strikes or geopolitical conflicts. Nickel production involves complicated processes, particularly for some nickel laterite deposits, which may be costlier to extract and refine than other natural resources.
High production costs can have an influence on nickel companies' profitability, especially during periods of low nickel prices. Price volatility has become prevalent in the nickel market. Variations in global demand and supply, economic conditions, geopolitical conflicts and currency fluctuations can all cause large price swings, making it difficult for market participants to properly estimate and manage costs.
Nickel Market Segmentation Analysis
The global nickel market is segmented based on source, mining method, class, application, end-user and region.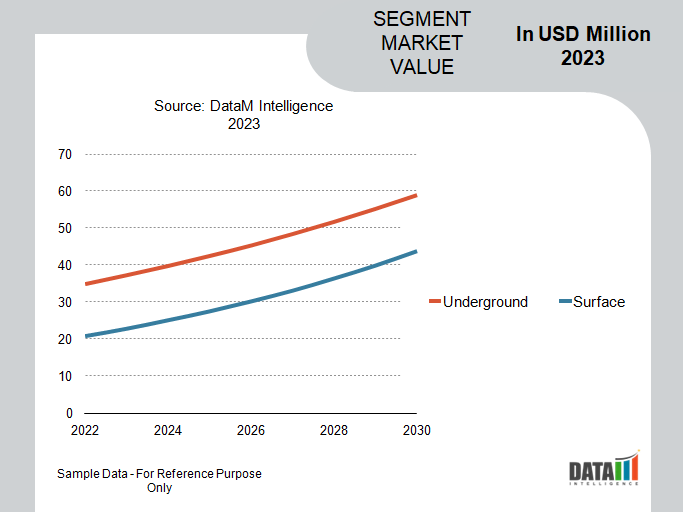 The Rising Stainless Steel Production Drives Segment's Growth
During the forecast period, stainless steel application is expected to hold around 35.4% of the global nickel market. Nickel is essential in the manufacturing of stainless steel. It is one of the most common commercial alloy grades used in the manufacturing of stainless steel. Nickel alloying accounts for the vast majority of stainless-steel manufacturing worldwide. In general, the generally used grade of stainless steel contains 8% nickel.
The International Stainless Steel Forum (ISSF) predicts that stainless steel production will expand by 10.6% year on year to 56.3 million metric tons in 2021. Similarly, the World Bureau of Metal Statistics estimates that Indian stainless steel production will reach roughly 4 million metric tons in 2021, representing a 25% year-on-year increase between 2020 and 2021.
Global Nickel Market Geographical Share
The Growing Demand for EVs in Asia-Pacific
Asia-Pacific nickel market has witnessed significant growth covering more than 1/3rd of the global market share in 2022. The region's growth is likely to be driven by rising EV demand and production. China is the global leader in the electric car market, with new electric vehicle sales four times higher than in the United States. A total of 3.3 million EVs were sold in China in 2021, representing a 154% increase over the 1.3 million units sold in 2020.
The main initiatives of the Chinese central government to encourage electric vehicles are likely to raise demand for nickel in the country. In addition, Tata Motors got a US$ 1.01 billion investment for a new EV subsidiary in October 2021. Tata Motors and TPG Rise Climate have reached an agreement under which the latter, along with co-investor ADQ, would participate in a newly formed subsidiary of Tata Motors.
Nickel Market Companies
The major global players include Glencore, Vale SA, Eramet SA, Sherritt International Corp., Sumitomo Metal Mining Co., Anglo American, MMC Norilsk Nickel, Jinchuan Group Ltd., BHP Billiton Ltd and Pacific Metal Company.
COVID-19 Impact On Nickel Market
During the initial phases of the pandemic, economic shutdowns and travel restrictions in several countries limited industrial activity and demand for nickel-containing items. Automotive, aerospace and construction industries, which are key nickel consumers, experienced an economic crisis, impacting nickel demand.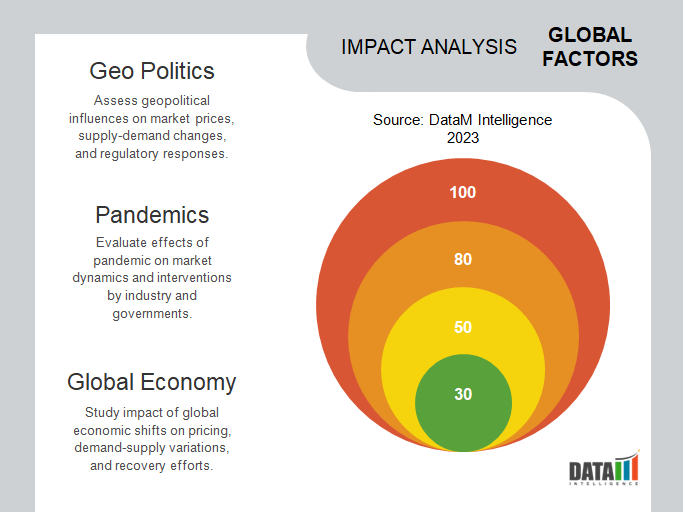 The epidemic disrupted global supply networks, hurting nickel and nickel-containing product manufacture and delivery. Lockdowns, transportation bottlenecks and shortages of workers hampered nickel production and supply in several regions. Major mining businesses like as Nickel Asia and Global Ferronickel Holdings have stopped some of their operations in reaction to the pandemic, with some citing a failure to maintain current maintenance shutdown plans.
Russia- Ukraine War Impact
Volatility in prices in the global nickel market worsened by geopolitical tensions and supply disruptions. Nickel prices fluctuated due to speculation and uncertainty surrounding the war and its potential escalation. The trade of nickel and nickel-containing items was impacted by international sanctions and trade restrictions. It influenced the flow of nickel between countries and had an impact on the worldwide supply chain.
Nickel prices than doubled to record highs on March 8, 2022, as the conflict in Ukraine increased concerns of supply shortages for the metal, which is an essential part of electric-vehicle batteries. Following the unusual price action in which three-month LME nickel contracts temporarily surpassed the US$ 100,000-a-ton threshold for the first time during Asian trading hours, the London Metal Exchange banned nickel trade.
By Source
By Mining Method
By Class
Nickel Class I

Electrolytic Nickel
Powders & Briquettes
Carbonyl Nickel

Nickel Class II

Nickel Pig Iron
Ferronickel
By Application
Stainless Steel
Alloys

Ferrous Alloys
Non-ferrous Alloys

Plating
Foundry
Batteries
Others
By End-User
Metal Goods
Electric and Electronics
Engineering
Building & Construction
Transportation
Others
By Region
North America
Europe

Germany
UK
France
Italy
Russia
Rest of Europe

South America

Brazil
Argentina
Rest of South America

Asia-Pacific

China
India
Japan
Australia
Rest of Asia-Pacific

Middle East and Africa
Key Developments
In August 2022, NMDC Ltd., an Indian public sector company specializing in metal exploration, stated its decision to look for prospects overseas to mine lithium, nickel and cobalt to meet India's expanding demand. The state-owned iron-ore firm aims to begin mining in Australia, where it owns 90.02% of Legacy Iron Ore Ltd.
In October 2021, Renault Group, a French multinational vehicle manufacturer, reported the signing of a Memorandum of Understanding for a future supply of nickel sulphate with Terrafame, a leading global producer of intermediate nickel and cobalt products. Under the terms of the agreement, Renault Group will receive a yearly supply of nickel sulphate from Terrafame, with up to 15 GWh of annual capacity.
In July 2021, BHP, an Australian international mining, metals and natural gas petroleum public corporation, announced the signing of a nickel supply agreement with Tesla Inc., one of the world's top sustainable energy companies, from its Nickel West facility in Western Australia.
Why Purchase the Report?
To visualize the global nickel market segmentation based on source, mining method, class, application, end-user and region, as well as understand key commercial assets and players.
Identify commercial opportunities by analyzing trends and co-development.
Excel data sheet with numerous data points of nickel market-level with all segments.
PDF report consists of a comprehensive analysis after exhaustive qualitative interviews and an in-depth study.
Product mapping available as Excel consisting of key products of all the major players.
The global nickel market report would provide approximately 77 tables, 80 figures and 205 Pages.
Target Audience 2023
Manufacturers/ Buyers
Industry Investors/Investment Bankers
Research Professionals
Emerging Companies