Market Overview
Herbicides prevents or eliminates weeds and thus replace or reduce manual and mechanical weeding. It provides more effective and economic means of weed control than cultivation, hoeing and hand pulling. Herbicide usage is high in major agricultural producing nations such as Australia, United States, Brazil, India and China with minimum availability of labour and high wage rates. With an approximate volume share of 48% in global pesticides market, herbicides evolved as the largest consumed crop protection pesticide across the globe.
The global herbicide market valued USD XX million in 2018 and expected to grow at a CAGR of XX% to reach a market value of USD XX million by 2026.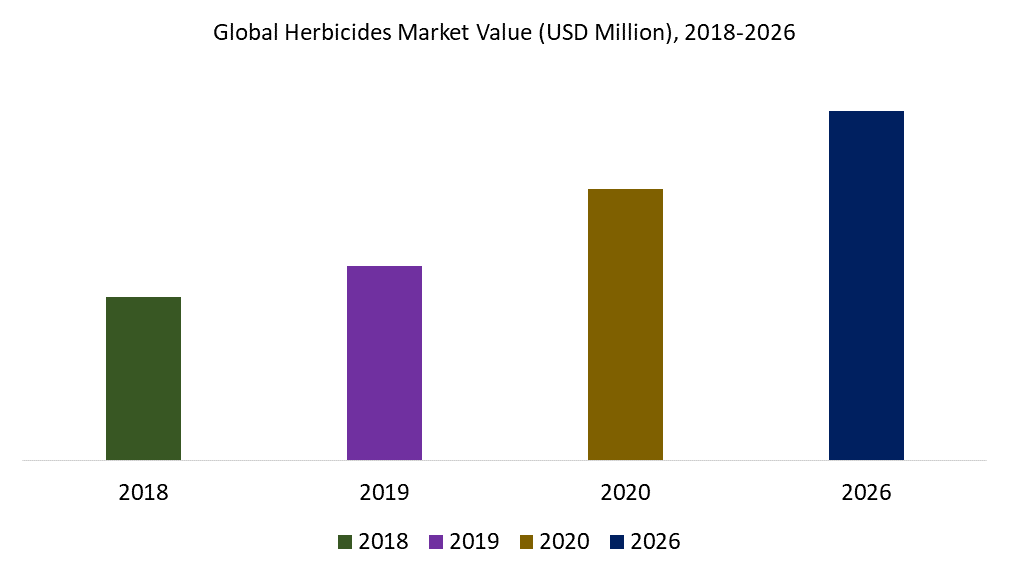 **Source: DataM Intelligence Analysis (2019)
Market Dynamics:
The growing need for improving agricultural yield owing to surging food demand and reducing arable land is the major factor driving the global herbicide market. Arable land is constantly declining with urbanization, soil degradation, climatic changes, and some other factors. This has resulted in need for enhancing agricultural productivity, thereby driven the use of effective farming materials. Moreover, the growing need for pest management in agriculture owing to quality concerns of agricultural produce is further boosting the demand for herbicides across the globe. Additionally, increasing labour cost and labor shortage are also supporting the growth of the global herbicide market.
However, stringent government regulations imposed over the usage of specific herbicides due to their adverse environmental and human health effects is the major factor hindering the growth of global herbicide market
Segmentation Analysis
Glyphosate segment dominated the global market owing to its extensive usage in agricultural production and its advantages such as low cost and high efficiency over other herbicides. Glyphosate was extensively used in the production of corn, soybean and wheat crops. Glyphosate accounted for nearly 30% percent market share in 2017. The glyphosate herbicides market is attaining investments into research activities that are aimed at reducing the adverse environmental effect of these chemicals. In June 2019, Bayer AG, a global player in crop science and chemicals agents invested approximately USD 5.6 billion in weed killer research to reduce its environmental foot print by 30% by 2030. Evolution of GM glyphosate resistant crops is expected to provide growth opportunities for glyphosate-based herbicides. According to FOE (Friends of the Earth Europe), introduction of GM glyphosate resistant sugar beet, maize, and soybean might increase the usage of glyphosate by 800% between 2017 and 2025.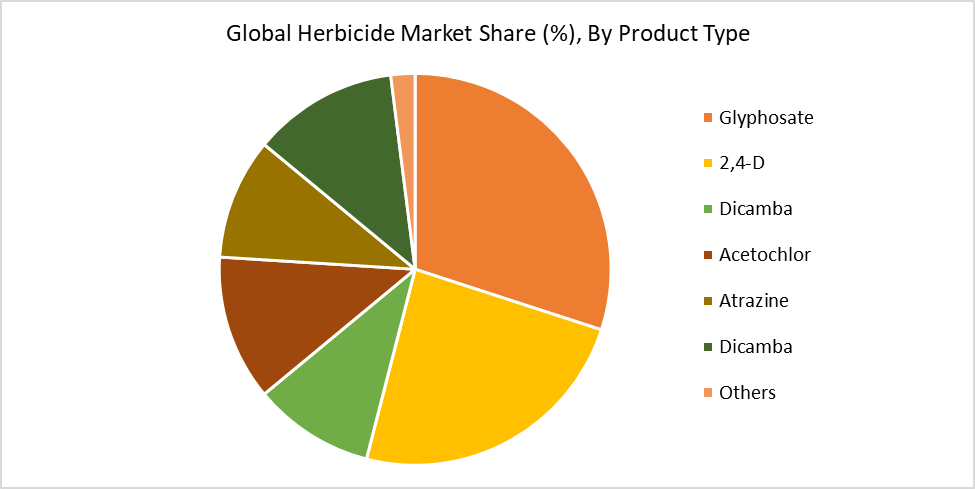 **Source: DataM Intelligence Analysis (2019)
Geographical Presentation
Asia-Pacific is dominating the global herbicide market owing to large scale utilization of herbicides in wheat, corn, rice, and other crops. The declining availability of agricultural labor and shift towards precision farming practices is resulting in rapid transition of manual weed control towards crop protection chemicals. India and China are leading the herbicide consumption in this region and are expected to hold their dominance over the forecast period. According to the Chinese government, the market growth for herbicides in China is expected to increase by 3% from 2017.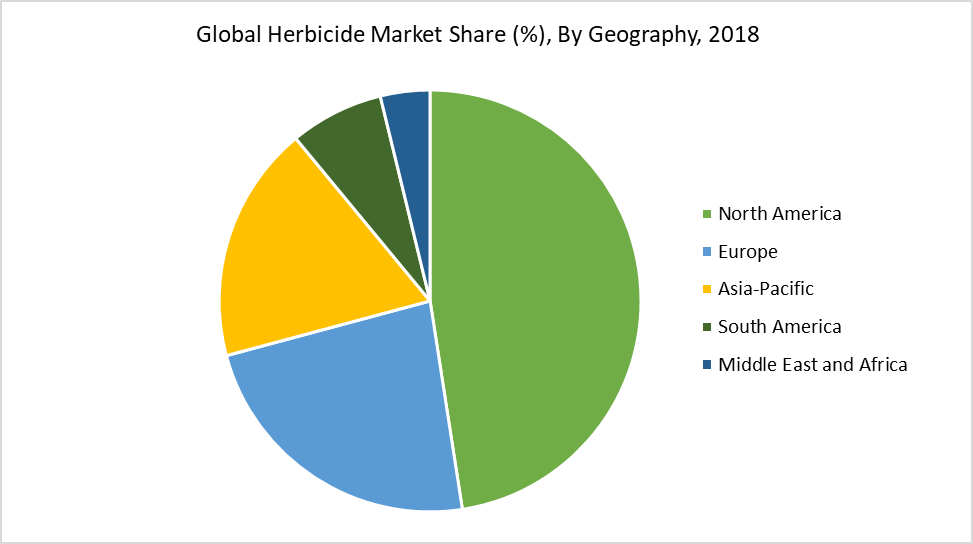 **Source: DataM Intelligence Analysis (2019)
Competitive Analysis
The global herbicide market is consolidated with major market players such as Syngenta AG, Bayer AG, BASF SE, and Dow Agrosciences occupying 70% of global market share.
Development of new herbicide formulations and establishment of new production facilities are the major strategies adopted by agrochemical manufacturers to increase their foothold in the market. The market has witnessed launch of high-performance herbicides that has enhanced chemical efficiency over weed control.
In March 2019, Atanor SCA launched new formulation plant in Argentina for TRAC 90 WG. This new production plant posse's immense potential to meet the market demand as well as exports.
In September 2018, HELM Agro US received EPA registration for FEARLESS and FEARLESS extra herbicides, and acetochlor-based weed control tools for corn.
In June 2018, BASF SE launched pre-emergent and residual herbicide Zidua for Argentinean farming.
In April 2017, UPL Ltd., a global leader in crop protection launched two new crop protection herbicides MOCCASIN, and SHUTDOWN in the United States. These products are designed to wide spectrum of crops including soybeans, cotton, peanuts, potatoes, sugar beets and corn.
Why Purchase the Report?
Visualize the composition of the global herbicide market in terms of various types of selectivity, product types, time of application and crop types highlighting the key commercial assets and players.
Identify commercial opportunities in global herbicide market by analyzing trends and co-development deals.
Excel data sheet with thousands of data points of global herbicide market - level 4/5 segmentation.
PDF report with the most relevant analysis cogently put together after exhaustive qualitative interviews and in-depth market study.
Product mapping in excel for the key product of all major market players
Target Audience
Investors/Investment Bankers
Research and Academic Institutes
Crop Protection Associations
Agrochemical Manufacturers
Farming Communities