Global Soil Active Herbicides Market is segmented By Type (Bio-Herbicide, Synthetic Herbicide), By Mode of Action (Selective, Non-Selective), By Mobility (Contact, Systemic), By Time of Application (Pre-Plant Application, Pre-Emergence, Post-Emergence), By End-Use Industry (Agriculture, Construction, Sports, Others), and By Region (North America, Latin America, Europe, Asia Pacific, Middle East, and Africa) – Share, Size, Outlook, and Opportunity Analysis, 2020-2027
Market Overview:
The Global Soil Active Herbicides Market is expected to grow at a CAGR of 5.30% during the forecasting period (2020-2027).
Herbicides market is likely witness surge in prices owing to the ongoing harsh trade factors of China. China is one of the major producers and exporters of herbicides in the world owing to the presence of renowned manufacturers such as China National Chemical Corporation and Sinochem Corporation. According to The Observatory of Economic Complexity, the exports of pesticides from China reached $5.12 billion in 2017. The increasing tariff on products exported by China into U.S. is likely to effect the global pricing scenario of soil active herbicides. Furthermore, the recent mergers and acquisitions in the market is presenting an opportunity for the manufacturers for increasing price of their prominent herbicide brands.
Soil Active Herbicides are a class of herbicides that act on seeds, roots or shoots of the plants. These are incorporated into the soil to control the growth of weeds and unwanted plants. These herbicides will remain active in the soil for a period of time and can be applied to the soil both before and after plantation. Several herbicide formulations with high control activity on selected plants are available to help inhibit the growth of selected plant species. The effectiveness of these herbicides depends on several factors such as soil decomposition, contact of weed part with treated soil, and active absorption by the plant. Soil active herbicides evolved as an essential part of weed management in conventional agricultural practices.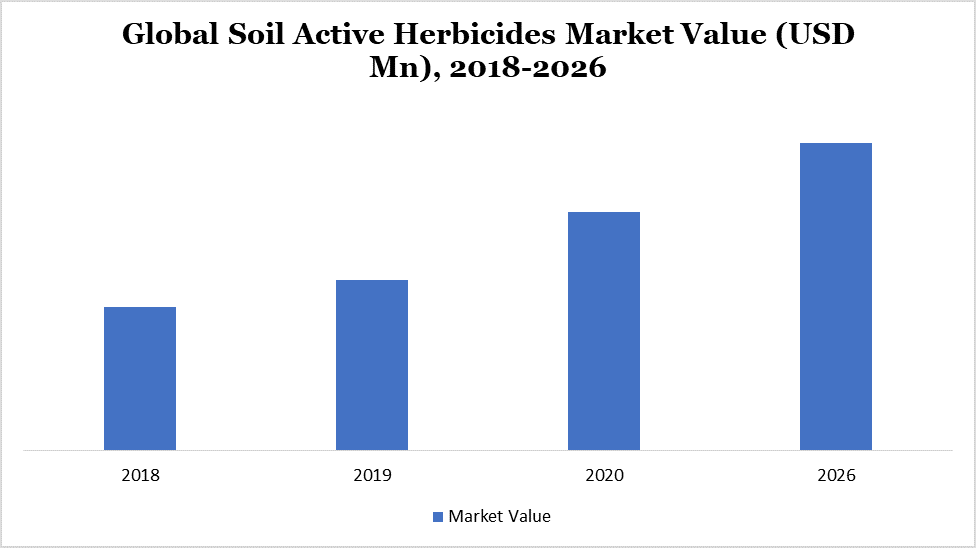 Market Dynamics
The growing demand for improving agricultural yield owing to surging food demand and reducing arable land is the major factor for the growth of soil active herbicides market across the globe. The demand for food is rapidly surging with the growth of population and dietary changes. According to the statistics of The Food and Agriculture Organization (FAO), the global population is likely to reach 10 billion by 2050 and would result in a growth of over 50% in agricultural demand as compared with 2018. This is forcing the farmers to increase crop production, either by boosting productivity or increasing agricultural land. However, the arable land is constantly declining with urbanization, soil degradation, climatic changes, and some other factors. This has resulted in need for enhancing agricultural productivity, thereby driven the use of effective farming materials including herbicides. Furthermore, development of innovative soil active herbicides that are highly selective and can be used for site-specific weed management is driving the market growth.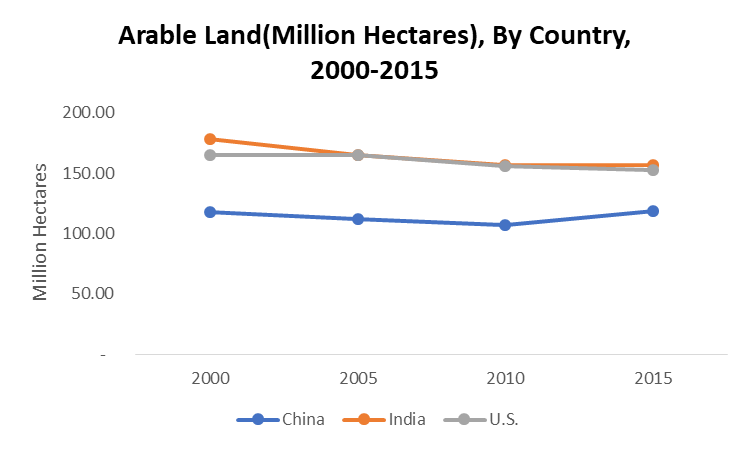 The environmental factors associated with utilization of pesticides is the primary factor hindering the growth of soil active herbicides market. A recent study on use of herbicides explained that exposure to glyphosate, a popular herbicide increases the risk of Non-Hodgkin Lymphoma (NHL). The chemical composition of herbicides causes severe effect on humans, birds and animals in the habitat of treated area. Moreover, improper use of herbicides may result in a damage to crop plants, thus effecting the overall crop productivity.
Market Segmentation
The global soil active herbicides market has been segmented by type into synthetic and biological soil active herbicides. Synthetic herbicides has been the most used category of herbicides over decades owing to their high potential of weed control in wide variety of crops. Synthetic soil active herbicides remained the largest category by type with a share of over 70% in 2018 and is expected to hold its dominance over the forecast period. By time of application, pre-plant incorporation is the most preferred method for soil active herbicides. The interest of farmers towards early herb management is driving the practice of this method.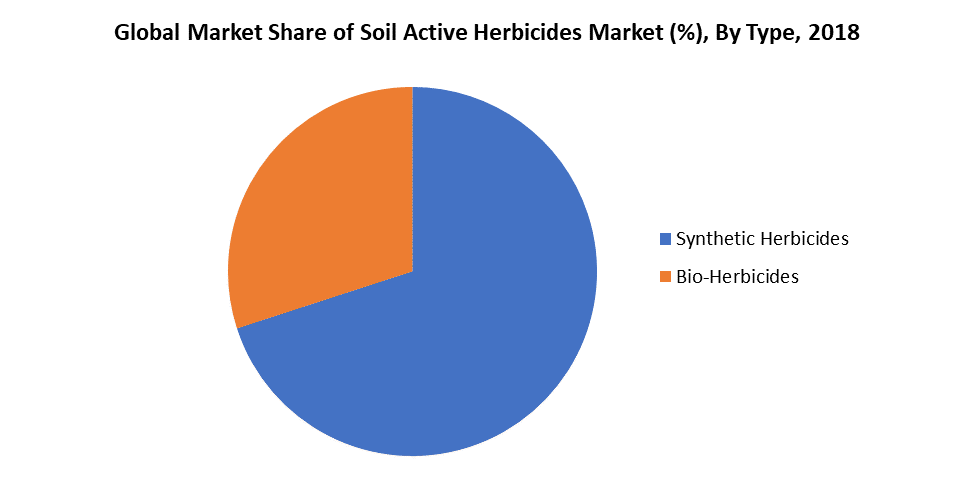 By geography, the study is segmented into North America, South America, Europe, Asia Pacific, Middle East and Africa. Asia Pacific is the largest market by region for soil active herbicides owing to large agricultural land in China and India. Asia Pacific region accounted for over 35% in the global soil-active herbicides market in 2018 and the share is likely to increase by the end of forecast period. Moreover, the growing production of glyphosate resistant crops is driving the growth of soil active herbicides market in North America region. According to the U.S. Department of Agriculture (USDA), 93% of soybeans, 85% of corn, and 82% of cotton in American agriculture engineered as glyphosate resistant.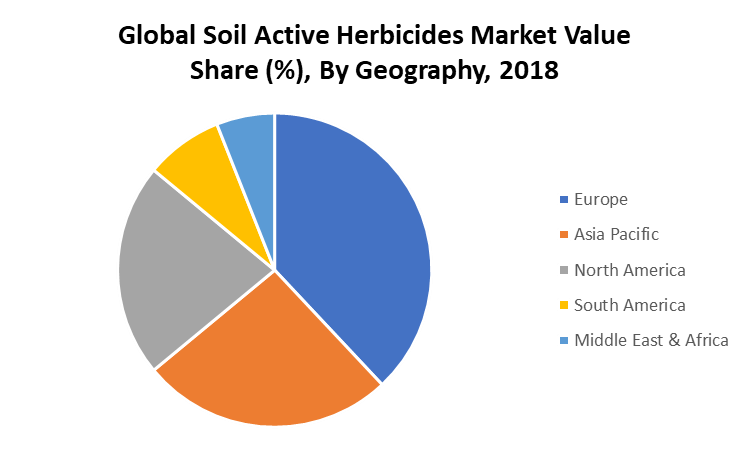 The global soil active herbicides market is highly consolidated with top 4 players accounting for over 70% of the market share. Bayer AG, Syngenta AG (China National Chemical Corporation), DuPont de Nemours, Inc., and BASF SE are the leading players of the market. The highly established crop protection business is motivating significant number of business expansion activities in soil active herbicides market. In 2017 and 2018, the market has witnessed remarkable acquisitions and mergers within the major pie, thus consolidating the market share.
In August 2018, BASF SE acquired the crop protection business of Bayer AG and the deal include transfer of non-selective herbicide business.
In June 2018, Bayer AG acquired U.S. based agrichemical manufacturer Monsanto in a deal of worth $63 billion. The acquisition marked the evolution of world's largest seed and agro-chemicals company.
In June 2018, Syngenta AG, a Switzerland based agrochemicals and seeds manufacturer got acquired by China National Chemical Corporation in an expert agreed largest overseas expansion of $44 billion.
The increasing consolidation in the market is likely to result in price hikes for major herbicide groups.
Other key players in the market are ADAMA Agricultural Solutions, Nufarm, Nissan Chemical Corporation, and Arysta LifeScience Corporation.
Why Purchase the Report?
Visualize the composition of the global soil active herbicides market across each indication, in terms of type, mode of action, mobility, time of application, and end user industry, highlighting the key commercial assets and major players.
Identify commercial opportunities in global soil active herbicides market by analyzing trends and co-development deals.
Excel data sheet with thousands of data points of the global soil active herbicides market - level 4/5 segmentation.
PDF report with the most relevant analysis cogently put together after exhaustive qualitative interviews and in-depth market study.
Product mapping in excel for the key products of all major market players
Target Audience
Agrochemical manufacturers
Farmers and grower communities
Industry Investors/Investment Bankers
Research Professionals