Global Contrast Agents Market is segmented By Category (Iodine based non-ionic contrast media, Magnetic Resonance Imaging contrast agents, Barium sulfate compounds, Contrast-Enhanced Ultrasound), By Way Of Intake (Orally), By enema, By injection, Others, By Application (Radiology, Interventional Cardiology, Interventional Radiology, Others), By End-User (Diagnostic Centres, Hospitals, Others), and By Region (North America, Latin America, Europe, Asia Pacific, Middle East, and Africa) – Share, Size, Outlook, and Opportunity Analysis, 2022-2029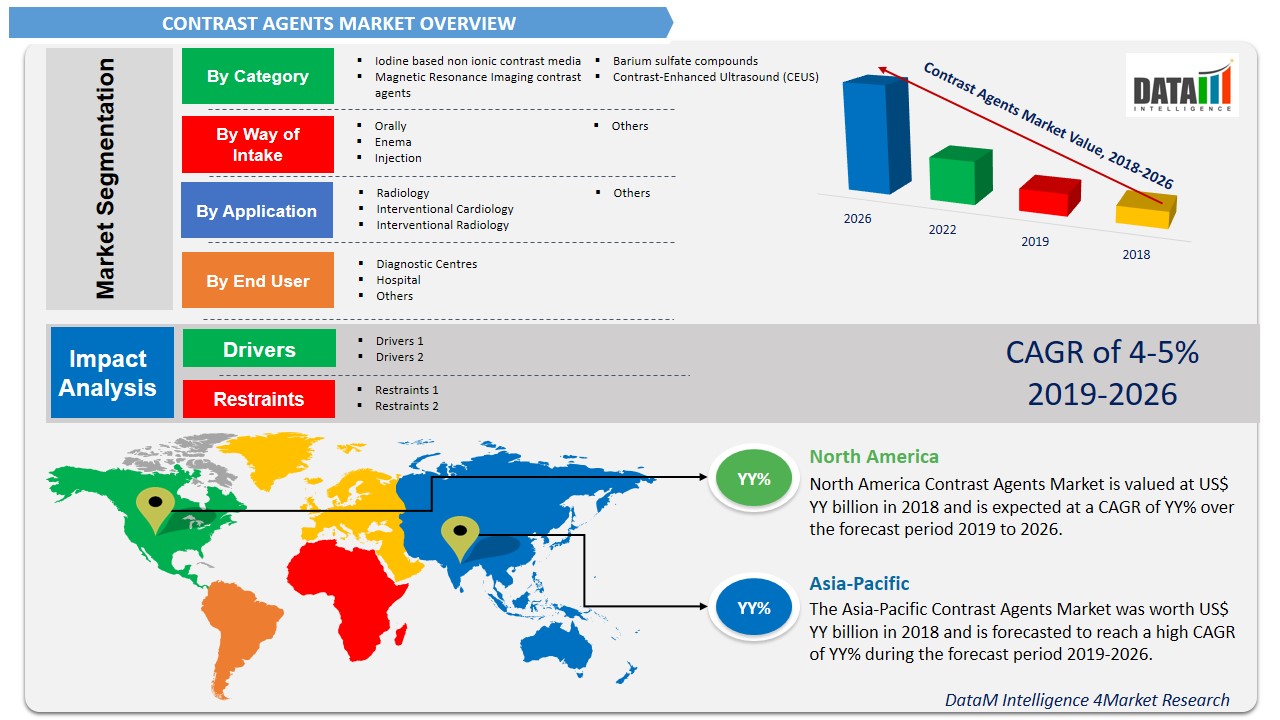 Market Overview
Global "Contract Agents Market" is expected to grow at a CAGR of 4-5% during the forecast period (2022-2029).
Growth factors of the global Contrast Agents Market
Growing demand for minimally invasive treatment methods, the Need for accurate diagnosis in a relatively less period, increase in the prevalence of chronic diseases, etc., is driving the growth of the global Contrast Agents market.

However, high cost and safety concerns are likely to hinder the growth of the global Contrast Agents market.
Key Highlights of the market
Diffusion kurtosis imaging, a new MR imaging technique, can perform operations without the use of contrast agents. Increasing such technologies is holding back the growth of the global Contrast Agents Market.

FDA announced a new class warning and safety measures for all Gadolinium-Based Contrast Agents. Continually changing and the addition of new regulatory guidelines for each segment is likely to affect the overall growth of the Contrast Agents Market.

TAGITOL V (barium sulfate), a new imaging agent for the use of CT and CTC procedures, is approved by U.S. FDA for use in adult patients. Expanding the scope of contrast agents to additional healthcare verticals is favoring the growth of the global Contrast Agents Market.
Market Segmentation
The market is segmented by Category, Way of Intake, Application, and end-users. By Way of intake, the market is segmented as Oral, Enema, Injection, and Others.

By Application, the market is segmented as Radiology, Interventional Cardiology, Interventional Radiology, and Others.
Geographical Analysis
The report segments the geographies by region, which include North America, South America, Europe, Asia Pacific, and RoW.

North America is leading the global Contrast Agents market, with the majority of the contribution from the US. Growing geriatric population, increase in the incidence of chronic diseases, Modernization of healthcare infrastructure, an increasing number of road accidents are fuelling the demand in this region.

The report profiles the following companies, which include Bayer, BIPSO GmbH, Bracco Imaging, GE Healthcare, Guerbet, Lantheus, Magnus Health, and Spago Nanomedical.
Why should I purchase this report?
Visualize the composition of the Contrast Agents Market across each indication, regarding type and applications, highlighting the critical commercial assets and players.

Identify commercial opportunities in Contrast Agents by analyzing trends and co-development deals.

Excel data sheet with thousands of data points of the Contrast Agents market-level 4/5 segmentation

PDF report with the most relevant analysis cogently put together after exhaustive qualitative interviews and in-depth market study

Product mapping in excel for the vital Contrast Agents products of all major market players
Who can benefit from this report?
Raw Material & Equipment Suppliers/ Buyers

Service Providers/ Buyers

Industry Investors/Investment Bankers

Research Professionals

Emerging Companies

Manufacturers
Trending Topics