Aluminium Market Report Overview
Global Aluminium Market reached US$ 152.2 billion in 2022 and is expected to reach US$ 233.3 bllion by 2030, growing with a CAGR of 5.5% during the forecast period 2023-2030.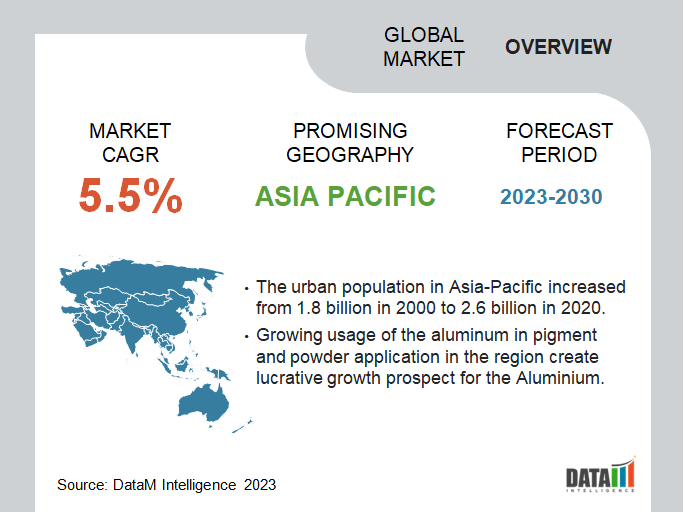 The global market for aluminium is expanding significantly due to the rising usage of aluminium pigments in coatings and paints. Due to rising demand from end-use industries like automotive, packaging, construction, and cosmetics, aluminium pigments are being used in more coatings and paints. The need for aluminium pigments has been growing along with the demand for highly functional and aesthetically pleasing coatings and paints.
In July 2023, According to a summary of their discussion from the USTR's office, Mexican Secretary of Economy Raquel Buenrostro and U.S. Trade Representative Katherine Tai talked about the significance of Mexico addressing the "recent surge" in imports of steel and aluminium goods into U.S.
Mexico was required to ensure greater transparency with regard to imports of steel and aluminium from third nations as part of the deal. Furthermore, developments like these drives the growth of U.S. market and U.S. holds the majority of the regional shares and is expected to grow at a highest CAGR.
Aluminium Market Scope
| | |
| --- | --- |
| Metrics | Details |
| CAGR | 5.5% |
| Size Available for Years | 2021-2030 |
| Forecast Period | 2023-2030 |
| Data Availability | Value (US$) |
| Segments Covered | Product, Application, End-User and Region |
| Regions Covered | North America, Europe, Asia-Pacific, South America and Middle East & Africa |
| Fastest Growing Region | Asia-Pacific |
| Largest Region | Asia-Pacific |
| Report Insights Covered | Competitive Landscape Analysis, Company Profile Analysis, Market Size, Share, Growth, Demand, Recent Developments, Mergers and Acquisitions, New Equipment Product Launches, Growth Strategies, Revenue Analysis, Porter's Analysis, Pricing Analysis, Regulatory Analysis, Supply-Chain Analysis and Other key Insights. |
For more details on this report - Request for Sample
Aluminium Market Dynamics
Growing Demand for Primary Aluminium
The term "primary aluminium" describes the metal that is obtained directly from the mining of bauxite ore and subsequent refining procedures. Aluminium is widely used in the construction industry, especially for roofing, windows, doors, facades, and structural elements.
For instance, According to European Aluminium, the annual demand for primary aluminium is currently 9 million tonnes, and in 2050, it is predicted to increase to 18 million tonnes. With over 600 factories spread across 30 different European countries, the European aluminium value chain is one of the continent's most extensive and thriving raw materials industries. The European aluminium sector, which supports six of the EU's fourteen industrial ecosystems, is an essential component in the implementation of the European Green Deal.
Increased Packaged Goods Sales
In the food and beverage, aviation, transportation, medical device, and pharmaceutical industries, aluminium foil is a common packaging material. Due to its strong malleability, it may be easily rolled, folded, and moulded to meet packaging requirements. Aluminium foil's inherent qualities allow it to be converted into various materials, including paper wraps, containers, tablet packs, and more. Due to its high reflectivity, it is used in both decorative and functional applications.
In June 27, 2023, With a reported reduction of more than 50% in carbon footprint compared to the average for primary aluminium sold in Europe, Amcor Capsules and aluminium suppliers Aludium have worked together to produce what they are describing as a certified and independently verified "low-carbon" aluminium product for use in screwcaps.
Volatility in Prices
Since it takes a lot of energy to produce aluminium, it is referred to as an energy-intensive base metal. Aluminium must be obtained from bauxite ore and converted because it does not exist in its purest form. Through the Hall-Héroult electrolytic reduction process, it must first be chemically purified into alumina (aluminium oxide) and then smelted into aluminium. Due to the fact that energy is a variable with its own set of supply and demand characteristics, this has an effect on the price of aluminium as a whole.
Aluminium Market Segmentation Analysis
The global aluminium market is segmented based on product, application, end-user and region.
Customization, Versatility, and Diverse Applications Drives the Segmantal Growth
A variety of alloys are available in alloy aluminium that can be customised to satisfy the unique needs of various sectors. After mixing components like copper, zinc, magnisium and silicon with aluminium manufacturers can get desired characteristics such as improved strength, better thermal conductivity and so on. It is also being used in consumer good product application.
For instance, in May 2023, The Xiaoxin Ergonomic Chair C5 Air and Xiaoxin Aluminium Alloy Cooling Bracket Z2 for laptops have been introduced by Lenovo. The Xiaoxin Aluminium Alloy Cooling Bracket Z2 was additionally introduced by the Chinese tech company. With a very large hollow and foldable design, the Lenovo Xiaoxin Aluminium Alloy Cooling Bracket Z2 is made of aluminium alloy.
It has CNC processing at the corners and is constructed of 4 mm thick aluminium alloy material. Therefore, the alloy aluminium product segment dominates the global market with more than half of the total global segmental market share.
Aluminium Market Geographical Share
Growing Production in the China Supplements the Growth of the Asia-Pacific Market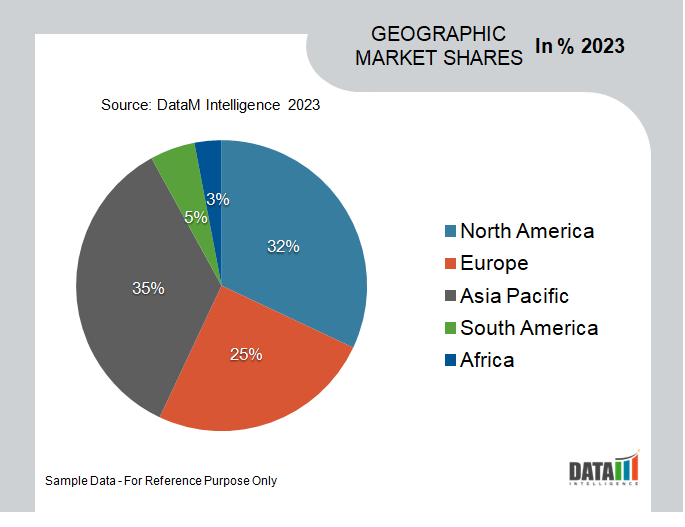 China is the leading producer in the region and the growing production in Asia-Pacific countries drives the growth of the global aluminium market.
In July 2023, According to figures released recently, China's primary aluminium output increased in June compared to the same month a year earlier as smelters in the southwest province of Yunnan resumed operations after restrictions on local power usage were lifted.
According to figures from the National Bureau of Statistics, the top producer of aluminium in the world produced 3.46 million metric tonnes of primary aluminium last month, up 2.9% from the same time previous year.
Yunnan, China's fourth-largest producer of aluminium, started increasing power to the sector late last month as a result of additional rains in the area, which mainly relies on hydropower. Therefore, the Asia-Pacific dominates the global aluminium with significant global market share.
Aluminium Companies and Competitive Landscape
The major global players include Alcoa Corporation, Aluminium Corporation of China Limited, Century Aluminium Company, Rio Tinto, United Company RUSAL, Norsk Hydro ASA, Emirates Global Aluminium, National Aluminium Company Limited, Aluminium Bahrain and Kaiser Aluminium Corporation.
COVID-19 Impact On Aluminium Market
Three primary causes led to the major supply restrictions beginning with the introduction of COVID-19 in early 2020: factory closures, port closures, and a lack of container ships. Chinese factory closures in particular caused delays and production bottlenecks throughout Asia. Other manufacturers reliant on the same source upstream are affected downstream if an upstream producer experiences delayed production.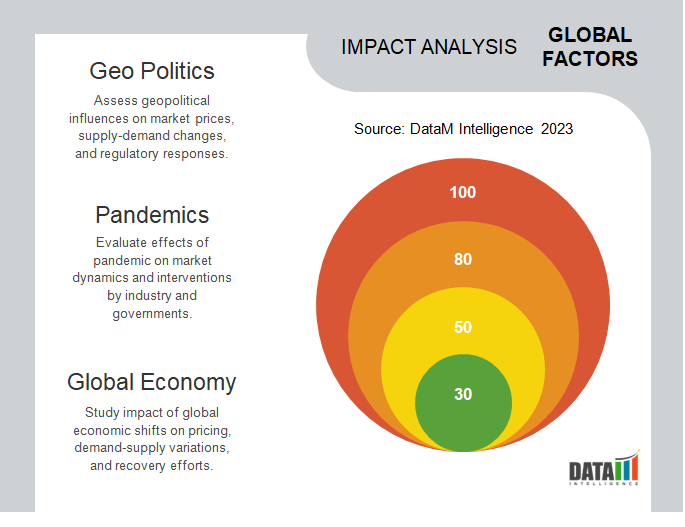 Similar difficulties have been faced by ports; many of them have to halt operations or limit labour to prevent epidemics. As a result, there were bottlenecks in the free flow of products. The requirement for raw materials increased as manufacturers began to open up gradually. To fulfil this surge in demand, there aren't enough large container ships available. The end result is a steep increase in transportation and production costs, a worsening of shortages, and significant delays. Therefore, above mentioned factors hinders the growth of the global aluminium market during pandemic.
Scope
By Product
Pure Aluminium
Alloy Aluminium
By Application
Pigments and Powder
Foils
Wires
Sheets and Plates
Rod and Bars
Ingots
By End-User
Transportation
Packaging
Construction
Electrical and Electronics
Consumer Goods
Industrial Equipment and Machinery
Others
By Region
North America
Europe

Germany
UK
France
Italy
Russia
Rest of Europe

South America

Brazil
Argentina
Rest of South America

Asia-Pacific

China
India
Japan
Australia
Rest of Asia-Pacific

Middle East and Africa
Key Developments
On July 17, 2023, Nexcomb: Inspiration for Nex Gen Creativity with Aluminium Honeycomb Panels has been unveiled by Aludecor. Aludecor, the top brand in India for quality Metal Composite Panels (MCP), is proud to launch Nexcomb Honeycomb panels, a ground-breaking new innovation.
In July 2023, To increase capacity to 60,000 tonnes annually, Jindal Aluminium Limited (JAL) wants to invest $100–150 crore at its Bhiwadi factory. The corporation initially invested 100 crore for acquisition in 2021, followed by a 250 crore infusion into the facility in 2022, before making the most recent projected investment. To satisfy rising demand, this will raise the total investment to almost 500 crore.
In July 2023, GUNNA Drinks, a soda company that campaigns against plastic use, has packaged three of its immune-boosting lemonades in a variety of aluminium bottles. This move is intended to cut down on plastic waste and meet the growing demand for functional food and drink items.ssss
Why Purchase the Report?
To visualize the global aluminium market segmentation based on product, application, end-user and region, as well as understand key commercial assets and players.
Identify commercial opportunities by analyzing trends and co-development.
Excel data sheet with numerous data points of aluminium market-level with all segments.
PDF report consists of a comprehensive analysis after exhaustive qualitative interviews and an in-depth study.
Product mapping available as Excel consisting of key products of all the major players.
The global aluminium market report would provide approximately 61 tables, 62 figures and 188 Pages.
Target Audience 2023
Manufacturers/ Buyers
Industry Investors/Investment Bankers
Research Professionals
Emerging Companies
Global Aluminium Market is segmented By Product (Pure Aluminium, Alloy Aluminium), By Application (Pigments and Powder, Foils, Wires, Sheets and Plates, Rod and Bars, Ingots), By End-User (Transportation, Packaging, Construction, Electrical and Electronics, Consumer Goods, Industrial Equipment and Machinery, Others), and By Region (North America, South America, Europe, Asia Pacific, Middle East, and Africa) – Share, Size, Outlook, and Opportunity Analysis, 2023-2030