Market Overview
Transgenic seeds, also known as genetically modified (GM) seeds are a type of seeds that are modified by insertion of genes directly into the DNA of the seed. Seeds are genetically modified to contain specific characteristics such as resistant to herbicides and resistant to pests. GM seeds are gaining wide acceptability among commercial crop growers. The acreage of GM variants has significantly increased in cotton, corn, soybean and wheat across the globe. Major advantages associated with the genetically modified seed includes improved agricultural production, reduced pesticide usage, and increased profits. Rapid change in environmental conditions, depleting water resources led to shift in agricultural practices towards sustainable technologies such as GM crops. A recent study revealed that GMOs increase crop yields by 22% with pesticide use reduced by 37% and increase profits by 68%. The global transgenic seeds market valued USD XX million in 2018 and expected to grow at a CAGR of XX% to reach USD XX million by 2026.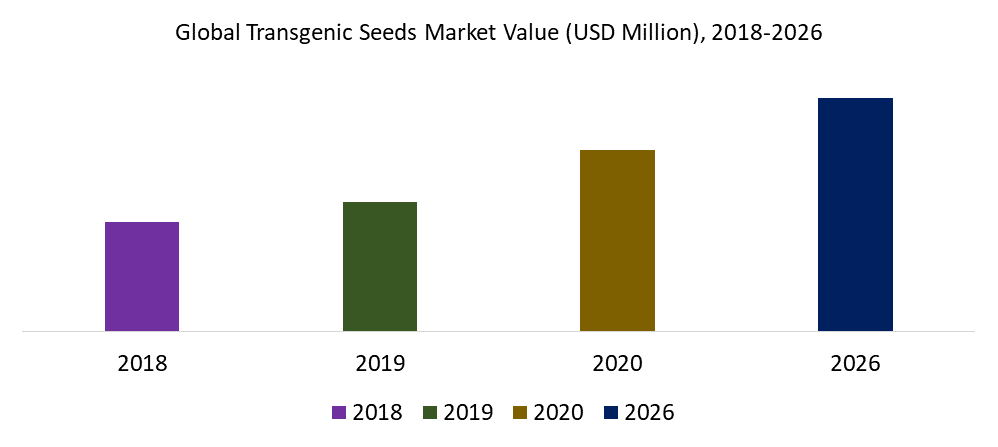 **Source: DataM Intelligence Analysis
Market Dynamics:
Transgenic seeds market has been witnessing significant growth owing to growing adoption of sustainable agricultural practices across the globe. High agricultural yield and associated with use of transgenic crops in comparison with conventional crops made GM seeds as the preferred choice among farming communities. According to the study published in The Royal Society in 2017, global plantations of GM crops increased from 1.7 million hectares in 1996 to 179.7 million hectares in 2015. Additionally, growing research advancements in the fields of bio fortification, precise DNA integration, and stress tolerance in transgenic crops is expected to boost the productivity in commercial agriculture.
However, the environmental concerns and stringent government regulations associated with the use of GM seeds is hindering the growth of the market. The changing consumer preference towards naturally grown food products is also limiting the utilization of GM seeds.
Segment Analysis
Global transgenic seeds market is segmented on the basis of trait into herbicide tolerant and pest resistant. Herbicide tolerant crops are designed to tolerate specific spectrum of herbicides, restricting the growth of surrounding weeds and supporting the growth of crops. Growing utilization of herbicides in production of corn and soybean for crop protection led to shift in preference towards production of herbicide tolerant crops. Currently, more than 120 million acres of corn and soybean are genetically engineered to be tolerant to glyphosate, and other herbicides in the United States.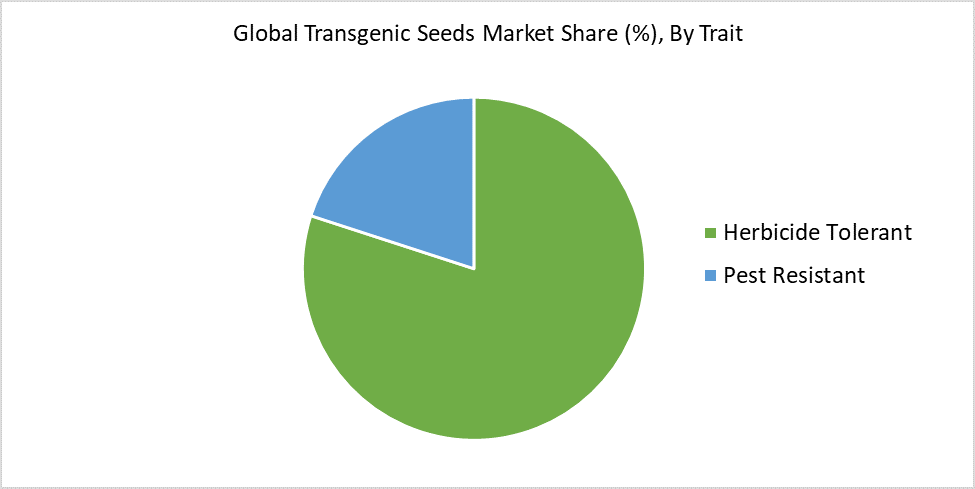 **Source: DataM Intelligence Analysis
Geographical Presentation
By region, the global transgenic seeds market is segmented into North America, South America, Europe, Asia-Pacific, Middle-east and Africa.
North America is dominating the global transgenic seeds market owing to increased adoption rate of GM corn, soybeans, cotton and alfalfa by farmers across the region. More than 90% of corn, soybean, canola and sugar beat produced in the United States is genetically modified in every crop season. As of 2017, ten GMO crops are produced in the United States which includes corn, soybean, cotton, canola and others. Factors led to the growth of transgenic seeds include lower crop diseases, effective weed management, insect control and high agricultural yielding capacity of GM seeds. According to the data published in USDA National Agricultural Statistics Service, the adoption of genetically engineered crops in the United States increased from 25% in 2000 to 90% in 2016.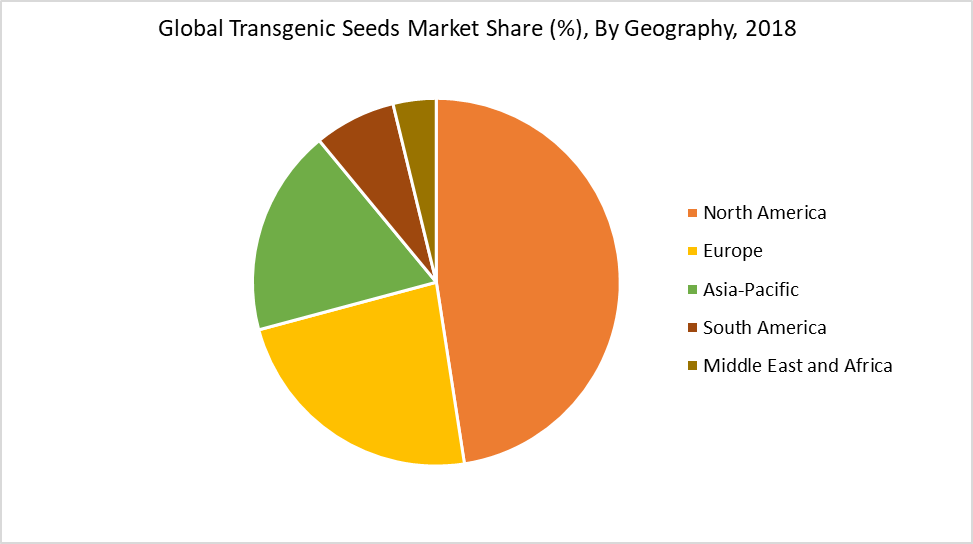 **Source: DataM Intelligence Analysis
Competitive Analysis
The global transgenic seeds market is consolidated with major companies such as Mosanto, DowDupont Inc, BASF SE, Bayer AG, and Syngenta AG occupying significant market share. The market is forecasted to see new seed launches in different food crops and regulatory approvals across the globe.
The market is experiencing regulatory approvals for the new GMO seeds from different countries for the production for genetically modified crops across the globe.
In February 2019, DowDuPont inc, received international regulatory approval for its new line of genetically engineered soybeans.
In January 2019, Agriculture Department of China approved five genetically modified crops imports from United States.
Why Purchase the Report?
Visualize the composition of the global transgenic seeds market in terms of various types of crop type and, highlighting the key commercial assets and players.
Identify commercial opportunities in global transgenic seeds market by analyzing trends and co-development deals.
Excel data sheet with thousands of data points of global transgenic seeds market - level 4/5 segmentation.
PDF report with the most relevant analysis cogently put together after exhaustive qualitative interviews and in-depth market study.
Product mapping in excel for the key product of all major market players
**The global transgenic seeds report will provide access to approximately 38 market data tables, 40 figures
Target Audience
Industry Investors/Investment Bankers
Farming Communities
Research Organizations
Seed Manufacturers
Environmental Protection Agencies
LIST OF TABLES
Table 01 Global Transgenic Seed Market Value, By Crop Type, 2018,2022 & 2026 ($ Million)
Table 02 Global Transgenic Seed Market Value, By Trait, 2018,2022 & 2026 ($ Million)
Table 03 Global Transgenic Seed Market Value, By Region, 2018,2022 & 2026 ($ Million)
Table 04 Global Transgenic Seed Market Value, By Crop Type, 2018,2022 & 2026 ($ Million)
Table 05 Global Transgenic Seed Market Value, By Crop Type, 2017-2026 ($ Million)
Table 06 Global Transgenic Seed Market Value, By Trait, 2018,2022 & 2026 ($ Million)
Table 07 Global Transgenic Seed Market Value, By Trait, 2017-2026 ($ Million)
Table 08 Global Transgenic Seed Market Value, By Region, 2018,2022 & 2026 ($ Million)
Table 09 Global Transgenic Seed Market Value, By Region, 2017-2026 ($ Million)
Table 10 North America Transgenic Seed Market Value, By Crop Type, 2017-2026 ($ Million)
Table 11 North America Transgenic Seed Market Value, By Trait, 2017-2026 ($ Million)
Table 12 North America Transgenic Seed Market Value, By Country, 2017-2026 ($ Million)
Table 13 South America Transgenic Seed Market Value, By Crop Type, 2017-2026 ($ Million)
Table 14 South America Transgenic Seed Market Value, By Trait, 2017-2026 ($ Million)
Table 15 South America Transgenic Seed Market Value, By Country, 2017-2026 ($ Million)
Table 16 Europe Transgenic Seed Market Value, By Crop Type, 2017-2026 ($ Million)
Table 17 Europe Transgenic Seed Market Value, By Trait, 2017-2026 ($ Million)
Table 18 Europe Transgenic Seed Market Value, By Country, 2017-2026 ($ Million)
Table 19 Asia-Pacific Transgenic Seed Market Value, By Crop Type, 2017-2026 ($ Million)
Table 20 Asia-Pacific Transgenic Seed Market Value, By Trait, 2017-2026 ($ Million)
Table 21 Asia-Pacific Transgenic Seed Market Value, By Country, 2017-2026 ($ Million)
Table 22 Middle East & Africa Transgenic Seed Market Value, By Crop Type, 2017-2026 ($ Million)
Table 23 Middle East & Africa Transgenic Seed Market Value, By Trait, 2017-2026 ($ Million)
Table 24 Monsanto: Overview
Table 25 Monsanto: Product Portfolio
Table 26 Monsanto: Key Developments
Table 27 DowDupont Inc.: Overview
Table 28 DowDupont Inc.: Product Portfolio
Table 29 DowDupont Inc.: Key Developments
Table 30 BASF SE: Overview
Table 31 BASF SE: Product Portfolio
Table 32 BASF SE: Key Developments
Table 33 Bayer AG: Overview
Table 34 Bayer AG: Product Portfolio
Table 35 Bayer AG: Key Developments
Table 36 Syngenta AG: Overview
Table 37 Syngenta AG: Product Portfolio
Table 38 Syngenta AG: Key Developments
LIST OF FIGURES
Figure 01 Global Transgenic Seed Market Share, By Crop Type, 2018 & 2026 (%)
Figure 02 Global Transgenic Seed Market Share, By Trait, 2018 & 2026 (%)
Figure 03 Global Transgenic Seed Market Share, By Region, 2018 & 2026 (%)
Figure 04 Global Transgenic Seed Market Value, 2017-2026 ($ Million)
Figure 05 Global Transgenic Seed Market Y-o-Y Growth, By Crop Type, 2018-2026 (%)
Figure 06 Corn: Global Transgenic Seed Market Value, 2017-2026 ($ Million)
Figure 07 Cotton: Global Transgenic Seed Market Value, 2017-2026 ($ Million)
Figure 08 Wheat: Global Transgenic Seed Market Value, 2017-2026 ($ Million)
Figure 09 Rice: Global Transgenic Seed Market Value, 2017-2026 ($ Million)
Figure 10 Soybean: Global Transgenic Seed Market Value, 2017-2026 ($ Million)
Figure 11 Canola: Global Transgenic Seed Market Value, 2017-2026 ($ Million)
Figure 12 Others: Global Transgenic Seed Market Value, 2017-2026 ($ Million)
Figure 13 Global Transgenic Seed Market Y-o-Y Growth, By Trait, 2018-2026 (%)
Figure 14 Herbicide Resistant: Global Transgenic Seed Market Value, 2017-2026 ($ Million)
Figure 15 Pest Resistant: Global Transgenic Seed Market Value, 2017-2026 ($ Million)
Figure 16 Global Transgenic Seed Market Y-o-Y Growth, By Region, 2018-2026 (%)
Figure 17 North America Transgenic Seed Market Value, 2017-2026 ($ Million)
Figure 18 North America Transgenic Seed Market Share, By Crop Type, 2018 & 2026 (%)
Figure 19 North America Transgenic Seed Market Share, By Trait, 2018 & 2026 (%)
Figure 20 North America Transgenic Seed Market Share, By Country, 2018 & 2026 (%)
Figure 21 South America Transgenic Seed Market Value, 2017-2026 ($ Million)
Figure 22 South America Transgenic Seed Market Share, By Crop Type, 2018 & 2026 (%)
Figure 23 South America Transgenic Seed Market Share, By Trait, 2018 & 2026 (%)
Figure 24 South America Transgenic Seed Market Share, By Country, 2018 & 2026 (%)
Figure 25 Europe Transgenic Seed Market Value, 2017-2026 ($ Million)
Figure 26 Europe Transgenic Seed Market Share, By Crop Type, 2018 & 2026 (%)
Figure 27 Europe Transgenic Seed Market Share, By Trait, 2018 & 2026 (%)
Figure 28 Europe Transgenic Seed Market Share, By Country, 2018 & 2026 (%)
Figure 29 Asia-Pacific Transgenic Seed Market Value, 2017-2026 ($ Million)
Figure 30 Asia-Pacific Transgenic Seed Market Share, By Crop Type, 2018 & 2026 (%)
Figure 31 Asia-Pacific Transgenic Seed Market Share, By Trait, 2018 & 2026 (%)
Figure 32 Asia-Pacific Transgenic Seed Market Share, By Country, 2018 & 2026 (%)
Figure 33 Middle East & Africa Transgenic Seed Market Value, 2017-2026 ($ Million)
Figure 34 Middle East & Africa Transgenic Seed Market Share, By Crop Type, 2018 & 2026 (%)
Figure 35 Middle East & Africa Transgenic Seed Market Share, By Trait, 2018 & 2026 (%)
Figure 36 Monsanto: Financials
Figure 37 DowDupont Inc.: Financials
Figure 38 BASF SE: Financials
Figure 39 Bayer AG: Financials
Figure 40 Syngenta AG: Financials