Therapeutic vaccines Market Overview
A therapeutic vaccine are the biological preparations applied post infection confirmation, in order to induce antiviral immunity to alter the course of the disease. Therapeutic vaccine has expanded the horizon of chronic disease treatment. However, fast-track approvals by US FDA for therapeutic vaccine for various disease shall be essentially intensified. Due to increasing chronic infectious diseases, allergic conditions, auto immune disorders, cancer etc., and lack of vaccines approvals, is expected to create the negative shift towards the healthcare expenditure for low to emerging economic county population.
Several pharmaceutical companies are working to develop certain novel vaccines for diseases such as lung cancer, breast cancer, Alzheimer disease, and other chronic infectious diseases etc., which would certainly boost the therapeutic vaccines market.
The global therapeutic vaccines size was worth $ XX billion in 2018 and is forecasted to reach $ XX billion by 2026, at a CAGR of XX% during the forecast period.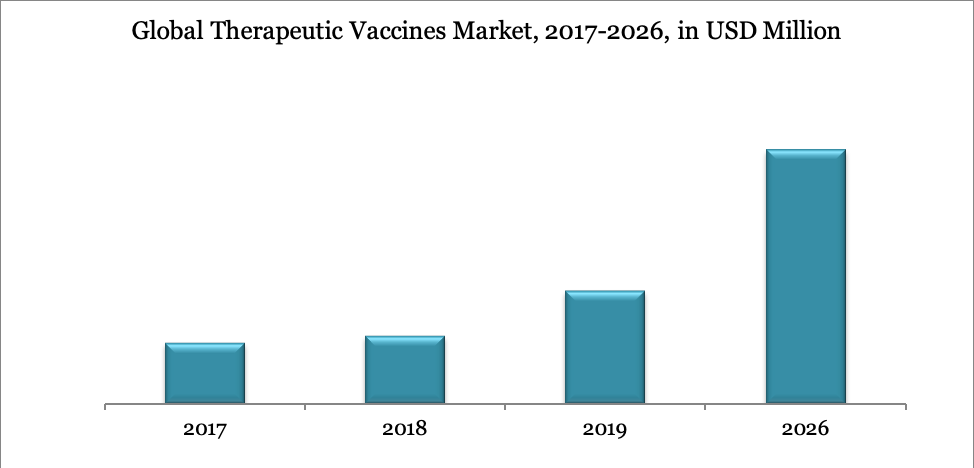 Global Therapeutic Vaccines Market Dynamics
Global therapeutic vaccines market is driven by rising incidences of chronic infectious diseases, cancer, Alzheimer's disease etc. For instance, According to WHO, cancer is the second leading cause of death worldwide, and is responsible for 9.6 million deaths in 2018 and globally, about 1 in 6 deaths is only because of cancer. Approximately 70% of deaths from cancer occur in low and middle-income countries. Also, in 2018, 2.09 million lung cancer and 2.09 million breast cancer cases were registered globally. Cancer causing infections, such as hepatitis and human papilloma virus (HPV), are responsible for up to 25% of cancer cases in low- and middle-income countries. Therapeutic Vaccines are anticipated to cover the major disease target population and thus can be major factor to boost the global therapeutic vaccines market.
According to Alzheimer's Association Alzheimer's (AAA) disease facts and figures 2007, in 2006, there were 26.6 million cases of Alzheimer's disease in the world (range, 11.4–59.4 million). AAA have predicted that by the year 2050, the worldwide prevalence of Alzheimer's will grow to 106.8 million (range, 47.2– 221.2 million). According to TBFACTS.org it is estimated that 1.5 million people were died from the disease in 2014, including 400,000 individuals who were also HIV positive. The Joint United Nations Program on HIV/AIDS (UNAIDS) estimated that more than 40 million people are infected worldwide with HIV, with an estimated 15,000- 20,000 new infections each day.
Increasing subsidiaries from the government organizations to the pharmaceutical companies especially in terms of health research is expected to boost the therapeutic vaccines market. For instance, the NIH in the US contributes around US$30.9 billion annually to health research. In Canada, Canadian Institute of Health Research (CIHR), as well as a new Industrial Research Assistance program contributes nearly US$0.76 billion to health research each year. The UK research council contributes US$888 million annually to the health research, such huge contributions would greatly impact the market for therapeutic vaccines.
As regulatory processes become strict and competitive, new products have a major clinical benefit in terms of safety and efficacy or end-result over existing products. This leads to numerous head-to-head experiments between important market products, and new products or applicants for late-stage pipelines. For instance, pipeline vaccines that are overseen by WHO's Product Development for Vaccines Advisory Committee (PDVAC) for the treatment of HIV-1 includes ALVAX pox prime with protein boost and MF59/HVTN 100, VRC-HIVADV014-00-VP, VRC-HIVADV054-00-VP/HVTN 084 which are in phase II a. Tuberculosis vaccine initiative (TBVI) is continuously working on the development of new vaccine candidates. For instance, the current TB vaccine pipeline of October 2018 includes VPM1002 SII, Max Planck, MIP Cadila Pharma, M. Vaccae Anhui Zhifei Longcom of phase 3.
However huge capital expenditure in vaccine development is hampering the market growth. Merely 22% of the initiatives were forecasted in 1996 to successfully reach the market after 10 years of development. This imbalance is to a large extent caused by rising cost of research and development (R&D), biological and technical challenges associated with targeting more complex diseases, competition with better standards of care, larger scale of clinical studies to prove safety and efficacy and stringent regulations. For instance, The Coalition for Epidemic Preparedness Innovations funded by the Research Council of Norway through the Global Health and Vaccination Program GLOBVAC was established in 2016, to develop vaccines that can contribute to preparedness for outbreaks of epidemic infectious diseases. According to them, the cost of developing a single epidemic infectious disease vaccine from preclinical trials through to end of phase 2a is US$31–68 million (US$14–159 million range), assuming no risk of failure.
Global Therapeutic Vaccines Market Segment Analysis
Based on type, the global therapeutic vaccines market is segmented into Tumor cell vaccine, Antigen vaccines, Dendritic Cell vaccine, DNA vaccine.
Rising incidences of cancer leading to rising demand for the development of tumor cell vaccines is one of the dominating factors, propelling the global therapeutic vaccines market. According to the National Cancer Institute, a tumor antigen vaccine is a "vaccine made of cancer cells, parts of cancer cells, or pure tumor antigens. The first allogeneic whole-cell vaccine was the Canvaxin™, consisting of three melanoma lines combined with BCG as an adjuvant 16 which, after promising results in phase II clinical trials failed in two multi-institutional randomized phase III trials due to immune system's inherent tolerance to several antigens. GVAX has proven to be more effective than others in inducing recruitment, maturation, and function of dendritic cells (DCs), the most potent antigen-presenting cell which was evaluated for prostate cancer, breast cancer, and pancreatic cancer but failed due to strong anti-MHC immune reactions that can interfere with the anti-tumor response. Lucanix TM, which targets NSCLC, is in two independent phase 2 trials and has induced significant improvement in the overall survival in advanced disease.
Antigen vaccine is expected to boost the market over the forecast period. This is owing to the recent advances in the development of vaccines. For instance, RTS,S was designed as a virus-like particle (VLP) comprising of two components 18 copies of the central repeat and the C-terminal domain of PfCSP fused to hepatitis B virus surface antigen (HBsAg) with extra HBsAg in a 1:4 ratio is formulated with the potent liposomal adjuvant system. AS01 from GlaxoSmithKline, is the only vaccine that has demonstrated protective efficacy against clinical malaria in a Phase III clinical trial. The most recent advance in RTS,S/AS01 vaccine development has been made through a modification of dose and schedule where 10/16 (62%) volunteers are given the full dose at the standard 0-1-2 month regimen and were protected against CHMI 3 weeks after the last immunization in contrast, 26/30 (86%) volunteers were protected when the third vaccine administration occurred 6 months after the second with the dose reduced to one-fifth of the original dose.
On the basis of disease type, the global therapeutic vaccines market is segmented into Autoimmune Disease Vaccine, Infectious Disease Vaccine, Neurological Disease Vaccines, Addiction Vaccine, and others. Addiction Vaccines is segmented into Cocaine Addiction Vaccines, and Nicotine Addiction Vaccines. Autoimmune Disease Vaccines is segmented into Diabetes (Type 1), Diamyd (RHGAD65), BHT-3021, Tovaxin, and TNFaKinoid. Infectious Disease Vaccines is segmented into HIV/AIDS, and other infectious disease vaccines (outside HIV), Hepatitis C. Neurological disease vaccines is segmented into Parkinson's disease vaccine and other disease vaccines.
Autoimmune Disease Vaccines segment is expected to hold a significant market share. This is owing to the rising incidences of autoimmune disorders leading to recent advances in the development of vaccines. Based on 8th edition of the IDF Diabetes Atlas 2017, the prevalence of diabetes is expected to increase to 9.9% by the year 2045. Bacillus Calmette-Guerin (BCG) is a vaccine that induces the production of TNF to eliminate auto reactive T cells and results in the remission of insulin production. P277 is a peptide derived from HSP60, which is in phase III clinical trials, showed that it is a well-tolerated and an effective vaccine in T1DM. ATRQβ-001 is a vaccine which is used in the prevention of Streptozotocin-induced diabetic nephropathy.
Infectious Disease Vaccines segment is expected to grow at a high rate over the period of forecast. This is owing to the advances in the vaccine development and promising vaccines in the pipeline that may have an upcoming anticipated launch in the forecast period. For instance, Takeda Vaccines Inc. has developed a live, attenuated Tetravalent Dengue vaccine candidate (TDV) that consists of an attenuated Dengue virus-2 (DENV-2) strain Tetravalent Dengue vaccine candidate (TDV-2) and three chimeric viruses containing the prM and E protein genes of Dengue viruses-1 (DENV-1), -3 and -4 showed well tolerated and immunogenic response in phase 2. NCT03110770 (VRC 705), a DNA Vaccine of National institute of allergy and infectious diseases is in phase II using prME 4 antigen is expected to launch in Jan 2020. Takeda's NCT03343626 (TAK-426) is in phase 1 which is a whole virus antigen is expected to launch in Sep 2020.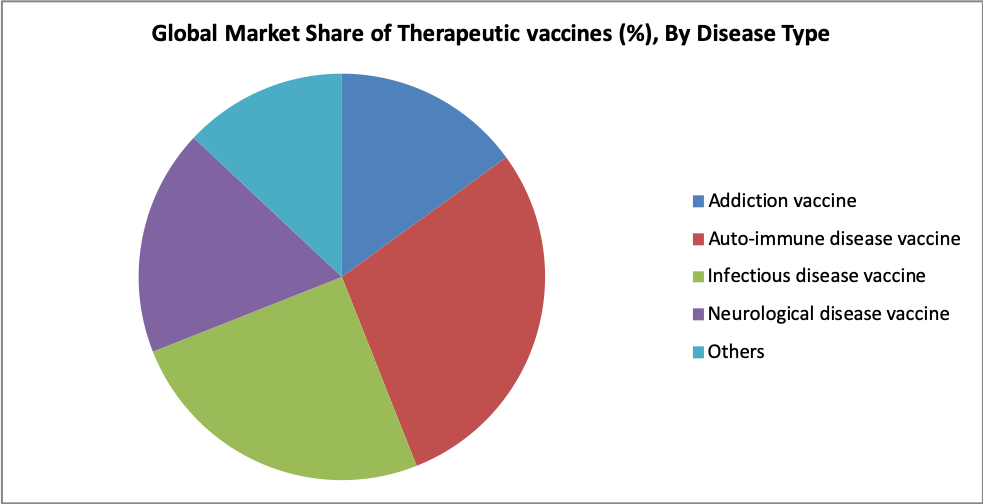 On the basis of technology, the global therapeutic vaccines market is segmented into Autologous Vaccines and Allogeneic Vaccines. Autologous vaccines are expected to boost the market over the period of forecast. They are likely to contain unique or rare tumor antigens that develop through mutational events. They treat the cancer present in the body and prevent tumors from recurring after more conventional cancer treatments like surgery, radiation, or chemotherapy, have eliminated most or all of the cancer. Autologous tumor vaccines are appropriately HLA-matched for optimum antigen presentation to T cells. In 2011, the US FDA has approved Dendreon Corp's Sipuleucel-t (Provenge®), an autologous immune cell prostate cancer vaccine. It has been shown in clinical trials to extend life for men with treatment-resistant metastatic prostate cancer.
On the basis of end-users, the global therapeutic vaccines market is segmented into Hospital Pharmacies, Retail Pharmacies and Online Pharmacies. Among these, hospital pharmacies accounted for the largest market share in 2018, majorly driven by the high patient turnover in hospitals.
Global Therapeutic Vaccines Market Geographical Analysis
North America is dominating the Global Therapeutic Vaccines Market in 2018 and estimated to hold largest market size over the forecast period (2019-2026) owing to rising incidence of chronic infectious diseases, cancer, Alzheimer's, and others. According to the National Cancer Institute, in 2018, over 1,735,350 new cases of cancer are diagnosed in the US, and 609,640 people died from the disease. According to the center for disease control and prevention, about 610,000 people die of heart disease in the United States each year. According to CDC, the HIV cases are 39,782 in 2016 and number of deaths due to influenza are 6,515. Thus, the US market is focused on the development and invention of new vaccines. The demand for more efficient vaccines is expected to rise, which may reduce the decrease of vaccines, during the disease outbreaks. Also, the presence of key manufacturers, increasing investments by the pharmaceutical companies for the vaccine development in the region, proactive government initiatives, favorable subsidiaries, and a large patient pool is driving the market in North America.
In 2018, GSK has invested £673 million in core vaccines R&D to create new or improved vaccines. It is working across three global R&D centers in Belgium, Italy and the US, and has built a portfolio of more than 30 vaccines helping to protect people against 21 diseases.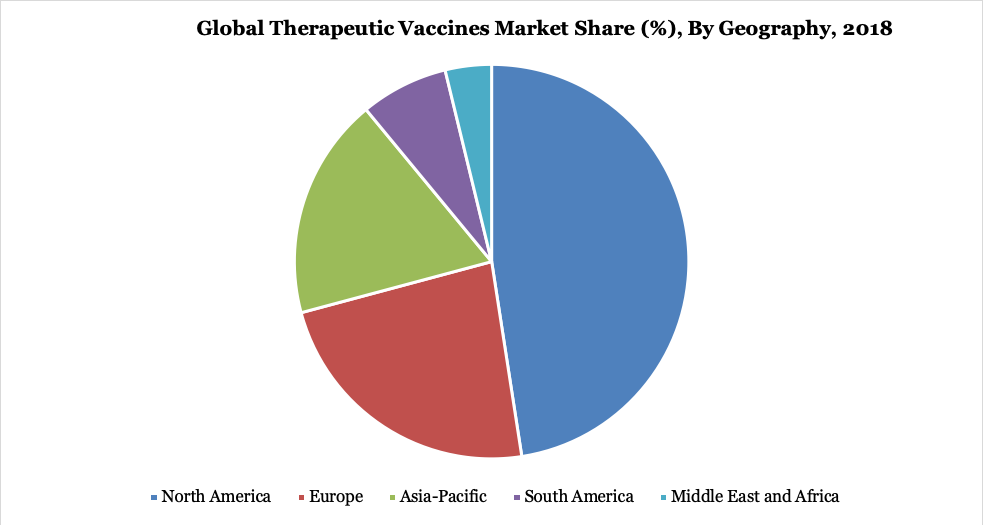 Global Therapeutic Vaccines Market Competitive Landscape
Some of the major players in the global therapeutic vaccines market are GlaxoSmithKline, Merck & Co., Pfizer, Vaccinogen Inc. Sanofi Agenus Inc.
GlaxoSmithKline has an extensive portfolio and a pipeline of therapeutic vaccines. GSK1265744 (cabotegravir) for HIV (pre-exposure prophylaxis) is in Phase III which acts as a HIV integrase inhibitor. GSK137173A (Shingrix) for Herpes Zoster prophylaxis is a immune compromised vaccine in Phase III.
The key players are adopting various key strategies such as product launches, mergers & acquisitions, partnerships, and collaborations which are contributing to the growth of the therapeutic vaccines market globally. For instance,
On January 30, 2019, Merck announced that V114, the company's investigational 15-valent pneumococcal conjugate vaccine, has received Breakthrough Therapy Designation from the US FDA for the prevention of invasive pneumococcal disease (IPD) caused by the vaccine serotypes in pediatric patients 6 weeks to 18 years of age.
On February 7, 2018, GlaxoSmithKline has received Breakthrough Therapy Designation from the US FDA for its meningitis B vaccine Bexsero [Meningococcal group B Vaccine (rDNA, component, adsorbed)] for the development of the vaccine in the prevention of Invasive Meningococcal Disease (IMD) caused by serogroup B in children 2-10 years of age.
On September 20, 2018, Pfizer Inc. has announced that its 20-Valent Pneumococcal Conjugate Vaccine (20vPnC) candidate, PF-06482077, received Breakthrough Therapy designation from the US FDA for the prevention of invasive disease and pneumonia caused by Streptococcus pneumoniae serotypes in the vaccine in adults aged 18 years and older.
In October 2017, GlaxoSmithKline's shingles vaccine, Shingrix, received regulatory approval in Canada and the US.
Why Purchase the Report?
Visualize the composition of the global therapeutic vaccines market in terms of various types of therapeutic vaccines, disease type, technology type highlighting the key commercial assets and players.

Identify commercial opportunities in global therapeutic vaccines market by analyzing trends and co-development deals.

Excel data sheet with thousands of data points of global therapeutic vaccines market - level 4/5 segmentation.

PDF report with the most relevant analysis cogently put together after exhaustive qualitative interviews and in-depth market study.

Product mapping in excel for the key product of all major market players
Target Audience
Service Providers/ Buyers

Industry Investors/Investment Bankers

Education & Research Institutes

Research Professionals

Emerging Companies

Manufacturers
Global Therapeutic Vaccine Market
Global Therapeutic Vaccine Market Methodology and Scope

Research Methodology

Research Objective and Scope of the Report

Global Therapeutic Vaccine Market – Market Definition and Overview

Global Therapeutic Vaccine Market – Executive Summary

Market Snippet by Type

Market Snippet by Disease Type

Market Snippet by Technology

Market Snippet by Distribution Channel

DataM CLO Scenario

Global Therapeutic Vaccine Market Dynamics

Market Impacting Factors

Drivers

Restraints

Impact Analysis

Global Therapeutic Vaccine Market – Industry Analysis

Porter's Five Forces Analysis

Regulatory Analysis

Technology Advances

Key Companies to Watch

Epidemiology

Global Therapeutic Vaccine Market – By Type

Introduction

Market Size Analysis, and Y-o-Y Growth Analysis (%), By Type

Market Attractiveness Index, By Type

Antigen Vaccines

Introduction

Market Size Analysis, and Y-o-Y Growth Analysis (%)

Dendritic Cell Vaccine

DNA Vaccine

Tumor Cell Vaccines

Global Therapeutic Vaccine Market – By Disease Type

Introduction

Market Size Analysis, and Y-o-Y Growth Analysis (%), By Disease Type

Market Attractiveness Index, By Disease Type

Addiction Vaccine

Introduction

Market Size Analysis, and Y-o-Y Growth Analysis (%)

Autoimmune Disease Vaccine

Infectious Disease Vaccine

Neurological Disease Vaccines

Others

Global Therapeutic Vaccine Market – By Technology

Introduction

Market Size Analysis, and Y-o-Y Growth Analysis (%), By Technology

Market Attractiveness Index, By Technology

Autologous Vaccines

Introduction

Market Size Analysis, and Y-o-Y Growth Analysis (%)

Allogeneic Vaccines

Global Therapeutic Vaccine Market – By Distribution Channel

Introduction

Market Size Analysis, and Y-o-Y Growth Analysis (%), By Distribution Channel

Market Attractiveness Index, By Distribution Channel

Hospital Pharmacies

Introduction

Market Size Analysis, and Y-o-Y Growth Analysis (%)

Retail Pharmacies

Online Pharmacies

Global Therapeutic Vaccine Market – By Region

Introduction

Market Size Analysis, and Y-o-Y Growth Analysis (%), By Region

Market Attractiveness Index, By Region

North America

Introduction

Key Region-Specific Dynamics

Market Size Analysis, and Y-o-Y Growth Analysis (%), By Type

Market Size Analysis, and Y-o-Y Growth Analysis (%), By Disease Type

Market Size Analysis, and Y-o-Y Growth Analysis (%), By Technology

Market Size Analysis, and Y-o-Y Growth Analysis (%), By Distribution Channel

Market Size Analysis, and Y-o-Y Growth Analysis (%), By Country

U.S.

Canada

Mexico

Europe

Introduction

Key Region-Specific Dynamics

Market Size Analysis, and Y-o-Y Growth Analysis (%), By Type

Market Size Analysis, and Y-o-Y Growth Analysis (%), By Disease Type

Market Size Analysis, and Y-o-Y Growth Analysis (%), By Technology

Market Size Analysis, and Y-o-Y Growth Analysis (%), By Distribution Channel

Market Size Analysis, and Y-o-Y Growth Analysis (%), By Country

Germany

U.K.

France

Italy

Spain

Rest of Europe

South America

Introduction

Key Region-Specific Dynamics

Market Size Analysis, and Y-o-Y Growth Analysis (%), By Type

Market Size Analysis, and Y-o-Y Growth Analysis (%), By Disease Type

Market Size Analysis, and Y-o-Y Growth Analysis (%), By Technology

Market Size Analysis, and Y-o-Y Growth Analysis (%), By Distribution Channel

Market Size Analysis, and Y-o-Y Growth Analysis (%), By Country

Brazil

Argentina

Rest of South America

Asia-Pacific

Introduction

Key Region-Specific Dynamics

Market Size Analysis, and Y-o-Y Growth Analysis (%), By Type

Market Size Analysis, and Y-o-Y Growth Analysis (%), By Disease Type

Market Size Analysis, and Y-o-Y Growth Analysis (%), By Technology

Market Size Analysis, and Y-o-Y Growth Analysis (%), By Distribution Channel

Market Size Analysis, and Y-o-Y Growth Analysis (%), By Country

China

India

Japan

Australia

Rest of Asia Pacific

Middle East and Africa

Introduction

Key Region-Specific Dynamics

Market Size Analysis, and Y-o-Y Growth Analysis (%), By Type

Market Size Analysis, and Y-o-Y Growth Analysis (%), By Disease Type

Market Size Analysis, and Y-o-Y Growth Analysis (%), By Technology

Market Size Analysis, and Y-o-Y Growth Analysis (%), By Distribution Channel

Global Market – Competitive Landscape

Competitive Scenario

Competitor Therapeutic Vaccine Market Strategy Analysis

Comparative Drug Portfolio Analysis

Market Positioning/Share Analysis

Mergers and Acquisitions Analysis

Global Market – Company Profiles

Affiris

Company Overview

Drug Portfolio and Description

Key Highlights

Financial Overview

Bavarian Nordic

Biovest International

Celldex Therapeutics

Antigenics

Argos Therapeutics

Cel-Sci

Celtic Pharma

Curevac And Cytos Biotechnology

Pfizer

Global Therapeutic Vaccine Market – Premium Insights

Global Therapeutic Vaccine Market – DataM

Appendix

About Us and Services

Contact Us
LIST OF TABLES
TABLE 01. GLOBAL THERAPEUTIC VACCINE MARKET VALUE, 2018, 2022 & 2026, BY TYPE, ($MILLION)
TABLE 02. GLOBAL THERAPEUTIC VACCINE MARKET VALUE, 2018, 2022 & 2026, BY TECHNOLOGY, ($MILLION)
TABLE 03. GLOBAL THERAPEUTIC VACCINE MARKET VALUE 2018, 2022 & 2026, BY REGION, ($MILLION)
TABLE 04. GLOBAL THERAPEUTIC VACCINE MARKET SHARE 2018, 2022 & 2026 (%), BY TYPE ($MILLION)
TABLE 05. GLOBAL THERAPEUTIC VACCINE MARKET VALUE, BY TYPE, 2018–2026 ($MILLION)
TABLE 06. GLOBAL THERAPEUTIC VACCINE MARKET SHARE 2018, 2022 & 2026 (%), BY TECHNOLOGY ($MILLION)
TABLE 07. GLOBAL THERAPEUTIC VACCINE MARKET VALUE, BY TECHNOLOGY, 2018–2026 ($MILLION)
TABLE 08. GLOBAL THERAPEUTIC VACCINE MARKET SHARE 2018, 2022 & 2026 (%), BY REGION ($MILLION)
TABLE 09. GLOBAL THERAPEUTIC VACCINE MARKET VALUE, BY REGION, 2018–2026 ($MILLION)
TABLE 10. NORTH AMERICA THERAPEUTIC VACCINE MARKET VALUE, BY TYPE, 2018–2026 ($MILLION)
TABLE 11. NORTH AMERICA THERAPEUTIC VACCINE MARKET VALUE, BY TECHNOLOGY, 2018–2026 ($MILLION)
TABLE 12. NORTH AMERICA THERAPEUTIC VACCINE MARKET VALUE, BY COUNTRY, 2018–2026 ($MILLION)
TABLE 13. SOUTH AMERICA THERAPEUTIC VACCINE MARKET VALUE, BY TYPE, 2018–2026 ($MILLION)
TABLE 14. SOUTH AMERICA THERAPEUTIC VACCINE MARKET VALUE, BY TECHNOLOGY, 2018–2026 ($MILLION)
TABLE 15. SOUTH AMERICA THERAPEUTIC VACCINE MARKET VALUE, BY COUNTRY, 2018–2026 ($MILLION)
TABLE 16. EUROPE THERAPEUTIC VACCINE MARKET VALUE, BY TYPE, 2018–2026 ($MILLION)
TABLE 17. EUROPE THERAPEUTIC VACCINE MARKET VALUE, BY TECHNOLOGY, 2018–2026 ($MILLION)
TABLE 18. EUROPE THERAPEUTIC VACCINE MARKET VALUE, BY COUNTRY, 2018–2026 ($MILLION)
TABLE 19. ASIA PACIFIC THERAPEUTIC VACCINE MARKET VALUE, BY TYPE, 2018–2026 ($MILLION)
TABLE 20. ASIA PACIFIC THERAPEUTIC VACCINE MARKET VALUE, BY TECHNOLOGY, 2018–2026 ($MILLION)
TABLE 21. ASIA PACIFIC THERAPEUTIC VACCINE MARKET VALUE, BY COUNTRY, 2018–2026 ($MILLION)
TABLE 22. MIDDLE EAST & AFRICA THERAPEUTIC VACCINE MARKET VALUE, BY TYPE, 2018–2026 ($MILLION)
TABLE 23. MIDDLE EAST & AFRICA THERAPEUTIC VACCINE MARKET VALUE, BY TECHNOLOGY, 2018–2026 ($MILLION)
TABLE 24. AFFIRIS: OVERVIEW
TABLE 25. AFFIRIS: PRODUCTPORTFOLIO
TABLE 26. AFFIRIS: KEY DEVELOPMENTS
TABLE 27. BAVARIAN NORDIC: OVERVIEW
TABLE 28. BAVARIAN NORDIC: PRODUCTPORTFOLIO
TABLE 29. BAVARIAN NORDIC: KEY DEVELOPMENTS
TABLE 30. BIOVEST INTERNATIONAL: OVERVIEW
TABLE 31. BIOVEST INTERNATIONAL: PRODUCTPORTFOLIO
TABLE 32. BIOVEST INTERNATIONAL: KEY DEVELOPMENTS
TABLE 33. CELLDEX THERAPEUTICS: OVERVIEW
TABLE 34. CELLDEX THERAPEUTICS: PRODUCTPORTFOLIO
TABLE 35. CELLDEX THERAPEUTICS: KEY DEVELOPMENTS
TABLE 36. ANTIGENICS: OVERVIEW
TABLE 37. ANTIGENICS: PRODUCTPORTFOLIO
TABLE 38. ANTIGENICS: KEY DEVELOPMENTS
TABLE 39. ARGOS THERAPEUTICS: OVERVIEW
TABLE 40. ARGOS THERAPEUTICS: PRODUCTPORTFOLIO
TABLE 41. ARGOS THERAPEUTICS: KEY DEVELOPMENTS
TABLE 42. CEL-SCI: OVERVIEW
TABLE 43. CEL-SCI: PRODUCTPORTFOLIO
TABLE 44. CEL-SCI: KEY DEVELOPMENTS
TABLE 45. CELTIC PHARMA: OVERVIEW
TABLE 46. CELTIC PHARMA: PRODUCTPORTFOLIO
TABLE 47. CELTIC PHARMA: KEY DEVELOPMENTS
TABLE 48. CUREVAC AND CYTOS BIOTECHNOLOGY: OVERVIEW
TABLE 49. CUREVAC AND CYTOS BIOTECHNOLOGY: PRODUCTPORTFOLIO
TABLE 50 CUREVAC AND CYTOS BIOTECHNOLOGY: KEY DEVELOPMENTS
TABLE 51. PFIZER: OVERVIEW
TABLE 52. PFIZER: PRODUCTPORTFOLIO
TABLE 53. PFIZER: KEY DEVELOPMENTS
LIST OF FIGURES
FIGURE 01. GLOBAL THERAPEUTIC VACCINE MARKET SHARE, 2018 & 2026 (%), BY TYPE
FIGURE 02. GLOBAL THERAPEUTIC VACCINE MARKET SHARE, 2018 & 2026 (%), BY TECHNOLOGY
FIGURE 03. GLOBAL THERAPEUTIC VACCINE MARKET SHARE, 2018 & 2026 (%), BY REGION
FIGURE 04. GLOBAL THERAPEUTIC VACCINE MARKET VALUE, 2018 - 2026 AND YEAR ON YEAR GROWTH
FIGURE 05. GLOBAL THERAPEUTIC VACCINE MARKET YEAR ON YEAR GROWTH 2018 TO 2026 (%), BY TYPE
FIGURE 06. GLOBAL THERAPEUTIC VACCINE MARKET VALUE, BY ADDICTION VACCINE, 2018–2026 ($MILLION)
FIGURE 07. GLOBAL THERAPEUTIC VACCINE MARKET VALUE, BY AUTO IMMUNE DISEASE VACCINE, 2018–2026 ($MILLION)
FIGURE 08. GLOBAL THERAPEUTIC VACCINE MARKET VALUE, BY INFECTIOUS DISEASE VACCINE, 2018–2026 ($MILLION)
FIGURE 09. GLOBAL THERAPEUTIC VACCINE MARKET VALUE, BY NEUROLOGICAL DISEASE VACCINE, 2018–2026 ($MILLION)
FIGURE 10. GLOBAL THERAPEUTIC VACCINE MARKET YEAR ON YEAR GROWTH 2018 TO 2026 (%), BY TECHNOLOGY
FIGURE 11. GLOBAL THERAPEUTIC VACCINE MARKET VALUE, BY AUTOLOGOUS VACCINES, 2018–2026 ($MILLION)
FIGURE 12. GLOBAL THERAPEUTIC VACCINE MARKET VALUE, BY ALLOGENEIC VACCINES, 2018–2026 ($MILLION)
FIGURE 13. GLOBAL THERAPEUTIC VACCINE MARKET YEAR ON YEAR GROWTH 2018 TO 2026 (%), BY REGION
FIGURE 14. NORTH AMERICA THERAPEUTIC VACCINE MARKET VALUE, 2018–2026 ($MILLION)
FIGURE 15. NORTH AMERICA THERAPEUTIC VACCINE MARKET SHARE (%), BY TYPE, 2018–2026 ($MILLION)
FIGURE 16. NORTH AMERICA THERAPEUTIC VACCINE MARKET SHARE (%), BY TECHNOLOGY, 2018–2026 ($MILLION)
FIGURE 17. NORTH AMERICA THERAPEUTIC VACCINE MARKET SHARE (%), BY COUNTRIES, 2018–2026 ($MILLION)
FIGURE 18. SOUTH AMERICA THERAPEUTIC VACCINE MARKET VALUE, 2018–2026 ($MILLION)
FIGURE 19. SOUTH AMERICA THERAPEUTIC VACCINE MARKET SHARE (%), BY TYPE, 2018-2026($MILLION)
FIGURE 20. SOUTH AMERICA THERAPEUTIC VACCINE MARKET SHARE (%), BY TECHNOLOGY, 2018-2026($MILLION)
FIGURE 21. SOUTH AMERICA THERAPEUTIC VACCINE MARKET SHARE (%), BY COUNTRIES, 2018–2026 ($MILLION)
FIGURE 22. EUROPE THERAPEUTIC VACCINE MARKET VALUE, 2018–2026 ($MILLION)
FIGURE 23. EUROPE THERAPEUTIC VACCINE MARKET SHARE (%), BY TYPE, 2018–2026 ($MILLION)
FIGURE 24. EUROPE THERAPEUTIC VACCINE MARKET SHARE (%), BY TECHNOLOGY, 2018–2026 ($MILLION)
FIGURE 25. EUROPE THERAPEUTIC VACCINE MARKET SHARE (%), BY COUNTRIES, 2018–2026 ($MILLION)
FIGURE 26. ASIA PACIFIC THERAPEUTIC VACCINE MARKET VALUE, 2018–2026 ($MILLION)
FIGURE 27. ASIA PACIFIC THERAPEUTIC VACCINE MARKET SHARE (%), BY TYPE, 2018–2026 ($MILLION)
FIGURE 28. ASIA PACIFIC THERAPEUTIC VACCINE MARKET SHARE (%), BY TECHNOLOGY, 2018–2026 ($MILLION)
FIGURE 29. ASIA PACIFIC THERAPEUTIC VACCINE MARKET SHARE (%), BY COUNTRIES, 2018–2026 ($MILLION)
FIGURE 30. MIDDLE EAST AND AFRICA THERAPEUTIC VACCINE MARKET VALUE, 2018–2026 ($MILLION)
FIGURE 31. MIDDLE EAST AND AFRICA THERAPEUTIC VACCINE MARKET SHARE (%), BY TYPE, 2018–2026 ($MILLION)
FIGURE 32. MIDDLE EAST AND AFRICA THERAPEUTIC VACCINE MARKET SHARE (%), BY TECHNOLOGY, 2018–2026 ($MILLION)
FIGURE 33. AFFIRIS: FINANCIALS
FIGURE 34. BAVARIAN NORDIC: FINANCIALS
FIGURE 35. BIOVEST INTERNATIONAL: FINANCIALS
FIGURE 36. CUREVAC AND CYTOS BIOTECHNOLOGY: FINANCIALS
FIGURE 37. ANTIGENICS: FINANCIALS
FIGURE 38. ARGOS THERAPEUTICS: FINANCIALS
FIGURE 39. CEL-SCI.: FINANCIALS
FIGURE 40. CELTIC PHARMA: FINANCIALS
FIGURE 41. CELLDEX THERAPEUTICS: FINANCIALS
FIGURE 42. PFIZER: FINANCIALS