Ready Meals Market is segmented By Product Type (Frozen Ready Meals, Fresh Ready Meals, Chilled Ready Meals, Canned Ready Meals, Dried Ready Meals, Others), By Source (Meat and Fish based Ready Meals, Pasta based Ready Meals, Noodle based Ready Meals, Rice-based Ready Meals, Others), By Distribution Channel (Supermarkets & Hypermarkets, Convenience Stores, Online, Others), and By Region (North America, Latin America, Europe, Asia Pacific, Middle East, and Africa) – Share, Size, Outlook, and Opportunity Analysis, 2023-2030
Ready Meals Market Overview
The global ready meals market was valued at USD 159,072 million in 2022 and is projected to witness lucrative growth by reaching up to USD 238,728 million by 2030. The market is growing at a CAGR of 5.2% during the forecast period (2023-2030). With the increase in dual-income households and the rise of the working population, consumers are looking for quick and convenient meal solutions that can be prepared and consumed easily.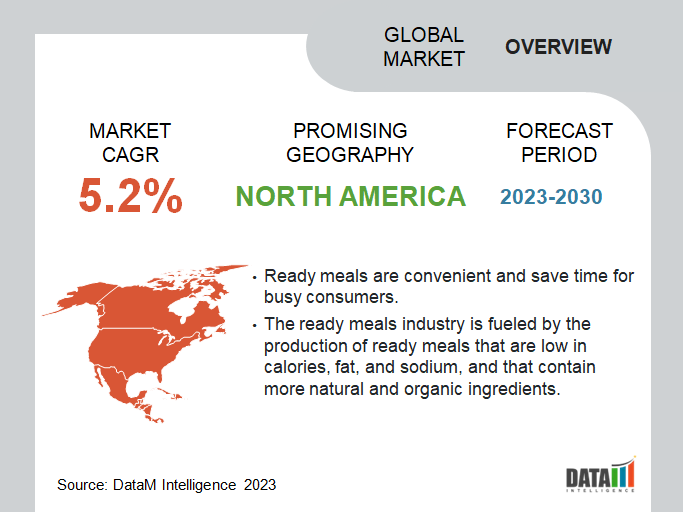 Ready meals provide an easy solution to this problem, which boosts the ready meals market growth.
Ready meals are convenient and save time for busy consumers who may not have the time or energy to prepare meals from scratch which is driving the ready meals market nowadays. The ready meals industry is also fueled by the production of ready meals that are low in calories, fat, and sodium, and that contain more natural and organic ingredients. This is because, consumers are increasingly concerned about their health and wellness, and are looking for healthier meal options.
Ready Meals Market Scope and Summary
| | |
| --- | --- |
| Metrics | Details |
| CAGR | 5.2% |
| Size Available for Years | 2021-2030 |
| Forecast Period | 2023-2030 |
| Data Availability | Value (USD ) |
| Segments Covered | Product Type, Source, Distribution Channel and Region |
| Regions Covered | North America, Europe, Asia-Pacific, South America, and Middle East & Africa |
| Fastest Growing Region | North America |
| Largest Region | Europe |
| Report Insights Covered | Competitive Landscape Analysis, Company Profile Analysis, Market Size, Share, Growth, Demand, Recent Developments, Mergers and Acquisitions, New Product Launches, Growth Strategies, Revenue Analysis, Porter's Analysis, Pricing Analysis, Regulatory Analysis, Supply-Chain Analysis and Other key Insights. |
To know more Insights - Download Sample
Ready Meals Market Dynamics and Trends
Changing Consumer Lifestyles are Driving the Growth of the Ready Meals Market
Consumers are busier, with many people working longer hours and juggling multiple responsibilities. As a result, many consumers have less time to spend on meal preparation. Ready meals offer a quick and convenient solution to this problem. According to a survey on out-of-home food consumption by Oppotus, in the 4th quarter of 2022, 22% of Malaysian respondents stated that they purchased takeaway meals from convenience stores. Overall, changing consumer lifestyles are driving the market growth of ready meals by creating a demand for convenient, quick, and easy-to-prepare meal solutions that fit modern lifestyles.
The Rising Case of Obesity Hamper Ready Meals Market Growth
According to WHO, over 1 billion people, including 650 million adults, 340 million adolescents, and 39 million children, are obese worldwide. According to the National Library of Medicine, increased consumption of ready-made meals was significantly related to abdominal fat. Ready meals are considered unhealthy, as many are high in calories, fat, sodium, and sugar. Eating foods high in calories may cause you to put on weight. Overall, the rising case of obesity is a significant factor that is restraining the growth of the ready meals market.
Ready Meals Market Segment Analysis
The global ready meals market is segmented based on product type, source, distribution channel, and region.
The Convenience of Frozen Ready Meals is Expected to Drive the Segment Growth
Based on product type, the ready meals market is classified into frozen ready meals, chilled ready meals, canned ready meals, dried ready meals, others.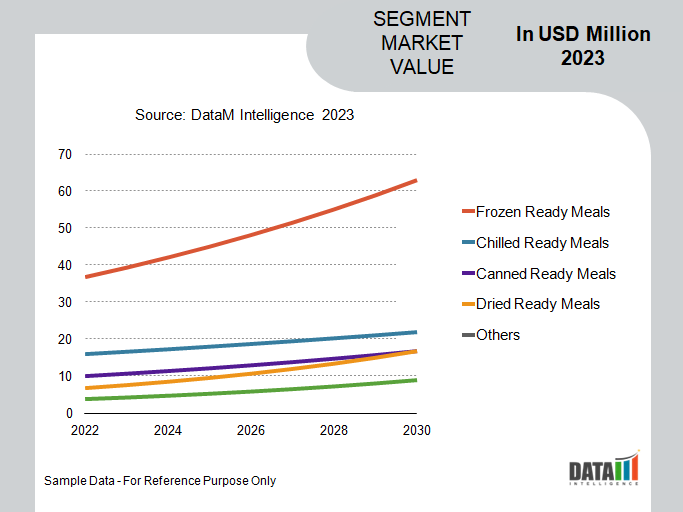 In 2022, frozen ready meals segment accounted for the highest share in the ready meals market. According to this statistic, 127.92 million Americans consumed frozen complete (TV) dinners in 2020. This figure is anticipated to increase to 130.55 million in 2024. Frozen ready meals are convenient and easy to prepare, making them a popular choice for busy consumers who do not have time to cook from scratch. They can be stored in the freezer for long periods, so consumers can keep them on hand for when they need a quick and easy meal.
Ready Meals Market Geographical Penetration
Busy Lifestyles in the North American Region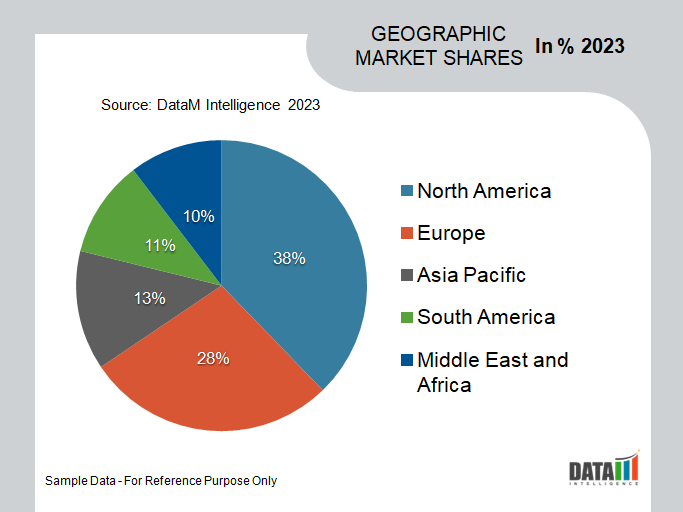 In 2022, North America held the highest share of the ready meals market. Consumers in North America have increasingly busy lifestyles, with many people working for long hours. This has led to a growing demand for convenient and easy-to-prepare meals, including ready meals. According to the United States Department of Agriculture (USDA), ready-to-eat and heat-and-serve meals account for a significant portion of food consumed in the United States. For instance, according to Statista, In 2021, the country's average annual expenditure on frozen meals amounted to 46.45 U.S. dollars per consumer unit. Hence, the busy lifestyle is driving the ready meals market in that region.
Ready Meals Companies and Competitive Landscape
The major global players include Kerry Group plc, The Campbell Soup Company, The Kraft Heinz Company, Nestle SA, Conagra Brands Inc., Nomad Foods Group, McCain Foods Limited, J.M. Smucker Co., Green Mill Food, and General Mills, Inc.
COVID-19 Impact on Ready Meals Market
The COVID-19 pandemic has had a significant impact on the ready meals market. As more people stayed home and restaurants closed or limited their services, there was a surge in demand for ready meals. Consumers turned to these products as a convenient and safe way to feed themselves and their families. However, the pandemic caused significant disruptions to global supply chains, leading to shortages of ingredients and packaging materials. This made it difficult for manufacturers to keep up with demand and resulted in some products being temporarily unavailable.

Key Developments
In September 2022, Campbell, a producer of soups and other canned foods, launched 4 new mealtime soups with different flavors.
In April 2022, Prasuma announced the launch of brand-new products in the Frozen Food Portfolio with chicken nuggets being a brand-new addition, popular Fresh & Chill products have been moved from the brand's Fresh & Chill category to the Frozen segment.
In September 2021, Swift Fine Foods, an Irish ready-meal producer, launched a new line of premium vegan ready meals in the UK.
Why Purchase the Report?
To visualize the global castor 0il market segmentation based on product type, source, and distribution channel and understand key commercial assets and players.
Identify commercial opportunities by analyzing trends and co-development.
Excel data sheet with numerous ready meals market-level data points all for segments.
PDF report consists of a comprehensive analysis after exhaustive qualitative interviews and an in-depth study.
Product mapping available as Excel consisting of key products of all the major players.
The global ready meals market report would provide approximately 61 tables, 62 figures and 151 pages.
Target Audience 2023
Manufacturers/ Buyers
Industry Investors/Investment Bankers
Research Professionals
Emerging Companies
Suggestions for Related Report
Global Prepared Meals Market
Global Frozen Ready Meals Market
Global Air-Dried Food Market
Global Dried Food Market
Global Dehydrated Food Market
Global Freeze-Dried Food Market