Power Semiconductor Market is segmented By Component (Discrete, Module, Power Integrated Circuit), By Material (Silicon, Silicon Carbide, Gallium Nitride, IGBT, MOSFET), By Application (Automotive, Consumer Electronics, Military & Aerospace, Industrial), and By Region (North America, Latin America, Europe, Asia Pacific, Middle East, and Africa) – Share, Size, Outlook, and Opportunity Analysis, 2023-2030
Power Semiconductor Market Overview
[212 pages] Report analyses the global power semiconductor market reached US$ 56,155 million in 2022 and is projected to witness lucrative growth by reaching up to US$ 171,709 million by 2030. The market is growing at a CAGR of 15.0% during the forecast period (2023-2030). Demand from Automotive, Industrial, Electronics Appliances, Defence & Aerospace in Asia Pacific is booming. Competitive rivalry intensifies with STMicroelectronics, Toshiba Corporation, Texas Instruments and others operating in the market.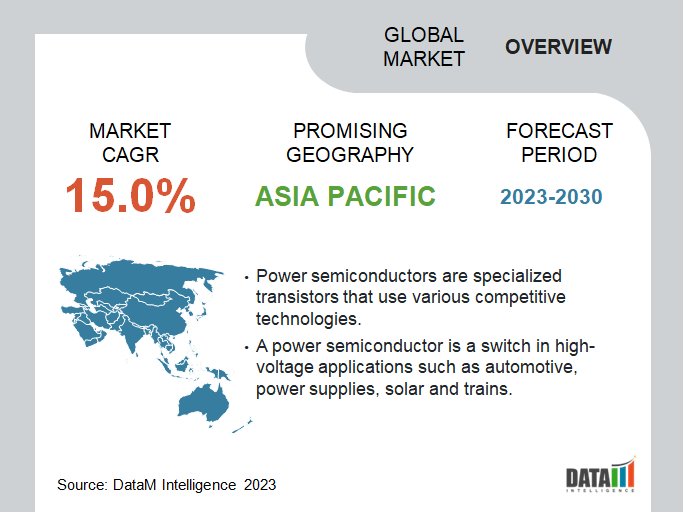 The devices allow electricity to flow when they are on and stop it off to improve system efficiencies and reduce energy losses. For years, silicon-based devices, such as power MOSFETs and insulated-gate bipolar transistors dominated the power semiconductor market (IGBTs). Both are mature and reasonably priced, but they have reached their theoretical limits in several ways. GaN and SiC devices have been competing in the market for years against IGBTs and MOSFETs in various segments.
Power Semiconductor Market Scope
| | |
| --- | --- |
| Metrics | Details |
| CAGR | 15.0% |
| Size Available for Years | 2021-2030 |
| Forecast Period | 2023-2030 |
| Data Availability | Value (US$) |
| Segments Covered | Component, Material, Application and Region |
| Regions Covered | North America, Europe, Asia-Pacific, South America and Middle East & Africa |
| Fastest Growing Region | Asia-Pacific |
| Largest Region | North America |
| Report Insights Covered | Competitive Landscape Analysis, Company Profile Analysis, Market Size, Share, Growth, Demand, Recent Developments, Mergers and Acquisitions, New Product Launches, Growth Strategies, Revenue Analysis, Porter's Analysis, Pricing Analysis, Regulatory Analysis, Supply-Chain Analysis and Other key Insights. |
To Know more Insights- Download Sample
Power Semiconductor Market Dynamics
The Growing Demand For Power Semiconductors In Automobiles And Consumer Electronics Is Expected To Propel Market Growth.
Power semiconductors are used in consumer electronics, such as video games, televisions and watches. Hybrid electric vehicles (HEV) and electric vehicles (EV) are essential in terms of power semiconductor demand because they comprise more semiconductors than combustion-engine vehicles. The demand increase for HEVs and EVs is anticipated to be similar to that of other vehicles, increasing their market share and consequently, the demand for power semiconductors, thereby propeling global power semiconductors market growth.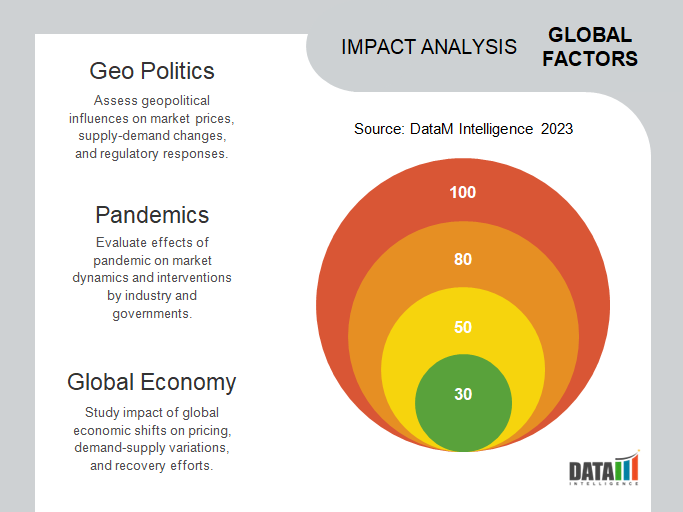 The Growing Switch Towards Sustainability Will Create Major Growth Prospects For The Global Power Semiconductor Market
According to Bernstein, an investment firm, the rise of ethical investing has aided the power semiconductor market. Fund managers are increasingly marketing "green funds," Investors are becoming more concerned about a company's environmental, social and governance (ESG) impact. The increased availability of renewable energy is assisting chipmakers in lowering their carbon footprint. In addition to switching to renewables, chipmak are also investing in energy efficient production methods.
Power Semiconductor Market Segmentation Analysis
The global power semiconductor market is segmented based on component, material, application and region.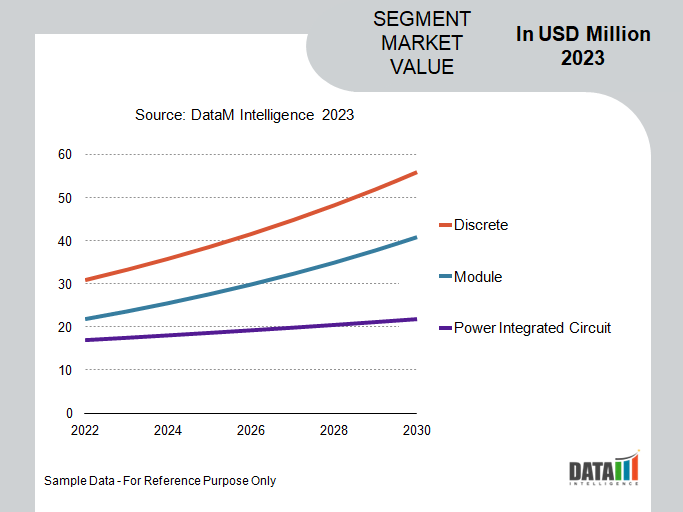 Due to Widespread Commercialization, Silicon Is The Most Widely Used Material
Silicon has the leading market share of 56% in the material segment. The bulk of integrated circuits on the market are manufactured of high-purity silicon. The main component of a solid-state device is the semiconductor used in a silicon-integrated circuit.
The silicon integrated circuit is also popular due to silicon's widespread availability, which is a common component in ordinary sand. silicon electronics have proven flexible, creating durable, low-cost mass-market devices. Above mentioned factors help the product segment to dominate the market.
Power Semiconductor Market Geographical Share
The Rising Demand From Manufacturing Industries Allows Asia-Pacific To Dominate The Segment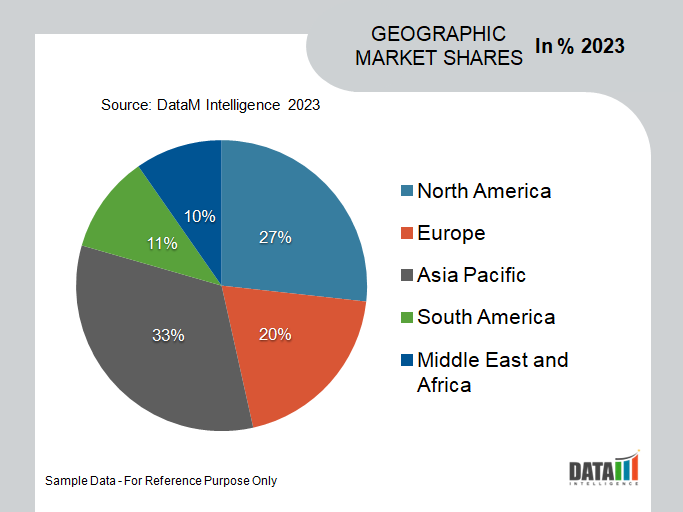 Asia-Pacific commands a share of 56% of the global market. It is a rapidly industrializing region that is experiencing high economic growth. It has led to a high concentration of manufacturing industries across various sectors such as automotive, aerospace, and electronics.
Economic liberalization and free trade along with cheap labor has allowed various countries in Asia-Pacific, such as China and India to emerge as key manufacturing hubs. Due to increasing economic development and industrialization, the demand from various industries for power semiconductors in Asia-Pacific will increase in the coming years.
Power Semiconductor Market Companies
The major global players include Infineon Technologies AG, STMicroelectronics, NXP Semiconductors, Renesas Electronics Corporation, Robert Bosch GmbH, Mitsubishi Electric Corporation, Semiconductor Components Industries, LLC, LittelFuse, Texas Instruments, Analog Devices, Qualcomm, Semikron Elektronik GmbH & Co. KG, Toshiba Corporation and Fuji Electric Co., Ltd.
By Component
Discrete
Module
Power Integrated Circuit
By Material
Silicon (Si)
Silicon Carbide (SiC)
Gallium Nitride (GaN)
IGBT
MOSFET
By Application
Automotive
Consumer Electronics
Military & Aerospace
Industrial
By Region
North America
Europe

Germany
The U.K.
France
Rest of Europe

South America

Brazil
Argentina
Rest of South America

Asia-Pacific

China
India
Japan
Australia
Rest of Asia-Pacific

Middle East and Africa
Key Developments
In April 2023, Toppan, a Japanese printing company, launched a contract manufacturing handling service for power semiconductors. The service will enable device manufacturers to respond to strong demand by increasing mass production.
On February 16, 2023, Infineon Technologies AG, a Germany-based semiconductor and microelectronics company, announced the start of construction of a new 300-mm power semiconductor fab in Dresden, Germany. The plant is expected to commence production by 2026.
In October 2022, leading global power semiconductor manufacturers such as Wolfspeed, STMicroelectronics, SK Siltron, and Onsemi announced independently, various plans to boost the production of SiC power semiconductors due to rising demand and ensure the stability of the semiconductor supply chain.
Why Purchase the Report?
To visualize the global power semiconductor- market segmentation based on product, application and region, as well as understand key commercial assets and players.
Identify commercial opportunities by analyzing trends and co-development.
Excel data sheet with numerous data points of power semiconductor market-level with all segments.
PDF report consists of a comprehensive analysis after exhaustive qualitative interviews and an in-depth study.
Product mapping available as Excel consisting of key products of all the major players.
The global power semiconductor market report would provide approximately 79 tables, 60 figures and 195 Pages.
Target Audience 2023
Semiconductor Manufacturers
Consumer Electronic Companies
Industry Investors/Investment Bankers
Research Professionals