Polyurethane Foam Market
The Global Polyurethane Foam Market is valued at USD 43.60 Billion in 2018 and is expected to grow at a CAGR of 6.46% in the forecast period 2019-2026 to reach a value of USD 71.80 Billion by 2026.
Polyurethane (PU) foam is a synthetic polymer that contains urethane radicals. Polyurethane foam is used to provide insulation and protection of material against external sources that propagate corrosion. PU Foams can be found in mattresses, upholstered furniture and car seats. Its applications are virtually endless, ranging from small but essential items such as sponges in the kitchen, medical dressings to large filters and soundproofing systems that keep environment clean and quiet.
Global Polyurethane Foam Market Dynamics
Building improvements and upgrades with government support on energy efficiency, emergence of bio-based PU foams and rapid urbanization in developing countries are the major factors boosting the global Polyurethane Foam market.
Bio based foams utilize sustainable crops like corn, soybeans, sunflower seeds, and even castor beans but it's not like manufacturers grow a corn stalk and turn it into a mattress rather they utilize a portion of in this case corn as a key component in making of bio-based foams. Polyurethane foam manufacturers traditionally have used petroleum derived reactants called polyol and isocyanate. Over the years with the increase of crude oil prices, the higher costs have pushed technology forward. Today manufacturers are able to reduce cost and take advantage of sustainable resources. Resources like corn and soybeans play an important role. Foam manufactures have started taking some of the pressure off at least a portion of the crude needed to build flexible foams. Foam suppliers have been able to replace at least a portion of the petroleum-based polyols with renewable soy-based polyols. In order to make traditional flexible PU foam, petroleum-derived reactants called polyol and isocyanate, are needed. Now that the price of crude oil has increased the cost of PU reactants have as well, bio-based polyol substitutes for the petroleum-based polyols are a cheaper alternative. Vendors in the market claiming that using soy in polyurethane foam production results in fewer greenhouse gas emissions, requires less energy, and could significantly reduce reliance on petroleum. Many companies are jumping on the bandwagon, advertising their green program of using foam cushions with "20% bio-based foam" which is expected to create huge market opportunities in the forecast period.
However, stringent regulations imposed by various organizations and health hazard on use of TDI and MDI as a raw material in production of PU foams are the crucial factors which might impede the growth of the market in the forecast period.
Global Polyurethane Foam Market Segment Analysis
Based on the type, the global Polyurethane Foam market is segmented in to flexible foam, rigid foam and molded foam.
Molded foam also known as Spray Polyurethane Foam (SPF) is a spray-applied cellular plastic, is made by mixing chemicals to create foam. Those chemicals react very quickly, expanding on contact to create foam that insulates, air seals and provides a moisture barrier. SPF insulation applied by professionals is usually described as either a high- or low-pressure foam and is available as either open- or closed-cell. Each type has advantages and disadvantages depending on the application requirements. As much as 40% of a building's energy is lost due to air infiltration. Gaps, holes and air leaks can make energy bills unnecessarily high. Spray foam performs as both insulation and an air barrier, closing gaps that let air escape and high monthly energy bills. As much as half of the energy used in a home goes to heating and cooling, according to EPA, maintaining an optimal heating, ventilating, and air conditioning (HVAC) system can make your home more energy efficient. With spray foam, HVAC sizing can be reduced as much as 35%. Spray foam helps minimize airborne sound transmission. Sealing a building's air leaks prevents drafts, creating a more comfortable indoor environment and providing better indoor temperature control. FROTH-PAK Foam Insulation by the Dow Chemical Company is a two-component professional insulation kit. FROTH-PAK comes as a professional sealant for air sealing gaps and penetrations up to 4 inches wide or as a spray foam insulation to fill larger cavities providing both insulation and air sealing properties. FROTH-PAK Foam Insulation allows its use in a wide range of interior and exterior industrial, commercial, institutional and residential settings.
Based on the application, the market is segmented as bedding and furniture, building and construction, electronics, automotive, others.
The construction sector is dominating the market demand globally as these thermoplastics are being used for insulation and flooring & roofing applications in construction sector on a very large scale. Emerging countries like India, South Africa, Thailand and others are key players in the usage of these plastics for construction. Rigid foam has unique insulating properties that make it deal for walls and roofs for new homes and when re modeling an existing home. With heating and cooling costs amounting to 56 percent of the energy used in the average American home (according to the U.S. Department of Energy), rigid polyurethane foam can save money while maintaining uniform temperature and reducing noise levels. Polyurethane building materials add design flexibility to new-home and re modeling projects. The growth of the global building and construction industry is key attributing factor for promoting the growth of this segment. Rising investments coupled with lucrative business opportunities in the real estate sector are the main causes for the commercial building and construction industry to grow.
Global Polyurethane Foam Market Geographical Share
The Global Polyurethane Foam Market is segmented into North America, Europe, Asia Pacific, South America and Middle East and Africa.
The Asia Pacific region is expected to dominate the global Polyurethane Foam market owing to the increasing population of Asia countries such as India and China and rising penetration of smartphones in this region.
The growth in the industry is mainly due to rapid industrialization and growing middle class population and spending power that lead to increased investments in advanced consumer electronics and automotive. The growth is mainly supported by developing economies, such as India, China, and Japan.
Due to the large pool of population, with increasing technological transformation such as from 3G to 4G, and ongoing developments for 5G, which doubles the need for electronics will further drive the growth of polyurethane foam products in the forecast period. The growing sales of consumer electronics such as smartphones, tablets, laptops and others are the major factors responsible for the growth of the Asia Pacific Polyurethane Foam Market.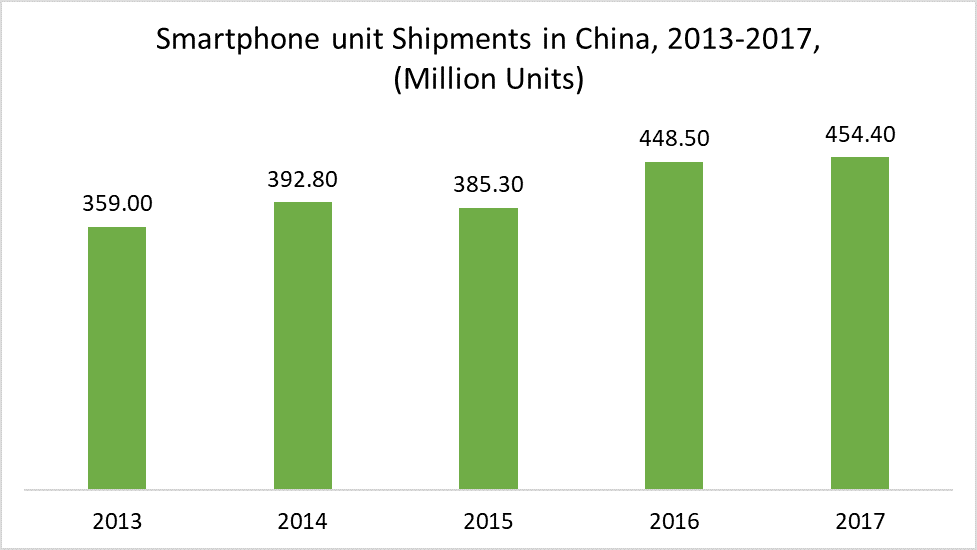 The growth in smartphone shipments on a regional basis have influenced the market scenario, with the rising sales volume of smartphones ensuring robust demand for Polyurethane Foam. Electronic components are protected from environmental influence and mechanical shock by enclosing them in polyurethane. They are preferred in smart phones for good electrical properties, excellent adhesion, impact strength, and low-temperature flexibility. Smartphone shipments in China are rising at a healthy rate owing to the increasing population of China and widespread internet connectivity. Smartphone shipments increased from 385.3 million units to 448.5 million units in 2016 finally surging to 454.4 million units in 2017. Owing to these factors, the Asia Pacific region is expected to dominate the global polyurethane foam market in the forecast period.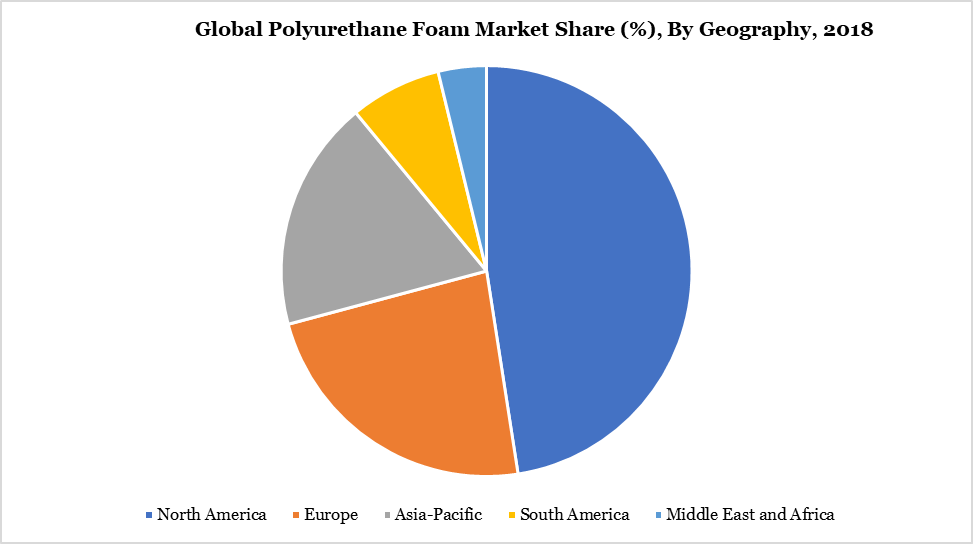 Global Polyurethane Foam Market Competitive Analysis
The global polyurethane foam market is competitive with the large number of regional and international players. The companies are competing based on the price, product specifications, and market presence.
The global polyurethane foam market share is characterized by competition based on prices and service provided to clients. Major industry participants are based in the U.S. and China. Major companies include Dow chemical company, BASF, Covestro AG, and Lanxess AG. The major focus of these companies is to achieve lower prices and to develop products with niche application and their investments are driven in the same direction.
For instance, on August 01, 2018, BASF SE launched a new series of PU based systems in the Elastoflex® E product group, with significant weight reductions and foam densities of around 120g/L without sacrificing any of the unique characteristics of the product.
Moreover, in April 2018, FXI product portfolio launched new innovative foam products as AEROFONIC®, HYFONIC™, HYFONIC™NATURAL, QYLITE™, DURABSORB™, PYRELL™, ARESTO™, SIF®.
The scope of the report
The report covers the factors impacting the market, Porter 5 Forces, Competitive Scenario, Price trend analysis, Product Benchmarking, and company profiles.
By Type, the market is segmented into flexible, rigid, and Spray Foam. By application, the market is categorized into bedding & furniture, building & construction, electronics, automotive, and others (footwear, packaging).
By product, the market is categorized into solvent-borne and water-borne.
By Geography, the market is segmented into – North America, South America, Europe, Asia Pacific and Rest of the World.
Why Should I Purchase the Report?
Visualize the composition of the Polyurethane Foam market across each indication, regarding type and treatment options, highlighting the vital commercial assets and players.
Identify commercial opportunities in Polyurethane Foam market by analyzing trends and co-development deals.
Excel data sheet with thousands of data points of the Polyurethane Foam market – level 4/5 segmentation.
PDF report with the most relevant analysis cogently put together after exhaustive qualitative interviews and in-depth market study.
Product mapping in excel for the principal products of all major market players
Who can benefit from this report?
Equipment Suppliers/ Buyers
Service Providers/ Buyers
Industry Investors/Investment Bankers
Education & Research Institutes
Research Professionals
Emerging Companies
Manufacturers
List of Tables
Table 1 Global Polyurethane Foam Market Value, By Type, 2018,2022 & 2026 ($ Million)
Table 2 Global Polyurethane Foam Market Value, By Application, 2018,2022 & 2026 ($ Million)
Table 3 Global Polyurethane Foam Market Value, By Region, 2018,2022 & 2026 ($ Million)
Table 4 Global Polyurethane Foam Market Value, By Type, 2018,2022 & 2026 ($ Million)
Table 5 Global Polyurethane Foam Market Value, By Type, 2017-2026 ($ Million)
Table 6 Global Polyurethane Foam Market Value, By Application, 2018,2022 & 2026 ($ Million)
Table 7 Global Polyurethane Foam Market Value, By Application, 2017-2026 ($ Million)
Table 8 Global Polyurethane Foam Market Value, By Region, 2018,2022 & 2026 ($ Million)
Table 9 Global Polyurethane Foam Market Value, By Region, 2017-2026 ($ Million)
Table 10 North America Polyurethane Foam Market Value, By Type, 2017-2026 ($ Million)
Table 11 North America Polyurethane Foam Market Value, By Application, 2017-2026 ($ Million)
Table 12 North America Polyurethane Foam Market Value, By Country, 2017-2026 ($ Million)
Table 13 South America Polyurethane Foam Market Value, By Type, 2017-2026 ($ Million)
Table 14 South America Polyurethane Foam Market Value, By Application, 2017-2026 ($ Million)
Table 15 South America Polyurethane Foam Market Value, By Country, 2017-2026 ($ Million)
Table 16 Europe Polyurethane Foam Market Value, By Type, 2017-2026 ($ Million)
Table 17 Europe Polyurethane Foam Market Value, By Application, 2017-2026 ($ Million)
Table 18 Europe Polyurethane Foam Market Value, By Country, 2017-2026 ($ Million)
Table 19 Asia-Pacific Polyurethane Foam Market Value, By Type, 2017-2026 ($ Million)
Table 20 Asia-Pacific Polyurethane Foam Market Value, By Application, 2017-2026 ($ Million)
Table 21 Asia-Pacific Polyurethane Foam Market Value, By Country, 2017-2026 ($ Million)
Table 22 Middle East & Africa Polyurethane Foam Market Value, By Type, 2017-2026 ($ Million)
Table 23 Middle East & Africa Polyurethane Foam Market Value, By Application, 2017-2026 ($ Million)
Table 24 Carpenter Co: Overview
Table 25 Carpenter Co: Product Portfolio
Table 26 Carpenter Co: Key Developments
Table 27 Future Foam Inc: Overview
Table 28 Future Foam Inc: Product Portfolio
Table 29 Future Foam Inc: Key Developments
Table 30 Innocor Foam Technologies: Overview
Table 31 Innocor Foam Technologies: Product Portfolio
Table 32 Innocor Foam Technologies: Key Developments
Table 33 FXI Inc: Overview
Table 34 FXI Inc: Product Portfolio
Table 35 FXI Inc: Key Developments
Table 36 UFP Technologies: Overview
Table 37 UFP Technologies: Product Portfolio
Table 38 UFP Technologies: Key Developments
Table 39 Recticel NV: Overview
Table 40 Recticel NV: Product Portfolio
Table 41 Recticel NV: Key Developments
Table 42 Dow Chemical Company: Overview
Table 43 Dow Chemical Company: Product Portfolio
Table 44 Dow Chemical Company: Key Developments
Table 45 BASF Polyurethanes GMBH: Overview
Table 46 BASF Polyurethanes GMBH: Product Portfolio
Table 47 BASF Polyurethanes GMBH: Key Developments
Table 48 LANXESS AG: Overview
Table 49 LANXESS AG: Product Portfolio
Table 50 LANXESS AG: Key Developments
Table 51 Covestro AG: Overview
Table 52 Covestro AG: Product Portfolio
Table 53 Covestro AG: Key Developments
List of Figures
Figure 1 Global Polyurethane Foam Market Share, By Type, 2018 & 2026 (%)
Figure 2 Global Polyurethane Foam Market Share, By Application, 2018 & 2026 (%)
Figure 3 Global Polyurethane Foam Market Share, By Region, 2018 & 2026 (%)
Figure 4 Global Polyurethane Foam Market Value, 2017-2026 ($ Million)
Figure 5 Global Polyurethane Foam Market Y-o-Y Growth, By Type, 2018-2026 (%)
Figure 6 Rigid Foam: Global Polyurethane Foam Market Value, 2017-2026 ($ Million)
Figure 7 Flexible Foam: Global Polyurethane Foam Market Value, 2017-2026 ($ Million)
Figure 8 Molded Foam: Global Polyurethane Foam Market Value, 2017-2026 ($ Million)
Figure 9 Global Polyurethane Foam Market Y-o-Y Growth, By Application, 2018-2026 (%)
Figure 10 Bedding and Furniture: Global Polyurethane Foam Market Value, 2017-2026 ($ Million)
Figure 11 Building and Construction: Global Polyurethane Foam Market Value, 2017-2026 ($ Million)
Figure 12 Automotive: Global Polyurethane Foam Market Value, 2017-2026 ($ Million)
Figure 13 Consumer Electronics : Global Polyurethane Foam Market Value, 2017-2026 ($ Million)
Figure 14 Others: Global Polyurethane Foam Market Value, 2017-2026 ($ Million)
Figure 15 Global Polyurethane Foam Market Y-o-Y Growth, By Region, 2018-2026 (%)
Figure 16 North America Polyurethane Foam Market Value, 2017-2026 ($ Million)
Figure 17 North America Polyurethane Foam Market Share, By Type, 2018 & 2026 (%)
Figure 18 North America Polyurethane Foam Market Share, By Application, 2018 & 2026 (%)
Figure 19 North America Polyurethane Foam Market Share, By Country, 2018 & 2026 (%)
Figure 20 South America Polyurethane Foam Market Value, 2017-2026 ($ Million)
Figure 21 South America Polyurethane Foam Market Share, By Type, 2018 & 2026 (%)
Figure 22 South America Polyurethane Foam Market Share, By Application, 2018 & 2026 (%)
Figure 23 South America Polyurethane Foam Market Share, By Country, 2018 & 2026 (%)
Figure 24 Europe Polyurethane Foam Market Value, 2017-2026 ($ Million)
Figure 25 Europe Polyurethane Foam Market Share, By Type, 2018 & 2026 (%)
Figure 26 Europe Polyurethane Foam Market Share, By Application, 2018 & 2026 (%)
Figure 27 Europe Polyurethane Foam Market Share, By Country, 2018 & 2026 (%)
Figure 28 Asia-Pacific Polyurethane Foam Market Value, 2017-2026 ($ Million)
Figure 29 Asia-Pacific Polyurethane Foam Market Share, By Type, 2018 & 2026 (%)
Figure 30 Asia-Pacific Polyurethane Foam Market Share, By Application, 2018 & 2026 (%)
Figure 31 Asia-Pacific Polyurethane Foam Market Share, By Country, 2018 & 2026 (%)
Figure 32 Middle East & Africa Polyurethane Foam Market Value, 2017-2026 ($ Million)
Figure 33 Middle East & Africa Polyurethane Foam Market Share, By Type, 2018 & 2026 (%)
Figure 34 Middle East & Africa Polyurethane Foam Market Share, By Application, 2018 & 2026 (%)
Figure 35 Carpenter Co: Financials
Figure 36 Future Foam Inc: Financials
Figure 37 Innocor Foam Technologies: Financials
Figure 38 FXI Inc: Financials
Figure 39 UFP Technologies: Financials
Figure 40 Recticel NV: Financials
Figure 41 Dow Chemical Company: Financials
Figure 42 BASF Polyurethanes GMBH: Financials
Figure 43 LANXESS AG: Financials
Figure 44 Covestro AG: Financials