Market Overview
Material testing systems evaluate the mechanical properties of materials and structures using tensile, compression, flexural, fatigue, impact, dynamic, torsional and multi-axial loading for use in many industries including research and quality control to measure material's strength and performance.
Material Testing Market is segmented by type, material, end use industry and geography. By type market is segmented into universal testing machines, servo hydraulic testing machines, hardness test equipment and others. By material the market is further segmented by metal, plastics, rubber and elastomers, ceramics, composites and Others. By end use industry market is divided into automotive, construction, educational institutions and others Whereas by geography the market is divided into North America, South America, Europe, Asia Pacific and Rest of the World.
Low quality or inefficient materials can have severe consequences on the end use industries. Any defects have a direct impact on the quality and safety of the structures they are used in, with serious implications for revenue, customer satisfaction, and overall supply chain performance. Therefore, it is crucial that all factories, importers, and retailers, ensure finished goods meet the applicable industry regulations and safety standards, as well as the end user's high expectations.
Source: DataM Intelligence Analysis (2019)
Market Dynamics
The global material testing market is anticipated to witness significant growth with the range of building constructions, renovation and refurbishing activities in fast growing economies such as China, India, and Southeast Asia.
Construction industry in India is in full swing, some of the projects includes development of palava industrial township worth USD 4.18 bn, Construction of EWS, LIG and MIG houses and development of infrastructure work under PMAY Package C in Jabalpur worth USD 1.78 bn, Construction of EWS, LIG and MIG houses and development of infrastructure work under PMAY package worth USD 1.76 bn are a few projects.
When it comes to South East region rolling out its 2016-2020 infrastructure plan, Thailand is set to benefit from the stability of the current government along with the public and private sector. The country is likely to witness an increase in its infrastructure spending over the medium term.
Vietnam plans to increase urbanization from its current 27% to a 45.2% by 2020 with increased spending on infrastructure projects through foreign and private investment. The country is taking help from public-private partnerships to maintain its manufacturing hub status in the region.
Indonesia is likely to spend heavily in infrastructure till 2025. The spend matches the government spending of nearly 7% per year, and many infrastructure-related firms in the country are said to have received capital from the government. This trend comes with the Indonesian jurisdiction protecting local suppliers, mainly because it comes under earthquake affected zone, and where local survival is important.
Therefore, the range of construction activity and scope for new construction projects in the region followed by in the region to drive the material testing market.
Market Segmentation Analysis
Based on type, material testing market is classified into metal, plastics, rubber and elastomers, ceramics, composites and Others. Currently, metal is the dominant material segment and it accounts for approximately XX% of the market.
Parameters that are tested in the metal material includes functionality, measurement, loading capability, water resistance, pressure, tension, strength, bend test, chemical composition, steel strand test, and corrosion resistance and more. Federal law insists manufacturers and importers to test many consumer products for compliance with consumer product safety requirements.
Universal testing machines are the majorly used machine for testing metals owing to its ability to perform tensile, compression, and bend tests. In addition, the cheap availability of universal testing machine are the factors contributing to the use of universal testing machines for metal testing.
Metal material testing machines finds applications in aerospace, rail, nuclear, automotive, oil and gas, submarine, power generation, fertilizer, fabricators and foundries.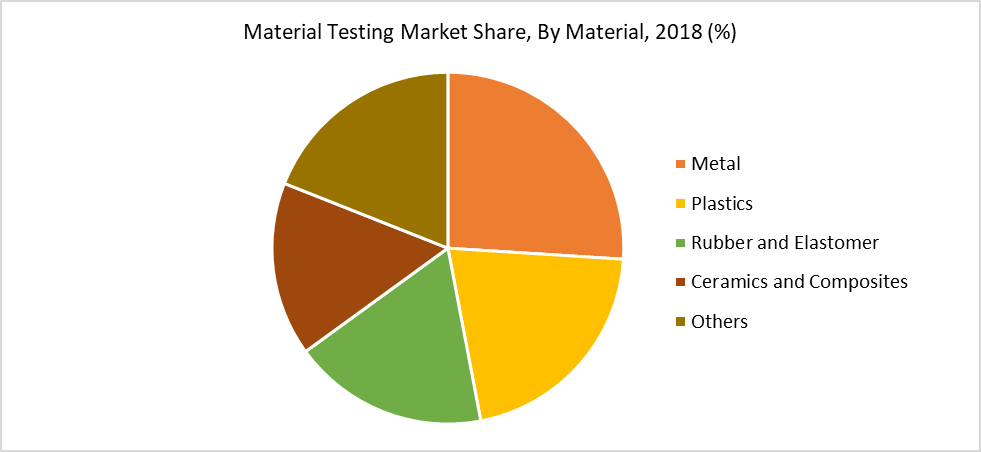 Source: DataM Intelligence Analysis (2019)
End-use Industry segment Analysis

Based on end use industry, material testing market is classified into automotive, construction, educational institutions and others. currently construction application is the dominant segment and it accounts for approximately XX% of the market.
Different types of materials are used for construction purpose that includes aggregates, bricks, bitumen, emulsions, cement, fly ash, concrete, soil, rock, salt glazed stoneware, pipes and fittings, steel, cement concrete tiles, gypsum building plaster, concrete and bituminous mix designs, water, sand, paver blocks, admixture, timber & wood, plywood & ply board.
Therefore, these broad range of materials need to be tested for quality and to get specifications. This quality of materials ensures stability of structure and specifications are used to get required amount of material.
The overall global construction looks decent over the past few years, moreover the future prospects in the construction will likely to experience robust growth with a pipeline full of prestigious and major projects that includes A massive infrastructure plan in USA which is on the way for announcement in near term, that includes extensions to federal grants, incentives and permitting simplification to encourage local programmes.

The U.K. Infrastructure and Projects Authority (IPA) estimates the next decade will see around £600bn of public and private investment in infrastructure. Major projects in the pipeline include the HS2 high-speed railway and the Cambridge-Oxford expressway. whereas in France the massive Le Grand Paris project which is underway includes four new metro lines connecting seven strategic and economic centers, encompassing 70,000 new homes, 68 new stations and 200km of rail network at a total cost of USD31bn.

Therefore, the various types of raw materials involved in the building construction industry and range 0f construction projects that are in the pipeline to bring in demand for material testing equipment across the globe.
Source: DataM Intelligence Analysis (2019)
Geographical Analysis
The Asia Pacific Material Testing Market size was worth USD XX million in 2018 and is estimated to reach USD XX million by 2026, at a CAGR of XX% during the forecast period. Asia Pacific region is expected to grow with high CAGR during the forecast period owing to the strong growth in the end user industry in this region.

Due to the rapid urbanization in the region and this trend is projected to continue in coming years and thereby to bring unprecedented demographic, economic and social shifts.
Urban development in the region will have an important positive impact on the aromatic end user sectors such as paints and coatings, adhesives and chemical intermediates sectors. Currently, the construction sector in the region is showcasing decent growth on the globe during the last decade. Also moving forward construction sector in the region to showcase health growth for instance one of the fast-growing economies in the region such as India have witnessed immense demand in commercial space such as office spaces, hotels, retail, entertainment units. Annual absorption of office space in India crossed 42 mn sq ft in 2017.

Furthermore, new construction activities, housing projects are expected to drive the demand of material testing equipment in the region.
Competitive Analysis:
Some of the major players in the global Material Testing Market includes Illinois Tool Works Inc, The Zwick Roell Group, MTS Systems Corporation, Shimadzu Corporation, Tinius Olsen, AMETEK, Inc, ADMET, Inc., Hegewald & Peschke, Applied Test Systems, Mitutoyo America Corporation.
These key players in the market are mainly focus on new product launches, expansions, mergers & acquisitions to enhance their position in the material testing market.
The Material Testing market is a partially consolidated market with the presence of both major and minor players in the market. A few players in the Material Testing market have integrated both backward and forward to obtain cost advantages.
Why Purchase the Report?
Visualize the composition of the Material Testing Market in terms of type, material, and end use industry highlighting the key commercial assets and players.
Identify commercial opportunities in Material Testing Market by analyzing trends and co-development deals.
Excel data sheet with thousands of data points of Material Testing Market - level 4/5 segmentation.
PDF report with the most relevant analysis cogently put together after exhaustive qualitative interviews and in-depth market study.
Product mapping in excel for the key product of all major market players
The global Material Testing Market report would provide an access to an approx., 61 data table, 56 figures and 190 pages
Target Audience
Service Providers/ Buyers
Industry Investors/Investment Bankers
Education & Research Institutes
Research Professionals
Emerging Companies
Manufacturers
LIST OF TABLES:
Table 1 Global Material Testing Market Value, By Type, 2018,2022 & 2026 ($ Million)
Table 2 Global Material Testing Market Value, By Material, 2018,2022 & 2026 ($ Million)
Table 3 Global Material Testing Market Value, By End Use Industry, 2018,2022 & 2026 ($ Million)
Table 4 Global Material Testing Market Value, By Region, 2018,2022 & 2026 ($ Million)
Table 5 Global Material Testing Market Value, By Type, 2018,2022 & 2026 ($ Million)
Table 6 Global Material Testing Market Value, By Type, 2017-2026 ($ Million)
Table 7 Global Material Testing Market Value, By Material, 2018,2022 & 2026 ($ Million)
Table 8 Global Material Testing Market Value, By Material, 2017-2026 ($ Million)
Table 9 Global Material Testing Market Value, By End Use Industry, 2018,2022 & 2026 ($ Million)
Table 10 Global Material Testing Market Value, By End Use Industry, 2017-2026 ($ Million)
Table 11 Global Material Testing Market Value, By Region, 2018,2022 & 2026 ($ Million)
Table 12 Global Material Testing Market Value, By Region, 2017-2026 ($ Million)
Table 13 North America Material Testing Market Value, By Type, 2017-2026 ($ Million)
Table 14 North America Material Testing Market Value, By Material, 2017-2026 ($ Million)
Table 15 North America Material Testing Market Value, By End Use Industry, 2017-2026 ($ Million)
Table 16 North America Material Testing Market Value, By Country, 2017-2026 ($ Million)
Table 17 South America Material Testing Market Value, By Type, 2017-2026 ($ Million)
Table 18 South America Material Testing Market Value, By Material, 2017-2026 ($ Million)
Table 19 South America Material Testing Market Value, By End Use Industry, 2017-2026 ($ Million)
Table 20 South America Material Testing Market Value, By Country, 2017-2026 ($ Million)
Table 21 Europe Material Testing Market Value, By Type, 2017-2026 ($ Million)
Table 22 Europe Material Testing Market Value, By Material, 2017-2026 ($ Million)
Table 23 Europe Material Testing Market Value, By End Use Industry, 2017-2026 ($ Million)
Table 24 Europe Material Testing Market Value, By Country, 2017-2026 ($ Million)
Table 25 Asia-Pacific Material Testing Market Value, By Type, 2017-2026 ($ Million)
Table 26 Asia-Pacific Material Testing Market Value, By Material, 2017-2026 ($ Million)
Table 27 Asia-Pacific Material Testing Market Value, By End Use Industry, 2017-2026 ($ Million)
Table 28 Asia-Pacific Material Testing Market Value, By Country, 2017-2026 ($ Million)
Table 29 Middle East & Africa Material Testing Market Value, By Type, 2017-2026 ($ Million)
Table 30 Middle East & Africa Material Testing Market Value, By Material, 2017-2026 ($ Million)
Table 31 Middle East & Africa Material Testing Market Value, By End Use Industry, 2017-2026 ($ Million)
Table 32 Illinois Tool Works Inc: Overview
Table 33 Illinois Tool Works Inc: Product Portfolio
Table 34 Illinois Tool Works Inc: Key Developments
Table 35 The Zwick Roell Group : Overview
Table 36 The Zwick Roell Group : Product Portfolio
Table 37 The Zwick Roell Group : Key Developments
Table 38 MTS Systems Corporation : Overview
Table 39 MTS Systems Corporation : Product Portfolio
Table 40 MTS Systems Corporation : Key Developments
Table 41 Shimadzu Corporation : Overview
Table 42 Shimadzu Corporation : Product Portfolio
Table 43 Shimadzu Corporation : Key Developments
Table 44 Tinius Olsen : Overview
Table 45 Tinius Olsen : Product Portfolio
Table 46 Tinius Olsen : Key Developments
Table 47 AMETEK, Inc: Overview
Table 48 AMETEK, Inc: Product Portfolio
Table 49 AMETEK, Inc: Key Developments
Table 50 ADMET, Inc.: Overview
Table 51 ADMET, Inc.: Product Portfolio
Table 52 ADMET, Inc.: Key Developments
Table 53 Hegewald & Peschke: Overview
Table 54 Hegewald & Peschke: Product Portfolio
Table 55 Hegewald & Peschke: Key Developments
Table 56 Applied Test Systems: Overview
Table 57 Applied Test Systems: Product Portfolio
Table 58 Applied Test Systems: Key Developments
Table 59 Mitutoyo America Corporation: Overview
Table 60 Mitutoyo America Corporation: Product Portfolio
Table 61 Mitutoyo America Corporation: Key Developments
LIST OF FIGURES:
Figure 1 Global Material Testing Market Share, By Type, 2018 & 2026 (%)
Figure 2 Global Material Testing Market Share, By Material, 2018 & 2026 (%)
Figure 3 Global Material Testing Market Share, By End Use Industry, 2018 & 2026 (%)
Figure 4 Global Material Testing Market Share, By Region, 2018 & 2026 (%)
Figure 5 Global Material Testing Market Value, 2017-2026 ($ Million)
Figure 6 Global Material Testing Market Y-o-Y Growth, By Type, 2018-2026 (%)
Figure 7 Universal Testing Machines: Global Material Testing Market Value, 2017-2026 ($ Million)
Figure 8 Servo hydraulic Testing Machines: Global Material Testing Market Value, 2017-2026 ($ Million)
Figure 9 Hardness Test Equipment: Global Material Testing Market Value, 2017-2026 ($ Million)
Figure 10 Others: Global Material Testing Market Value, 2017-2026 ($ Million)
Figure 11 Global Material Testing Market Y-o-Y Growth, By Material, 2018-2026 (%)
Figure 12 Metal: Global Material Testing Market Value, 2017-2026 ($ Million)
Figure 13 Plastics : Global Material Testing Market Value, 2017-2026 ($ Million)
Figure 14 Rubber and Elastomer: Global Material Testing Market Value, 2017-2026 ($ Million)
Figure 15 Ceramics and Composites: Global Material Testing Market Value, 2017-2026 ($ Million)
Figure 16 Others: Global Material Testing Market Value, 2017-2026 ($ Million)
Figure 17 Global Material Testing Market Y-o-Y Growth, By End Use Industry, 2018-2026 (%)
Figure 18 Automotive: Global Material Testing Market Value, 2017-2026 ($ Million)
Figure 19 Construction : Global Material Testing Market Value, 2017-2026 ($ Million)
Figure 20 Educational Institutions : Global Material Testing Market Value, 2017-2026 ($ Million)
Figure 21 Others: Global Material Testing Market Value, 2017-2026 ($ Million)
Figure 22 Global Material Testing Market Y-o-Y Growth, By Region, 2018-2026 (%)
Figure 23 North America Material Testing Market Value, 2017-2026 ($ Million)
Figure 24 North America Material Testing Market Share, By Type, 2018 & 2026 (%)
Figure 25 North America Material Testing Market Share, By Material, 2018 & 2026 (%)
Figure 26 North America Material Testing Market Share, By End Use Industry, 2018 & 2026 (%)
Figure 27 North America Material Testing Market Share, By Country, 2018 & 2026 (%)
Figure 28 South America Material Testing Market Value, 2017-2026 ($ Million)
Figure 29 South America Material Testing Market Share, By Type, 2018 & 2026 (%)
Figure 30 South America Material Testing Market Share, By Material, 2018 & 2026 (%)
Figure 31 South America Material Testing Market Share, By End Use Industry, 2018 & 2026 (%)
Figure 32 South America Material Testing Market Share, By Country, 2018 & 2026 (%)
Figure 33 Europe Material Testing Market Value, 2017-2026 ($ Million)
Figure 34 Europe Material Testing Market Share, By Type, 2018 & 2026 (%)
Figure 35 Europe Material Testing Market Share, By Material, 2018 & 2026 (%)
Figure 36 Europe Material Testing Market Share, By End Use Industry, 2018 & 2026 (%)
Figure 37 Europe Material Testing Market Share, By Country, 2018 & 2026 (%)
Figure 38 Asia-Pacific Material Testing Market Value, 2017-2026 ($ Million)
Figure 39 Asia-Pacific Material Testing Market Share, By Type, 2018 & 2026 (%)
Figure 40 Asia-Pacific Material Testing Market Share, By Material, 2018 & 2026 (%)
Figure 41 Asia-Pacific Material Testing Market Share, By End Use Industry, 2018 & 2026 (%)
Figure 42 Asia-Pacific Material Testing Market Share, By Country, 2018 & 2026 (%)
Figure 43 Middle East & Africa Material Testing Market Value, 2017-2026 ($ Million)
Figure 44 Middle East & Africa Material Testing Market Share, By Type, 2018 & 2026 (%)
Figure 45 Middle East & Africa Material Testing Market Share, By Material, 2018 & 2026 (%)
Figure 46 Middle East & Africa Material Testing Market Share, By End Use Industry, 2018 & 2026 (%)
Figure 47 Illinois Tool Works Inc: Financials
Figure 48 The Zwick Roell Group : Financials
Figure 49 MTS Systems Corporation : Financials
Figure 50 Shimadzu Corporation : Financials
Figure 51 Tinius Olsen : Financials
Figure 52 AMETEK, Inc: Financials
Figure 53 ADMET, Inc.: Financials
Figure 54 Hegewald & Peschke: Financials
Figure 55 Applied Test Systems: Financials
Figure 56 Mitutoyo America Corporation: Financials