Light Gauge Steel Framing Market is segmented by Type (Skeleton, Wall Bearing, Long Span), By End-User (Commercial, Industrial, Residential), and By Region (North America, Latin America, Europe, Asia Pacific, Middle East, and Africa) – Share, Size, Outlook, and Opportunity Analysis, 2023-2030
Light Gauge Steel Framing Market Overview
The Global Light Gauge Steel Framing Market reached USD 30.1 billion in 2022 and is expected to reach USD 42.3 billion by 2030, growing with a CAGR of 4.5% during the forecast period 2023-2030. The global construction sector has gained massive traction in the past few years due to the enormous demand for new residential complexes, infrastructural elements and commercial.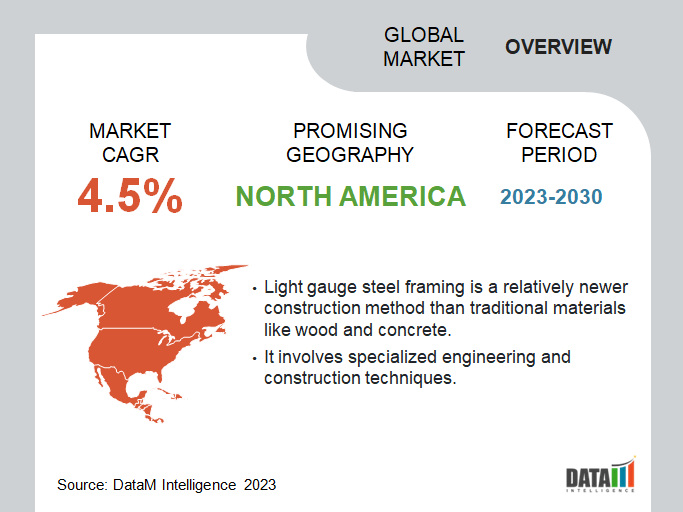 The industry has seen a notable inclination towards cost-saving methods and minimizing material wastage. Therefore, the need for light gauge steel frames are increasing.
China has become a major manufacturing hub for light gauge steel framing products. The country has a well-established steel industry with the infrastructure and capabilities to produce high-quality steel framing materials at competitive prices. Chinese manufacturers have been supplying light gauge steel framing components and systems to both domestic and international markets, contributing to the overall growth of the industry and it was accounting for approximately half of the regional market share in 2022.
Light Gauge Steel Framing Market Scope
| | |
| --- | --- |
| Metrics | Details |
| CAGR | 4.5% |
| Size Available for Years | 2021-2030 |
| Forecast Period | 2023-2030 |
| Data Availability | Value (US$) |
| Segments Covered | Type, End-User, and Region |
| Regions Covered | North America, Europe, Asia-Pacific, South America and Middle East & Africa |
| Fastest Growing Region | Asia-Pacific |
| Largest Region | North America |
| Report Insights Covered | Competitive Landscape Analysis, Company Profile Analysis, Market Size, Share, Growth, Demand, Recent Developments, Mergers and Acquisitions, New Product Launches, Growth Strategies, Revenue Analysis, Porter's Analysis, Pricing Analysis, Regulatory Analysis, Supply-Chain Analysis and Other key Insights. |
To Know more Insights - Download Sample
Light Gauge Steel Framing Market Dynamics
Modular and Prefabricated Construction
Modular and prefabricated construction methods are known for their time efficiency. The off-site fabrication of light gauge steel frames allows for concurrent work processes. While the building foundation is being prepared on-site, the steel frames are manufactured off-site.
This simultaneous activity reduces the overall construction time significantly. Once the steel frames and other prefabricated components are delivered to the site, the assembly process is swift and streamlined, further accelerating the construction timeline.
A construction project utilizing modular construction for a multi-story residential building can benefit from the time efficiency of light gauge steel framing. The steel frames, manufactured off-site, can be transported and quickly assembled on-site, enabling faster completion of the building than traditional construction methods.
The combination of time efficiency, cost-effectiveness, quality control, design flexibility, and sustainability makes light gauge steel framing an ideal choice for modular and prefabricated construction methods. The benefits provided by these construction approaches drive the demand for light gauge steel framing in the global market.
Limited Awareness and Acceptance
Light gauge steel framing is a relatively newer construction method than traditional materials like wood and concrete. Limited awareness about the benefits, applications and performance of LGSF can result in a lack of understanding among construction professionals, developers and potential customers. This unfamiliarity may lead to skepticism or reluctance to adopt LGSF, hindering its market growth.
Light gauge steel framing involves specialized engineering and construction techniques. The perceived complexity of working with steel, especially among contractors and builders accustomed to traditional materials, can be a barrier to adoption. The need for specialized training, equipment and skills to work with LGSF may deter some construction professionals from embracing this construction method.
Light Gauge Steel Framing Market Segment Analysis
The Global Light Gauge Steel Framing Market is segmented based on type, end-user and region.
Versatility and Structural Support: The Advantages of Wall Bearing Systems in Construction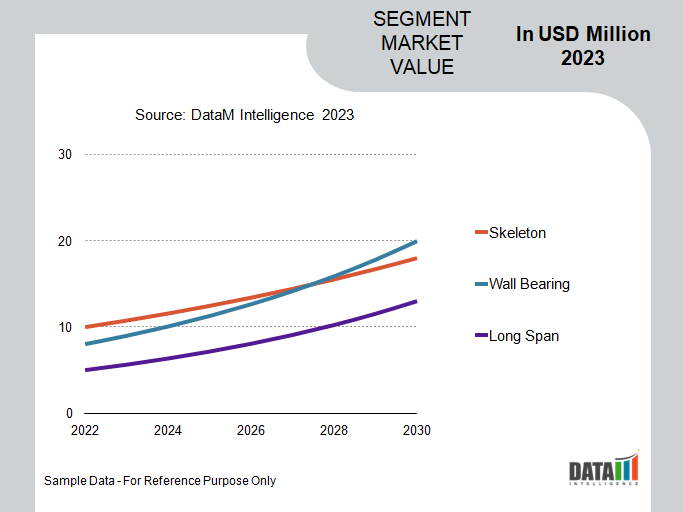 The Wall Bearing segment has been widely used and dominant in the global light gauge steel framing market. Using wall-bearing systems with light gauge steel framing can save costs in various ways. Steel components are often manufactured off-site in a controlled environment, minimizing material wastage and reducing labor costs. Additionally, the lightweight nature of steel framing allows for more efficient transportation, resulting in reduced logistics expenses.
Wall-bearing systems allow for flexible design options. Steel framing can be easily customized and adjusted to meet specific architectural requirements. This flexibility in design enables architects and builders to create unique and innovative structures, attracting customers seeking distinctive building designs. Furthermore, the wall bearings segment holds approximately 45.4% of the global segmental share and is expected to dominate during the forecast period.
Light Gauge Steel Framing Market Geographical Share
The Growing Technological Advancement Drives the North American Market
Technological advancements have led to the development of advanced manufacturing processes in producing light gauge steel framing systems. Automated machinery, robotics and computer-controlled systems have improved the efficiency and precision of manufacturing, resulting in higher-quality products and increased production capacity. These advancements enable manufacturers to meet North America's growing demand for light gauge steel framing systems.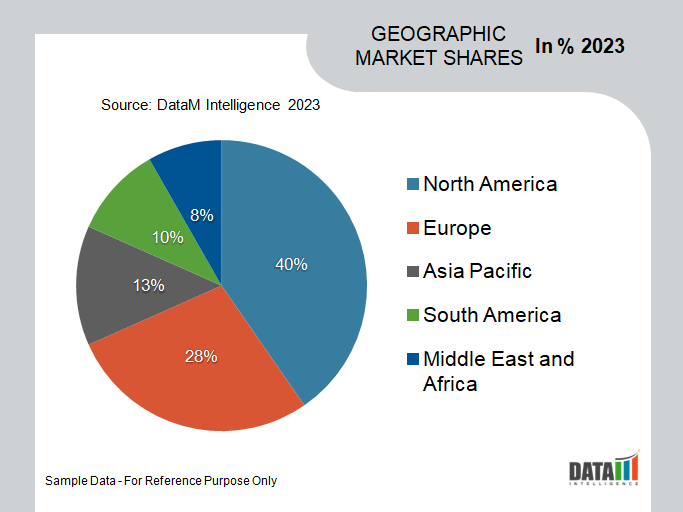 Additionally, the U.S. and Canada are the headquarters of key players in the light gauge steel framing market. Therefore, the U.S. and Canada hold more than 93.8% of the regional shares during the forecast period.
Light Gauge Steel Framing Market Companies
The major global players include Saint Gobain SA, Bluescope Steel Limited, Cemco, ClarkDietrich Building Systems, Quail Run Building Materials, Inc., Nipani Infra & Industries, FRAMECAD Ltd., Genesis Manazil Steel Framing, Emirates Building Systems and QSI Interiors Ltd.
COVID-19 Impact on Light Gauge Steel Framing Market
COVID Impact
Economic uncertainty during the pandemic resulted in decreased investment in new construction projects. Developers and investors became cautious about initiating new projects, leading to a decline in demand for light gauge steel framing. The pandemic has highlighted the importance of health and safety in construction practices. Light gauge steel framing, with its ease of sanitization and durability, may gain preference over materials like wood that are susceptible to microbial growth or require frequent maintenance.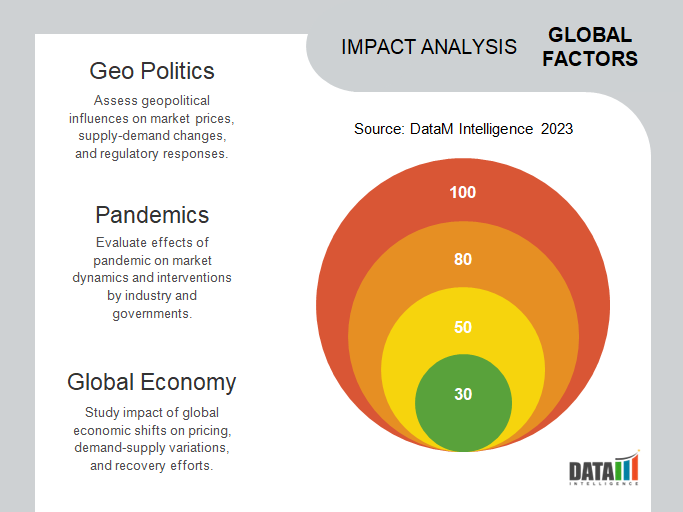 AI Impact
BIM technology combined with AI can provide advanced visualization, coordination and simulation capabilities. AI algorithms can analyze BIM data to optimize construction processes, identify potential clashes or conflicts and improve project coordination. This integration of AI and BIM can streamline the construction workflow, enhance communication and reduce errors in the implementation of light gauge steel framing systems.
Russia-Ukraine War Impact
The geopolitical situation and potential disruptions in the steel market could create opportunities for other countries and manufacturers to fill the gap left by Russia and Ukraine. Steel-producing nations not directly involved in the conflict may see increased demand for their products, potentially leading to market realignment and new partnerships in the global light gauge steel framing industry.
Type
Skeleton
Wall Bearing
Long Span
By End-User
Commercial
Industrial
Residential
By Region
North America
Europe

Germany
The UK
France
Italy
Russia
Rest of Europe

South America

Brazil
Argentina
Rest of South America

Asia-Pacific

China
India
Japan
Australia
Rest of Asia-Pacific

Middle East and Africa
Key Developments
On April 17, 2023, FIS has released a new best practices manual for steel framed systems with through-wall infill. The design, specification and installation of SFS through-wall procedures are covered in a newly released best practice guide on through-wall infill steel framed systems (SFS).
On September 14, 2021, A factory-assembled light gauge steel panel system for builders and developers was introduced to the market by homebuilder Weston Group. The UNI System line of light gauge panels, walls, roofs and floors will be offered for purchase by a newly established MMC assembly company known as British Offsite.
On August 4, 2021, A new steel frame modular housebuilder was introduced by a joint venture between a public sector procurement platform and a developer in the North-east, who claim it will produce 5,000 homes annually in five years.
Why Purchase the Report?
To visualize the Global Light Gauge Steel Framing Market segmentation based on type, end-user and region, and understand key commercial assets and players.
Identify commercial opportunities by analyzing trends and co-development.
Excel data sheet with numerous light gauge steel framing market-level data points with all segments.
PDF report consists of a comprehensive analysis after exhaustive qualitative interviews and an in-depth study.
Product mapping available as Excel consisting of key products of all the major players.
The Global Light Gauge Steel Framing Market Report Would Provide Approximately 54 Tables, 47 Figures And 184 Pages.
Target Audience 2023
Manufacturers/ Buyers
Industry Investors/Investment Bankers
Research Professionals
Emerging Companies