Market Overview:
The global Electric Motorcycle and Scooter market size was worth USD XX billion in 2018 and is forecasted to reach USD XX billion by 2026, growing at a CAGR of XX% during the forecast period. Electric two-wheelers, as indicates itself, is electrically-powered two-wheelers. A battery pack and a motor are installed to store and transform the electricity to mechanical work. User control is usually attached to the handle bar to brake and adjust the speed. A variety of types and styles are available to consumers in the market and these features are still developing.
Market Dynamics:
Growing demand for alternative fuel vehicles globally and encouragement from the local governments for adoption of zero emission vehicles are the major drivers for the growth of the market.
Alternate Fuel Vehicle is defined as a vehicle that runs on a fuel other than gasoline or diesel, or one that is powered by technology or otherwise, for example, electric, hybrid electric or solar powered vehicles. Electric Vehicles are picking up a reputation as a result of the increasing ecological concerns and the requirement for a supportable ecosystem in the automotive business. Like all electric vehicles, even electric motorcycles boast environmental benefits. Electric motors are cleaner than gas engines because they don't use fuel and oil that emit pollutants into the atmosphere.
Different nations have set strategies to decrease contamination levels from vehicle emanations which is a favorable factor for the electric motorcycle and scooter market growth. Globally, electric vehicles units are increasing and companies are focusing to increase their production units worldwide. For instance, Hero Electric has 600 touchpoints across India. This makes Hero Electric the largest electric two-wheeler player in terms of dealership reach. The company plans to more than double its reach by 2021, and its dealerships will be equipped with both sales and service.
Huge cost of electric vehicles, mainly due to high cost of battery used in these vehicles is the key factor hampering the adoption of electric motorcycle and scooter market. Lack of proper infrastructure for electric vehicles to charge and lack of skilled labor force for technical assistance are the other key factors hampering the market growth worldwide.
Market Segmentation:
The market is segmented by Technology Type into removable battery and plug-in. A plug-in electric vehicle (PEV) is any vehicle that can be recharged from an external source of electricity, such as wall sockets, and the electricity stored in the rechargeable battery packs drives or contributes to drive the wheels. Today's PEVs are state-of-the-art highway vehicles ready to match or surpass the performance of their conventional vehicles. PEVs in all-electric mode are much quieter than conventional vehicles and, unlike conventional vehicles, produce maximum torque and smooth acceleration from a full stop. The sales of for plug-in electric vehicles has greater potential. For instance, India, the world's largest market for scooters and motorcycles has annual domestic sales over 19 million in the fiscal year ended March 31, 2018, which is six times of car sales over the same period.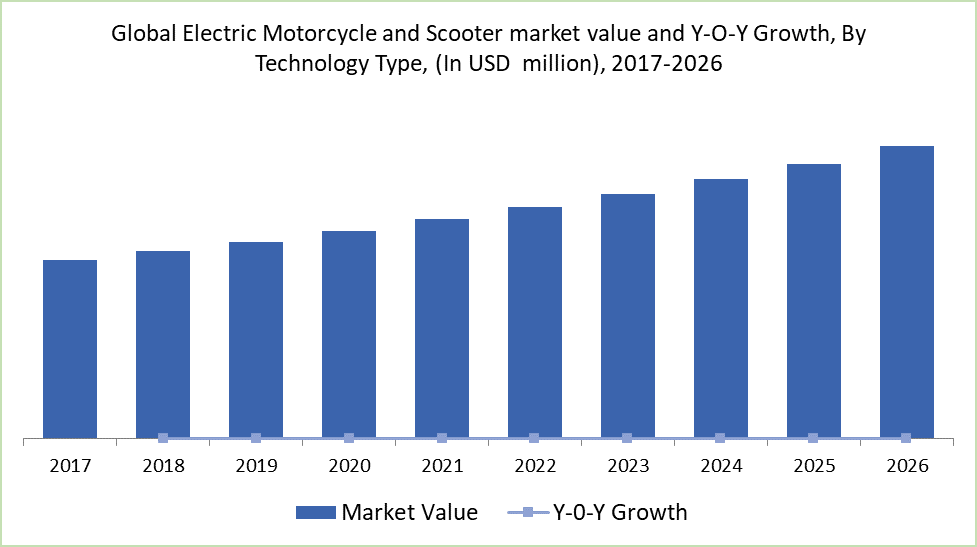 **Source: DataM Intelligence Analysis (2019)
The market is segmented by Battery Type into sealed lead acid, Ni-MH and Lithium-ion. Lithium-ion segment holds XX% of market share in 2018 and is expected to increase by XX% by 2026 in Global Electric Motorcycle and Scooter Market. Lithium-ion battery separators are additionally used to avoid physical contact among anode and cathode while assisting ion transport by averting short circuit, expanding consistency and quality of the lithium-ion battery. A lithium-ion battery starts an electric motor quicker because lithium has a lower impedance which allows the transmission of energy in one stroke only which is the major advantage for application in electric motorcycles and scooters.
Asia has several vertically integrated companies with 20 years of experience in making lithium-ion batteries, thus increasing the development of electric vehicles, which will drive the growth for lithium-ion batteries in the forecast period to 2026. As a result of stringent government guidelines on automotive industry and transport sector for carbon discharge, makers are moving towards lithium-ion battery in vehicles and for modern applications which lead to the development of electric motorcycle and scooter globally. Hero Electric was the first brand to launch a lithium-ion-powered electric scooter in India.
By Product, the market is segmented as scooter and motorcycle. By Voltage Type, the market is segmented into below 24V, 24V to 50V and above 50V.
Geographical Analysis:
Geographically, the market is segmented into North America, South America, Europe, Asia Pacific, and Middle East & Africa.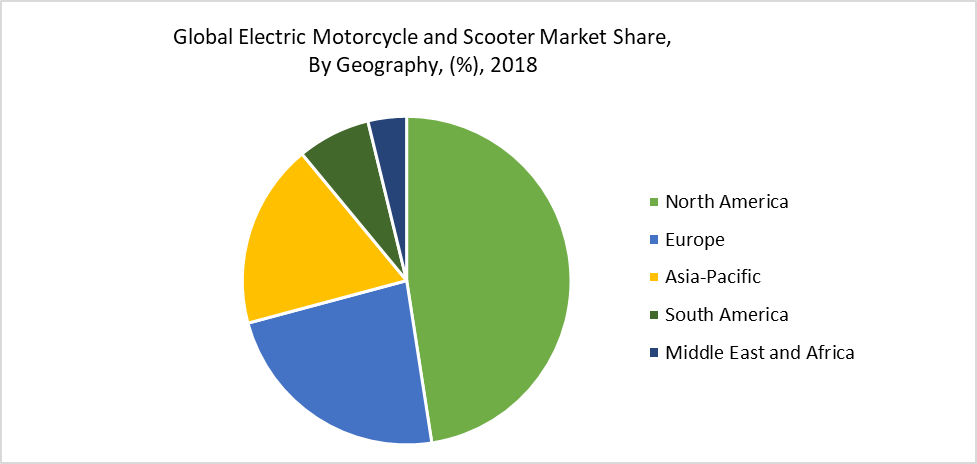 **Source: DataM Intelligence Analysis (2019)
The North America Electric Motorcycle and Scooter market size was worth USD XX billion in 2018 and is forecasted to reach USD XX billion by 2026 growing at a CAGR of XX% during the forecast period. Faster adoption of electric vehicles (EVs) in the country is the major driving factor for the market. The U.S. was a larger market for electric vehicles, in terms of volume, contributing close to 85% share to the North American electric scooters and motorcycles market in 2018. Support by the government in the form of financial and non-financial incentives for the procurement of these vehicles is the key driving factor for the market growth. For instance, In November 2016, the Obama Government established 48 national EV corridors charging networks in 35 states at 25,000 miles' interval on highways.
The Asia Pacific Electric Motorcycle and Scooter market is valued at USD XX Million in 2018 and is estimated to grow at a CAGR of XX% over the forecast period to reach a USD XX Million by 2026. Asia Pacific is expected to hold the largest market share globally due to the improved manufacturing processes of companies in Asia that have made the Asia Pacific as a major manufacturing hub for electric motorcycle and scooter.
The Asia Pacific has established as a center for the Electric vehicle market in recent years. China recorded the highest volume sales of e-scooters and e-motorcycles in the Asia Pacific in 2017. China, Japan, and the Korea Republic already have developed the automobile industry and increasingly invading into electric vehicles technologies, which will further supports the growth in electric motorcycle and scooter market. The usage of electric vehicles is increasing on a yearly basis. For instance, In Vietnam, there are some 900,000 electric two-wheelers in its cities in the year 2017, used mainly by high school students.
Competitive Analysis:
The competitive environment in the electric motorcycle and scooter market is increasing in recent years with the entry of small and new players besides existing players invading in to the electric drive technology in recent years. Some of the major market players in the electric motorcycle and scooters market are Alta Motors, Terra Motors Corporation, AIMA Technology Co Ltd, Ampere Vehicles Pvt Ltd., Hero Electric Vehicles Pvt. Ltd, BMW AG, Yadea Technology Group Co. Ltd, Mahindra GenZe and Energica Motor Company S.P.A
Several manufacturers are adopting a combination of a direct and indirect distribution channel to attract more customers and make distribution simpler. Manufacturers are focusing on building direct distribution channels through various B2B customers and adopting e-commerce channels for electric motorcycles & scooters sales.
Companies are focusing to launch new products globally due to the high demand from different applications.
For instance, Harley Davidson launched their electric bike and it is focusing on EVs to be launched in the U.S. by 2021. In 2017, Yamaha launched two EVs in the global market, Passion E-Street, and Passion E-Dirt, providing 62 mph highway speeds.
Why Purchase the Report?
Visualize the composition of the Electric Motorcycle and Scooter across each indication, in terms of technology type, vehicle type, battery type, and voltage type, highlighting the key commercial assets and players.
Identify commercial opportunities in Electric Motorcycle and Scooter Market by analyzing trends and co-development deals.
Excel data sheet with thousands of data points of Electric Motorcycle and scooter- level 4/5 segmentation.
A PDF report with the most relevant analysis cogently put together after exhaustive qualitative interviews and in-depth market study.
Product mapping in excel for the key product of all major market players
Target Audience
• Service Providers/ Buyers
• Industry Investors/Investment Bankers
• Education & Research Institutes
• Research Professionals
• Emerging Companies
LIST OF TABLES:
Table 1 Global Electric Motorcycle and Scooter Market Value, By Battery Type, 2018,2022 & 2026 ($ Million)
Table 2 Global Electric Motorcycle and Scooter Market Value, By Technology, 2018,2022 & 2026 ($ Million)
Table 3 Global Electric Motorcycle and Scooter Market Value, By Product, 2018,2022 & 2026 ($ Million)
Table 4 Global Electric Motorcycle and Scooter Market Value, By Voltage Type, 2018,2022 & 2026 ($ Million)
Table 5 Global Electric Motorcycle and Scooter Market Value, By Region, 2018,2022 & 2026 ($ Million)
Table 6 Global Electric Motorcycle and Scooter Market Value, By Battery Type, 2018,2022 & 2026 ($ Million)
Table 7 Global Electric Motorcycle and Scooter Market Value, By Battery Type, 2017-2026 ($ Million)
Table 8 Global Electric Motorcycle and Scooter Market Value, By Technology, 2018,2022 & 2026 ($ Million)
Table 9 Global Electric Motorcycle and Scooter Market Value, By Technology, 2017-2026 ($ Million)
Table 10 Global Electric Motorcycle and Scooter Market Value, By Product, 2018,2022 & 2026 ($ Million)
Table 11 Global Electric Motorcycle and Scooter Market Value, By Product, 2017-2026 ($ Million)
Table 12 Global Electric Motorcycle and Scooter Market Value, By Voltage Type, 2018,2022 & 2026 ($ Million)
Table 13 Global Electric Motorcycle and Scooter Market Value, By Voltage Type, 2017-2026 ($ Million)
Table 14 Global Electric Motorcycle and Scooter Market Value, By Region, 2018,2022 & 2026 ($ Million)
Table 15 Global Electric Motorcycle and Scooter Market Value, By Region, 2017-2026 ($ Million)
Table 16 North America Electric Motorcycle and Scooter Market Value, By Battery Type, 2017-2026 ($ Million)
Table 17 North America Electric Motorcycle and Scooter Market Value, By Technology, 2017-2026 ($ Million)
Table 18 North America Electric Motorcycle and Scooter Market Value, By Product, 2017-2026 ($ Million)
Table 19 North America Electric Motorcycle and Scooter Market Value, By Voltage Type, 2017-2026 ($ Million)
Table 20 North America Electric Motorcycle and Scooter Market Value, By Country, 2017-2026 ($ Million)
Table 21 South America Electric Motorcycle and Scooter Market Value, By Battery Type, 2017-2026 ($ Million)
Table 22 South America Electric Motorcycle and Scooter Market Value, By Technology, 2017-2026 ($ Million)
Table 23 South America Electric Motorcycle and Scooter Market Value, By Product, 2017-2026 ($ Million)
Table 24 South America Electric Motorcycle and Scooter Market Value, By Voltage Type, 2017-2026 ($ Million)
Table 25 South America Electric Motorcycle and Scooter Market Value, By Country, 2017-2026 ($ Million)
Table 26 Europe Electric Motorcycle and Scooter Market Value, By Battery Type, 2017-2026 ($ Million)
Table 27 Europe Electric Motorcycle and Scooter Market Value, By Technology, 2017-2026 ($ Million)
Table 28 Europe Electric Motorcycle and Scooter Market Value, By Product, 2017-2026 ($ Million)
Table 29 Europe Electric Motorcycle and Scooter Market Value, By Voltage Type, 2017-2026 ($ Million)
Table 30 Europe Electric Motorcycle and Scooter Market Value, By Country, 2017-2026 ($ Million)
Table 31 Asia-Pacific Electric Motorcycle and Scooter Market Value, By Battery Type, 2017-2026 ($ Million)
Table 32 Asia-Pacific Electric Motorcycle and Scooter Market Value, By Technology, 2017-2026 ($ Million)
Table 33 Asia-Pacific Electric Motorcycle and Scooter Market Value, By Product, 2017-2026 ($ Million)
Table 34 Asia-Pacific Electric Motorcycle and Scooter Market Value, By Voltage Type, 2017-2026 ($ Million)
Table 35 Asia-Pacific Electric Motorcycle and Scooter Market Value, By Country, 2017-2026 ($ Million)
Table 36 Middle East & Africa Electric Motorcycle and Scooter Market Value, By Battery Type, 2017-2026 ($ Million)
Table 37 Middle East & Africa Electric Motorcycle and Scooter Market Value, By Technology, 2017-2026 ($ Million)
Table 38 Middle East & Africa Electric Motorcycle and Scooter Market Value, By Product, 2017-2026 ($ Million)
Table 39 Middle East & Africa Electric Motorcycle and Scooter Market Value, By Voltage Type, 2017-2026 ($ Million)
Table 40 Zero Motorcycle Inc: Overview
Table 41 Zero Motorcycle Inc: Product Portfolio
Table 42 Zero Motorcycle Inc: Key Developments
Table 43 Alta Motors: Overview
Table 44 Alta Motors: Product Portfolio
Table 45 Alta Motors: Key Developments
Table 46 Terra Motors Corporation: Overview
Table 47 Terra Motors Corporation: Product Portfolio
Table 48 Terra Motors Corporation: Key Developments
Table 49 AIMA Technology Co Ltd: Overview
Table 50 AIMA Technology Co Ltd: Product Portfolio
Table 51 AIMA Technology Co Ltd: Key Developments
Table 52 Ampere Vehicles Pvt Ltd.: Overview
Table 53 Ampere Vehicles Pvt Ltd.: Product Portfolio
Table 54 Ampere Vehicles Pvt Ltd.: Key Developments
Table 55 Hero Electric Vehicles Pvt. Ltd: Overview
Table 56 Hero Electric Vehicles Pvt. Ltd: Product Portfolio
Table 57 Hero Electric Vehicles Pvt. Ltd: Key Developments
Table 58 BMW AG: Overview
Table 59 BMW AG: Product Portfolio
Table 60 BMW AG: Key Developments
Table 61 Yadea Technology Group Co. Ltd: Overview
Table 62 Yadea Technology Group Co. Ltd: Product Portfolio
Table 63 Yadea Technology Group Co. Ltd: Key Developments
Table 64 Mahindra GenZe: Overview
Table 65 Mahindra GenZe: Product Portfolio
Table 66 Mahindra GenZe: Key Developments
Table 67 Energica Motor Company S.P.A: Overview
Table 68 Energica Motor Company S.P.A: Product Portfolio
Table 69 Energica Motor Company S.P.A: Key Developments
Table 70 Energica Motor Company S.P.A: Key Developments
 
LIST OF FIGURES:
Figure 1 Global Electric Motorcycle and Scooter Market Share, By Battery Type, 2018 & 2026 (%)
Figure 2 Global Electric Motorcycle and Scooter Market Share, By Technology, 2018 & 2026 (%)
Figure 3 Global Electric Motorcycle and Scooter Market Share, By Product, 2018 & 2026 (%)
Figure 4 Global Electric Motorcycle and Scooter Market Share, By Voltage Type, 2018 & 2026 (%)
Figure 5 Global Electric Motorcycle and Scooter Market Share, By Region, 2018 & 2026 (%)
Figure 6 Global Electric Motorcycle and Scooter Market Value, 2017-2026 ($ Million)
Figure 7 Global Electric Motorcycle and Scooter Market Y-o-Y Growth, By Battery Type, 2018-2026 (%)
Figure 8 Global Electric Motorcycle and Scooter Market Value, By Sealed Lead Acid, 2017-2026 ($ Million)
Figure 9 Global Electric Motorcycle and Scooter Market Value, By Ni-MH, 2017-2026 ($ Million)
Figure 10 Global Electric Motorcycle and Scooter Market Value, By Lithium-ion, 2017-2026 ($ Million)
Figure 11 Global Electric Motorcycle and Scooter Market Y-o-Y Growth, By Technology, 2018-2026 (%)
Figure 12 Global Electric Motorcycle and Scooter Market Value, By Battery, 2017-2026 ($ Million)
Figure 13 Global Electric Motorcycle and Scooter Market Value, By Plug-in, 2017-2026 ($ Million)
Figure 14 Global Electric Motorcycle and Scooter Market Y-o-Y Growth, By Product, 2018-2026 (%)
Figure 15 Global Electric Motorcycle and Scooter Market Value, By Scooter, 2017-2026 ($ Million)
Figure 16 Global Electric Motorcycle and Scooter Market Value, By Motorcycle, 2017-2026 ($ Million)
Figure 17 Global Electric Motorcycle and Scooter Market Y-o-Y Growth, By Voltage Type, 2018-2026 (%)
Figure 18 Global Electric Motorcycle and Scooter Market Value, By Below 24V, 2017-2026 ($ Million)
Figure 19 Global Electric Motorcycle and Scooter Market Value, By 24V to 50 V, 2017-2026 ($ Million)
Figure 20 Global Electric Motorcycle and Scooter Market Value, By Above 50V, 2017-2026 ($ Million)
Figure 21 Global Electric Motorcycle and Scooter Market Value, By Others, 2017-2026 ($ Million)
Figure 22 Global Electric Motorcycle and Scooter Market Y-o-Y Growth, By Region, 2018-2026 (%)
Figure 23 North America Electric Motorcycle and Scooter Market Value, 2017-2026 ($ Million)
Figure 24 North America Electric Motorcycle and Scooter Market Share, By Battery Type, 2018 & 2026 (%)
Figure 25 North America Electric Motorcycle and Scooter Market Share, By Technology, 2018 & 2026 (%)
Figure 26 North America Electric Motorcycle and Scooter Market Share, By Product, 2018 & 2026 (%)
Figure 27 North America Electric Motorcycle and Scooter Market Share, By Voltage Type, 2018 & 2026 (%)
Figure 28 North America Electric Motorcycle and Scooter Market Share, By Country, 2018 & 2026 (%)
Figure 29 South America Electric Motorcycle and Scooter Market Value, 2017-2026 ($ Million)
Figure 30 South America Electric Motorcycle and Scooter Market Share, By Battery Type, 2018 & 2026 (%)
Figure 31 South America Electric Motorcycle and Scooter Market Share, By Technology, 2018 & 2026 (%)
Figure 32 South America Electric Motorcycle and Scooter Market Share, By Product, 2018 & 2026 (%)
Figure 33 South America Electric Motorcycle and Scooter Market Share, By Voltage Type, 2018 & 2026 (%)
Figure 34 South America Electric Motorcycle and Scooter Market Share, By Country, 2018 & 2026 (%)
Figure 35 Europe Electric Motorcycle and Scooter Market Value, 2017-2026 ($ Million)
Figure 36 Europe Electric Motorcycle and Scooter Market Share, By Battery Type, 2018 & 2026 (%)
Figure 37 Europe Electric Motorcycle and Scooter Market Share, By Technology, 2018 & 2026 (%)
Figure 38 Europe Electric Motorcycle and Scooter Market Share, By Product, 2018 & 2026 (%)
Figure 39 Europe Electric Motorcycle and Scooter Market Share, By Voltage Type, 2018 & 2026 (%)
Figure 40 Europe Electric Motorcycle and Scooter Market Share, By Country, 2018 & 2026 (%)
Figure 41 Asia-Pacific Electric Motorcycle and Scooter Market Value, 2017-2026 ($ Million)
Figure 42 Asia-Pacific Electric Motorcycle and Scooter Market Share, By Battery Type, 2018 & 2026 (%)
Figure 43 Asia-Pacific Electric Motorcycle and Scooter Market Share, By Technology, 2018 & 2026 (%)
Figure 44 Asia-Pacific Electric Motorcycle and Scooter Market Share, By Product, 2018 & 2026 (%)
Figure 45 Asia-Pacific Electric Motorcycle and Scooter Market Share, By Voltage Type, 2018 & 2026 (%)
Figure 46 Asia-Pacific Electric Motorcycle and Scooter Market Share, By Country, 2018 & 2026 (%)
Figure 47 Middle East & Africa Electric Motorcycle and Scooter Market Value, 2017-2026 ($ Million)
Figure 48 Middle East & Africa Electric Motorcycle and Scooter Market Share, By Battery Type, 2018 & 2026 (%)
Figure 49 Middle East & Africa Electric Motorcycle and Scooter Market Share, By Technology, 2018 & 2026 (%)
Figure 50 Middle East & Africa Electric Motorcycle and Scooter Market Share, By Product, 2018 & 2026 (%)
Figure 51 Middle East & Africa Electric Motorcycle and Scooter Market Share, By Voltage Type, 2018 & 2026 (%)
Figure 52 Zero Motorcycle Inc: Financials
Figure 53 Alta Motors: Financials
Figure 54 Terra Motors Corporation: Financials
Figure 55 AIMA Technology Co Ltd: Financials
Figure 56 Ampere Vehicles Pvt Ltd.: Financials
Figure 57 Hero Electric Vehicles Pvt. Ltd: Financials
Figure 58 BMW AG: Financials
Figure 59 Yadea Technology Group Co. Ltd: Financials
Figure 60 Mahindra GenZe: Financials
Figure 61 Energica Motor Company S.P.A: Financials