Global Drug of Abuse Testing Market Segmented By Product (Immunoassay Analyzers, Chromatography Instruments, Breath Analyzers, Assay Kits and Reagents), By Sample Type (Urine, Saliva, Hair, Blood), By End-User (Hospitals, Forensic Laboratories, Workplaces), and By Region (North America, Latin America, Europe, Asia Pacific, Middle East, and Africa) – Share, Size, Outlook, and Opportunity Analysis, 2023-2030
Drug of Abuse Testing Market Overview
The global drug of abuse testing market is expected to exhibit a CAGR of 5.6% during the forecast period (2023-2030) and The marketThe global drug of abuse testing market trends show rising demand for these products and their sample type, owing to various advantages of these devices as they can be used in patients with drug addiction and can prevent drug overdose in people. Furthermore, the rise in drug-related mortality, stringent legislation requiring alcohol and drug testing, and expanding government activities are factors driving the expansion of the global market for drug abuse testing.

Drug of Abuse Testing Market Scope
| | |
| --- | --- |
| Metrics | Details |
| CAGR | 5.6% |
| Size Available for Years | 2021-2030 |
| Forecast Period | 2023-2030 |
| Data Availability | Value (USD ) |
| Segments Covered | Sample Type, Product, End-User and Region |
| Regions Covered | North America, Europe, Asia-Pacific, South America and Middle East & Africa |
| Fastest Growing Region | Asia-Pacific |
| Largest Region | North America |
| Report Insights Covered | Competitive Landscape Analysis, Company Profile Analysis, Market Size, Share, Growth, Demand, Recent Developments, Mergers and Acquisitions, New Sample Type Launches, Growth Strategies, Revenue Analysis, Porter's Analysis, Pricing Analysis, Regulatory Analysis, Supply-Chain Analysis and Other key Insights. |
For More Insights about the Market Request Free Sample
Drug of Abuse Testing Market Dynamics Trends
The Increasing Government Initiatives And Novel Product Launches By The Key Players Drive The Growth Of The Drug Of Abuse Testing Market.
The global drug of abuse testing market is expanding owing to the rising prevalence of drug overdose, novel techniques developed for testing people with drug addiction, new product launches and technological advancements.
Leading players are therefore expanding their product portfolios by introducing goods and upgrading software with novel ingredients for drug abuse testing in order to preserve their expertise and market shares, which is a growing trend in the drug abuse testing market.
Growing R&D Expenditure And Technological Advancements Creates Lucrative Opportunities For Manufacturers.
There is a growing market opportunity owing to high expenditure on research and development proficiencies by key players for novel technological advancements. Several companies are developing novel technologies for treating patients with drug addiction by regularly testing drug abuse and assessing the condition of patients.
The rising technological advancements in various kinds of products for testing such as immunoassay analyzers, chromatography instruments, assay kits and reagents and breath analyzers provide better access and affordability for hospitals or workspaces. Rising addiction to drugs among youth will increase drug abuse testing demand. This factor will become an opportunity for the growth of the market.
The Lack Of Awareness And Consideration Of Drug Testing Will Hamper The Growth Of The Market.
The global market for drug misuse testing is expected to rise, however, in some nations, drug testing is not well known or seen as a violation of private rights. Additionally, Drug of Abuse (DOA) testing limitations, such as its inability to identify low-dose designer drugs, and social issues related to prescription drug abuse testing limit market expansion.
The absence of a connection between drug concentration and impairment in urine is one of its main drawbacks. Due to the low drug levels, many laboratories have difficulty detecting misused medications in the blood.
Drug of Abuse Testing Market Segment Analysis
The global drug of abuse testing market is segmented based on sample type, product, end-user and region.
The Urine Segment Accounted For Approximately 47.5% Of The Drug Of Abuse Testing Market Share In 2022
Urine drug testing has been recommended and used in numerous situations, including workplace drug usage, criminal justice proceedings, etc. Numerous laboratories set up to perform urinalysis in connection with methadone treatment have had to significantly increase their capacities. Many new labs have popped up recently to meet the demand for drug assays, and clinical labs connected to medical centers have started dabbling in drug testing due to recent economic pressures.
Consequently, it is anticipated that the urine analysis market sector will soon start to take off. The expanding use of urine tests for drug abuse is also a result of technological advancements in drug abuse testing, an increase in drug overdose mortality, and a rise in drug test demand. Additionally, the study segment is anticipated to grow as a result of provider advancements in guidelines.
For instance, WellCare Health Plans announced new clinical protection guidelines and claims reimbursement procedures for urine drug testing and included conclusive urine drug testing as medically required as part of a routine monitoring program for people who get therapy for chronic pain using prescription opioids or other possibly abused medications or the ones undergoing therapy for, or observing for relapse of, a prescription opioid addiction or substance use disorder.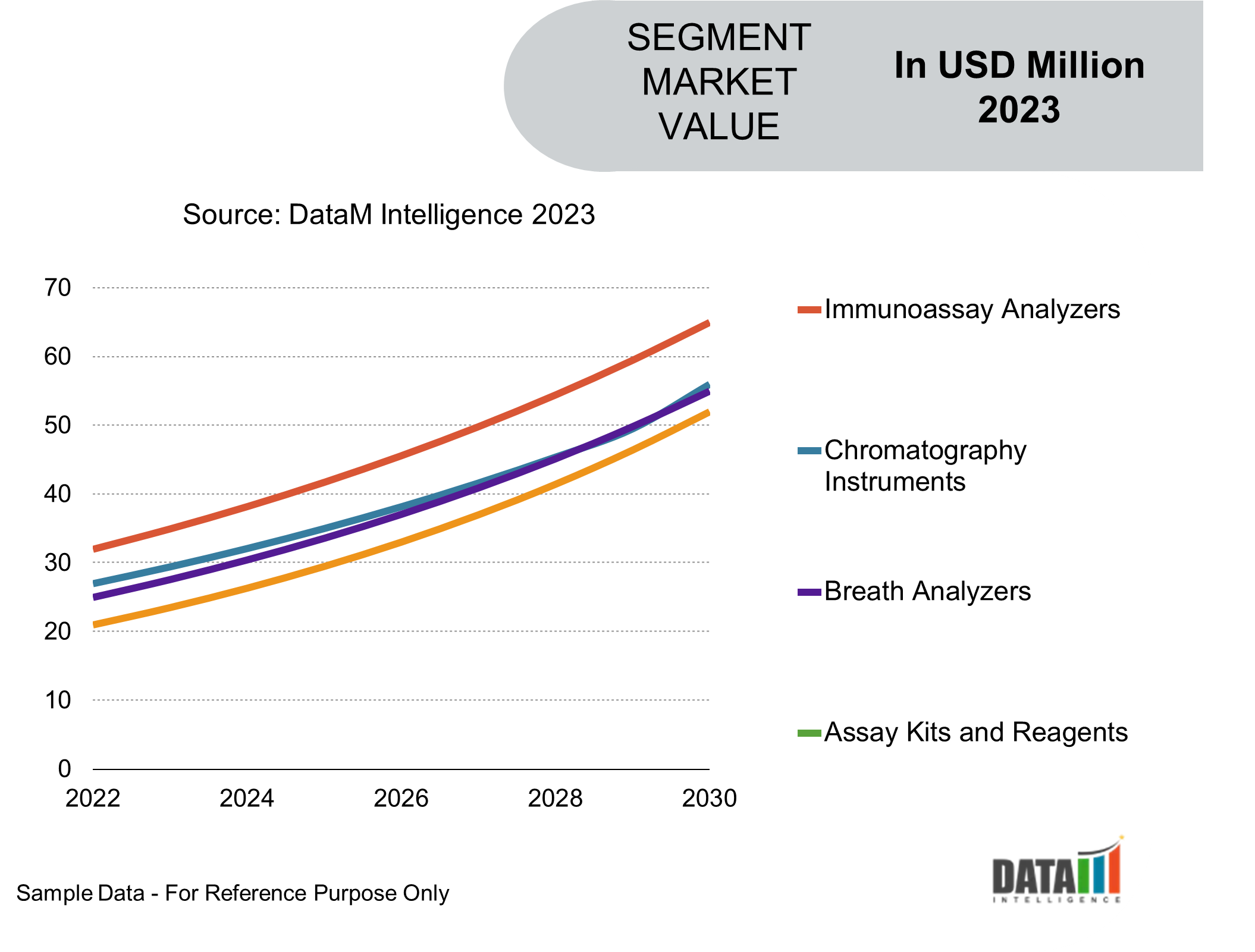 Drug of Abuse Testing Market Geographical Share
North America Accounted For Approximately 37.6% Of The Market Share In 2022, Owing To The Strong Presence of Major Players And Increasing Healthcare Infrastructure Investment
Due to the rising need for technological advancements in healthcare, manufacturers in North America have chances of enhancing their operations. There are many producers and suppliers in North America and owing to the quick economic growth of the region, industrial production has expanded, driving the demand for drug of abuse testing for end-users.
Increasing expenditure on healthcare and rising awareness among people, advancement of technologies for treatment, and increase in pharmaceutical establishment across the region are also contributing to the market growth in this region. Rising novel product launches to support drug of abuse testing usage in people by the forensic departments or hospitals also drives the market growth.
Individuals are becoming more aware of drug of abuse testing and novel products for its analysis, leading to the expansion of the market in this region. The above-mentioned factors further highlight North America's dominance on a global scale.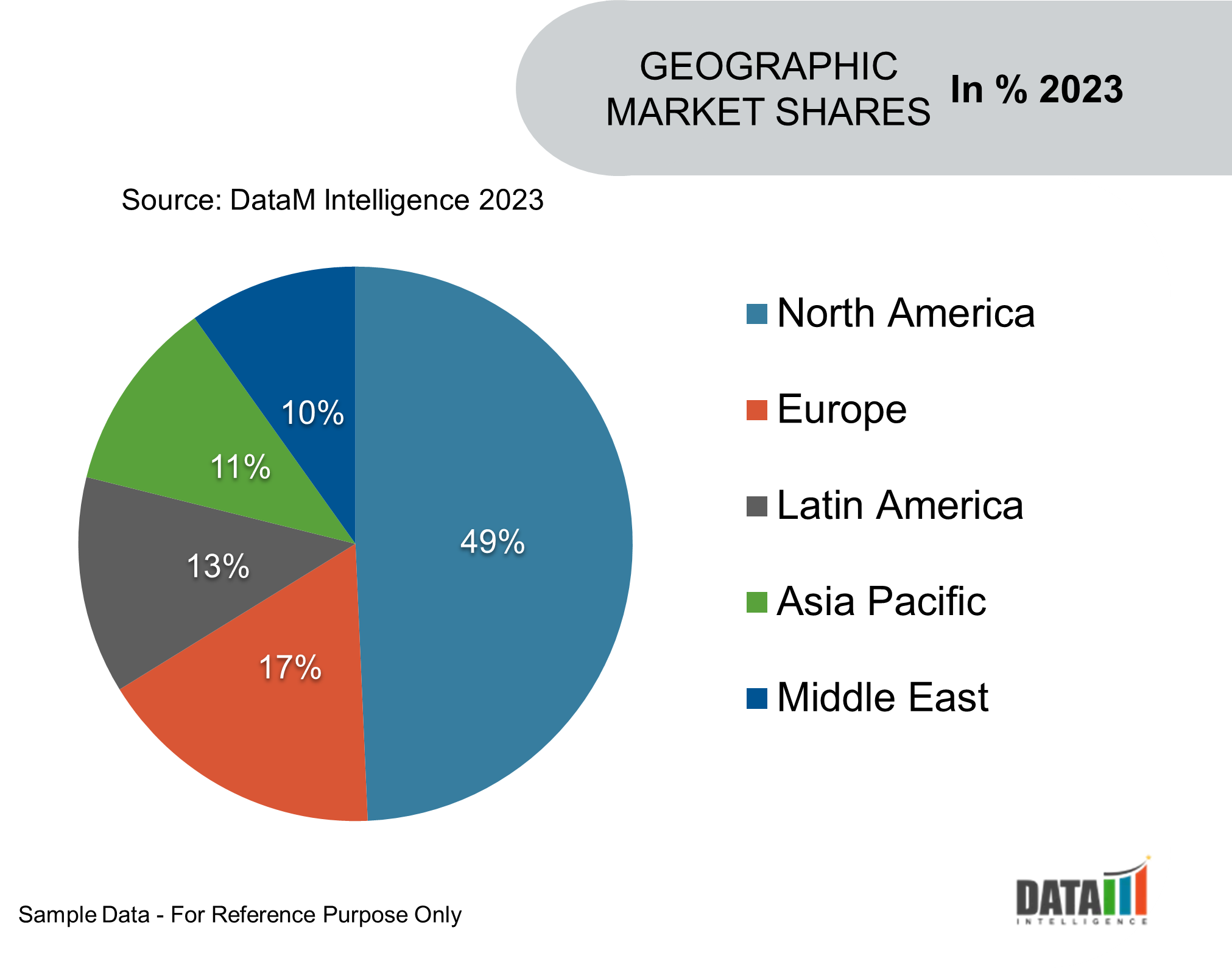 Drug of Abuse Testing Market Players
The major global players in the drug of abuse testing market include Abbott Laboratories, Beckman Coulter, Inc., Laboratory Corporation of America Holdings (Labcorp), Dragerwerk AG & Co. KGaA, Quest Diagnostics Inc., Randox Laboratories Ltd., Thermo Fisher Scientific Inc., United States Drug Testing Laboratories Inc. (USDTL), Siemens Healthineers and F. Hoffmann-La Roche Ltd among others.
COVID-19 Impact on Drug of Abuse Testing Market
Russia Ukraine Conflict Analysis
The Russia-Ukraine conflict is estimated to have a low impact on the global drug of abuse testing market, owing to the low prevalence and absence of key market players in this region. However, the impact of the import and export of raw materials is expected to have little influence over the global Drug of Abuse Testing market growth over the forecast period.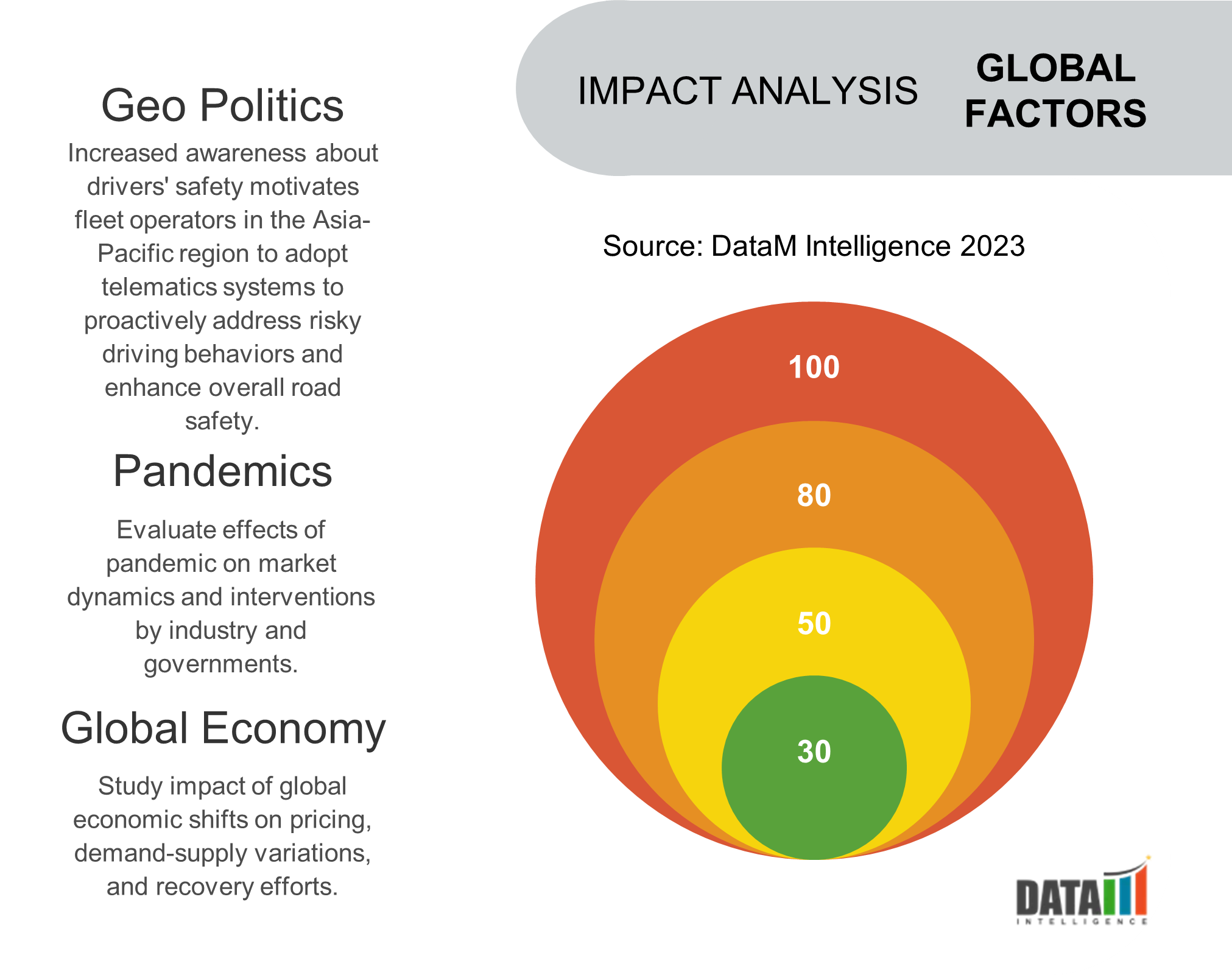 Key Developments
On March 15, 2022, in order to meet the clinical needs of the 69 million people with significant mental illnesses around the world, Beckman Coulter, a leader in clinical diagnostics, announced that it would offer new antipsychotic medication tests to laboratories and physicians. A new contract between Beckman Coulter and Saladax Biomedical calls for the distribution of tests for determining blood levels of antipsychotic medications used to treat patients with serious mental illnesses (SMIs), such as schizophrenia and bipolar disorder.
In May 2023, the biggest health system serves the greater Philadelphia region and Southern New Jersey, Jefferson Health, and Labcorp, a major global life sciences firm, established a strategic partnership. The agreements between Jefferson and Labcorp will help to develop academic partnerships for teaching and the creation of cutting-edge exams.
On March 2023, Quest Diagnostics, a supplier of diagnostic information services, finished acquiring certain assets from Northern Light Laboratory, the outpatient laboratory services division of Northern Light Health, a sizable integrated healthcare system in Maine.
Why Purchase the Report?
To visualize the global drug of abuse testing market segmentation based on sample type, product, end-user and region, as well as understand key commercial assets and players.
Identify commercial opportunities by analyzing trends and co-development.
Excel data sheet with numerous data points of drug of abuse testing market-level with all segments.
PDF report consists of a comprehensive analysis after exhaustive qualitative interviews and an in-depth study.
Product mapping available as Excel consisting of key products of all the major players.
The global drug of abuse testing market report would provide approximately 53 tables, 54 figures and 195 Pages.
Target Audience 2023
Manufacturers/ Buyers
Industry Investors/Investment Bankers
Research Professionals
Emerging Companies