Report Overview
Global Dairy Cattle Feed Market reached US$ 81.2 billion in 2022 and is expected to reach US$ 112.8 billion by 2030, growing with a CAGR of 4.2% during the forecast period 2023-2030.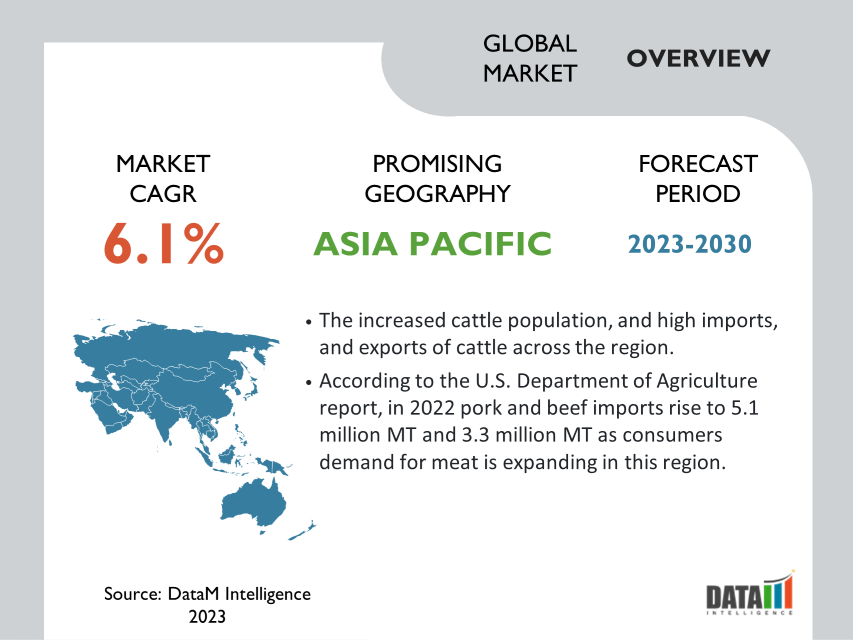 Dairy cattle need a balanced supply of minerals and vitamins for optimal health and milk products. The dairy cattle feed is made with soybean meal, cotton seed meal, canola meal, and alfalfa, which provides a sufficient amount of protein for the milk products. These health benefits caused by dairy cattle feed to attract a larger consumer base which increases the market for global dairy cattle feed.
Farmers are attracted to dairy cattle feed as it provides a nutritious diet to support milk feed type and overall health. Key players in agriculture cattle feed are launching nutritious innovative products to attract larger consumers. For instance, in December 2021, Anmol Feeds launched the cattle feed products brand which is Nouriture. These developments help meet the growing challenge of quality livestock feeds in the market.
Market Summary
| | |
| --- | --- |
| Metrics | Details |
| CAGR | 4.2% |
| Size Available for Years | 2021-2030 |
| Forecast Period | 2023-2030 |
| Data Availability | Value (US$) |
| Segments Covered | Feed type, Source, and Region |
| Regions Covered | North America, Europe, Asia-Pacific, South America, and Middle East & Africa |
| Fastest Growing Region | Asia-Pacific |
| Largest Region | Asia-Pacific |
| Report Insights Covered | Competitive Landscape Analysis, Company Profile Analysis, Market Size, Share, Growth, Demand, Recent Developments, Mergers and Acquisitions, New Equipment Type Launches, Growth Strategies, Revenue Analysis, Porter's Analysis, Pricing Analysis, Regulatory Analysis, Supply-Chain Analysis, and Other key Insights. |
Market Dynamics
Increased Health-Related Concerns by Farmers
Farmers are more interested to invest in high-quality feed and nutritional supplements as they recognize the crucial relationship between the quality of cattle feed, milk quality and quantity, overall health, and productivity of their herbs. This understanding of farmers leads to developing more nutritional formulations of feeds and using specialized cattle feeds.
Consumers are becoming more conscious of the quality and safety of dairy feed types. Feed manufacturers are continuously developing nutritional feeds by keeping the health of cattle in mind. They are also supporting farmers' efforts to enhance milk productivity while ensuring the well-being of their animals. These factors increase the market of dairy cattle feed for the larger base.
Increase in Demand for Cattle consumption Associated with raise in Cattle population.
The increase in cattle population is directly influencing cattle feed usage and productivity. With the growing population of dairy cattle, there will be an increasing demand for cattle feed to meet their nutritional requirements. The farmers and owners of livestock require high-quality feed to ensure a proper nutritional supply for cattle. This demand will drive the market for dairy cattle feed.
Furthermore, according to the World Animal Foundation (WAF) report of 2023 , there are 92 million cows in the U.S. 9.4 million are dairy cows, 32.1 million are beef cows and 35.1 million are calves. Approximately 14.7 million are cattle on feed. This statistical data shows that an increase in the number of cattle will increase the demand for dairy cattle feed market.
Lack of Awareness About Cattle Feed
Dairy cattle require specific nutrients and energy sources to maximize milk productivity. Some farmers do not have proper knowledge about cattle feed. And may not provide a well-balanced diet to their dairy cattle. This can lead to nutritional deficiencies, which can impact the overall health, production, and milk productivity of the animals.
Furthermore, a lack of awareness about optimal feed formulations and feeding techniques may result in reduced milk yields, and affect the profitability of dairy farms. Traditional feeds do not contain all the nutrients, by providing them for longer periods of time can increase the risk of various health problems such as metabolic disorders, weakness of the immune system, and some others. These factors can cause declination in the market for dairy cattle feed.
For more details on this report - Request for Sample
Segment Analysis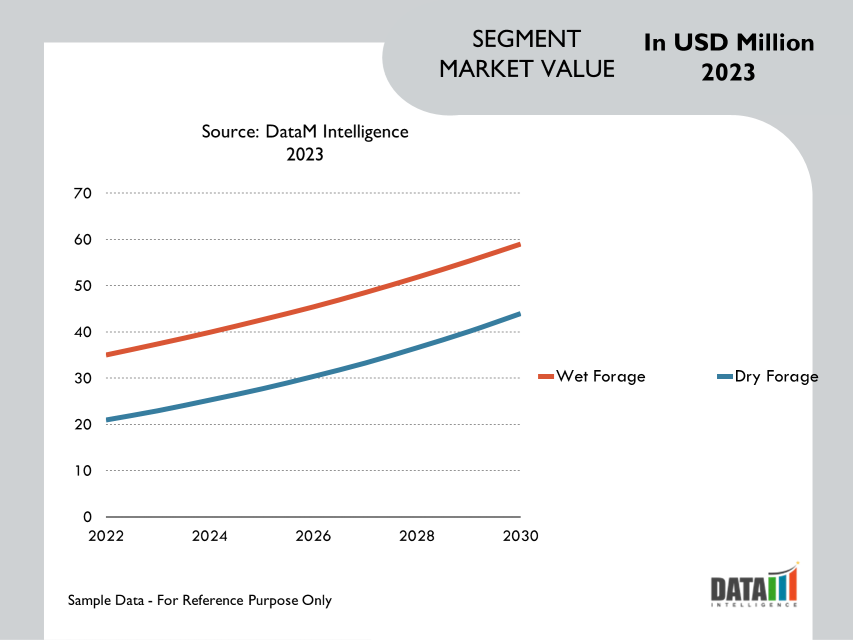 The global dairy cattle feed market is segmented based on feed, source, and region.
Easy Availability and Low-Cost Of Wet Forage are Growing The Demand for Dairy Feed Market
Wet forage offers a high nutrient content. It is rich in proteins, carbohydrates, vitamins, and minerals. These nutrients are essential for maintaining the health, productivity, and milk quality of dairy cattle. Wet forage such as fresh grass, silage, and other green fodder, is rich in moisture content and nutrients. It is used as a feed for dairy cattle due to its nutritional composition and cost-effectiveness.
Furthermore, wet forage is easily available even in remote or undeveloped areas. They are relatively less in price when produced locally or on farms when compared to other cattle feed products. It helps small-scale farmers to adapt to wet forage than traditional cattle feed. Wet forage in dairy feed can be environmentally friendly and helps in producing high productivity. These factors help increase the opportunities for the global dairy cattle feed market.
Geographical Share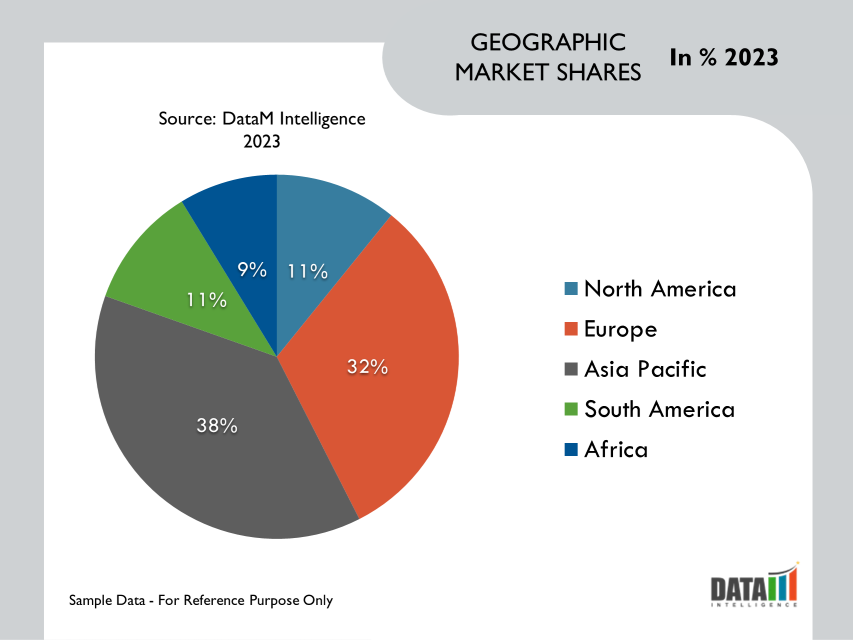 Asia-Pacific Growing Dairy Cattle Feed Industry
The Asia-Pacific dairy cattle feed market has witnessed significant growth and popularity covering maximum share in 2022. Farmers and livestock owners are investing more in high-quality cattle feeds as they provide numerous benefits to them. Several manufacturers and government milk cooperatives in this region are focusing on enhancing the quantity and quality of milk production by supplying high-quality feed to livestock growers.
Furthermore, The increased cattle population, and high imports, and exports of cattle across the region. For instance, According to the U.S. Department of Agriculture report, in 2022 pork and beef imports rise to 5.1 million MT and 3.3 million MT as consumers demand for meat is expanding in this region.
Market KeyPlayers
The major global players include BASF SE, ADM Animal Nutrition, Kemin Industries, Inc., Biomin Holding GmbH, Nutreco, Farmer's Grain Company, United Farmers Cooperative, Godrej Agrovet Ltd., Cargill, Incorporated, and Land O'Lakes, Inc.
COVID Impact
During a pandemic, the global supply chain has been disrupted. Due to government lockdown restrictions, and lesser cattle population many companies have been shut down which affects the production rate. For instance, the U.S. beef industry with feedlots and a major meatpacking plant closing because there are too few cattle left in the United States to support them. People started investing more in their own health which had a negative effect on purchasing power for cattle feed.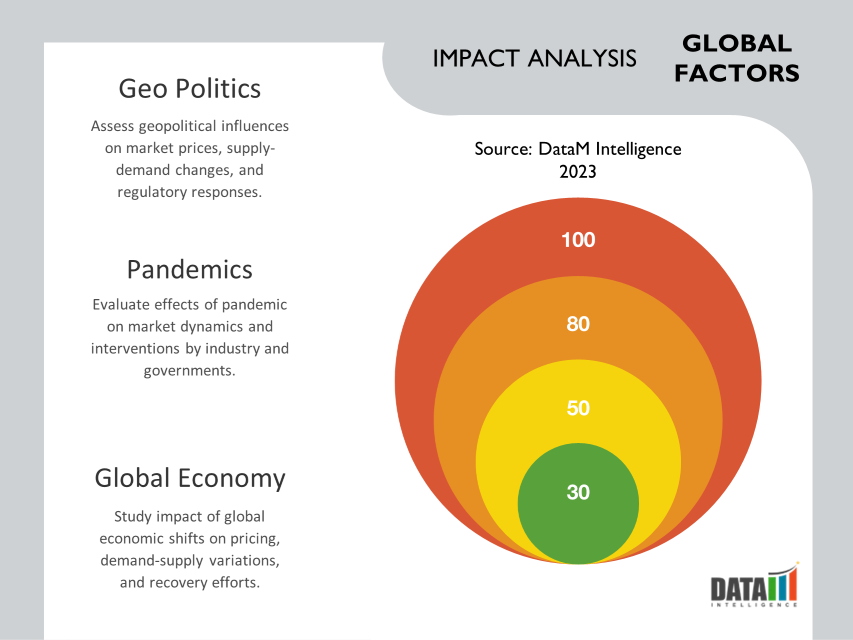 Key Developments
In January 2023, De Heus Animal Nutrition company established a new greenfield animal feed factory in Ivory Coast with an initial capacity of producing 120,000 metric tons of feed for animals including cattle.
In May 2022, Archer Daniel Midland Co.company acquired a feed mill in Southern Mindanao, to expand its Animal Nutrition in the Philippines.
In November 2021, De Heus Vietnam signed an agreement with Masan, about feed-related business MNS Feed. The feed business of MNS Feed covers thirteen animal feed mills, with a total production capacity of nearly 4 million metric tons, strengthening De Heus' position in Southeast Asia's largest animal feed market.
Why Purchase the Report?
To visualize the global Dairy Cattle Feed market segmentation based on feed type, source, and region, as well as understand key commercial assets and players.
Identify commercial opportunities by analyzing trends and co-development.
Excel data sheet with numerous data points of dairy cattle feed market-level with all segments.
PDF report consists of a comprehensive analysis after exhaustive qualitative interviews and an in-depth study.
Product mapping available as Excel consisting of key products of all the major players.
The global dairy cattle feed market report would provide approximately 49 tables, 55 figures and 181 Pages.
Target Audience 2023
Manufacturers/ Buyers
Industry Investors/Investment Bankers
Research Professionals
Emerging Companies