Market Overview
Bakery products baked foods such as breads, cakes, pies, and pastries. The nutrient rich properties and low cholesterol nature of these products made bakery products as one of the major food categories across the globe. Bread is considered as an excellent source of fiber, carbohydrates, vitamins, minerals, and proteins. The low cost and affordability factors led to increased consumption of bakery foods by consumers. Consumption of bread dominated is dominated by the U.S. (14.7million tons), followed by China (9.3 million tons), Russia (8.7 million tons), and U.K. (6.2 million tons) in 2016. The market is experiencing demand for low-sugar, gluten-free bread, and other bakery products containing minimum levels of harmful carbohydrates.
The global bakery products market valued USD XX million in 2018 and expected to grow at a CAGR of XX% to reach a market value of USD XX million by 2026.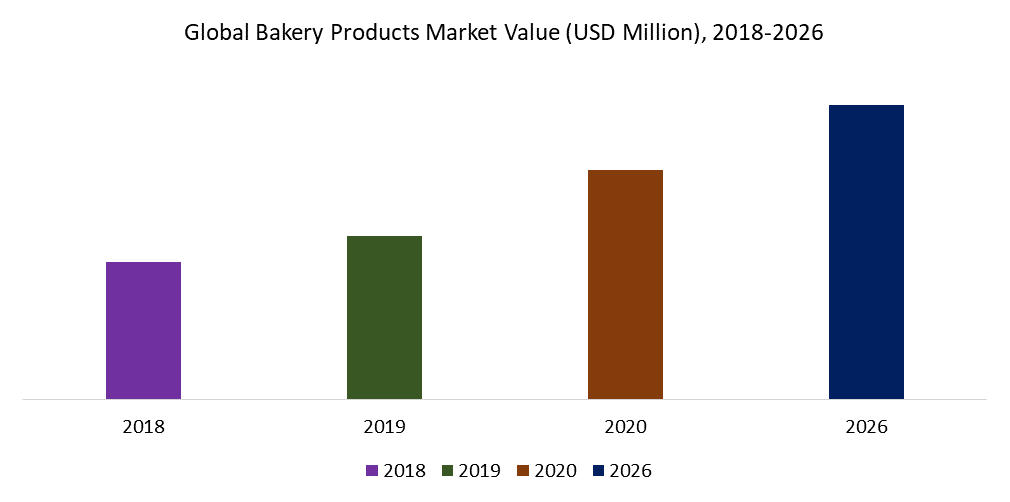 **Source: DataM Intelligence Analysis
Market Dynamics:
Increasing hectic lifestyle and change in consumer preference towards healthy intake of food are the major factors driving the global bakery products market. Increasing population associated with rising household income are additionally driving the global bakery products markets. The product innovations in bakery industry enabled availability of suitable products for every age group. The evolution of high-protein bread, whole grain bread and protein butters is resulting in increased consumption among athletes, body builders and other population groups. Annual consumption of bread witnessed a significant jump of 15% from 8.03 million tons in 2009 to 9.3 million tons in 2016. Moreover, shifting dietary requirements of consumers towards vegan and gluten free-products is expected to boost the demand for bakery products during the forecast period.
Market Segmentation
Global bakery products market is segmented on the basis of product type into bars, breads, cookies, desserts, muffins, pizza, sweet food, and others.
Bread is dominating the global bakery products market owing to increasing consumption of breads by the consumers across the globe and growing availability of wide range of breads across the variants. Bread evolved as a daily food routine for the employee and students across the globe due to their hectic lifestyle and ready to eat nature of breads. The bread market witnessed significant changes over the last decade in the usage of ancient and gluten-free flour such as Teff, Sorghum, Amaranth and etc., in the production of breads to meet the consumer requirements across the globe. In February 2017, Waitrose supermarket in London launched a bread using gluten-free teff grains.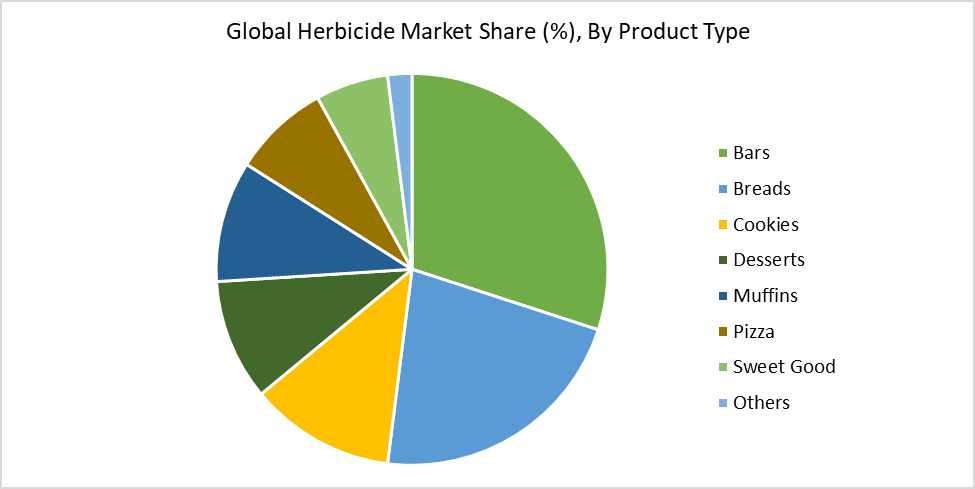 **Source: DataM Intelligence Analysis
Geographical Presentation
By region, the global bakery products market is segmented into North America, South America, Europe, Asia-Pacific, Middle-east and America.
North America is dominating the global bakery products market owing to higher consumption of bakery products as part of their lifestyle. Millennial population are interested towards bakery products which are vegan, gluten-free, non-GMO and organic in nature. Shift in consumer preference towards healthy and organic diet is expected to boost market for ancient grain bakery products across the North America region. While older households prefer bakery products which are low in sugar and cholesterol content. The macro trends driving the United States Bakery market includes holistic health, blurring convenience, channel fenzy, thriving seasons, connected consumer and innovation in bakery products.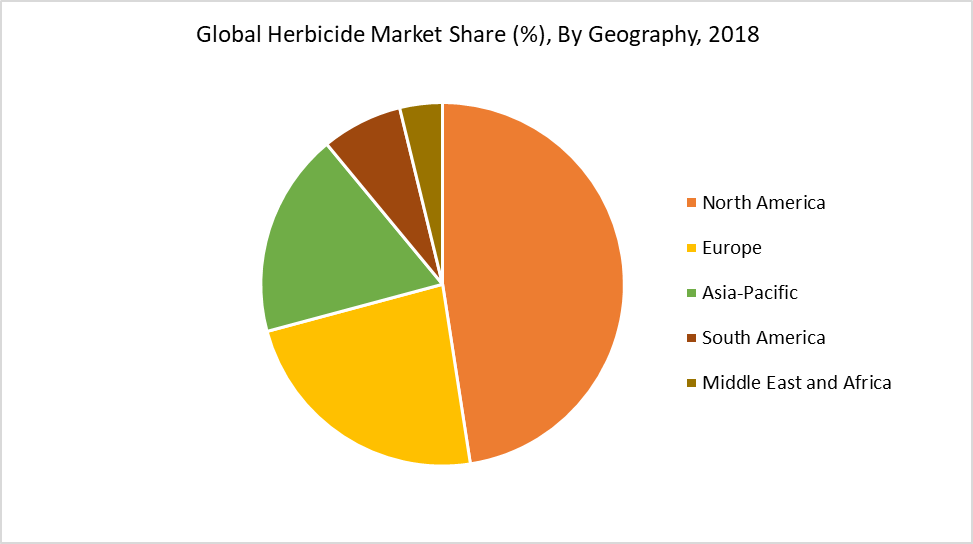 **Source: DataM Intelligence Analysis
Competitive Analysis
This market is expected to experience new product launches in gluten-free and non-GMO based breads owing to change in consumer preferences. Some of the key players in the global bakery products market includes Grupo Bimbo SAB de CV, Artisanal Foods, Flowers Foods, Inc, and McKee Foods Corporation.
In September 2019, Modern Foods Acquired 75% stake in Supreme Baker to improve its market presence in Delhi NCR region.
In April 2019, Puratos launched four products Tegral Satin Purple Velvet EF, Fruitfil range, Carat Supercrem Nutolade and Tegral Red Velvet Sponge Mix in Indian market.
Why Purchase the Report?
Visualize the composition of the global bakery products market in terms of various product types, form and distribution channels highlighting the key commercial assets and players.
Identify commercial opportunities in global bakery products market by analyzing trends and co-development deals.
Excel data sheet with thousands of data points of global bakery products market - level 4/5 segmentation.
PDF report with the most relevant analysis cogently put together after exhaustive qualitative interviews and in-depth market study.
Product mapping in excel for the key product of all major market players.
Target Audience
Food, beverage and confectionery manufacturers
Food retail chains
Investors/Investment Bankers
Research and Academic Institutes
LIST OF TABLES
Table 01 Global Bakery Products Market Value, By Product Type, 2018,2022 & 2026 ($ Million)
Table 02 Global Bakery Products Market Value, By Form, 2018,2022 & 2026 ($ Million)
Table 03 Global Bakery Products Market Value, By Distribution Channel, 2018,2022 & 2026 ($ Million)
Table 04 Global Bakery Products Market Value, By Region, 2018,2022 & 2026 ($ Million)
Table 05 Global Bakery Products Market Value, By Product Type, 2018,2022 & 2026 ($ Million)
Table 06 Global Bakery Products Market Value, By Product Type, 2017-2026 ($ Million)
Table 07 Global Bakery Products Market Value, By Form, 2018,2022 & 2026 ($ Million)
Table 08 Global Bakery Products Market Value, By Form, 2017-2026 ($ Million)
Table 09 Global Bakery Products Market Value, By Distribution Channel, 2018,2022 & 2026 ($ Million)
Table 10 Global Bakery Products Market Value, By Distribution Channel, 2017-2026 ($ Million)
Table 11 Global Bakery Products Market Value, By Region, 2018,2022 & 2026 ($ Million)
Table 12 Global Bakery Products Market Value, By Region, 2017-2026 ($ Million)
Table 13 North America Bakery Products Market Value, By Product Type, 2017-2026 ($ Million)
Table 14 North America Bakery Products Market Value, By Form, 2017-2026 ($ Million)
Table 15 North America Bakery Products Market Value, By Distribution Channel, 2017-2026 ($ Million)
Table 16 North America Bakery Products Market Value, By Country, 2017-2026 ($ Million)
Table 17 South America Bakery Products Market Value, By Product Type, 2017-2026 ($ Million)
Table 18 South America Bakery Products Market Value, By Form, 2017-2026 ($ Million)
Table 19 South America Bakery Products Market Value, By Distribution Channel, 2017-2026 ($ Million)
Table 20 South America Bakery Products Market Value, By Country, 2017-2026 ($ Million)
Table 21 Europe Bakery Products Market Value, By Product Type, 2017-2026 ($ Million)
Table 22 Europe Bakery Products Market Value, By Form, 2017-2026 ($ Million)
Table 23 Europe Bakery Products Market Value, By Distribution Channel, 2017-2026 ($ Million)
Table 24 Europe Bakery Products Market Value, By Country, 2017-2026 ($ Million)
Table 25 Asia-Pacific Bakery Products Market Value, By Product Type, 2017-2026 ($ Million)
Table 26 Asia-Pacific Bakery Products Market Value, By Form, 2017-2026 ($ Million)
Table 27 Asia-Pacific Bakery Products Market Value, By Distribution Channel, 2017-2026 ($ Million)
Table 28 Asia-Pacific Bakery Products Market Value, By Country, 2017-2026 ($ Million)
Table 29 Middle East & Africa Bakery Products Market Value, By Product Type, 2017-2026 ($ Million)
Table 30 Middle East & Africa Bakery Products Market Value, By Form, 2017-2026 ($ Million)
Table 31 Middle East & Africa Bakery Products Market Value, By Distribution Channel, 2017-2026 ($ Million)
Table 32 Grupo Bimbo SAB de CV: Overview
Table 33 Grupo Bimbo SAB de CV: Product Portfolio
Table 34 Grupo Bimbo SAB de CV: Key Developments
Table 35 Kellogg Co: Overview
Table 36 Kellogg Co: Product Portfolio
Table 37 Kellogg Co: Key Developments
Table 38 Artisanal Foods: Overview
Table 39 Artisanal Foods: Product Portfolio
Table 40 Artisanal Foods: Key Developments
Table 41 McKee Foods Corporation: Overview
Table 42 McKee Foods Corporation: Product Portfolio
Table 43 McKee Foods Corporation: Key Developments
Table 44 Yamazaki Baking Co Ltd: Overview
Table 45 Yamazaki Baking Co Ltd: Product Portfolio
Table 46 Yamazaki Baking Co Ltd: Key Developments
Table 47 Flowers Foods, Inc: Overview
Table 48 Flowers Foods, Inc: Product Portfolio
Table 49 Flowers Foods, Inc: Key Developments
Table 50 ARYZTA AG: Overview
Table 51 ARYZTA AG: Product Portfolio
Table 52 ARYZTA AG: Key Developments
Table 53 Modern Foods Enterprises Private Limited : Overview
Table 54 Modern Foods Enterprises Private Limited : Product Portfolio
Table 55 Modern Foods Enterprises Private Limited : Key Developments
Table 56 Britannia Industries Limited: Overview
Table 57 Britannia Industries Limited: Product Portfolio
Table 58 Britannia Industries Limited: Key Developments
Table 59 Hostess Brands: Overview
Table 60 Hostess Brands: Product Portfolio
Table 61 Hostess Brands: Key Developments
LIST OF FIGURES
Figure 01 Global Bakery Products Market Share, By Product Type, 2018 & 2026 (%)
Figure 02 Global Bakery Products Market Share, By Form, 2018 & 2026 (%)
Figure 03 Global Bakery Products Market Share, By Distribution Channel, 2018 & 2026 (%)
Figure 04 Global Bakery Products Market Share, By Region, 2018 & 2026 (%)
Figure 05 Global Bakery Products Market Value, 2017-2026 ($ Million)
Figure 06 Global Bakery Products Market Y-o-Y Growth, By Product Type, 2018-2026 (%)
Figure 07 Bars: Global Bakery Products Market Value, 2017-2026 ($ Million)
Figure 08 Breads: Global Bakery Products Market Value, 2017-2026 ($ Million)
Figure 09 Cookies: Global Bakery Products Market Value, 2017-2026 ($ Million)
Figure 10 Desserts: Global Bakery Products Market Value, 2017-2026 ($ Million)
Figure 11 Muffins: Global Bakery Products Market Value, 2017-2026 ($ Million)
Figure 12 Pizza: Global Bakery Products Market Value, 2017-2026 ($ Million)
Figure 13 Sweet Goods: Global Bakery Products Market Value, 2017-2026 ($ Million)
Figure 14 Others: Global Bakery Products Market Value, 2017-2026 ($ Million)
Figure 15 Global Bakery Products Market Y-o-Y Growth, By Form, 2018-2026 (%)
Figure 16 Packaged: Global Bakery Products Market Value, 2017-2026 ($ Million)
Figure 17 Fresh: Global Bakery Products Market Value, 2017-2026 ($ Million)
Figure 18 Global Bakery Products Market Y-o-Y Growth, By Distribution Channel, 2018-2026 (%)
Figure 19 Retail Stores: Global Bakery Products Market Value, 2017-2026 ($ Million)
Figure 20 E-Commerce sites: Global Bakery Products Market Value, 2017-2026 ($ Million)
Figure 21 Supermarkets & Hypermarkets: Global Bakery Products Market Value, 2017-2026 ($ Million)
Figure 22 Others: Global Bakery Products Market Value, 2017-2026 ($ Million)
Figure 23 Global Bakery Products Market Y-o-Y Growth, By Region, 2018-2026 (%)
Figure 24 North America Bakery Products Market Value, 2017-2026 ($ Million)
Figure 25 North America Bakery Products Market Share, By Product Type, 2018 & 2026 (%)
Figure 26 North America Bakery Products Market Share, By Form, 2018 & 2026 (%)
Figure 27 North America Bakery Products Market Share, By Distribution Channel, 2018 & 2026 (%)
Figure 28 North America Bakery Products Market Share, By Country, 2018 & 2026 (%)
Figure 29 South America Bakery Products Market Value, 2017-2026 ($ Million)
Figure 30 South America Bakery Products Market Share, By Product Type, 2018 & 2026 (%)
Figure 31 South America Bakery Products Market Share, By Form, 2018 & 2026 (%)
Figure 32 South America Bakery Products Market Share, By Distribution Channel, 2018 & 2026 (%)
Figure 33 South America Bakery Products Market Share, By Country, 2018 & 2026 (%)
Figure 34 Europe Bakery Products Market Value, 2017-2026 ($ Million)
Figure 35 Europe Bakery Products Market Share, By Product Type, 2018 & 2026 (%)
Figure 36 Europe Bakery Products Market Share, By Form, 2018 & 2026 (%)
Figure 37 Europe Bakery Products Market Share, By Distribution Channel, 2018 & 2026 (%)
Figure 38 Europe Bakery Products Market Share, By Country, 2018 & 2026 (%)
Figure 39 Asia-Pacific Bakery Products Market Value, 2017-2026 ($ Million)
Figure 40 Asia-Pacific Bakery Products Market Share, By Product Type, 2018 & 2026 (%)
Figure 41 Asia-Pacific Bakery Products Market Share, By Form, 2018 & 2026 (%)
Figure 42 Asia-Pacific Bakery Products Market Share, By Distribution Channel, 2018 & 2026 (%)
Figure 43 Asia-Pacific Bakery Products Market Share, By Country, 2018 & 2026 (%)
Figure 44 Middle East & Africa Bakery Products Market Value, 2017-2026 ($ Million)
Figure 45 Middle East & Africa Bakery Products Market Share, By Product Type, 2018 & 2026 (%)
Figure 46 Middle East & Africa Bakery Products Market Share, By Form, 2018 & 2026 (%)
Figure 47 Middle East & Africa Bakery Products Market Share, By Distribution Channel, 2018 & 2026 (%)
Figure 48 Grupo Bimbo SAB de CV: Financials
Figure 49 Kellogg Co: Financials
Figure 50 Artisanal Foods: Financials
Figure 51 McKee Foods Corporation: Financials
Figure 52 Yamazaki Baking Co Ltd: Financials
Figure 53 Flowers Foods, Inc: Financials
Figure 54 ARYZTA AG: Financials
Figure 55 Modern Foods Enterprises Private Limited : Financials
Figure 56 Britannia Industries Limited: Financials
Figure 57 Hostess Brands: Financials