Market Overview:
Adjuvants are chemical substances that are intended for improving the performance of pesticide formulations in agricultural practices. Agricultural adjuvants range from surfactants and crop oil concentrates to utility materials such as wetting agents, foaming agents and compatibility agents. Nitrogen fertilizers such as urea and ammonium nitrate are also used as adjuvants. Adjuvants evolved as a key tool in the armor of farming communities in precision and protected farming practices owing to their capability of improving pesticide efficiency. The Global Agricultural Adjuvants Market valued USD XX billion in 2018 and is estimated to reach USD XX billion by 2026, at a CAGR of XX% during the forecast period.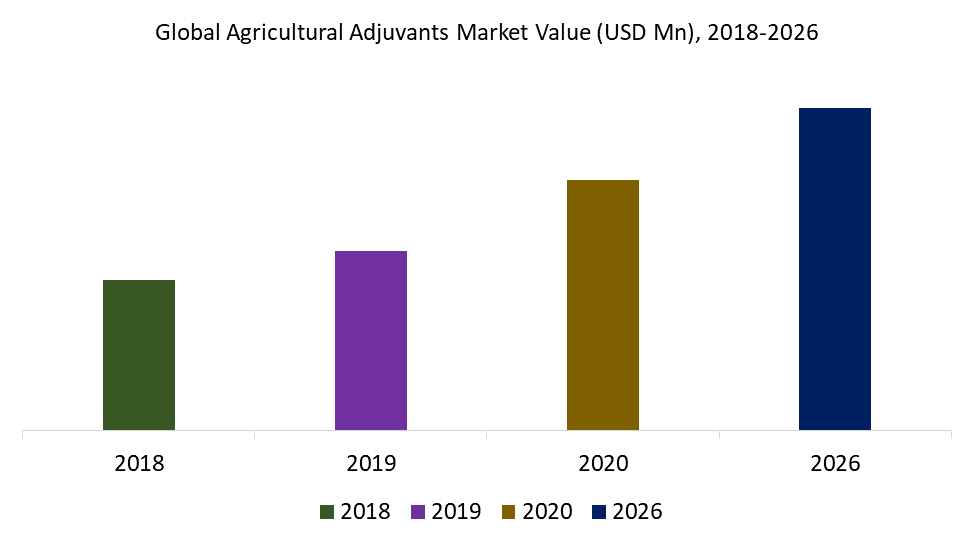 **Source: DataM Intelligence Analysis
Market Dynamics:
The growing consumption of pesticides and increasing utilization of adjuvants with pesticides are the major drivers for the growth of agricultural adjuvants market. The need for pest management has been rising in both food and commercial crops to increase food production and quality of produce. The use of pesticides witnessed significant growth in all of its forms including fungicides, herbicides, and insecticides since decades and the rising consumption of pesticides is surging the growth of agricultural adjuvants market. Adjuvants evolved as an integral part of crop protection owing to their potential in enhancing chemical efficiency in weed control. However, the environmental concerns associated with use of synthetic adjuvants is limiting the market growth. Bio-based advancements in the market such as development of biological surfactants is likely to support the market growth

Market Segmentation:
The global agricultural adjuvants market has been segmented by product type into activator adjuvants and spray utility adjuvants. The large-scale utilization along with post-emergence herbicides to improve the application characteristics and weed control activity made activator adjuvants as the largest segment of agricultural adjuvants. Surfactants and crop oil concentrates are extensively used in farming communities to meet the crop production standards in a sustainable way. Herbicides evolved as the largest use formulation for agricultural adjuvants, followed by fungicides. As herbicides are mostly water, surfactants are highly used in herbicide formulations to prevent its roll-off into soil and hold it on targeted plant species.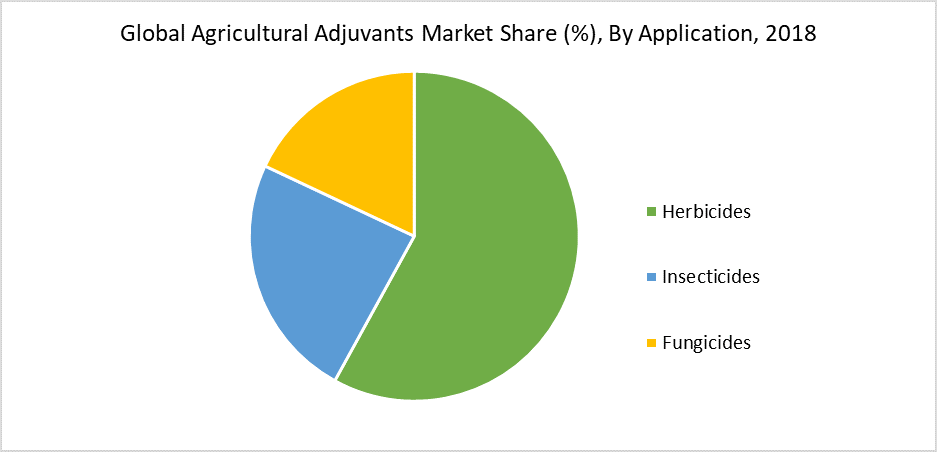 **Source: DataM Intelligence Analysis
Competitive Landscape:
The global agricultural adjuvants market is fragmented with the foothold of large number of companies and high product differentiation. However, the market is consolidated in most of the product segments with very few players holding significant share. For instance, the market for surfactants is highly consolidated with top 5 companies accounting for over 60% of global sales. Syngenta AG, BASF SE, ADAMA Agricultural Solutions, Monsanto, and Nufarm are leading in the global agricultural surfactants market.
Other key players in the agricultural adjuvants market are KALO, Inc., Wilbur-Ellis Holdings, Inc., BRANDT Consolidated, Inc., Stepan Company, CHS, Inc., Evonik Industries AG, and Croda International plc
Why Purchase the Report?
Visualize the composition of the global agricultural adjuvants market across each indication, in terms of product type, application, and crop type, highlighting the key commercial assets and major players.
Identify commercial opportunities in global agricultural adjuvants market by analyzing trends and co-development deals.
Excel data sheet with thousands of data points of the global agricultural adjuvants market - level 4/5 segmentation.
PDF report with the most relevant analysis cogently put together after exhaustive qualitative interviews and in-depth market study.
Product mapping in excel for the key products of all major market players
Target Audience:
Agricultural Adjuvants Companies
Agrochemical Manufacturers
Farming and Growing Communities
Industry Investors/Investment Bankers
Education & Research Institutes
Research Professionals
LIST OF TABLES
TABLE 1 GLOBAL AGRICULTURAL ADJUVANTS MARKET VALUE, BY PRODUCT TYPE, 2018,2022 & 2026 ($ MILLION)
TABLE 2 GLOBAL AGRICULTURAL ADJUVANTS MARKET VALUE, BY APPLICATION, 2018,2022 & 2026 ($ MILLION)
TABLE 3 GLOBAL AGRICULTURAL ADJUVANTS MARKET VALUE, BY CROP TYPE, 2018,2022 & 2026 ($ MILLION)
TABLE 4 GLOBAL AGRICULTURAL ADJUVANTS MARKET VALUE, BY REGION, 2018,2022 & 2026 ($ MILLION)
TABLE 5 GLOBAL AGRICULTURAL ADJUVANTS MARKET VALUE, BY PRODUCT TYPE, 2018,2022 & 2026 ($ MILLION)
TABLE 6 GLOBAL AGRICULTURAL ADJUVANTS MARKET VALUE, BY PRODUCT TYPE, 2017-2026 ($ MILLION)
TABLE 7 GLOBAL AGRICULTURAL ADJUVANTS MARKET VALUE, BY APPLICATION, 2018,2022 & 2026 ($ MILLION)
TABLE 8 GLOBAL AGRICULTURAL ADJUVANTS MARKET VALUE, BY APPLICATION, 2017-2026 ($ MILLION)
TABLE 9 GLOBAL AGRICULTURAL ADJUVANTS MARKET VALUE, BY CROP TYPE, 2018,2022 & 2026 ($ MILLION)
TABLE 10 GLOBAL AGRICULTURAL ADJUVANTS MARKET VALUE, BY CROP TYPE, 2017-2026 ($ MILLION)
TABLE 11 GLOBAL AGRICULTURAL ADJUVANTS MARKET VALUE, BY REGION, 2018,2022 & 2026 ($ MILLION)
TABLE 12 GLOBAL AGRICULTURAL ADJUVANTS MARKET VALUE, BY REGION, 2017-2026 ($ MILLION)
TABLE 13 NORTH AMERICA AGRICULTURAL ADJUVANTS MARKET VALUE, BY PRODUCT TYPE, 2017-2026 ($ MILLION)
TABLE 14 NORTH AMERICA AGRICULTURAL ADJUVANTS MARKET VALUE, BY APPLICATION, 2017-2026 ($ MILLION)
TABLE 15 NORTH AMERICA AGRICULTURAL ADJUVANTS MARKET VALUE, BY CROP TYPE, 2017-2026 ($ MILLION)
TABLE 16 NORTH AMERICA AGRICULTURAL ADJUVANTS MARKET VALUE, BY COUNTRY, 2017-2026 ($ MILLION)
TABLE 17 SOUTH AMERICA AGRICULTURAL ADJUVANTS MARKET VALUE, BY PRODUCT TYPE, 2017-2026 ($ MILLION)
TABLE 18 SOUTH AMERICA AGRICULTURAL ADJUVANTS MARKET VALUE, BY APPLICATION, 2017-2026 ($ MILLION)
TABLE 19 SOUTH AMERICA AGRICULTURAL ADJUVANTS MARKET VALUE, BY CROP TYPE, 2017-2026 ($ MILLION)
TABLE 20 SOUTH AMERICA AGRICULTURAL ADJUVANTS MARKET VALUE, BY COUNTRY, 2017-2026 ($ MILLION)
TABLE 21 EUROPE AGRICULTURAL ADJUVANTS MARKET VALUE, BY PRODUCT TYPE, 2017-2026 ($ MILLION)
TABLE 22 EUROPE AGRICULTURAL ADJUVANTS MARKET VALUE, BY APPLICATION, 2017-2026 ($ MILLION)
TABLE 23 EUROPE AGRICULTURAL ADJUVANTS MARKET VALUE, BY CROP TYPE, 2017-2026 ($ MILLION)
TABLE 24 EUROPE AGRICULTURAL ADJUVANTS MARKET VALUE, BY COUNTRY, 2017-2026 ($ MILLION)
TABLE 25 ASIA-PACIFIC AGRICULTURAL ADJUVANTS MARKET VALUE, BY PRODUCT TYPE, 2017-2026 ($ MILLION)
TABLE 26 ASIA-PACIFIC AGRICULTURAL ADJUVANTS MARKET VALUE, BY APPLICATION, 2017-2026 ($ MILLION)
TABLE 27 ASIA-PACIFIC AGRICULTURAL ADJUVANTS MARKET VALUE, BY CROP TYPE, 2017-2026 ($ MILLION)
TABLE 28 ASIA-PACIFIC AGRICULTURAL ADJUVANTS MARKET VALUE, BY COUNTRY, 2017-2026 ($ MILLION)
TABLE 29 MIDDLE EAST & AFRICA AGRICULTURAL ADJUVANTS MARKET VALUE, BY PRODUCT TYPE, 2017-2026 ($ MILLION)
TABLE 30 MIDDLE EAST & AFRICA AGRICULTURAL ADJUVANTS MARKET VALUE, BY APPLICATION, 2017-2026 ($ MILLION)
TABLE 31 MIDDLE EAST & AFRICA AGRICULTURAL ADJUVANTS MARKET VALUE, BY CROP TYPE, 2017-2026 ($ MILLION)
TABLE 32 KALO, INC.: OVERVIEW
TABLE 33 KALO, INC.: PRODUCT PORTFOLIO
TABLE 34 KALO, INC.: KEY DEVELOPMENTS
TABLE 35 BASF SE: OVERVIEW
TABLE 36 BASF SE: PRODUCT PORTFOLIO
TABLE 37 BASF SE: KEY DEVELOPMENTS
TABLE 38 WILBUR-ELLIS HOLDINGS, INC. : OVERVIEW
TABLE 39 WILBUR-ELLIS HOLDINGS, INC. : PRODUCT PORTFOLIO
TABLE 40 WILBUR-ELLIS HOLDINGS, INC. : KEY DEVELOPMENTS
TABLE 41 BRANDT CONSOLIDATED, INC.: OVERVIEW
TABLE 42 BRANDT CONSOLIDATED, INC.: PRODUCT PORTFOLIO
TABLE 43 BRANDT CONSOLIDATED, INC.: KEY DEVELOPMENTS
TABLE 44 EVONIK INDUSTRIES AG: OVERVIEW
TABLE 45 EVONIK INDUSTRIES AG: PRODUCT PORTFOLIO
TABLE 46 EVONIK INDUSTRIES AG: KEY DEVELOPMENTS
TABLE 47 STEPAN COMPANY: OVERVIEW
TABLE 48 STEPAN COMPANY: PRODUCT PORTFOLIO
TABLE 49 STEPAN COMPANY: KEY DEVELOPMENTS
TABLE 50 HELENA AGRI-ENTERPRISES, LLC: OVERVIEW
TABLE 51 HELENA AGRI-ENTERPRISES, LLC: PRODUCT PORTFOLIO
TABLE 52 HELENA AGRI-ENTERPRISES, LLC: KEY DEVELOPMENTS
TABLE 53 CHS, INC.: OVERVIEW
TABLE 54 CHS, INC.: PRODUCT PORTFOLIO
TABLE 55 CHS, INC.: KEY DEVELOPMENTS
TABLE 56 SOLVAY S.A.: OVERVIEW
TABLE 57 SOLVAY S.A.: PRODUCT PORTFOLIO
TABLE 58 SOLVAY S.A.: KEY DEVELOPMENTS
TABLE 59 CRODA INTERNATIONAL PLC: OVERVIEW
TABLE 60 CRODA INTERNATIONAL PLC: PRODUCT PORTFOLIO
TABLE 61 CRODA INTERNATIONAL PLC: KEY DEVELOPMENTS

LIST OF FIGURES
FIGURE 1 GLOBAL AGRICULTURAL ADJUVANTS MARKET SHARE, BY PRODUCT TYPE, 2018 & 2026 (%)
FIGURE 2 GLOBAL AGRICULTURAL ADJUVANTS MARKET SHARE, BY APPLICATION, 2018 & 2026 (%)
FIGURE 3 GLOBAL AGRICULTURAL ADJUVANTS MARKET SHARE, BY CROP TYPE, 2018 & 2026 (%)
FIGURE 4 GLOBAL AGRICULTURAL ADJUVANTS MARKET SHARE, BY REGION, 2018 & 2026 (%)
FIGURE 5 GLOBAL AGRICULTURAL ADJUVANTS MARKET VALUE, 2017-2026 ($ MILLION)
FIGURE 6 GLOBAL AGRICULTURAL ADJUVANTS MARKET Y-O-Y GROWTH, BY PRODUCT TYPE, 2018-2026 (%)
FIGURE 7 ACTIVATOR ADJUVANTS: GLOBAL AGRICULTURAL ADJUVANTS MARKET VALUE, 2017-2026 ($ MILLION)
FIGURE 8 SPRAY UTILITY ADJUVANTS: GLOBAL AGRICULTURAL ADJUVANTS MARKET VALUE, 2017-2026 ($ MILLION)
FIGURE 9 GLOBAL AGRICULTURAL ADJUVANTS MARKET Y-O-Y GROWTH, BY APPLICATION, 2018-2026 (%)
FIGURE 10 EMULSIFIER: GLOBAL AGRICULTURAL ADJUVANTS MARKET VALUE, 2017-2026 ($ MILLION)
FIGURE 11 STABILIZER: GLOBAL AGRICULTURAL ADJUVANTS MARKET VALUE, 2017-2026 ($ MILLION)
FIGURE 12 LUBRICANT: GLOBAL AGRICULTURAL ADJUVANTS MARKET VALUE, 2017-2026 ($ MILLION)
FIGURE 13 WETTING AGENT: GLOBAL AGRICULTURAL ADJUVANTS MARKET VALUE, 2017-2026 ($ MILLION)
FIGURE 14 NUTRITIONAL SUPPLEMENT: GLOBAL AGRICULTURAL ADJUVANTS MARKET VALUE, 2017-2026 ($ MILLION)
FIGURE 15 OTHERS: GLOBAL AGRICULTURAL ADJUVANTS MARKET VALUE, 2017-2026 ($ MILLION)
FIGURE 16 GLOBAL AGRICULTURAL ADJUVANTS MARKET Y-O-Y GROWTH, BY CROP TYPE, 2018-2026 (%)
FIGURE 17 CEREALS & GRAINS: GLOBAL AGRICULTURAL ADJUVANTS MARKET VALUE, 2017-2026 ($ MILLION)
FIGURE 18 FRUITS & VEGETABLES: GLOBAL AGRICULTURAL ADJUVANTS MARKET VALUE, 2017-2026 ($ MILLION)
FIGURE 19 OILSEEDS: GLOBAL AGRICULTURAL ADJUVANTS MARKET VALUE, 2017-2026 ($ MILLION)
FIGURE 20 OTHERS: GLOBAL AGRICULTURAL ADJUVANTS MARKET VALUE, 2017-2026 ($ MILLION)
FIGURE 21 GLOBAL AGRICULTURAL ADJUVANTS MARKET Y-O-Y GROWTH, BY REGION, 2018-2026 (%)
FIGURE 22 NORTH AMERICA AGRICULTURAL ADJUVANTS MARKET VALUE, 2017-2026 ($ MILLION)
FIGURE 23 NORTH AMERICA AGRICULTURAL ADJUVANTS MARKET SHARE, BY PRODUCT TYPE, 2018 & 2026 (%)
FIGURE 24 NORTH AMERICA AGRICULTURAL ADJUVANTS MARKET SHARE, BY APPLICATION, 2018 & 2026 (%)
FIGURE 25 NORTH AMERICA AGRICULTURAL ADJUVANTS MARKET SHARE, BY CROP TYPE, 2018 & 2026 (%)
FIGURE 26 NORTH AMERICA AGRICULTURAL ADJUVANTS MARKET SHARE, BY COUNTRY, 2018 & 2026 (%)
FIGURE 27 SOUTH AMERICA AGRICULTURAL ADJUVANTS MARKET VALUE, 2017-2026 ($ MILLION)
FIGURE 28 SOUTH AMERICA AGRICULTURAL ADJUVANTS MARKET SHARE, BY PRODUCT TYPE, 2018 & 2026 (%)
FIGURE 29 SOUTH AMERICA AGRICULTURAL ADJUVANTS MARKET SHARE, BY APPLICATION, 2018 & 2026 (%)
FIGURE 30 SOUTH AMERICA AGRICULTURAL ADJUVANTS MARKET SHARE, BY CROP TYPE, 2018 & 2026 (%)
FIGURE 31 SOUTH AMERICA AGRICULTURAL ADJUVANTS MARKET SHARE, BY COUNTRY, 2018 & 2026 (%)
FIGURE 32 EUROPE AGRICULTURAL ADJUVANTS MARKET VALUE, 2017-2026 ($ MILLION)
FIGURE 33 EUROPE AGRICULTURAL ADJUVANTS MARKET SHARE, BY PRODUCT TYPE, 2018 & 2026 (%)
FIGURE 34 EUROPE AGRICULTURAL ADJUVANTS MARKET SHARE, BY APPLICATION, 2018 & 2026 (%)
FIGURE 35 EUROPE AGRICULTURAL ADJUVANTS MARKET SHARE, BY CROP TYPE, 2018 & 2026 (%)
FIGURE 36 EUROPE AGRICULTURAL ADJUVANTS MARKET SHARE, BY COUNTRY, 2018 & 2026 (%)
FIGURE 37 ASIA-PACIFIC AGRICULTURAL ADJUVANTS MARKET VALUE, 2017-2026 ($ MILLION)
FIGURE 38 ASIA-PACIFIC AGRICULTURAL ADJUVANTS MARKET SHARE, BY PRODUCT TYPE, 2018 & 2026 (%)
FIGURE 39 ASIA-PACIFIC AGRICULTURAL ADJUVANTS MARKET SHARE, BY APPLICATION, 2018 & 2026 (%)
FIGURE 40 ASIA-PACIFIC AGRICULTURAL ADJUVANTS MARKET SHARE, BY CROP TYPE, 2018 & 2026 (%)
FIGURE 41 ASIA-PACIFIC AGRICULTURAL ADJUVANTS MARKET SHARE, BY COUNTRY, 2018 & 2026 (%)
FIGURE 42 MIDDLE EAST & AFRICA AGRICULTURAL ADJUVANTS MARKET VALUE, 2017-2026 ($ MILLION)
FIGURE 43 MIDDLE EAST & AFRICA AGRICULTURAL ADJUVANTS MARKET SHARE, BY PRODUCT TYPE, 2018 & 2026 (%)
FIGURE 44 MIDDLE EAST & AFRICA AGRICULTURAL ADJUVANTS MARKET SHARE, BY APPLICATION, 2018 & 2026 (%)
FIGURE 45 MIDDLE EAST & AFRICA AGRICULTURAL ADJUVANTS MARKET SHARE, BY CROP TYPE, 2018 & 2026 (%)
FIGURE 46 KALO, INC.: FINANCIALS
FIGURE 47 BASF SE: FINANCIALS
FIGURE 48 WILBUR-ELLIS HOLDINGS, INC. : FINANCIALS
FIGURE 49 BRANDT CONSOLIDATED, INC.: FINANCIALS
FIGURE 50 EVONIK INDUSTRIES AG: FINANCIALS
FIGURE 51 STEPAN COMPANY: FINANCIALS
FIGURE 52 HELENA AGRI-ENTERPRISES, LLC: FINANCIALS
FIGURE 53 CHS, INC.: FINANCIALS
FIGURE 54 SOLVAY S.A.: FINANCIALS
FIGURE 55 CRODA INTERNATIONAL PLC: FINANCIALS