Global Wood Adhesives Market is segmented By Product (Urea-formaldehyde (UF), Phenol-formaldehyde (PF), Melamine-urea-formaldehyde (MUF), Polyvinyl acetate (PVA), Epoxy, Polyurethane (PU), Others), By Substrate (Solid Wood, Oriented strand Board (OSB), Plywood, Fiberboards, Others), By Resin (Natural, Synthetic), By Technology (Water-based, Solvent-based, Others), By Application (Flooring & Decks, Plywood, Furniture, Cabinets, Windows & Doors, Others), and By Region (North America, Latin America, Europe, Asia Pacific, Middle East, and Africa) – Share, Size, Outlook, and Opportunity Analysis, 2023-2030
Wood Adhesives Market Overview
Global Wood Adhesives Market reached USD 4.3 billion in 2022 and is expected to reach USD 5.8 billion by 2030, growing with a CAGR of 5.4% during the forecast period 2023-2030. Many of the primary factors driving the wood adhesives market are the increasing usage of the adhesive during the production process of engineered wood-based panels such as oriented strand board, particle board and plywood made by binding veneers with glue.
Wood adhesives market growth is accelerated by the rise in demand for eco-friendly and green furniture, rising public concern over the destruction of forests and global warming and the increasing demand for engineered wood-based panels.
Asia-Pacific is among the growing regions in the global wood adhesives market covering more than 1/3rd of the market owing to the expanding quickly both in Asia-Pacific and worldwide due to rising demand from China and India. Along with that, the region's industrial operations are also expanding as a result of rising income levels, a move towards nuclear families, low lending rates and evolving lifestyles. Owing to the growth of building taking place in these developing economies, such as Brazil, China, India and Indonesia, wood adhesives are in high demand.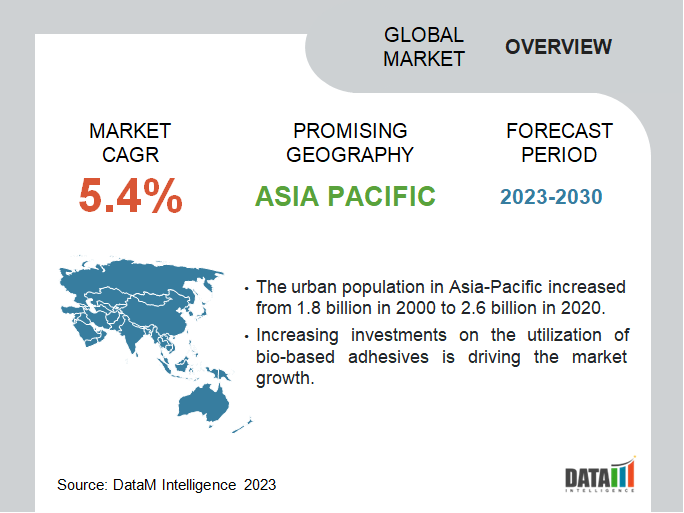 Wood Adhesives Market Scope
| | |
| --- | --- |
| Metrics | Details |
| CAGR | 5.4% |
| Size Available for Years | 2021-2030 |
| Forecast Period | 2023-2030 |
| Data Availability | Value (US$) |
| Segments Covered | Product, Substrate, Resin, Technology, Application, and Region |
| Regions Covered | North America, Europe, Asia-Pacific, South America and Middle East & Africa |
| Largest Region | Asia-Pacific |
| Report Insights Covered | Competitive Landscape Analysis, Company Profile Analysis, Market Size, Share, Growth, Demand, Recent Developments, Mergers and Acquisitions, New Equipment Product Launches, Growth Strategies, Revenue Analysis, Porter's Analysis, Pricing Analysis, Regulatory Analysis, Supply-Chain Analysis and Other key Insights. |
To Know more Insights - Download Sample
Wood Adhesives Market Dynamics
Growing Construction Industry
The scope for wood adhesives is expanding as a result of the expanding developing industry. Any non-metallic material that is applied to one or both sides of two objects and holds them together while preventing their separation is an adhesive, often known as glue, mucilage, or paste. Wooden materials can only be joined together with wood adhesives. The fast increase in China's residential and commercial construction sector is a major driver of its growth. According to the global bank, china is promoting and sustaining a continual urbanization process, with a projected rate of 70% by 2030.
Furthermore, according to China's National Bureau of Statistics, the nation's building production reached a peak in 2021, totaling nearly USD 4.3 trillion. Thus, the demand for wood adhesive tends to rise as a result of these circumstances.
In addition, a survey from the Indian Real Estate Industry estimates that over the next seven years, India would invest over USD 1.3 trillion in housing. There will likely be 60 million new dwellings built. In 2024, there will likely be a 70% increase in the supply of affordable housing. The market for wood adhesives is therefore anticipated to be driven by rising worldwide building activity during the forecast period.
An Increase in Consumer Spending on Furniture and Decorations for the Home
The significant rise in consumer spending on furniture and decoration items is anticipated to fuel the future expansion of the wood adhesives industry. Most wood joinery tasks include the use of wood adhesives, which are a good option for home décor and wooden furniture construction. Luxury furniture and home goods retailer Restoration Hardware company are hopeful that strong consumer spending will continue despite significant supply chain issues. The company is working to shift its focus from curating and selling products to creating and marketing environments.
For instance, Restoration Hardware's net revenue in the second quarter of 2021 was U.S. 39% from the same period in 2019. Based on the company's stability, RH presently projects that its full-year sales in 2021 would increase by 31% to 33%, up from earlier projections of 25% to 30%. As a result, the market for wood adhesives is growing as a result of customers' increased expenditure on home decor and high-end furniture.
Government Regulations Related to the Production of Adhesives
Globally, governments and regulatory organizations have put in place strict regulations to reduce adhesives' negative environmental effects, especially those brought on by the emissions of volatile organic compounds (VOCs). During the application and curing processes, many wood adhesives contain solvents and reactive compounds that might emit VOCs.
Additionally, Governments have set strict restrictions on VOC emissions from adhesives and created regulatory standards that adhesive producers must adhere to to solve this issue. These rules seek to protect public health, reduce air pollution and lessen the harm that adhesive production and use do to the environment. As a cross-linking agent in adhesives, the chemical compound formaldehyde is categorized as a hazardous air pollutant and a proven human carcinogen.
Furthermore, various locations and nations have varied environmental and emission restrictions. For instance, the European Union has passed laws like the European Union Timber Legislation (EUTR) and the Registration, Evaluation, Authorization and Restriction of Chemicals (REACH) legislation to ensure the safe use of chemicals and support environmentally friendly sourcing methods.
Wood Adhesives Market Segment Analysis
The global wood adhesives market is segmented based on product, substrate, resin, technology, application and region.
Rising Urea-Formaldehyde (UF) Because of its Beneficial Attributes
The urea-formaldehyde(UF) has seen significant growth covering nearly 28.2% globally. The segmental growth is due to its advantageous qualities, including its flammability, inexpensive cost, light color and very quick cure rate. The product's poor water resistance, however, is probably going to limit its use in the upcoming years. In external applications that are more vulnerable to moisture, melamine urea-formaldehyde (MUF) resins, which have greater water resistance qualities, are being employed increasingly.
In addition to their low production costs, negligible emissions and bio-based origin, soy-based adhesives have grown in popularity. Soy-based adhesive demand is on the rise as a result of strict rules regarding the formaldehyde emissions that are released during the manufacturing of wood goods made with UF resin. The demand is expected to increase as a result of strategies that cut prices without compromising performance, such as the addition of hydrolyzed soy proteins to phenol-formaldehyde resins.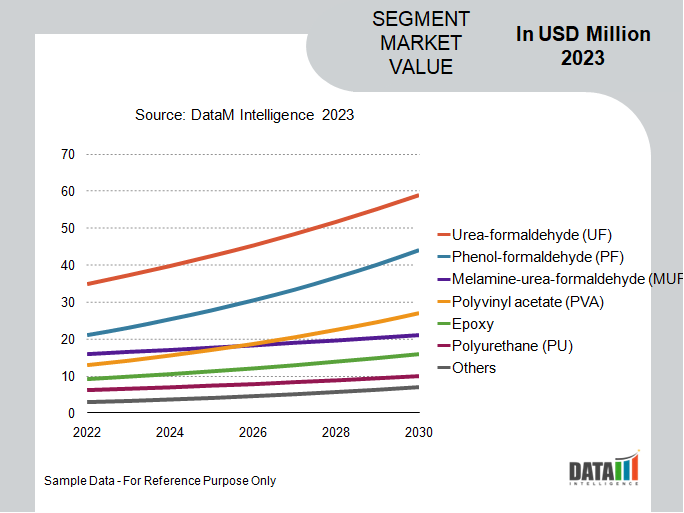 Global Wood Adhesives Market Geographical Share
Asia-Pacific Growing Household Income and a Rapidly Expanding Middile Class Population
Construction in this sector is predicted to rise substantially, particularly in developing economies such as China, India, Indonesia and Vietnam which covers nearly 60.4% of the region. This is projected to increase demand for engineered panels, which will contribute to seeing the wood adhesives market develop.
The main countries that contribute to the growth of the market in this area are those with rising infrastructure development, such as China, India and Southeast Asian nations. For instance, the construction industry in India boosted its contribution to the GDP of the nation from USD 35.1857 billion in the fourth quarter of 2022 to USD 47.44 billion in the first quarter of 2023.
According to the International Monetary Fund's World Economic Outlook, China and Japan will be the world's second and third-largest economies in the Asia-Pacific in 2021. According to the population reference bureau, China, India and other APAC nations had a combined population of more than 4.3 billion people (as of 2020). Over the following two decades, it is anticipated that these nations will play a larger role in driving global consumption due to rapidly rising household incomes and a rapidly expanding middle-class population.
In Japan more than 58.9% of its houses are built of wood, making it the world's largest country for the construction of wooden dwellings, leading to a growth in the use of wood adhesives. In addition, in India, the Pradhan Mantri Awas Yojana-Urban (PMAY-U) has approved 114.06 lakh dwellings through November 2021. 89.36 lakh dwellings have been approved for construction, with 52.55 lakhs finished by November 2021.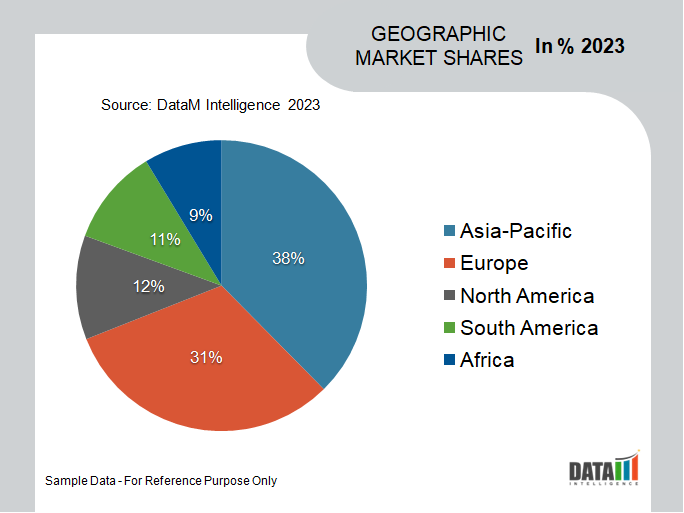 Wood Adhesives Market Companies
The major global players include Henkel AG & Co. KGaA, H.B. Fuller Company, 3M Company, Ashland Global Holdings Inc., DOW, Sika AG, Jowat SE, BASF SE, Huntsman Corporation and Pidilite Industries Ltd.
COVID-19 Impact on Wood Adhesives Market
The global COVID-19 pandemic has contributed to a sudden halt in global industrial operations, affecting adhesives demand as well as their research and processing, resulting in a delay in the wood adhesives market in 2020-2021. The worldwide economic downturn caused by the epidemic has resulted in a decline in disposable income among consumers all around the world. As a result, demand for wooden furniture and other high-end products has decreased significantly, as has demand for wood adhesives.
Russia- Ukraine War Impact
The war could result in volatility in the markets that will impair demand for wood goods and, by extension, wood adhesives. Construction projects, furniture production and other businesses that largely rely on wood adhesives may be impacted by economic instability and security concerns. The total market size and expansion potential may be impacted by decreased demand in the affected regions.
Economic regulations, export limitations and tariffs might alter as a result of geopolitical conflicts. This may affect the export and import of wood adhesives between Russia, Ukraine and other nations. Trade restrictions may force manufacturers to restructure their supply chains, look for alternate sourcing choices, or deal with higher prices.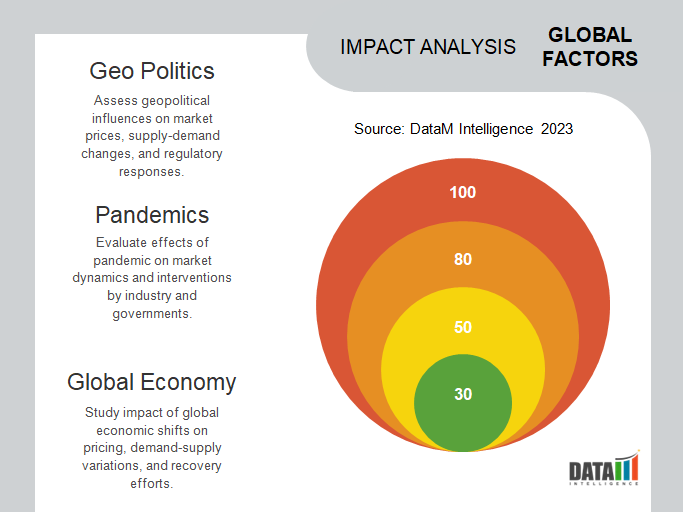 By Product
Urea-formaldehyde (UF)
Phenol-formaldehyde (PF)
Melamine-urea-formaldehyde (MUF)
Polyvinyl acetate (PVA)
Epoxy
Polyurethane (PU)
Others
By Substrate
Solid Wood
Oriented strand Board (OSB)
Plywood
Fiberboards
Others
By Resin
By Technology
Solvent Based
Water Based
Others
By Application
Furniture
Flooring
House Components
Doors & Windows
Particle Board
Cabinets
Others
By Region
North America
Europe

Germany
UK
France
Italy
Russia
Rest of Europe

South America

Brazil
Argentina
Rest of South America

Asia-Pacific

China
India
Japan
Australia
Rest of Asia-Pacific

Middle East and Africa
Key Developments
On May 15, 2023, H.B. Fuller Company a manufacturer of adhesives acquired industrial adhesives company Beardow Adams from UK. By enhancing manufacturing, expanding the distribution network and developing innovative products that set them apart, the purchase is anticipated to spur profitable development in several of H.B. Fuller's primary end markets and create business benefits.
On January 27, 2023, Sika introduced MB EZ Rapid, a one-component moisture barrier, adhesion enhancer and substrate consolidator for all floor covering installations over crucial substrates for residential and commercial applications. Sika MB EZ Rapid can be used over plywood, concrete, gypsum and old cutback adhesive.
On August 31, 2021, Ashland Global Holdings Inc. announced that its wholly owned subsidiary, Ashland LLC, has signed an official agreement to sell its performance adhesives division to Arkema for a price of US$1.65 billion in an all-cash deal. The performance adhesives division of Ashland includes a portfolio of products that are competitively positioned as well as a valuable technology that provides clients a competitive advantage in a range of industries and applications.
Why Purchase the Report?
To visualize the global wood adhesives market segmentation based on product, substrate, resin, technology, application and region, as well as understand key commercial assets and players.
Identify commercial opportunities by analyzing trends and co-development.
Excel data sheet with numerous data points of wood adhesives market-level with all segments.
PDF report consists of a comprehensive analysis after exhaustive qualitative interviews and an in-depth study.
Product mapping available as excel consisting of key technologies of all the major players.
The global wood adhesives market report would provide approximately 76 tables, 86 figures and 181 Pages.
Target Audience: 2023
Manufacturers/ Buyers
Industry Investors/Investment Bankers
Research Professionals
Emerging Companies