Global Nano Silica Market is segmented By Type (P-Type, S – Type), By Application (Rubber, Food, Paints & Coating, Magnetic materials, Cement, Others), and By Region (North America, Latin America, Europe, Asia Pacific, Middle East, and Africa) – Share, Size, Outlook, and Opportunity Analysis, 2022-2029
Nano Silica Market Overview
The Global "Nano Silica Market" is expected to grow at a CAGR of 7.21% during the forecasting period (2022-2029).
Nano silica is an allotrope of silicon, a poor conductor of electrons and heat. It appears in the amorphous form of a white powder. It is used as an additive for rubber and plastics, as a strengthening filler for concrete and other construction composites, a non-toxic platform for biomedical applications such as drug delivery, biomedical imaging, detecting, therapeutic delivery, monitoring, ablative therapies and theranostics.
Nano Silica Market Scope and Summary
| | |
| --- | --- |
| Metrics | Details |
| Market CAGR | 7.21% |
| Segments Covered | By Type , By Application and By Region |
| Report Insights Covered | Competitive Landscape Analysis, Company Profile Analysis, Market Size, Share, Growth, Demand, Recent Developments, Mergers and acquisitions, New Product Launches, Growth Strategies, Revenue Analysis, and Other key insights. |
| Fastest Growing Region | Asia Pacific |
| Largest Market Share | North America |
Get A Free Sample Click Here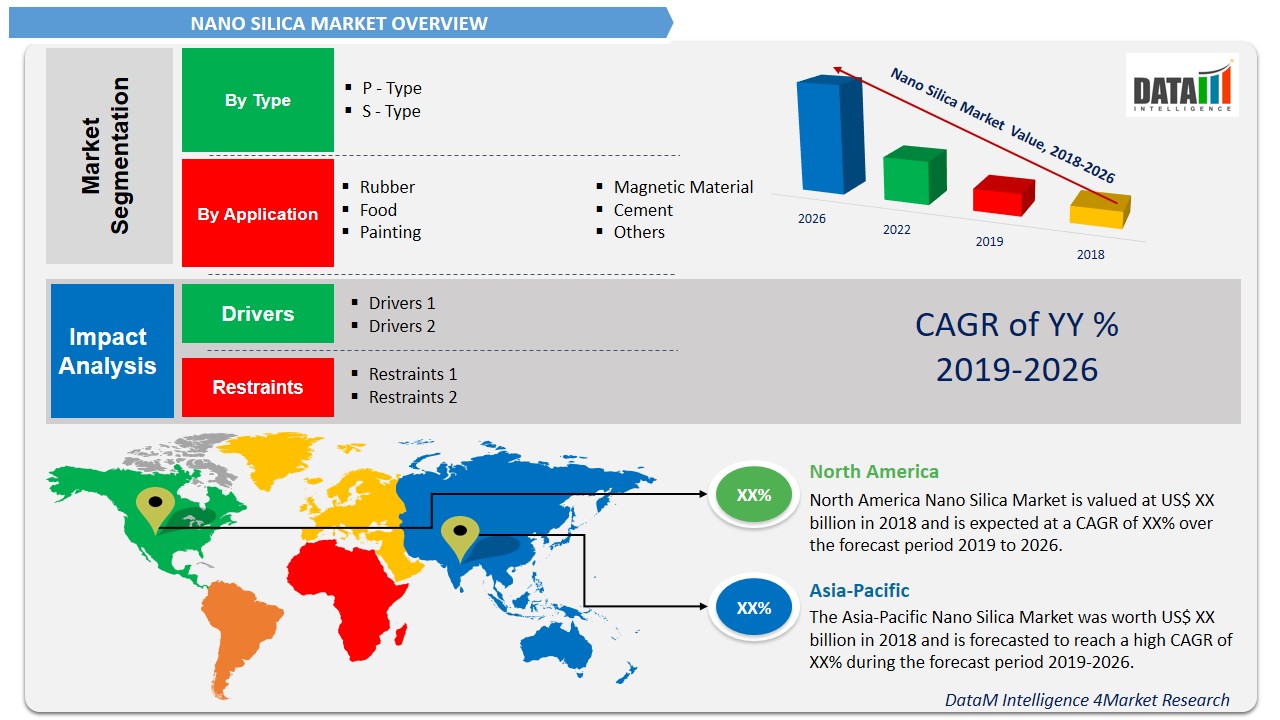 Nano Silica Market Dynamics:
The rising global nano silica production drives the market growth due to an increase in nano-silica usage in various application segments such as concrete, agriculture, gypsum, battery nano-silica others. The ability of raw materials such as silica and silicate to produce nano-silica boosts the market growth.
Growing concerns over renewable sources and they envision silica production and for nano-silica. For instance, Organic coating, i.e., silica from rice husk, a smart coating material with self-cleaning properties, is applied on surfaces for preventing corrosion and dust. It is a non-toxic, durable coating applied to all household appliances, buildings, automobiles and industrial components.
However, the price fluctuation leading to volatile raw material prices and the complexity of nano-silica manufacturing processes hinders the market growth. The release of toxic gases using the nano-silica for the concrete mixtures shall negatively impact the market growth. For instance, according to the United States Occupational Safety negatively impact SHA) estimated that around 34,591 foundry workers are currently exposed to respirable silica in the United States.
Nano Silica Market Segmentation Analysis
The Global Nano Silica market is segmented based on type as Porous (P Type) and Spherical(S Type). P-type nano-silica accounts for the highest market share than the S-type nano-silica due to rising demand from the concrete industry for building residential and commercial buildings. It is characterized by numerous nanopores with a pore rate of 0.61 ml/g and exhibits a higher ultraviolet reflectivity.
S-type nano-silica has a smaller surface area and lowers ultraviolet reflectivity in comparison to the P-type nano-silica. It is used for da developing electronics, coatings, and varnishes due to its reducing viscosity, flash and increasing fluidity. It is used for external additive materials, sintering materials, filler for liquid-type sealants and others. Companies are using P-type nano-silica for developing high content filler material for different resin applications due to its dispersivity property.
Further, the market is also classified based on application into concrete mixtures, rubber additives, semiconductors, healthcare, coating additives, agriculture, plastics, etc. Among these segments, the rubber additives segment accounts for the highest market share due to increased usage of nano-silica as an additive in the different kinds of rubbers which includes natural rubber, ethylene propylene diene monomer (EPDM), styrene-butadiene rubber (SBR), ethylene acrylic rubber (AEM), nitrile rubber (NBR) and silicone rubber. It is used as a reinforcing agent for enhancing mechanical strength and properties such as anti-friction, toughness, anti-aging, and durability to enhancers manufacturing companies using nano-silica for manufacturing the tires, and rubber durability stiffness, and grip.
The coating segment is expected to have positive market growth due to increased demand for the nano-silica in superhydrophobic coating to create the high-water contract and low sliding angle. Nano silica is effective in increasing the scratch resistance in all kinds of coating formulations. Paint industries are using nano-silica for improving the paint properties, such as scratch resistance, water repellence, and corrosion protection that the paint against corrosion. Rising government regulations regarding CO2 emissions due to large cement quantities lead to increased CO2 emissions and the greenhouse effect. This rare increasing demand for nano-silica as a cement replacement an additive for reducing the cement content in concrete mixtures.
**Source: DataM Intelligence Analysis
Global Nano Silica Market Geographical Presentation
By region, the global nano-silica market is segmented into North America, South America, Europe, Asia-Pacific, Middle-East and Africa. Among all of the regions, the Asia-Pacific region dominated the global Nano Silica market due to rising industrial activities in various application sectors such as coatings, rubber, agriculture, food, concrete, healthcare & medicine, and others in China, India, and Japan. China is one of the leading nano-silica consumers due to the increased u, especially in China the concrete mixture with rising infrastructural activities.
North America region is witnessing positive market growth due to several end-user players such as electrical and electronics, automotive, and construction tover. The rising concerns regarding the environment and renewable resources are leading to the usage of region silica. There is an increased use of nano-silica in the concrete industry due to growing infrastructures. According to the United States Census Bureau, approximately 1,289,800 housing units were started in 2019. These numbers have witnessed a growth rate of 5.6% from the 1,184,900 housing units in 2018. Around 1,250,600 housing units were completed in 2019. There are rising investments in research & development related to nano-silica for healthcare & medicine, and agriculture areas.
Stringent regulations, especially in the European Countries, are putting restrictions on nano-silica usage in different industries. European Commission provides a high level of protection of human and silica usages are used in cosmetic products. As per European Commission Regulation (EC) No 1223/2009, cosmetic products containing nanomaterials other than colorants, preservatives and UV-filters require a specific notification on the CPNP 6 months before placement on the market (Art. 16 (3). Moreover, the Commission has to publish a catalog of all nanomaterials used in cosmetic products placed on the market as per the Regulation (EC) No 1223/2009 Article 16 (10a).
**Source: DataM Intelligence Analysis
Nano Silica Market Companies and Competitive Analysis
The global nano-silica market is highly competitive with product diversification, revenue generation and opportunities. Several local and international players are present in the market. Akzo Nobel N.V., NanoPore Incorporated, Dow Corning Corporation, Nanoshell Co., Cabot Corporation, Wacker Chemie AG, Evonik Industries AG, and Fuso Chemical Co., Ltd. are the leading companies with significant market share.
Companies focus on developing environment-friendly and sustainable nano silica that can be used in several industries, including concrete, healthcare, rubber, plastics, agriculture, etc. They are conducting research and development activities for developing nano-silica with innovation and diversification. The players have launched several new products and plants.
The companies are entering into the collaborative players, have launched several new products and plants the demand for Nano Silica and their expansion across the globe. For instance, in November 2016, Cabot Corporation formed a joint venture with Inner Mongolia Hengyecheng Silicone Co. Ltd. to build a manufacturing plant. Under the terms of the agreement, Cabot Corporation holds 80 percent of the builder, and Hengyecheng would own the remaining 20 percent share. This would help Cabot Corporation strengthen its market leadership position for silica and promote growth in various industries in China.
Players are also investing to increase their production capabilities around the various stances; the Joint venture of Cabot Corporation and Inner Mongolia Hengyecheng Silicone Co., Ltd (HYC) had raised USD 60 million to build a world-class fumed silica manufacturing facility to be located in Wuhai, China. This new facility would have a manufacturing capacity of 8,000 metric tons of fumed silica per year.
Why Purchase the Report?
Visualize the composition of the global Nano Silica market products across each indication regarding product type and application, highlighting the critical commercial assets and players.
Identify comm regarding cities in the global Nano Silica market by analyzing trends and co-development deals.
Excel data sheet with thousands of data points of global Nano Silica market-level 4/5 segmentation.
PDF report with the most relevant analysis cogently put together after exhaustive qualitative interviews and in-depth market study.
**The global Nano Silica report will provide access to approximately 53 market data tables, 44 figures, and 178 pages
Target Audience
Industry Investors/Investment Bankers
Suppliers/Buyers
Education & Research Institutes
Manufacturers
Research Professionals
Emerging Companies
Distributors
Frequently Asked Questions
What is the Projected CAGR value of the Nano Silica Market?
Nano Silica Market is expected to grow at a CAGR of 7.21% during the forecasting period 2022-2029.
Which region controlled the global market during 2022-2029?
North America region Controls the Nano Silica Market during 2022-2029.
Which is the fastest growing region in the Nano Silica Market?
Among all regions, Asia Pacific is the fastest growing market share during the forecast period.
Trending Topics
Fumed Silica in Paints & Coatings Market