IVF Devices and Consumables Market Overview
IVF is a type of assisted reproductive technology used for infertility treatment and gestational surrogacy. A fertilized egg may be implanted into a surrogate's uterus, and the resulting child is genetically unrelated to the surrogate. IVF is generally not used until less expensive and invasive options have failed or been determined unlikely to work. High success rates, live birth rates, rise in infertile population are some of the drivers of the market.
The global IVF Devices and Consumables Market size was worth $ XX billion in 2018 and is forecasted to reach $ XX billion by 2026, at a CAGR of XX% during the forecast period.
IVF Devices and Consumables Market Dynamics
Global IVF Devices and Consumables Market is driven by increase in global infertility rates, increased number of sexually transmitted diseases, technological advancement associated with IVF devices, increase in donation of gametes.
Increase in global infertility rates is one of the dominating factors propelling the market. According to WHO, in 2010, 48.5 million couples worldwide are unable to have a child. They found that 1.9 percent of women aged 20-44 who wanted a child were unable to have their first live birth and 10.5 percent of women who had previously given birth were unable to have another baby after five years of trying.
Increased number of sexually transmitted diseases is expected to boost the market. Sexually transmitted infections (STIs) like Chlamydia and gonorrhea are the leading preventable cause of infertility by causing 70% of pelvic inflammatory diseases (PID) responsible for tubal damage. Chlamydia can also cause fallopian tube infection without any symptoms. PID may also cause permanent damage to the fallopian tubes, uterus, and surrounding tissues, which can lead to infertility. CDC has estimated that around 2.86 million cases of Chlamydia and 820,000 cases of gonorrhea occur annually in the US. WHO reported that in 2019, more than 1 million sexually transmitted infections (STIs) are acquired every day.
Technological advancement in IVF devices is boosting the market. This is owing to the recent advances which have the potential to expand the utilization of IVF to a broad section of society with and without an infertility diagnosis. For instance, Vitrification, a flash or fast-freeze technology, has greatly improved outcomes from cryopreserved embryos. Patients using frozen embryos have success rates equal to, or better than, those from fresh embryo transfer cycles. Also, genetic disease screening involving embryo biopsy and genetic analysis, single embryo transfer, and new medications like gonadotropin-releasing hormone agonists are in use.
However, high costs associated with IVF procedures, complications related to IVF treatment, and low awareness of IVF services are hampering the market growth. In 2011, direct costs per couple ranged from approximately $13,000 in the US to over $4,000 in the UK, Australia, Germany and $112,799 in California.
IVF Devices and Consumables Market Segment Analysis
On the basis of products, the Global IVF Devices and Consumables market is segmented into Instruments, Reagent & media and Accessory and disposables. The instrument segment is further divided into sperm separation system cryosystem, imaging system incubator, IVF cabinet, micromanipulator, and others. Reagent & media is sub segmented into semen processing media, cryopreservation media, embryo culture media, ovum processing media.
Accessory & disposables segment is one of the dominating factors propelling the market over the forecast period. This is owing to its vital role in every IVF procedure, such as analysis & screening of sperms, retrieval of oocytes, handling of gametes, and others. For instance, sperm analysis accessory like Parallabs's Leja ® Disposable Slides has a optimised chamber depth for rapid loading, with even distribution and accuracy for semen samples. Vitrolife's vacuum pump tubing is intended for the connection between the needle and the vacuum pump during oocyte pick up and works as a natural extension for all follicle aspiration sets.
Instrument segment is expected to grow at a high rate over the forecast period. This is owing to the technological advancements and increase in demand for advanced IVF devices. For instance, Microfluidics technology known as SPARTAN helps in getting sperm with excellent motility, normal morphology and better DNA integrity. In 2016, INVOcell allowed IVF-created embryos to be incubated in a device which is placed in the woman's vagina before they are transferred to her uterus, was a new development which may make IVF a more affordable option for more patients. The ability to freeze and thaw embryos successfully is one of the significant advancement in assisted reproductive technology (ART). New trends in assisted reproduction technology (ART) include Preimplantation genetic screening (PGS), Preimplantation Genetic Diagnosis (PGD), Egg Vitrification, Time Lapse Embryoscope, Endometrial Receptivity Array (ERA).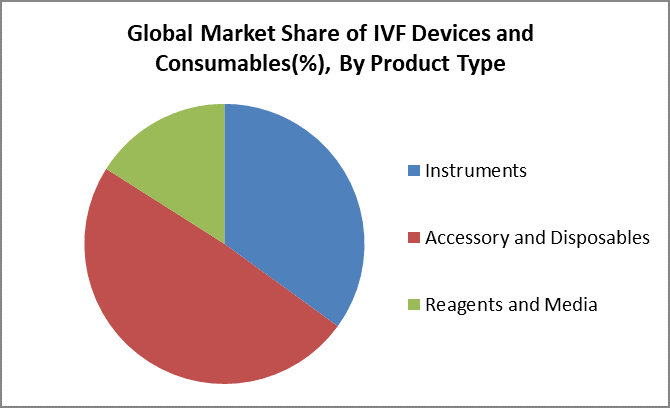 Global IVF Devices and Consumables Market Geographical Analysis
North America is dominating the Global IVF Devices and Consumables Market in 2018 and estimated to hold largest market size over the forecast period (2019-2026). This is owing to higher live birth rates using ART, favorable reimbursement schemes, rising prevalence of sexually transmitted diseases like Chlamydia and gonorrhea in the region.
For instance, based on CDC's 2017 Fertility Clinic Success Rates Report, there were 284,385 ART cycles performed at 448 reporting clinics in the US during 2017, resulting in 68,908 live births and 78,052 live born infants. Of the 284,385 ART cycles performed in 2017, 87,535 were egg or embryo banking cycles where it was intended to freeze all resulting eggs or embryos for future ART cycles and for which we would not expect a resulting pregnancy or birth. Approximately 1.7% of all infants born in the US, every year are conceived using ART.
The presence of favorable reimbursement schemes, such as implementation of USD 50 million 5-year plans by the US Department of Defense for sperm/egg freezing coverage, is expected to drive the market.
Rising prevalence of sexually transmitted diseases leading to increased government initiatives is expected to drive the market over the period of forecast. For instance, according to CDC, nearly 2.3 million cases of Chlamydia, gonorrhea and syphilis were diagnosed in the US in 2017. It has reported that there are few screening programs in the US such as all adults and adolescents from ages 13 to 64 should be tested at least once for HIV. Also, the US Department of Health and Human Services' Center for Disease Control and Prevention (CDC) oversees and funds the prevention of sexually-transmitted diseases (STDs).
Increase in infertility rates is leading to the raised demand for installation of IVF devices in the fertility clinics. For instance, according to the CDC, 12 percent of women in the US of age 15-44 are with infertility issues. In that same age group, 7.3 million American women have used infertility services. Development of SPARTAN in 2017, by a team of researchers from Worcester Polytechnic Institute (WPI) and Stanford University is expected to reduce the overall cost on IVF treatments, which generally cost about $15,000 per cycle, because with the new sperm sorting technology they could be able to become pregnant without going through as many treatment cycles.
However, over the forecast period (2019-2026), the Asia-Pacific is expected to dominate the global IVF Devices and Consumables market. The Asia Pacific Initiative on Reproduction (ASPIRE) consists of a task force of clinicians and scientists who are involved in monitoring and managing fertility and Assisted Reproductive Technology (ART). Such initiatives are promoting awareness among consumers which is driving the growth of the global IVF and consumables market.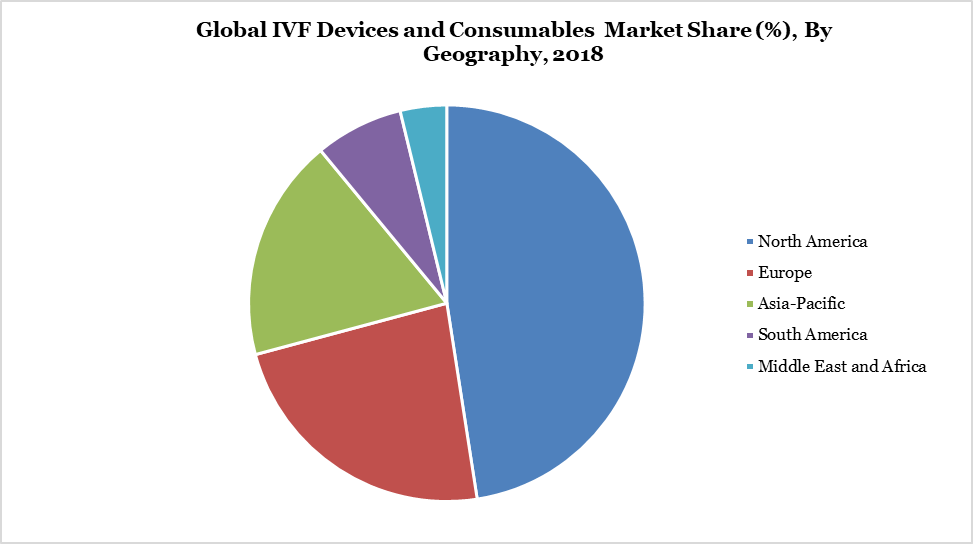 Global IVF Devices and Consumables Market Competitive Landscape
Some of the major players in the global IVF Devices and Consumables market are Cook Medical Inc., IVF Store, Fujifilm Holdings Corporation, Merck KGaA, Millendo Therapeutics, Inc., Oxford Gene Technology, Progyny Inc., The Cooper Companies, Inc. (CooperSurgical, Inc.), Thermo Fisher Scientific, Inc., and Vitrolife AB.
The key players are adopting various key strategies such as product launches, mergers & acquisitions, partnerships, and collaborations which are contributing to the growth of the IVF Devices and Consumables market globally. For instance,
In June 2016, Vitrolife AB launched the EmbryoScope+, an additional high-quality time-lapse system for undisturbed culture and improved selection of embryos.
In September 2016, ORIGIO, a subsidiary of Cooper Surgical, became the official distributor of Research Instruments in Russia. The distribution included products such as Integra 3 micromanipulators, Saturn laser, IVF Witness system, and other RI products.
In July 2017, Fujifilm Holdings Corporation launched the Continuous Single Culture-NX, a next generation culture medium for embryos. It has lower lactate concentration, and helps to maintain metabolic rates efficiently in the embryo culture for IVF.
In December 2018, Milendo Therapeutics Inc. announced the successful merger completion of Ovascience. The combined company will operate under the name Millendo Therapeutics and will work towards development of Millendo's leading orphan endocrine pipeline.
Why Purchase the Report?
· Visualize the composition of the global IVF Devices and Consumables market in terms of various types of product, technology type, end-user's highlighting the key commercial assets and players.
· Identify commercial opportunities in global IVF Devices and Consumables market by analyzing trends and co-development deals.
· Excel data sheet with thousands of data points of global IVF Devices and Consumables market - level 4/5 segmentation.
· PDF report with the most relevant analysis cogently put together after exhaustive qualitative interviews and in-depth market study.
· Product mapping in excel for the key product of all major market players
Target Audience
• Service Providers/ Buyers
• Industry Investors/Investment Bankers
• Education & Research Institutes
• Research Professionals
• Emerging Companies
• Manufacturers
List of Tables
TABLE 01. GLOBAL IVF DEVICES AND CONSUMABLE MARKET VALUE, 2018, 2022 & 2026 , BY PRODUCT, ($MILLION)
TABLE 02. GLOBAL IVF DEVICES AND CONSUMABLE MARKET VALUE 2018, 2022 & 2026 , BY END USER, ($MILLION)
TABLE 03. GLOBAL IVF DEVICES AND CONSUMABLE MARKET VALUE 2018, 2022 & 2026 , BY TECHNOLOGY, ($MILLION)
TABLE 04. GLOBAL IVF DEVICES AND CONSUMABLE MARKET VALUE 2018, 2022 & 2026 , BY REGION, ($MILLION)
TABLE 05. GLOBAL IVF DEVICES AND CONSUMABLE MARKET SHARE 2018, 2022 & 2026 (%), BY PRODUCT ($MILLION)
TABLE 06. GLOBAL IVF DEVICES AND CONSUMABLE MARKET VALUE , BY PRODUCT, 2018–2026 ($MILLION)
TABLE 07. GLOBAL IVF DEVICES AND CONSUMABLE MARKET SHARE 2018, 2022 & 2026 (%), BY END USER ($MILLION)
TABLE 08. GLOBAL IVF DEVICES AND CONSUMABLE MARKET VALUE , BY APPICATION, 2018–2026 ($MILLION)
TABLE 09. GLOBAL IVF DEVICES AND CONSUMABLE MARKET SHARE 2018, 2022 & 2026 (%), BY TECHNOLOGY ($MILLION)
TABLE 10. GLOBAL IVF DEVICES AND CONSUMABLE MARKET VALUE , BY TECHNOLOGY, 2018–2026 ($MILLION)
TABLE 11. GLOBAL IVF DEVICES AND CONSUMABLE MARKET SHARE 2018, 2022 & 2026 (%), BY REGION ($MILLION)
TABLE 12. GLOBAL IVF DEVICES AND CONSUMABLE MARKET VALUE , BY REGION, 2018–2026 ($MILLION)
TABLE 13. NORTH AMERICA IVF DEVICES AND CONSUMABLE MARKET VALUE , BY PRODUCT, 2018–2026 ($MILLION)
TABLE 14. NORTH AMERICA IVF DEVICES AND CONSUMABLE MARKET VALUE , BY END USER, 2018–2026 ($MILLION)
TABLE 15. NORTH AMERICA IVF DEVICES AND CONSUMABLE MARKET VALUE , BY TECHNOLOGY, 2018–2026 ($MILLION)
TABLE 16. NORTH AMERICA IVF DEVICES AND CONSUMABLE MARKET VALUE , BY COUNTRY, 2018–2026 ($MILLION)
TABLE 17. SOUTH AMERICA IVF DEVICES AND CONSUMABLE MARKET VALUE , BY PRODUCT, 2018–2026 ($MILLION)
TABLE 18. SOUTH AMERICA IVF DEVICES AND CONSUMABLE MARKET VALUE , BY END USER, 2018–2026 ($MILLION)
TABLE 19. SOUTH AMERICA IVF DEVICES AND CONSUMABLE MARKET VALUE , BY TECHNOLOGY, 2018–2026 ($MILLION)
TABLE 20. SOUTH AMERICA IVF DEVICES AND CONSUMABLE MARKET VALUE , BY COUNTRY, 2018–2026 ($MILLION)
TABLE 21. EUROPE IVF DEVICES AND CONSUMABLE MARKET VALUE , BY PRODUCT, 2018–2026 ($MILLION)
TABLE 22. EUROPE IVF DEVICES AND CONSUMABLE MARKET VALUE , BY END USER, 2018–2026 ($MILLION)
TABLE 23. EUROPE IVF DEVICES AND CONSUMABLE MARKET VALUE , BY TECHNOLOGY, 2018–2026 ($MILLION)
TABLE 24. EUROPE IVF DEVICES AND CONSUMABLE MARKET VALUE , BY COUNTRY, 2018–2026 ($MILLION)
TABLE 25. ASIA PACIFIC IVF DEVICES AND CONSUMABLE MARKET VALUE , BY PRODUCT, 2018–2026 ($MILLION)
TABLE 26. ASIA PACIFIC IVF DEVICES AND CONSUMABLE MARKET VALUE , BY END USER, 2018–2026 ($MILLION)
TABLE 27. ASIA PACIFIC IVF DEVICES AND CONSUMABLE MARKET VALUE , BY TECHNOLOGY, 2018–2026 ($MILLION)
TABLE 28. ASIA PACIFIC IVF DEVICES AND CONSUMABLE MARKET VALUE , BY COUNTRY, 2018–2026 ($MILLION)
TABLE 29. MIDDLE EAST & AFRICA IVF DEVICES AND CONSUMABLE MARKET VALUE , BY PRODUCT, 2018–2026 ($MILLION)
TABLE 30. MIDDLE EAST & AFRICA IVF DEVICES AND CONSUMABLE MARKET VALUE , BY END USER, 2018–2026 ($MILLION)
TABLE 31. MIDDLE EAST & AFRICA IVF DEVICES AND CONSUMABLE MARKET VALUE , BY TECHNOLOGY, 2018–2026 ($MILLION)
TABLE 32. COOK MEDICAL INC: OVERVIEW
TABLE 33. COOK MEDICAL INC: PRODUCT PORTFOLIO
TABLE 34. COOK MEDICAL INC: KEY DEVELOPMENTS
TABLE 35. OVASCIENCE: OVERVIEW
TABLE 36. OVASCIENCE: PRODUCT PORTFOLIO
TABLE 37. OVASCIENCE: KEY DEVELOPMENTS
TABLE 38. FUJIFILM HOLDINGS CORPORATION : OVERVIEW
TABLE 39. FUJIFILM HOLDINGS CORPORATION : PRODUCT PORTFOLIO
TABLE 40. FUJIFILM HOLDINGS CORPORATION : KEY DEVELOPMENTS
TABLE 41. GENEA BIOMEDX.: OVERVIEW
TABLE 42. GENEA BIOMEDX.: PRODUCT PORTFOLIO
TABLE 43. GENEA BIOMEDX.: KEY DEVELOPMENTS
TABLE 44. MERCK KGAA: OVERVIEW
TABLE 45. MERCK KGAA: PRODUCT PORTFOLIO
TABLE 46. MERCK KGAA: KEY DEVELOPMENTS
TABLE 47. MILLENDO THERAPEUTICS INC: OVERVIEW
TABLE 48. MILLENDO THERAPEUTICS INC: PRODUCT PORTFOLIO
TABLE 49. MILLENDO THERAPEUTICS INC: KEY DEVELOPMENTS
TABLE 50. OXFORD GENE TECHNOLOGY: OVERVIEW
TABLE 51. OXFORD GENE TECHNOLOGY.: PRODUCT PORTFOLIO
TABLE 52. OXFORD GENE TECHNOLOGY.: KG: KEY DEVELOPMENTS
TABLE 53. JXTG HOLDINGS..: OVERVIEW
TABLE 54. JXTG HOLDINGS..: PRODUCT PORTFOLIO
TABLE 55. JXTG HOLDINGS..: KEY DEVELOPMENTS
TABLE 56. THERMO FISHER SCIENTIFIC, INC: OVERVIEW
TABLE 57. THERMO FISHER SCIENTIFIC, INC: PRODUCT PORTFOLIO
TABLE 58. THERMO FISHER SCIENTIFIC, INC: KEY DEVELOPMENTS
TABLE 59. THE COOPER COMPANIES, INC: OVERVIEW
TABLE 60. THE COOPER COMPANIES, INC: PRODUCT PORTFOLIO
TABLE 61. THE COOPER COMPANIES, INC: KEY DEVELOPMENTS
List of Figures
FIGURE 01. GLOBAL IVF DEVICES AND CONSUMABLE MARKET SHARE, 2018 & 2026 (%), BY PRODUCT
FIGURE 02. GLOBAL IVF DEVICES AND CONSUMABLE MARKET SHARE, 2018 & 2026 (%), BY END USER
FIGURE 03. GLOBAL IVF DEVICES AND CONSUMABLE MARKET SHARE, 2018 & 2026 (%), BY TECHNOLOGY
FIGURE 04. GLOBAL IVF DEVICES AND CONSUMABLE MARKET SHARE, 2018 & 2026 (%), BY REGION
FIGURE 05. GLOBAL IVF DEVICES AND CONSUMABLE MARKET VALUE, 2018 - 2026 AND YEAR ON YEAR GROWTH
FIGURE 06. GLOBAL IVF DEVICES AND CONSUMABLE MARKET YEAR ON YEAR GROWTH 2018 TO 2026 (%), BY PRODUCT
FIGURE 07 GLOBAL IVF DEVICES AND CONSUMABLE MARKET VALUE, BY INSTRUMENTS, 2018–2026 ($MILLION)
FIGURE 08 GLOBAL IVF DEVICES AND CONSUMABLE MARKET VALUE, BY REAGENT & MEDIA, 2018–2026 ($MILLION)
FIGURE 09 GLOBAL IVF DEVICES AND CONSUMABLE MARKET VALUE, BY ACCESSORIES, 2018–2026 ($MILLION)
FIGURE 10. GLOBAL IVF DEVICES AND CONSUMABLE MARKET YEAR ON YEAR GROWTH 2018 TO 2026 (%), BY END USER
FIGURE 11 GLOBAL IVF DEVICES AND CONSUMABLE MARKET VALUE, BY FERTILITY CLINIC, 2018–2026 ($MILLION)
FIGURE 12 GLOBAL IVF DEVICES AND CONSUMABLE MARKET VALUE, BY HOSPITALS, 2018–2026 ($MILLION)
FIGURE 13 GLOBAL IVF DEVICES AND CONSUMABLE MARKET VALUE, BY SURGICAL CENTERS, 2018–2026 ($MILLION)
FIGURE 14 GLOBAL IVF DEVICES AND CONSUMABLE MARKET VALUE, BY CLINICAL RESEARCH INSTITUTE, 2018–2026 ($MILLION)
FIGURE 15 GLOBAL IVF DEVICES AND CONSUMABLE MARKET YEAR ON YEAR GROWTH 2018 TO 2026 (%), BY TECHNOLOGY
FIGURE 16 GLOBAL IVF DEVICES AND CONSUMABLE MARKET VALUE, BY Fresh EMBRYO IVF, 2018–2026 ($MILLION)
FIGURE 17 GLOBAL IVF DEVICES AND CONSUMABLE MARKET VALUE , BY FROZEN EMBRYO IVF, 2018–2026 ($MILLION)
FIGURE 18 GLOBAL IVF DEVICES AND CONSUMABLE MARKET VALUE , BY DONOR EGG IVF, 2018–2026 ($MILLION)
FIGURE 19 GLOBAL IVF DEVICES AND CONSUMABLE MARKET YEAR ON YEAR GROWTH 2018 TO 2026 (%), BY REGION
FIGURE 20 NORTH AMERICA IVF DEVICES AND CONSUMABLE MARKET VALUE, 2018–2026 ($MILLION)
FIGURE 21 NORTH AMERICA IVF DEVICES AND CONSUMABLE MARKET SHARE (%), BY PRODUCT, 2018–2026 ($MILLION)
FIGURE 22 NORTH AMERICA IVF DEVICES AND CONSUMABLE MARKET SHARE (%), BY END USER, 2018–2026 ($MILLION)
FIGURE 23 NORTH AMERICA IVF DEVICES AND CONSUMABLE MARKET SHARE (%), BY TECHNOLOGY, 2018–2026 ($MILLION)
FIGURE 24 NORTH AMERICA IVF DEVICES AND CONSUMABLE MARKET SHARE (%), BY COUNTRIES, 2018–2026 ($MILLION)
FIGURE 25 SOUTH AMERICA IVF DEVICES AND CONSUMABLE MARKET VALUE , 2018–2026 ($MILLION)
FIGURE 26 SOUTH AMERICA IVF DEVICES AND CONSUMABLE MARKET SHARE (%), BY PRODUCT, 2018–2026 ($MILLION)
FIGURE 27 SOUTH AMERICA IVF DEVICES AND CONSUMABLE MARKET SHARE (%), BY END USER, 2018–2026 ($MILLION)
FIGURE 28 SOUTH AMERICA IVF DEVICES AND CONSUMABLE MARKET SHARE (%), BY TECHNOLOGY, 2018–2026 ($MILLION)
FIGURE 29 SOUTH AMERICA IVF DEVICES AND CONSUMABLE MARKET SHARE (%), BY COUNTRIES, 2018–2026 ($MILLION)
FIGURE 30 EUROPE IVF DEVICES AND CONSUMABLE MARKET VALUE , 2018–2026 ($MILLION)
FIGURE 31 EUROPE IVF DEVICES AND CONSUMABLE MARKET SHARE (%), BY PRODUCT, 2018–2026 ($MILLION)
FIGURE 32 EUROPE IVF DEVICES AND CONSUMABLE MARKET SHARE (%), BY END USER, 2018–2026 ($MILLION)
FIGURE 33 EUROPE IVF DEVICES AND CONSUMABLE MARKET SHARE (%), BY TECHNOLOGY, 2018–2026 ($MILLION)
FIGURE 34 EUROPE IVF DEVICES AND CONSUMABLE MARKET SHARE (%), BY COUNTRIES, 2018–2026 ($MILLION)
FIGURE 35 ASIA PACIFIC IVF DEVICES AND CONSUMABLE MARKET VALUE , 2018–2026 ($MILLION)
FIGURE 36 ASIA PACIFIC IVF DEVICES AND CONSUMABLE MARKET SHARE (%), BY PRODUCT, 2018–2026 ($MILLION)
FIGURE 37 ASIA PACIFIC IVF DEVICES AND CONSUMABLE MARKET SHARE (%), BY END USER, 2018–2026 ($MILLION)
FIGURE 38 ASIA PACIFIC IVF DEVICES AND CONSUMABLE MARKET SHARE (%), BY TECHNOLOGY, 2018–2026 ($MILLION)
FIGURE 39 ASIA PACIFIC IVF DEVICES AND CONSUMABLE MARKET SHARE (%), BY COUNTRIES, 2018–2026 ($MILLION)
FIGURE 40 MIDDLE EAST AND AFRICA IVF DEVICES AND CONSUMABLE MARKET VALUE , 2018–2026 ($MILLION)
FIGURE 41 MIDDLE EAST AND AFRICA IVF DEVICES AND CONSUMABLE MARKET SHARE (%), BY PRODUCT, 2018–2026 ($MILLION)
FIGURE 42 MIDDLE EAST AND AFRICA IVF DEVICES AND CONSUMABLE MARKET SHARE (%), BY END USER, 2018–2026 ($MILLION)
FIGURE 43 MIDDLE EAST AND AFRICA IVF DEVICES AND CONSUMABLE MARKET SHARE (%), BY TECHNOLOGY, 2018–2026 ($MILLION)
FIGURE 44. COOK MEDICAL INC: FINANCIALS
FIGURE 45. OVASCIENCE: FINANCIALS
FIGURE 46. FUJIFILM HOLDINGS CORPORATION : FINANCIALS
FIGURE 47 THERMO FISHER SCIENTIFIC, INC: FINANCIALS
FIGURE 48. MERCK KGAA: FINANCIALS
FIGURE 49. MILLENDO THERAPEUTICS INC: FINANCIALS
FIGURE 50. OXFORD GENE TECHNOLOGY: FINANCIALS
FIGURE 51. JXTG HOLDINGS.: FINANCIALS
FIGURE 52. GENEA BIOMEDX..: FINANCIALS
FIGURE 53. MILLENDO THERAPEUTICS INC: FINANCIALS