Global Egg Processing Market is segmented By Product Type (Whole Egg, Egg Yolk, Egg White), By Product Form (Liquid, Frozen, Dried, Chilled), By Application (Bakery & Confectionery, Dairy products, Soups & Sauces, Ready-to-Eat Food), and By Region (North America, Latin America, Europe, Asia Pacific, Middle East, and Africa) Share, Size, Outlook, and Opportunity Analysis, 2022-2029
Market Overview
The Global "Egg Processing Market" is expected to grow at a high CAGR of 2.2% during the forecasting period (2022-2029).
Egg processing refers to the series of activities undertaken to enhance the functional and safety properties of eggs and egg-based products. The process includes several actions starting from collecting eggs in the production plant to final packaging and handling processed egg products. The advantages of egg processing include long shelf life, low bacteria contamination, ease of handling and storage.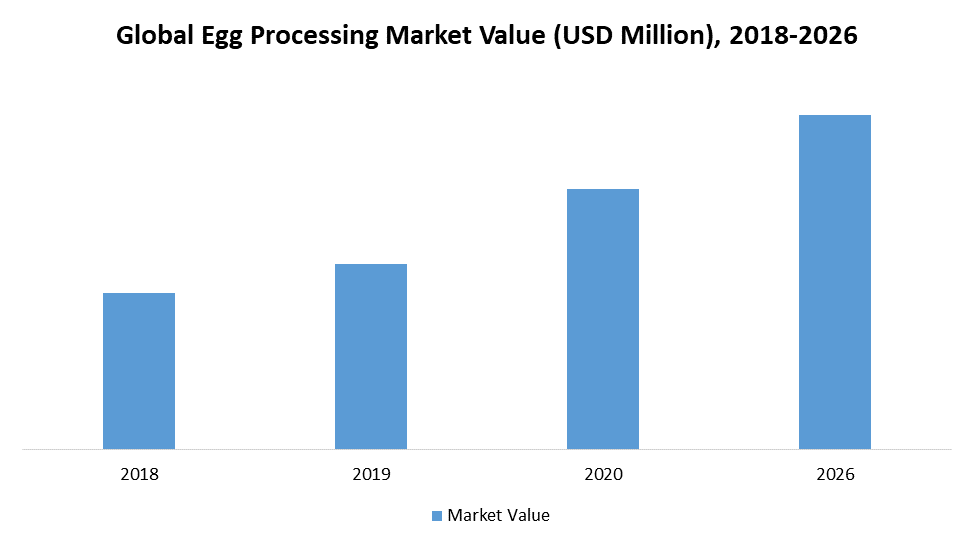 Market Dynamics:
The growing consumer awareness towards the benefits of processed foods and the outbreak of bacterial contamination through egg products has driven the need for egg processing. Food manufacturers worldwide are focused on the procurement of high-quality and nutritious egg products to cater to this shifting preference of consumers.
An egg is considered a major ingredient in various kinds of food products due to its rich protein nature and high nutrient content. The use of egg and egg-based products has significantly increased in bakery, confectionery, ice creams, and several other food categories. However, the use of eggs is associated with several challenges: risk of contamination, the low shelf life of eggs, and complex transportation and handling requirements. These factors have driven the demand for egg processing. Processing improves the nutritional, safety, and functional properties of eggs. Processed eggs have several benefits: increased shelf life, convenient use, quality stability, and contaminant-free. These benefits motivate the food and beverage manufacturers to use processed egg-based products in their formulations, thus driving the market.
However, stringent food safety regulations associated with the use of processed egg products hinder the growth of the global egg processing market.
Segment Analysis
The global egg processing market is segmented in product form into liquid, frozen, dried, and chilled.
Liquid egg dominates the global egg processing market due to its advantages, such as ease of handling and storage, low risk of bacterial contamination, and dried and chilled counterparts. Liquid eggs are extensively used in desserts, icings, protein shakes, smoothies, and caesar salad dressing. According to the Department of Environmental Food and Rural Affairs, in the UK, liquid eggs accounted for 65% of total egg production in 2018. U.S. Department of Agriculture stated that global production of liquid eggs increased by 6% from 2017 to 2018.
The global egg processing market is segmented on application into bakery and confectionaries, dairy products, soups & sauces, ready-to-eat food, etc. Frequent incidents of salmonella infections caused by the usage of table eggs led to a shift in consumer preference towards pasteurized eggs. These pasteurized eggs are scientifically proven to be free from salmonella and other pathogenic bacteria. Major hotels and airline catering services provided in countries like the U.S. and Spain had increased pasteurized eggs due to their extended shelf life. The shift in consumer preference towards ready-to-eat food is fueling the growth of the egg processing market. Processed eggs are used extensively in the production of ready-to-eat convenient food.
Geographical Presentation
By region, the global egg processing market is segmented into North America, South America, Europe, Asia-Pacific, Middle-east, and Africa.
The Asia Pacific is the leading egg-producing region globally, and the egg processing market in countries such as India, Japan, Taiwan, and China has risen exponentially with time. The growing utilization of egg and egg products in food and beverage manufacturing drives the market in this region.
The primary factor boosting the growth of the market in India is the well-established poultry industry and a large volume of egg production. According to the Ministry of Statistics and Program Implementation, the annual production of Eggs in India increased from 60.24 billion in 2009-10 to 82.9 billion in 2015-16, supporting the growth of the egg processing market.
Increased commercial production of eggs and poultry farms contributes to the growth of the U.S. egg processing market. Consumer preference towards high-quality eggs led to increased investment by commercial egg producers in processing activities. The high presence of confectionaries & bakeries and extensive usage of processed eggs in various applications contribute to the growth of the market. According to a study published in USDA AMS, in 2018, more than 56.7 billion eggs were processed for various applications.
Competitive Analysis
The global egg processing market is eventually turning towards consolidation with the entry of larger players. The growing poultry industry and technological advancements in egg processing are expected to see new market entrants, thereby intensifying competition. Growing technological innovation in egg processing equipment is expected to be adopted by the existing players to improve their efficiency and production capabilities, thereby enhancing their global presence and market share. Major players in the Egg processing industry focus on establishing new production plants, particularly in egg importing countries, to meet consumer demand.
In April 2019, Ovostar Union increased its egg processing volume from 139 million eggs in 2018 to 142 million eggs in 2019 to meet the demand for dry egg products from importing countries.
In October 2018, DolgovGroup initiated investment in a new egg processing plant in Russia to produce pasteurized egg white/yolk and dried egg products. The new production plant in the Kaliningrad region is planning to produce 750,000 eggs a day due to the high presence of poultry farms.
Major players in the global egg processing market include Newburg Egg Corp., Ready egg products, SKM Egg Products Exports Limited, and Global Food Group.
Why Purchase the Report?
Visualize the composition of the global egg processing market in terms of various types of product type, product form, and their applications, highlighting the key commercial assets and players.
Identify commercial opportunities in the global egg processing market by analyzing trends and co-development deals.
Excel data sheet with thousands of data points of global egg processing market-level 4/5 segmentation.
PDF report with the most relevant analysis cogently put together after exhaustive qualitative interviews and in-depth market study.
Product mapping in excel for the key product of all major market players
Target Audience
Food & Beverage Manufacturers
Food Processing Equipment Suppliers
Industry Investors/Investment Bankers
Emerging Companies
Trending Topics