Global Allergy Diagnostics Market is segmented By Product Type(Assay Kits, Consumables), By Allergen Type(Inhaled Allergens, Food Allergens, Drug Allergens), By End-User(Hospital-based laboratories, Diagnostic Laboratories, Academic Research Laboratories), By Test Type(In vivo test), and by Region (North America, Latin America, Europe, Asia Pacific, Middle East, and Africa) – Share, Size, Outlook, and Opportunity Analysis,2022-2029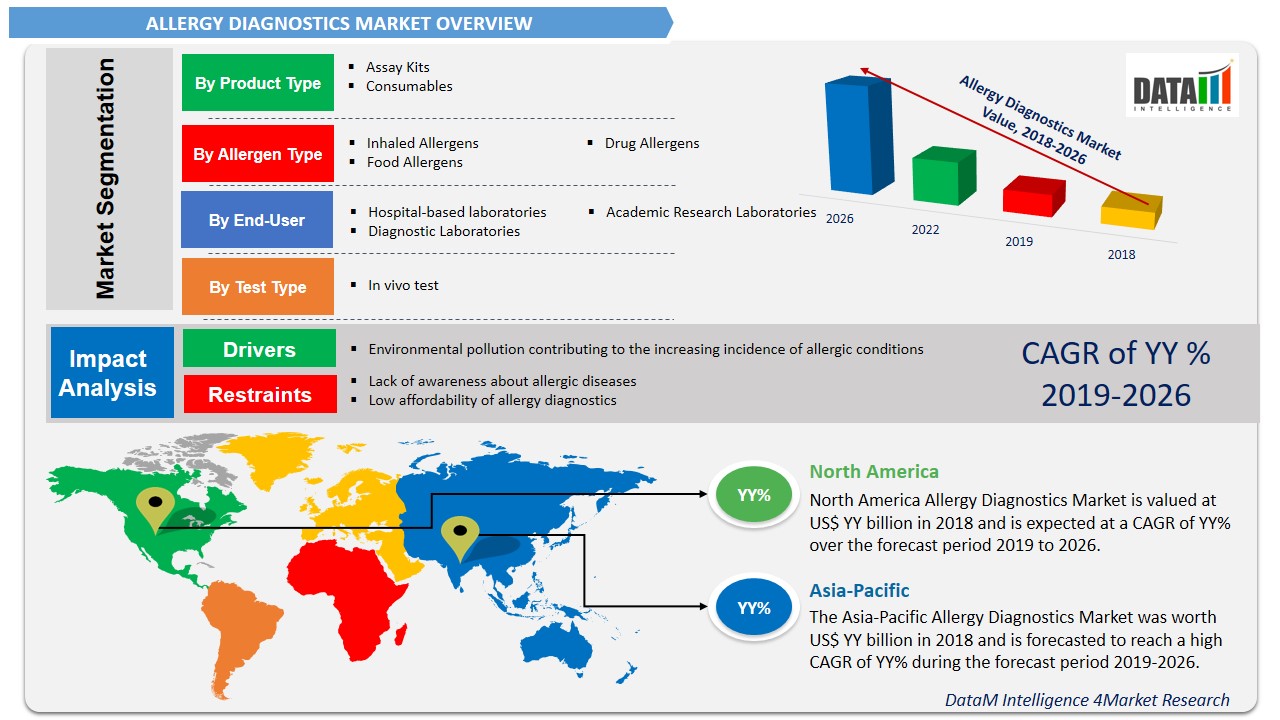 Market Overview
The Global Allergy Diagnostics Market is expected to grow at a CAGR of 10.3% during the forecasting period (2022-2029).
Allergic diseases include allergic rhinitis (hay fever), food allergies, forms of asthma, conjunctivitis, eczema, eosinophilic disorders, drug and insect allergies.

Diagnostic allergy testing in such scenarios is an essential tool for the evaluation of the patient.

The global Allergy Diagnostics market is anticipated to reach USD 4 billion by 2026.
Industry Analysis
Primary market drivers include rising allergic diseases with severe environmental pollution.

On the other hand, the growth of this market is hindered due to limited awareness about allergy diagnosis, food allergy, food intolerance, and low affordability in developing countries.

Hence, allergic diseases like food allergy and food intolerance are underestimated and underdiagnosed, particularly in low and middle-income countries.

Asia-Pacific is expected to show fast growth over the forecast period owing to an increase in pollution in developing countries like India and China.
Market Segmentation
Global Allergy Diagnostics market report segments the market by products, allergen type, test type, end-user, and by region.

Based on product type, the market is classified into assay kits and consumables.

Based on the type of allergen responsible for causing allergy, the market is segmented into drugs, food, and inhaled allergens.

Based on end-user, the market is segmented into diagnostic laboratories, hospital-based laboratories, academic & research institutes, diagnostics kits, and other end users.

Based on the type of test used for allergy testing, the market is segmented into two categories, namely In vivo test and the In-vitro test.
Geographical Analysis
The market is segmented into five major regions: North America, South America, Europe, Asia Pacific, and RoW.
North America holds the highest market share of around 40%.

This is fueled by the high incidence of allergies, the presence of advanced allergy diagnostic technologies, as well as the strong presence of players in the region.
Market Segmentation
By Product Type
By Allergen Type
Inhaled Allergens

Food Allergens

Drug Allergens
By End-User
Hospital-based laboratories

Diagnostic Laboratories

Academic Research Laboratories
By Region
Asia Pacific (China, Japan, India, Australia, Rest of Asia Pacific)

Europe (Germany, France, The UK, Italy, Spain, Rest of Europe)

North America (The USA, Canada, Mexico)

South America (Brazil, Argentina, Rest of South America)

Rest of the World
Allergy Diagnostics Industry Competition Size
The report also profiles the following companies in the Allergy Diagnostics Treatment market – BioMérieux, Danaher Corporation, GlaxoSmithKline plc, Hitachi Chemical Diagnostics, Inc., Merck & Co, Inc, Omega Diagnostics Group PLC, Siemens Healthcare, and Thermo Fisher Scientific, Inc
Reasons for purchasing this report
Visualize the composition of the Allergy Diagnostics market across each indication, regarding type and treatment options, highlighting the critical commercial assets and players.

Identify commercial opportunities by analyzing trends.

Excel data sheet with thousands of data points of the market – level 4/5 segmentation.

PDF report with the most relevant analysis cogently put together after exhaustive qualitative interviews and in-depth market study.

Product mapping in excel for crucial Allergy Diagnostics products of all major market players
Who are the key vendors in the allergy diagnostics market space?
Equipment Suppliers/ Buyers

Service Providers/ Buyers

Industry Investors/Investment Bankers

Research Professionals

Emerging Companies

Manufacturers
Trending Topics
Ankylosing Spondylitis Drugs Market