Global Anti Aging Market is segmented By Type(Product Type, UV Absorbers, Anti-Wrinkle Products, Hair Color, Others), By Devices(Laser Aesthetic Devices, Anti-Cellulite Treatment Devices, Radiofrequency Devices, Microdermabrasion Device), By Services(Anti-Pigmentation Therapy, Liposuction Services, Adult Acne Therapy, Breast Augmentation, Sclerotherapy, Others), By End-User(Hospitals, Clinics, Homecare, Others), and By Region (North America, Latin America, Europe, Asia Pacific, Middle East, and Africa) – Share, Size, Outlook, and Opportunity Analysis, 2020-2027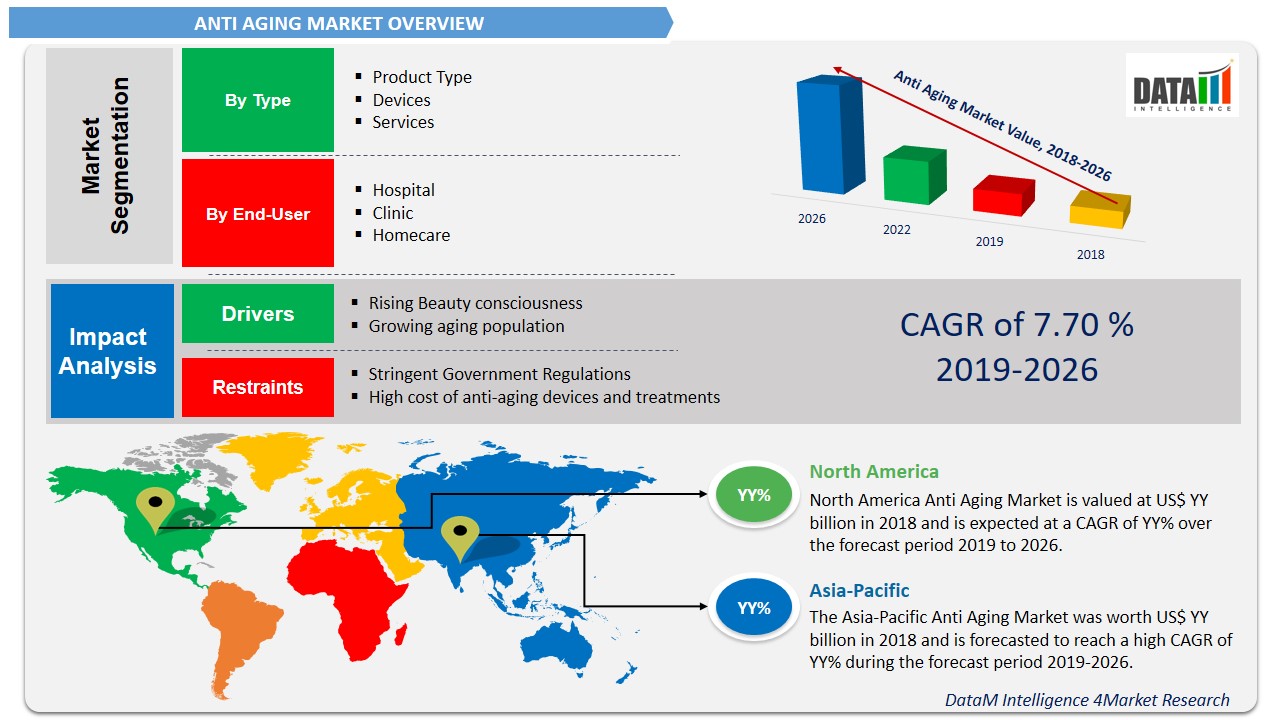 Market Overview
The global anti-aging market is expected to grow at a CAGR of 7.70% during the forecast period (2020-2027).
Aging is a biochemical process in the body affecting internally and externally. These biochemical processes cause the body to degenerate over a period of time, impacting the health, fitness, and beauty of an individual. Anti-aging is referred to as a technique designed to prevent the appearance of getting older. Anti-aging products aim to maintain chronological age to stay healthy and biologically efficient.
Market Drivers
The increasing aging population is one of the major factors driving the global anti-aging market. Globally, the population aged 65 and over is growing faster than all other age groups. According to data from World Population Prospects: the 2019 Revision, by 2050, one in six people in the world will be over age 65 (16%), up from one in 11 in 2019 (9%). By 2050, one in four persons living in Europe and Northern America could be aged 65 or over. The number of persons aged 80 years or over is projected to triple, from 143 million in 2019 to 426 million in 2050.
In addition, the rising adoption of technologically advanced anti-aging devices and procedures enhances the skin elasticity and tightness, hence boosting the growth of the anti-aging market globally. The technologically advanced devices efficiently treat wrinkles, dark spots, fine lines, and cellulite to enhance skin appearance. Hence, due to these advantages, the adoption rate of advanced technological anti-aging devices is rising in hospitals, clinics, and at-home to treat wrinkles and stretch marks. For instance, in April 2018, Alma Lasers GMBH launched Accentuate, a hands-free body contouring solution, in Aesthetic and Anti-Aging Medicine World Congress (AMWC) in France. Accentuate can be used in different treatment areas (such as abdomen, buttocks, thighs, etc.) on the body with separate treatment protocols.
The increasing preference for natural and organic products to overcome the aging problems might hamper the growth of the global anti-aging market. For instance, the use of home remedies such as honey, fullers earth, and egg or yogurt pack are used for slowing down wrinkles on the face.
Cosmeceuticals with "natural" label are creating new opportunities coupled with the challenges as these products are not regulated by the FDA. Due to the lack of regulatory oversight, "natural" skincare products in some cases are not tested and scrutinized properly compared to synthetic products and pharmaceuticals. In addition, as product ingredients get stronger, with the introduction of stem cell technology, for example, claims could become more exaggerated. Hence, cosmeceuticals are at risk of finding themselves under greater inspection from regulatory bodies.
However, stringent regulation and high cost of the devices and treatments are major factors hindering the growth of the anti-aging market. For instance, new European Union (EU) legislation proposed in the use of chemicals has called for restrictions on some active cosmetic ingredients, a move that is projected to be anti-innovative for the industry.
Market Segmentation
By type, the global anti-aging market is segmented into product type, devices, and services. By product type, the market is further segmented into anti-wrinkle product, anti-stretch mark product, hair color, and UV absorber. Among these, the anti-wrinkle product held the dominant market share in 2018, and it is expected to remain dominant over the forecast period, due to the rising adoption of different types of dermal fillers and Botox injection for the treatment of wrinkles. For instance, in August 2018, Superdrug introduced an in-store botox and fillers service. The treatments include Botox and Juvederm dermal fillers, and which is available to customers aged 25 years and older in the UK.
On the basis of services, the global anti-aging market is further segmented into anti-pigmentation therapy, liposuction services, adult acne therapy, breast augmentation, sclerotherapy, and others. Among these, breast augmentation accounted for the largest market share in 2018, due to the rising prevalence of breast cancer which is driving surgical cosmetic procedures. For instance, according to the WHO, in 2018, an estimated 266,120 new cases of invasive breast cancer are expected to be diagnosed in women in the U.S., along with 63,960 new cases of non-invasive breast cancer. According to the American Society of Plastic Surgeons (ASPS) annual plastic surgery statistics report, 2018, there were more than 17.7 million surgical and minimally-invasive cosmetic procedures performed in the United States in 2018, a number that has risen steadily over the past five years. Of the more than 1.8 million cosmetic surgical procedures performed in 2018, the top procedures were breast augmentation (313,735 procedures, up 4% from 2017), Liposuction (258,558 procedures, up 5% from 2017), Nose reshaping (213,780 procedures, down 2% from 2017), Eyelid surgery (206,529 procedures, down 1% from 2017), among others.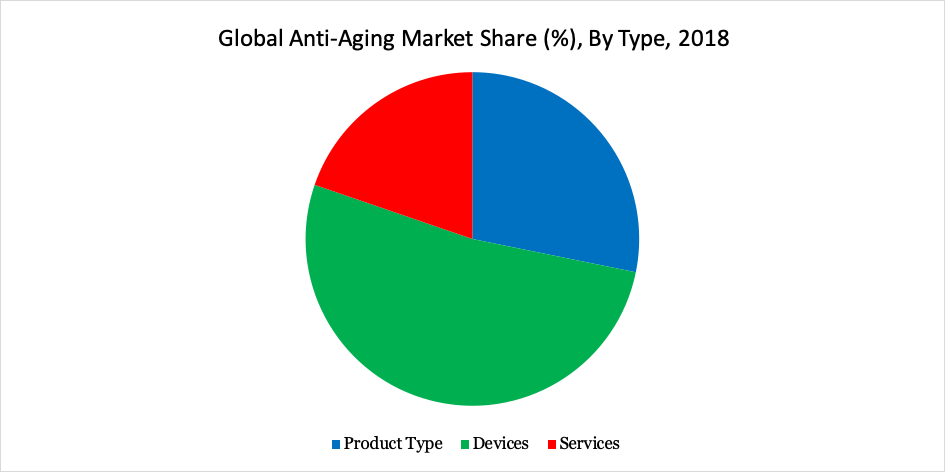 Geographical Share
North America holds the dominant market share for anti-aging in 2017, and it is expected to maintain the growth over the forecast period, owing to the growing aging population. In 2017 the number of Americans ages 65 and older was around 46 million, and it is expected to be 98 million by 2060. The 65-and-older age groups share of the total population is expected to rise by 24% in 2060 from 15% in 2017. The aging population is projected to grow at a faster pace in Central America with an increase of over 50% in the population aged 60 years or above.
The aging population in other regions will grow over the upcoming years at a rate of 56% in Asia, 52% in Africa, 35% in Oceania, 29% in North America, and 14% in Europe. By 2020, older persons are anticipated to account for more than 20% of the populations in Europe and North America, 15% in Oceania, 12% in Asia and Central America, and 4% in Africa.
In addition, owing to the introduction of new anti-aging products, the market is growing in this region. For instance, in October 2018, Lumenis Ltd., the world's largest energy-based medical device company for aesthetic, surgical and ophthalmic applications introduced, SPLENDOR X, the first solid-state laser system equipped with the unique BLEND X technology for fast and effective hair removal and skin solutions in the U.S.
In July 2018, Hologic's Cynosure division in North America introduced TempSure Vitalia for birth control, pregnancy, hormones, and aging. TempSure Vitalia delivers therapeutic heat to the internal and external vaginal tissue to improve local circulation. TempSure Vitalia received the FDA clearance and Health Canada approval.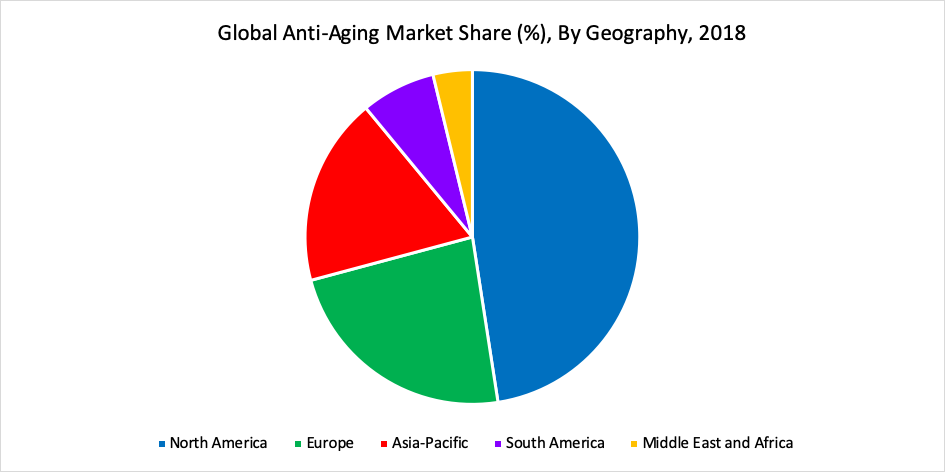 Competitive Landscape
The anti-aging market is dominated by few major players including L'Oreal SA, Photomedex Inc, Beiersdorf AG, Allergan Inc., Alma Lasers Ltd, Alere, Inc., Cynosure Inc, Lumenis Ltd, Johnson & Johnson's, and Revlon Inc. The key players are adopting various growth strategies such as product launches, mergers & acquisitions, partnerships, and collaborations which are contributing to the growth of the Anti-Aging market globally. For instance,
In April 2019, Lonza launched H2OBioEV, a bioactive moisturizer that replenishes essential humectants, which provide an optimal environment for epidermal proteins to form and maintain a strong barrier, thus restoring a smooth and radiant appearance.
In September 2018, SkinCeuticals, a leader in advanced skincare technology, launched the Retinol 0.3, a facial cream with pure retinol that improves the appearance of visible signs of aging and skin discoloration while minimizing breakouts and refining pores.
In March 2019, Nurysh, an Uplevity clinical skincare subsidiary committed to producing the latest anti-aging, balancing, hydrating and luminating technologies, launched Lyft 2.0, a 7-function anti-aging tool and the only device of its kind to have received FDA Class II clearance for treating acne, fine lines, and wrinkles.
In August 2017, Syneron Candela introduced the Profound radio-frequency micro-needling system, developed to tighten and rejuvenate the skin, Profound is ideal for the treatment of the cheeks, jawline, neck contouring, cellulite, and crêpey skin.
In October 2017, Silken, a global leader in aesthetic devices designed for home use, introduced Titan. Titan works from the inside out to activate the body's natural restoration process and reveals remarkably younger-looking skin on the face and neck.
In November 2017, Shiseido Company has introduced "Wrinklelift Deep Retinowhite 4" cream that improves wrinkles around the eyes and mouth and has a whitening effect. The product was targeted for Japan and China market.
Why purchase the report?
Visualize the composition of the anti-aging market across each indication, regarding drug type, and by distribution channel highlighting the key commercial assets and players.

Identify business opportunities in the anti-aging market by analyzing trends and co-development deals.

Excel data sheet with thousands of data points of the anti-aging market-level 4/5 segmentation

A PDF report with the most relevant analysis cogently put together after exhaustive qualitative interviews and in-depth market study

Product mapping in excel for the anti-aging products of all major market players.
Who can derive maximum benefit from this report?
Raw Material Suppliers/ Buyers

Product Suppliers/ Buyers

Industry Investors/Investment Bankers

Education & Research Institutes

Research Professionals

Emerging Companies

Manufacturer
Related Reports:
Age Related Vaccine Adjuvant Market
Age Related Macular Degeneration Market